Actual promotion methods on Instagram (with video review)
We will send the material to you by email:
Время чтения:

6

мин.
Let's go over the key trends in this article:
in marketing (how to think);
content (how to write and about what);
design (how to design posts and stories);
external promotion (how to attract subscribers, except for targeting).
Along the way, we will give a few ideas that you can test today. There will be a lot of pictures-examples, so do not get bored. Go.
Marketing: build content on associations
Starbucks is a great example. Look at these delicious stories – and immediately you want coffee.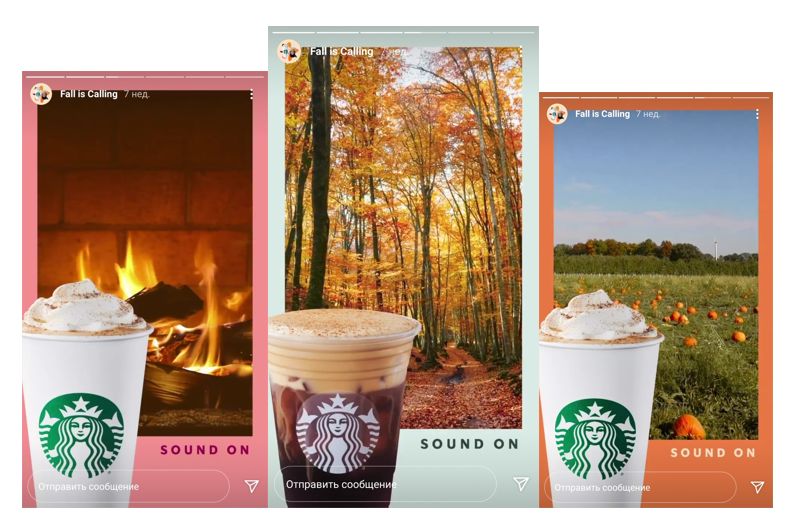 – Do you know what the secret is?
– In associations.
Show only cups with a drink in your stories – you would think: well, coffee and coffee.
And here are the situations when you want to drink this coffee:
By the fireplace to warm up.
The message: if you're cold, go to Starbucks.
On a walk.
The message: Grab a cup of Starbucks coffee to make your outing even more atmospheric.
On the road.
The message: Packed for the road – grab a coffee from Starbucks.
Yes, these messages are not written anywhere, but they are read unconsciously. They are fixed in the mind and emerge at the most opportune moment.
For example, hurry to work in the early autumn morning. It's damp and chilly outside. I want something warm and pleasant. And then bam! The first picture pops up. A person immediately wants coffee from Starbucks. Exactly the one in the picture.
Take advantage of the product + associations and you will be happy
The fact is that a person never buys the product itself … He buys the emotions that this product will give him.
Coffee → warmth, comfort, cheerfulness.
Apartment → security, confidence in the future, peace of mind.
Subscription to a fitness club → self-confidence, a good habit, involvement in the fitness community.
Manicure in a beauty salon → relaxation, pleasant pastime for the benefit of oneself, joy.
Think about what emotions your product / service will give and build a marketing strategy based on associations and veiled messages.
Content: write for the benefit of the reader
Now there will be a break in the pattern: selling texts are not those where some magic words are written. These are texts where there is a benefit for your reader. There is a benefit when texts respond to readers' requests.
For example:
A man is looking for where to order a bouquet for his birthday. His main requests are: from what amount are the bouquets, is there delivery, how quickly will the bouquet be assembled and how to order.
If you publish high-quality photos, and respond to requests in posts, that is, indicate:
the cost of the bouquet (bouquets for birthdays from 800 rubles);
assembly time (we will assemble within an hour after the order);
where to write for an order (write in direct to order – we answer immediately).
– then the person will not go further to surf the pages, he will buy from you. Of course, if you are satisfied with the price and quality of bouquets. And if it doesn't suit you, then no selling posts will help.
Here are examples of posts with the benefit of the reader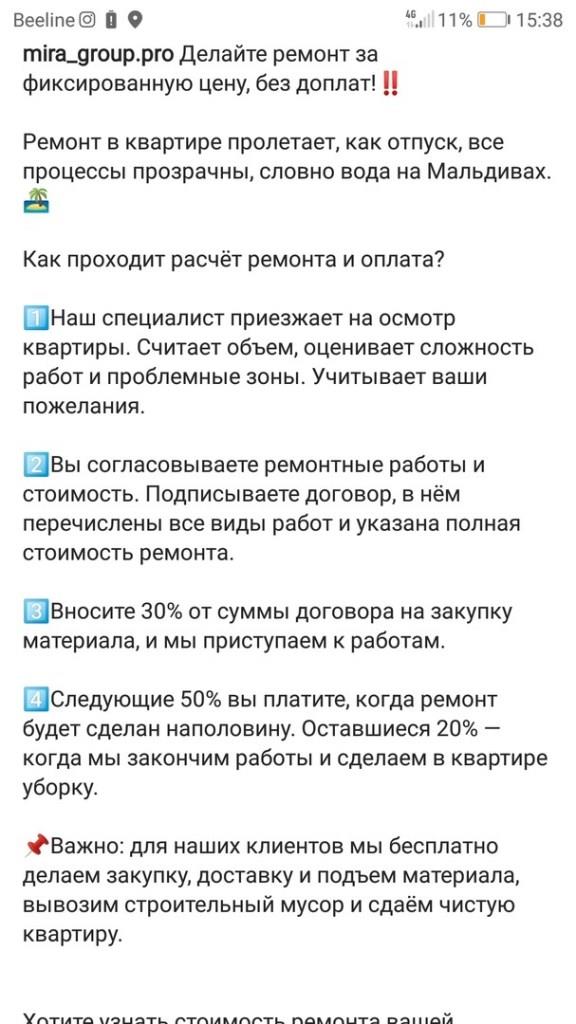 Here the post answers requests: how is the calculation and payment for repairs. Everything is painted step by step without unnecessary epithets: fast, cheap, convenient … Just facts, on the basis of which the reader himself will draw conclusions.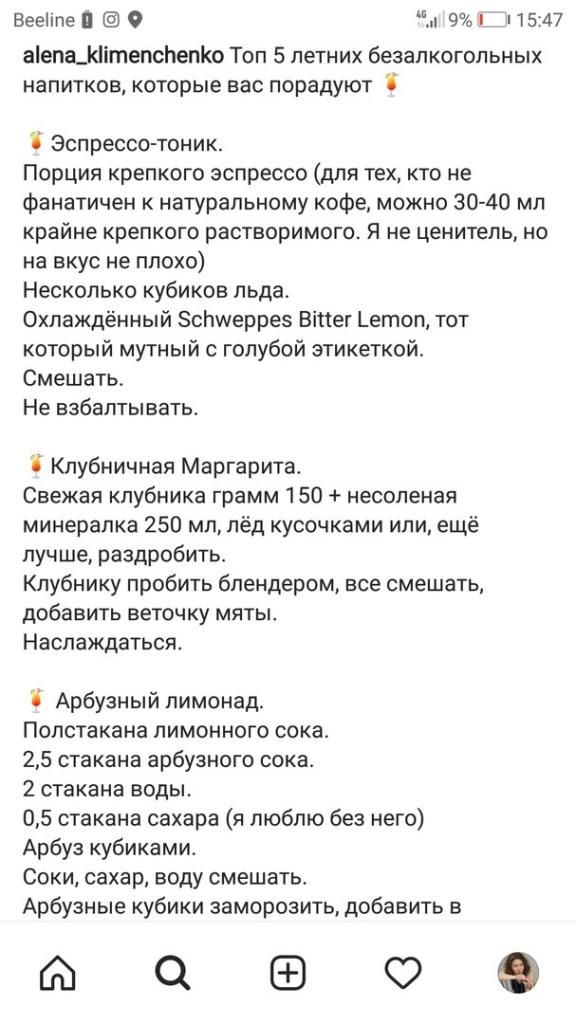 This post is from a travel blogger page. It provides benefits in the form of summer drink recipes. Checklists, recipes, collections are also useful. But it is important not to overdo it with it and serve it once or twice a month.
Design: animations, videos and win-win flat lay
You have less than a second to grab a reader's attention on Instagram. The picture is traditionally catchy, and the text already reveals the essence. People like colorful animations, funny videos or static flat lays.
Here are some examples:
Посмотреть эту публикацию в Instagram

Favorite tracks are just some kind of magic. Even on the most gray and dreary autumn day, they are able to cheer you up. Yes, it makes me want to dance! ⠀ And when you dance to your favorite music, you immediately begin to feel like a star. To intensify this cool feeling, a cream-mask with a highlighter effect Perfect skin will help you. Turn on your favorite song, apply a mask and dance non-stop! The skin is hydrated and radiant – now, even jumping on the bed in your favorite pajamas, you look like a dance floor star. ✨ ⠀ Follow the link in bio for a chance to win a personal unicorn Perfect Skin set!
Посмотреть эту публикацию в Instagram

On the courts of Gidrostroy, the stars are within easy reach!? ⠀ Today @siberia_sport_baza is deafeningly great! Training on the court is conducted by Maria Maratova herself. Are you sure you know her by the nickname "Siberian Siren!"? ⠀ Do you hear? Do you hear this echo? It's hot on the courts right now!? ⠀ Come with us – click on the video, repeat the movements and shout even louder! Say "No" to tension and stress! Let's shout "Yes" to strength, confidence, tennis!? ⠀ We are waiting for you on the courts from 7 to 23 every day!? ⠀ Thank you for the image @tennis.pro.internet ⠀
Promotion using the GetComment service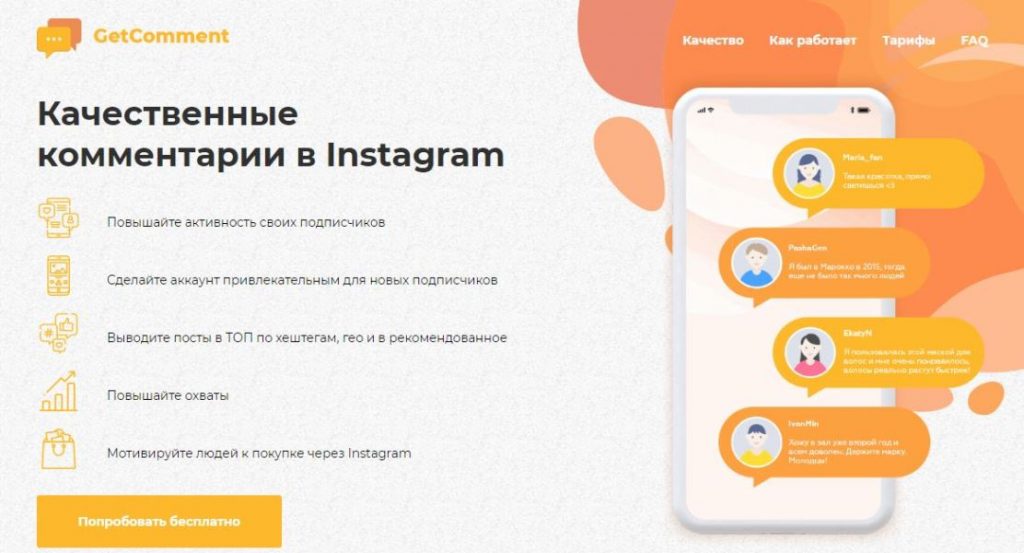 On Instagram, it is customary to promote with the help of official (targeted) advertising. This requires a minimum of 10 thousand + the cost of creatives and a targetologist. Often promoted through advertising from bloggers. It costs from 5000 for one or two mentions of you in stories.
If you have allocated up to 1000 rubles for advertising, I recommend the GetComment service. With it, you can receive high-quality comments on the subject of your post from real people. No bots or cheats.
Comments affect reach, the number of subscribers, and getting into the "recommended" feed. They show how interesting your Instagram profile is to users.
You choose the format of comments.
Here are some examples:
Question about price, delivery, production time
How much will a bouquet of 15 roses cost?
Feedback on the product, the work of the company
Very happy with the cleaning job. Everything was done quickly and efficiently!
Confirmation that you are participating in the competition
I participate! I believe in my luck!
Any comment on the topic of the post
Wow! Is this the new waterfront restaurant? You also need to go.
The minimum tariff for a month costs 490 rubles
There are only two rates:
Comment yourself and in return get an unlimited number of comments.
You only want to receive comments.
Internet marketing expert. Head of marketing agency MAVR.
Business degree "Master of Business Administration" (MBA).