Analysis of CMS for SEO effectiveness. Website audit, part 4
We will send the material to you by email:
Время чтения:

4

мин.
It would seem that CMS (site content management system) is the engine and engine of the site, what is there to analyze. Unfortunately, it usually happens like this: first a site is written, and then it is given for promotion. At the same time, elements that are critically important for SEO were not initially taken into account, including the admin panel. And everything has to be redone. The task of an SEO specialist in this case is to find the best option for working with the engine that is acceptable for SEO and the Client.

What needs to be analyzed?
1. Determine the CMS of the site. Sometimes the customer himself may not be in the know. Services such as 2ip.ru/cms or itrack.ru/whatcms will help you with this.
Paid CMS. Of course, they have priority (for example, 1C-Bitrix, UMI.CMS, etc.), because it will be updated. support will help, promptly respond, there are necessary modules, etc.
Free CMS is also not bad, but the main thing here is to understand which one to take, completely abandoned, which no one uses and does not support, it is better not to use it. For example, it is better to opt for WordPress, Joomla, Drupal.
All free CMS have their drawbacks:
risks of duplicates (the same page with different parameters);
risks of broken links (for example, Joomla incorrectly determined relative links, because of this, a lot of 404 errors appeared on the site);
a large load on the server (if the engine, along with all the plugins, is very cumbersome);
there is no possibility to register meta tags for pages (there is no free / paid plugin / module, so a programmer is needed for revision);
there is no possibility of implementing the necessary functionality: baskets, sorting, filters, site search, etc.
But I note that the above disadvantages can also be found in paid CMS, but problems are solved faster.
Custom CMS. In another way, they are also called self-written, or better – the development of a site engine for Client. This is the most expensive option, but the best for SEO.
2. When was the CMS updated? We look at the latest release of the discovered CMS and compare it with the one that the Client has. If the version is old, it needs to be updated, just like the modules / plugins installed on the site require constant updates. In most cases, new versions of the CMS are released because discovered vulnerabilities are closed. Therefore, if you do not want to infect your site, or are afraid that it will be hacked, update your CMS and modules regularly.
3. Is the site design standard?
There are free website design templates, there are paid ones. It is better, of course, to use paid ones, or order from a designer / layout designer.
Of course, you can try to determine by eye how the design of this site, but it would be faster and more correct to ask the Client.
Examples from practice:
Site on Drupal – http://yarko585.ru/
Answer from the Client to the question: "What disappoints you in general in the market of marketing services in general?":
"Your site is running on a bad platform – let's make it on Bitrix. There were also such scenarios when the SEO agency was strongly recommended to change the CMS."
As a result, we took this project on Drupal and successfully promoted it to the TOP.
Site on OpenCart – http://kristall-shop.com.ua/
An excellent engine for online stores, the problem we encountered was the lack of an SEO module for filling in meta tags for filters. Only custom development. And the difference between a module and custom development is that the module was bought and installed, but finding a normal programmer for an adequate price for the development of a small improvement is expensive and time consuming.
Site on Joomla – http://idc-style.com/
The eternal problem of this engine is the presence of "extra" nesting levels of pages, for example, http://idc-style.com/polezno-znat/item/216-stil-khay-tek-v-interyere.html. Again, you need a programmer to correctly set up the CNC.
Site on Textpattern – http://smmetall.ru/
Sometimes you just need to update the site and switch to another engine. This is just that option. From a very simple and low-functional engine, the smmetall.ru site switched to Joomla. At the same time, the design, functionality and number of conversions have been updated upwards.
Compare:
2014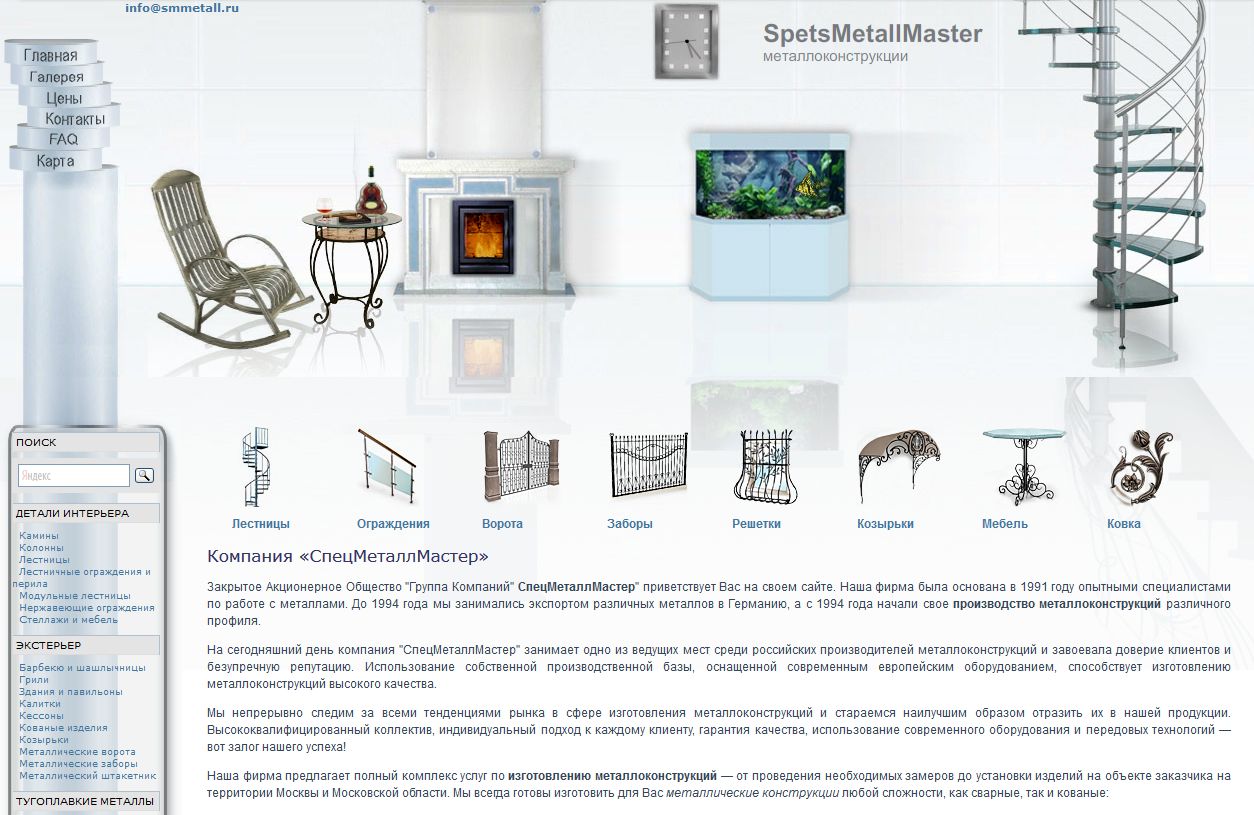 2016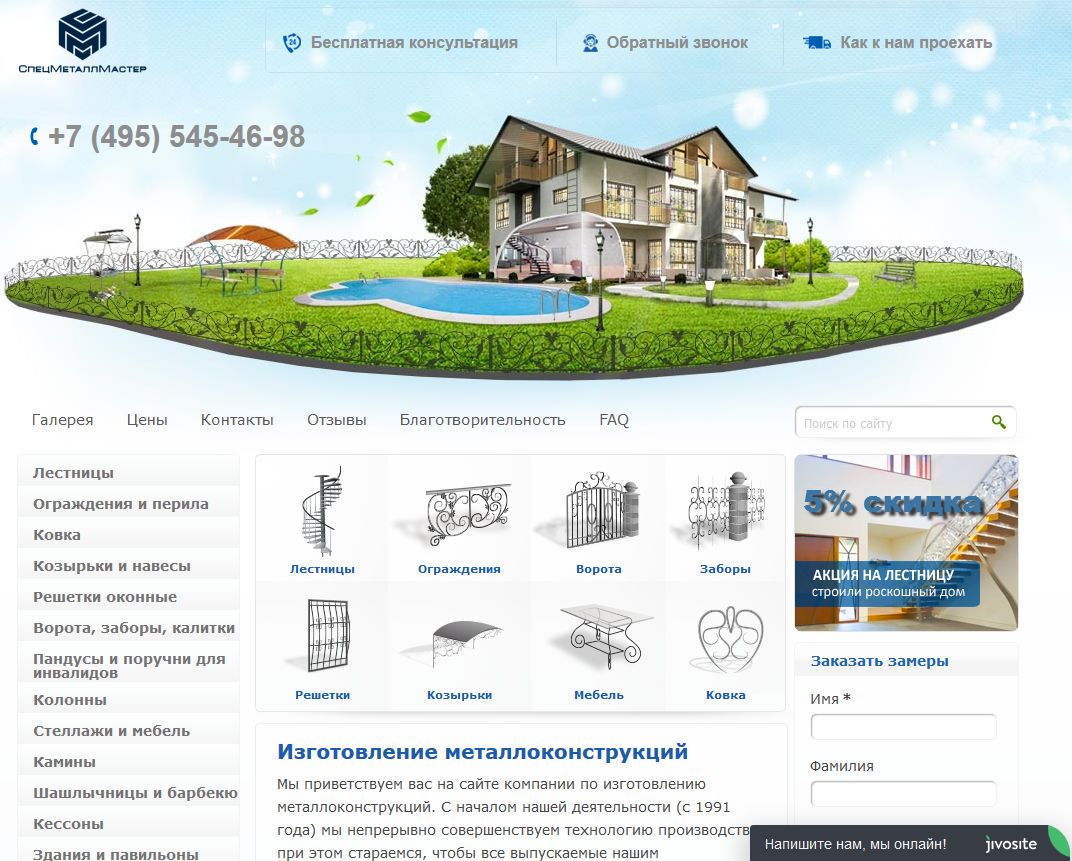 Perhaps the least problems always happen with WordPress, but this is far from ideal for developing an online store on it.
Analysis of the starting point of website promotion
In order to measure the effectiveness of the work of an SEO specialist, it is advisable to measure the "reference point" so to speak before starting work.
Take, for example, the site http://kristall-shop.com.ua/
| | | |
| --- | --- | --- |
| | 2013 | 2016 |
| Number of rubrics | 14 | 16 |
| Number of goods | 2100 | 2940 |
Analysis of positions across all semantics (if the semantics is collected). It is better to use paid services – seranking.ru, allpositions.ru
Visibility. I like the way serpstat.com determines the visibility of the site.
The visibility score is calculated based on the number and popularity of key phrases for which the site can be found in the search, in relation to a million queries.
Site traffic. We analyze and fix on the analytics systems Yandex.Metrica, Google Analytics.
Internet marketing expert. Head of marketing agency MAVR.
Business degree "Master of Business Administration" (MBA).