Chatbot review for VKontakte Smartbot
We will send the material to you by email:
Время чтения:

3

мин.
What is Smartbot?
Smartbot is a chat bot constructor for VK with cool extensive functionality that will allow you to create a complex bot without programming skills.
Can:
Reply to messages and comments
Moderate a group
Make mailings from a message and remember phone numbers and email
Group users into lists
Conduct various activities: draws, lotteries, tests, quests and pvp.
Let's take a breath and continue the list:
Issue promotional codes
Accept payment by Yandex.Money and VK Pay
Show widget in group
That's it in a nutshell 🙂
Of course, the group admin does not have to delve into all the skills of the bot, it is enough to limit yourself to what you need.
Smartbot is a large set of tools, but they are easy to use.
How to make a chat bot VKontakte?
After installing the Smartbot application to your group, you will see a menu: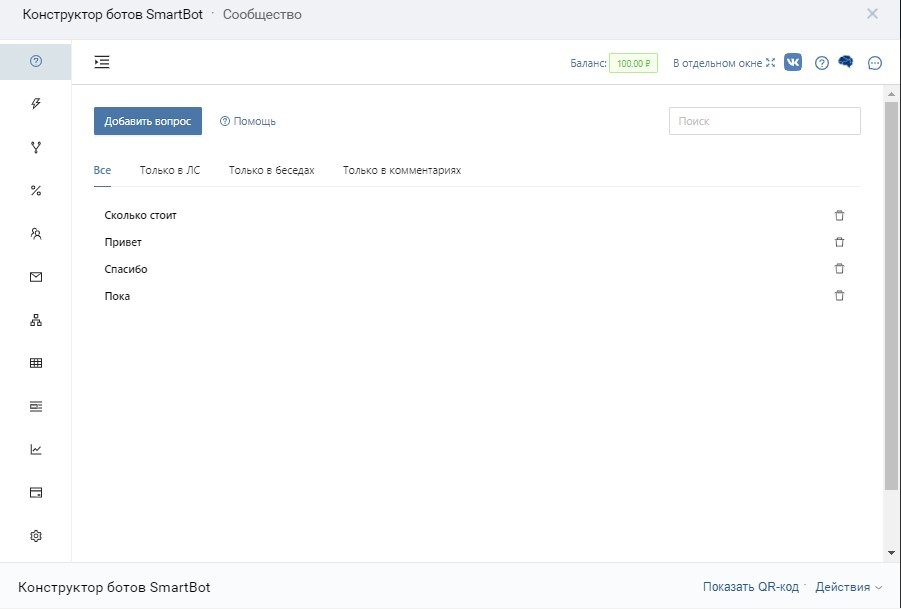 Here we are interested in the first three sections: Questions, Chains, Reactions.
In "Questions", you set up a personal virtual manager, specifying what the user should write and how the bot should respond.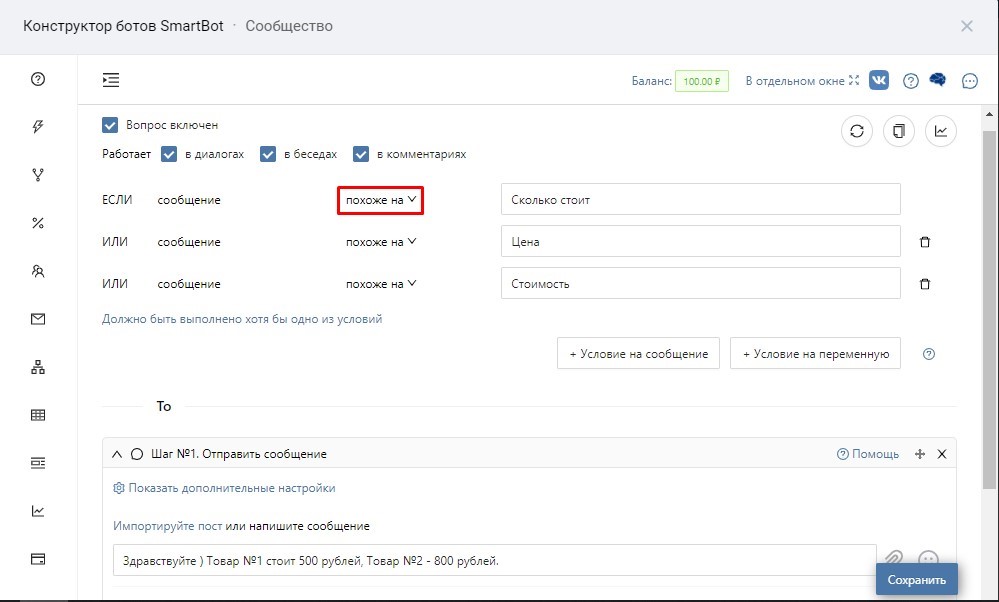 Smartbot recognizes not only 100% word matches, but also similar phrases, as well as typos. Therefore, the user and the bot will definitely come to an understanding.
When responding to a user, a bot can:
Add a person to the list
Assign him a status that you will come up with yourself (for example: client; interested; contestant, etc.)
Notify administrator
All this works not only in private messages, but, if desired, in conversations and in comments.

In "Chains" you can set up long and complex sequences of actions.
The bot has a lot of available steps: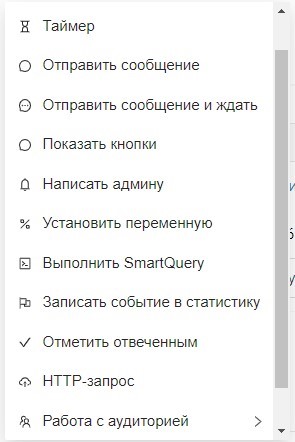 For example, in the "Chains" section, it is possible to set up a convenient navigation menu directly in personal messages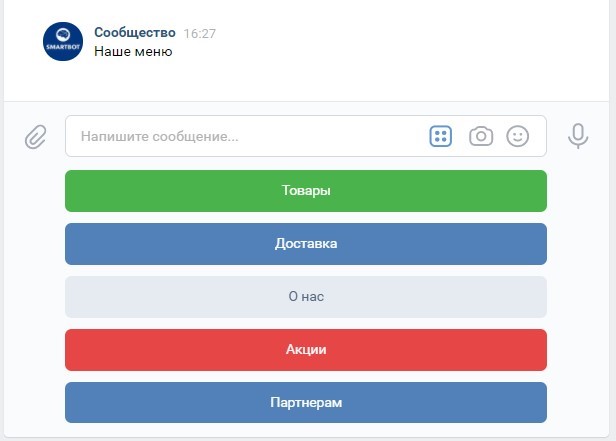 And the bot has a whole section of reactions!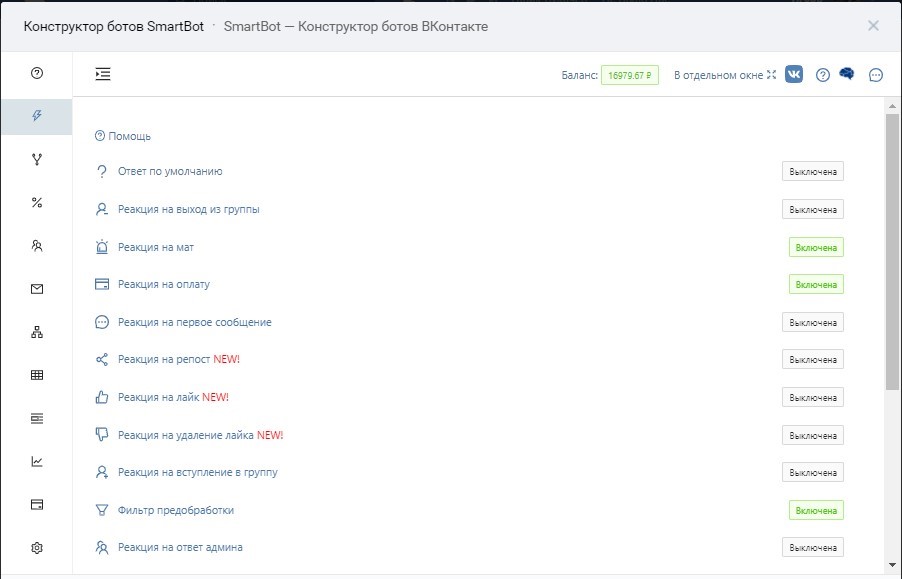 He can automatically respond to joining a group, unsubscribing, likes and deleting likes, the first message and payment received.
Thus, Smartbot will thank you, collect reviews, add points for likes (we carried out such an activity) and notify the admin about everything important.
How do people use chat bot for VK Smartbot?
A smart chatbot is indispensable in stores and delivery services, as it answers repetitive customer questions on its own.
Let's say the Sushi LIFE delivery service has automated the acceptance of orders using Smartbot.
The bot is ideal for contests and promotions. Thus, the BUMA marketing agency and the network of wholesale price bases Nakhodka raffled off 50,000 rubles using our bot, and raised the turnover by one million rubles.
Smartbot helps in training groups.
For example, we have a Korean language learning bot and a chemistry teacher bot.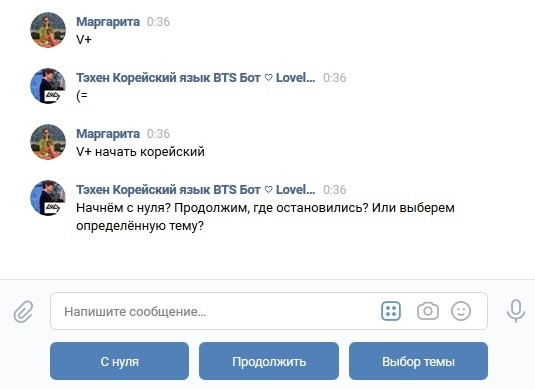 Enthusiasts also make games on the basis of Smartbot: interactive novels with a branched plot, the course of which the player determines himself.
If you get a little steamy, the bot allows you to automate your business in VK quite well.
And for absolutely noble connoisseurs, Smartbot has its own programming language based on phyton, which opens up simply bombing opportunities!

Internet marketing expert. Head of marketing agency MAVR.
Business degree "Master of Business Administration" (MBA).