Cleaning Instagram accounts from bots, commercial comments and spam
We will send the material to you by email:
Время чтения:

7

мин.
There is a unique service that quickly helps to clear Instagram accounts from bots, commercial comments and other spam. This service is called Spam Guard. Why is the portal attractive? It has many necessary functions that will make a "candy" out of a user profile. Below you will find out exactly what Spam Guard is capable of.

Main page and registration
The main page greets the user with beautifully described benefits and benefits of using the service. We will check all suggested methods. So let's go.
Before registering, you can find out how much the work will cost. The service calculates the cost according to a special algorithm, the price depends on the number of your subscriptions and subscribers and other account parameters.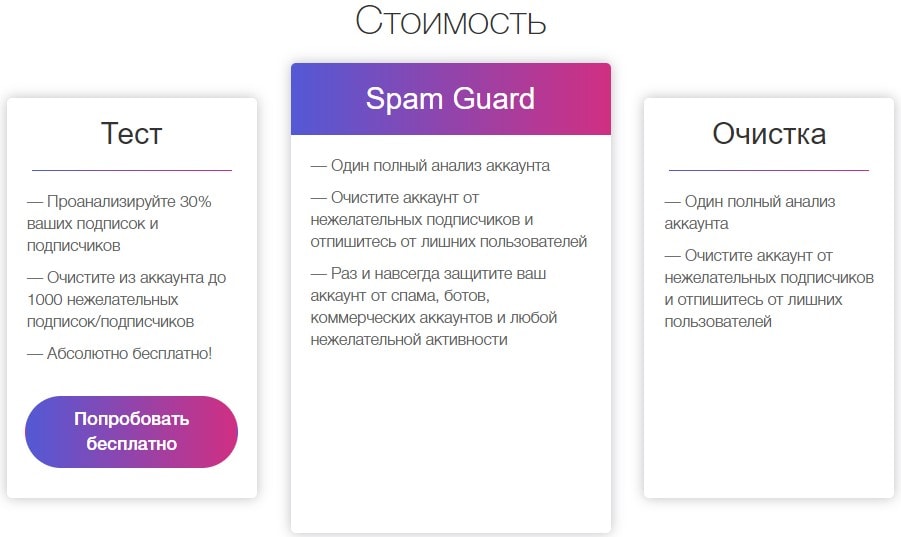 Next we need to register. It is very easy to do this, just enter your email address and generate a password.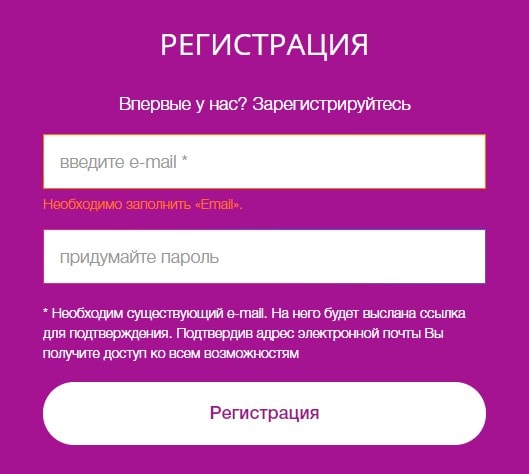 That's it, we've registered. In the window that opens, we will be met by a knight with a big head. It will help you figure out what to do next.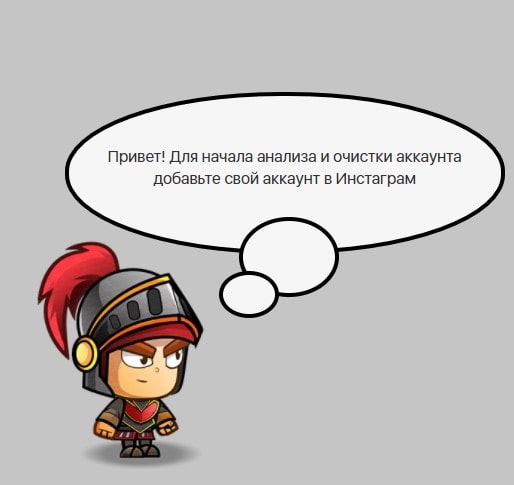 First you need to add an account. To do this, enter your Instagram username and password.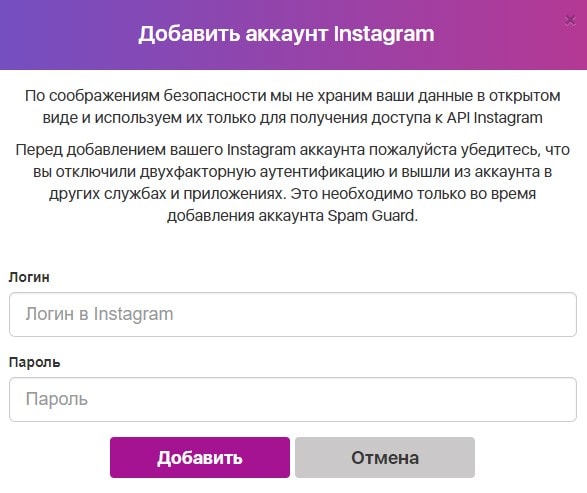 Analysis: test and complete
Now we can analyze our account. Let's try a test case first.
test
Click on the Test Analysis button. Spam Guard gets to work right away.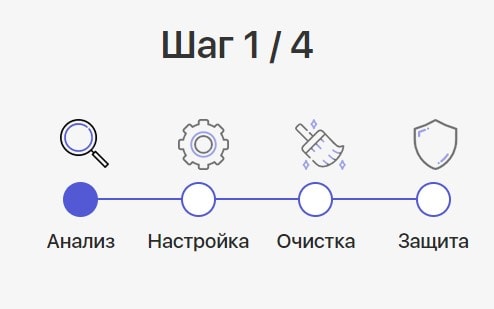 An information window appears, where we are notified that the service can provide results by e-mail.

Now you just have to verify your account: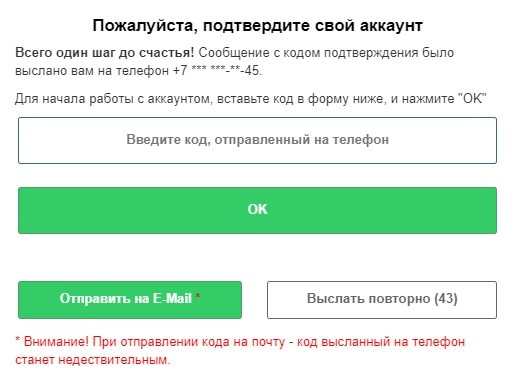 After that, the service shows statistics on subscriptions and subscribers, as well as a list of exclusions to which you can add accounts that are dear to you: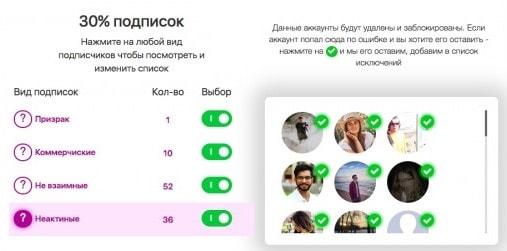 Funny Knight now offers to either completely analyze the account or clear it already at this stage:

You can choose which accounts to clear your profile from: bots, commercial accounts, inactive or inactive subscriptions and followers.
Since we have a test period, we choose to clean up. In addition, you will have to pay for a full analysis.

After the cleaning starts, you will again have to wait a little time. The process can be stopped at any time, and then part of the commercial profiles will remain with you.
On the new screen, we again see the knight greeting us. He recommends that we take advantage of the full range of features for a small fee. Let's find out what and for how much we can buy here.

Complete Analysis
To get started, you need to click on the "Full Analysis" button. We will be asked to pay a certain amount. For each account, it will be different: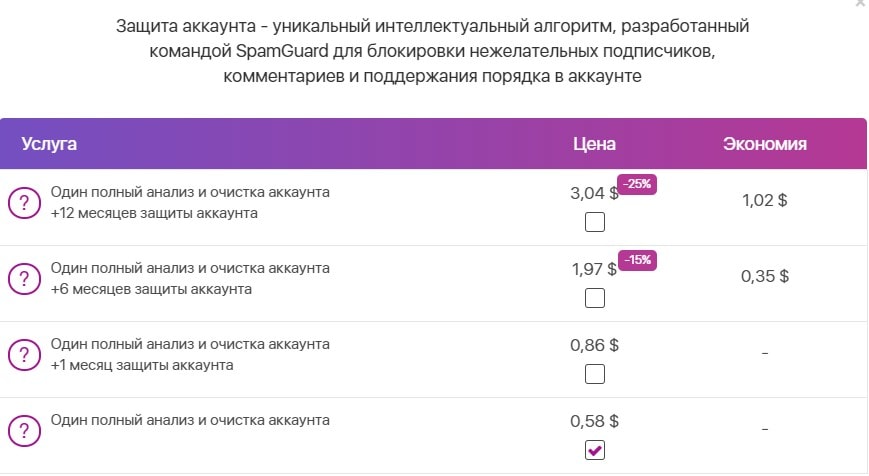 After payment, we start the check and wait. Analysis in the same way can take a couple of minutes: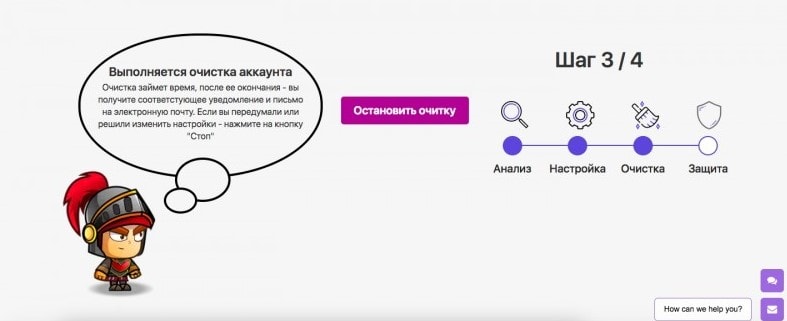 After the end of the process, the knight will show us the results.
Now let's perform a complete cleaning of your account from dubious profiles and bots. This time it will take a long time, as the check is carried out very carefully. Yes, it takes a long time, but there is great news for you. Instagram will not block your profile for too many actions, because the service takes into account all Instagram limits and makes as many unsubscribes as allowed by the network. In addition, it is enough to configure everything once and turn off the computer. Cleaning will still go on. A notification will be sent to your email inbox.
When the account is cleared, you will see the following message:

In addition, the user receives the following congratulations on the report: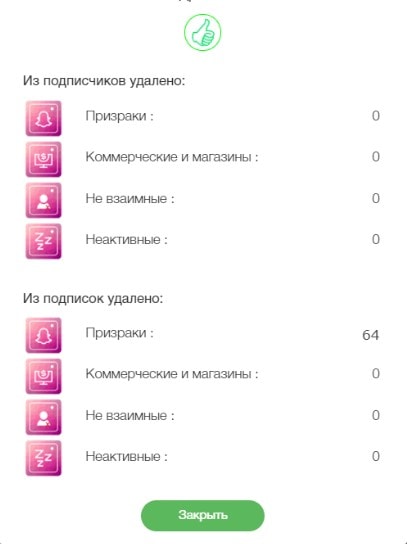 Account monitoring
The most interesting thing happens next. The knight says that he is ready to reliably protect your account. It will make it attractive and clean for subscribers. Protection will be enabled until a certain period: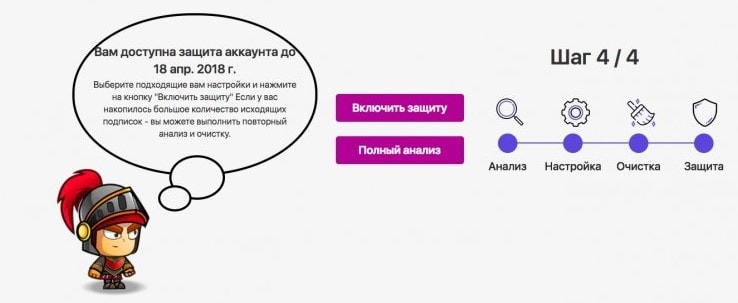 Thanks to constant monitoring, you get a reliable protector and a personal moderator who will take care of your profile and clean it from garbage so that you won't even see attempts by unwanted accounts to add or ruin your reputation in the comments.
Now let's digress a little and figure out why there should be adequate comments in the profile.
Imagine a situation – you go to someone's account. A person has a lot of beautiful photos, but for some reason there are no comments. It seems like you want to subscribe, but you don't.
Now let's imagine another situation. In another account, a discussion unfolds under each photo. People argue about something, admire or swear with each other, completely forgetting about the owner of the profile. This is fun to follow, and you'll follow the person so you don't miss anything.
Finally, the third example. Let's say the account owner crashed his car. He posted a photo of what was left of her. You go to look and suddenly see comments like this: "Cool!", "Cool!" or "The photo was a success!". It is clear that this is written by bots. It usually turns you off right away.
You can also casually set up mass liking with mass following. As a result, people of other nationalities come to you in droves. There is nothing wrong with them. However, most often they leave incomprehensible comments in their own languages or broken Russian. All this suggests that you absolutely do not monitor your account.
Let's see what real comments give to your profile:
full communication with subscribers;
increase in activity;
the ability to get satisfied customers or new subscribers;
feedback;
view engagement metrics.
Now back to the topic of protection from the service. Monitoring is offered on the following points:
filtering comments by language;
filtering comments by stop words;
blocking bots;
blocking commercial accounts.
The first two options, as we found out earlier, must be chosen. This is how you protect your own account from foreign guests, robots and annoying spammers.
In the service, you can add your own lists to stop words.

Blocking bots is good, they always get in the way. But you need to think about commercial accounts.
Such profiles are not run by robots, but by real people. They, like others, buy something, look, participate in discussions, ask questions. If desired, commercial accounts can become good subscribers. Yes, this is not the best option. But if you are in sales, then such profiles can buy something from you. Of course, how you promote your account plays a big role.
Service Benefits
In addition to the obvious and already mentioned advantages, Spam Guard has other advantages. For example:
The service clears non-reciprocal subscriptions. Spam Guard knows how to remove hundreds of unwanted users with just one click. If certain people have not subscribed to you, then the service itself will unsubscribe from them. Thanks to this feature, you can leave only the necessary subscribers who follow your life in the news feed.
Purge of inactive subscribers. People with inactive profiles do not like you, do not comment on anything, and do not influence the increase in engagement in any way. So, you don't need such subscribers. If necessary, you can see who did not react to your posts during the month. These people are added to the list and then removed.
What is needed remains. In addition to black lists, the service also provides a white list. By adding certain people to it, you can be sure that the activity of such accounts will not be accidentally blocked. When you finish cleaning your account, be sure to add the remaining subscribers to the whitelist.
Results
After you bring your own account into the right form, you will only have the target audience. You will no longer be bothered by endless spam in the comments. Bots will be banned from entering! Spam Guard keeps user accounts clean.
Now your task is to get close to all the subscribers. Give them more attention and they will be grateful. Be sure to make sure that every person who comes to your account enjoys viewing content and communicating with you.
Internet marketing expert. Head of marketing agency MAVR.
Business degree "Master of Business Administration" (MBA).