20 fails of targeted ads on Instagram. You don't need to do so
We will send the material to you by email:
Время чтения:

5

мин.
An interesting trend: over the past year, the number of people who run targeted ads has tripled. Moreover, we are not talking about a specific social network, but in general. Although, if you compare different sites, all records for advertising launches ala "hai bude, how bude" beats Instagram! It is not surprising. Indeed, in addition to the mass promotion of business in this social network, today blogging and "blogging" are actively flourishing there (if you know what we mean). 🙂
On the one hand, it's great that people are independently exploring the possibilities of advertising for business. But on the other hand, the number of incorrect launches is off scale. And the most interesting thing is that not everyone reacts to comments with a friendly remark to correct the target.
In this article, we will not write about the rules for setting up advertising on Instagram, we will not give recommendations. We'll just show you how not to do it.
1)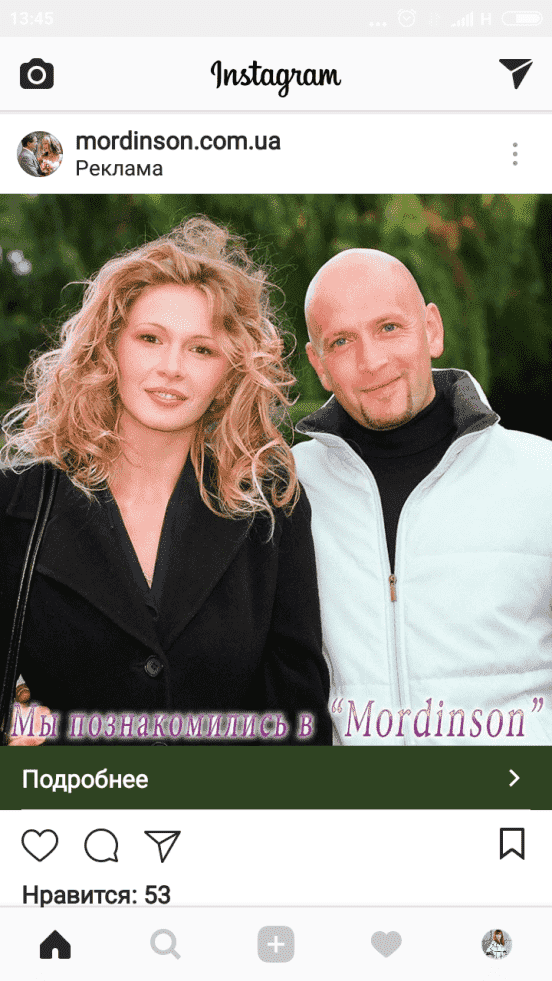 For example, a marriage agency decided to show ads to a married girl. Although setting up marital status is the basics.
2)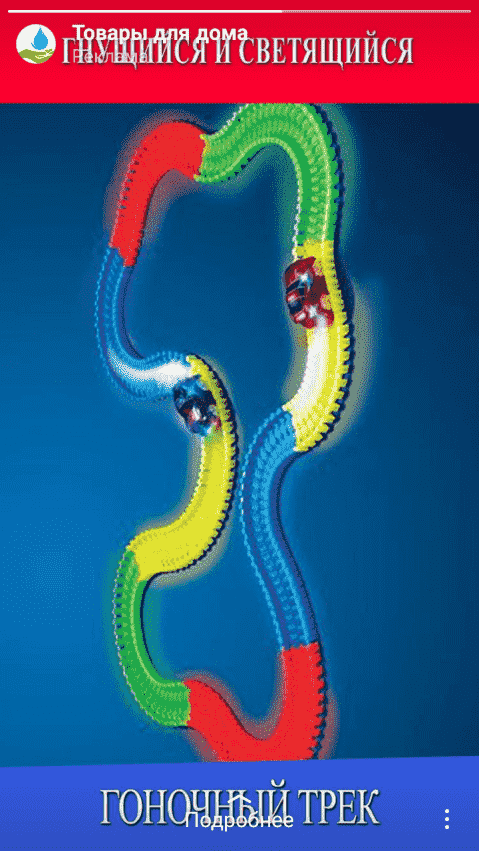 Here is an advertisement for a child's toy. Everything is ok with the settings – we got into marital status and the presence of a child, even guessed with the gender. But here's the problem – they didn't pick up a normal picture. If not for the signature that this is a racing track, everything would be even sadder.
3)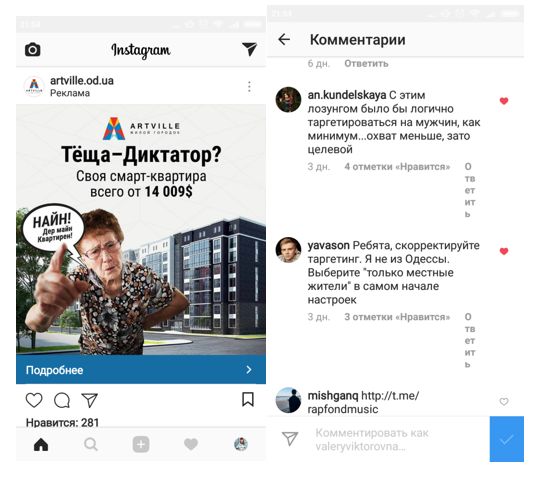 Favorite advertisement about mother-in-law! In addition to the fact that she was shown to a girl, they also missed the geo! Apartments in Odessa, and shows in different cities. Please note that there are constructive comments – ZERO reactions. And why? Yes, they just launched ads, but no one is following the comments. Waiting for calls, apparently 🙂
4)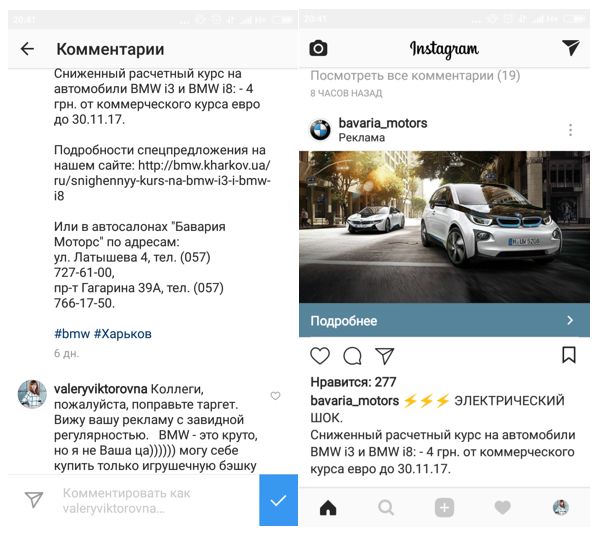 There are such advertisements that it is quite difficult to isolate the target audience. Then yes, it is advisable to conduct tests and show ads to a wide audience at the first stage. But then you need to analyze the results and cut the sample. For example, I often see BMW ads. No, of course, BMW can afford advertising even for the whole of Ukraine. But why?
5)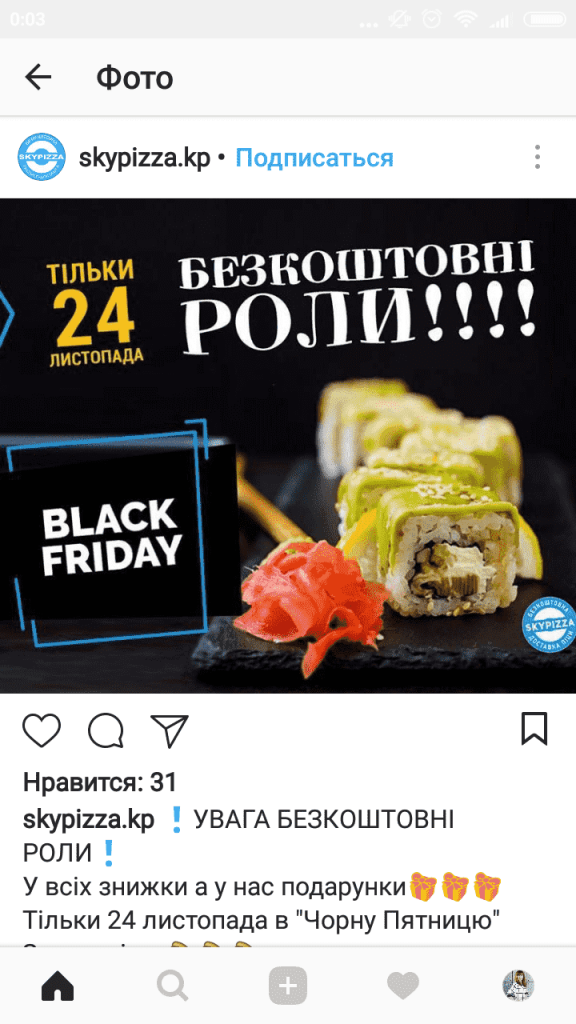 Of course, in honor of Black Friday, you could see many, many different ads. So, for example, an advertisement for rolls from another city seemed to me from Kharkov. But it should be noted that, despite the late time (around midnight), they immediately answered my comment and sent thanks to the email! And this means that from my comment they went to my profile and were not too lazy to write! Respect to the guys.
6)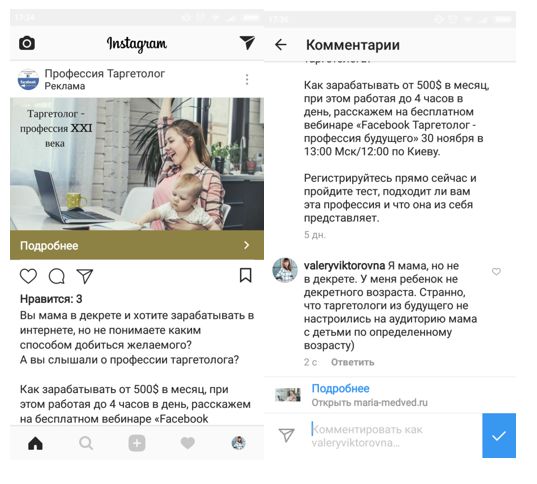 And here the comments will be superfluous. Everything is on the screen. Particularly pleased with the text, about working 4 hours a day and z.p. at 500 dollars.
7)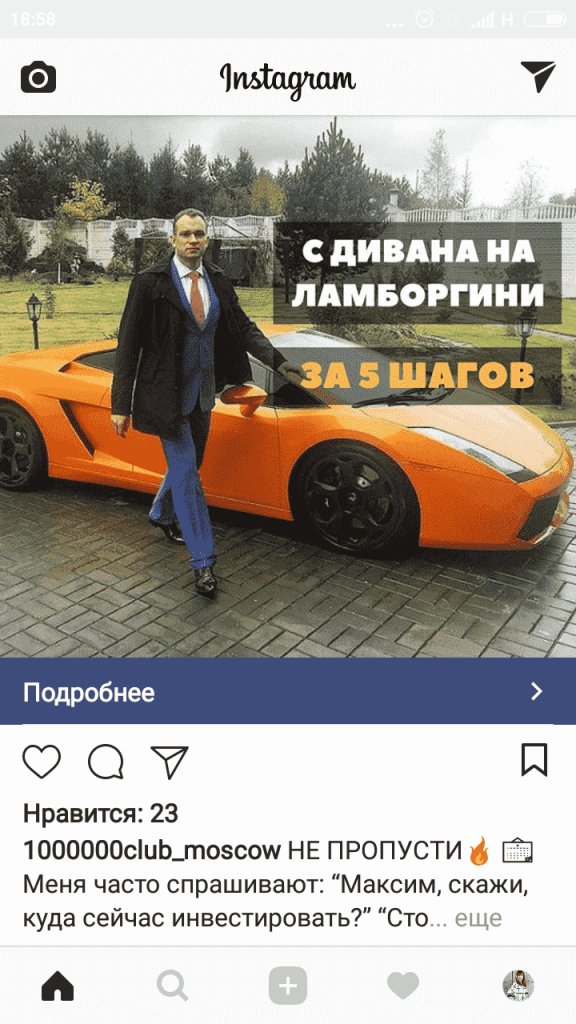 This is also an advertisement in the style of "Make a million." Now no one is doing this anymore. Especially when the account name is so mmmm… it's like it's the 35th duplicate of the account 🙂
8)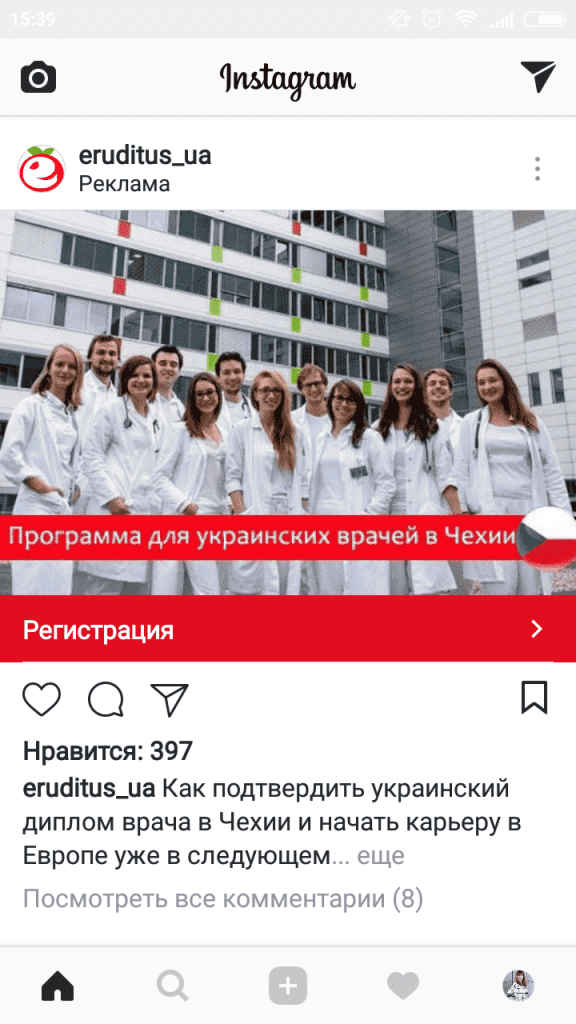 How they targeted advertising for doctors at a person who has nothing to do with medicine at all is a mystery. That is, even interests do not intersect in any way, there are no similar subscriptions. Nothing. Probably, advertising for the whole of Ukraine is set up?
9)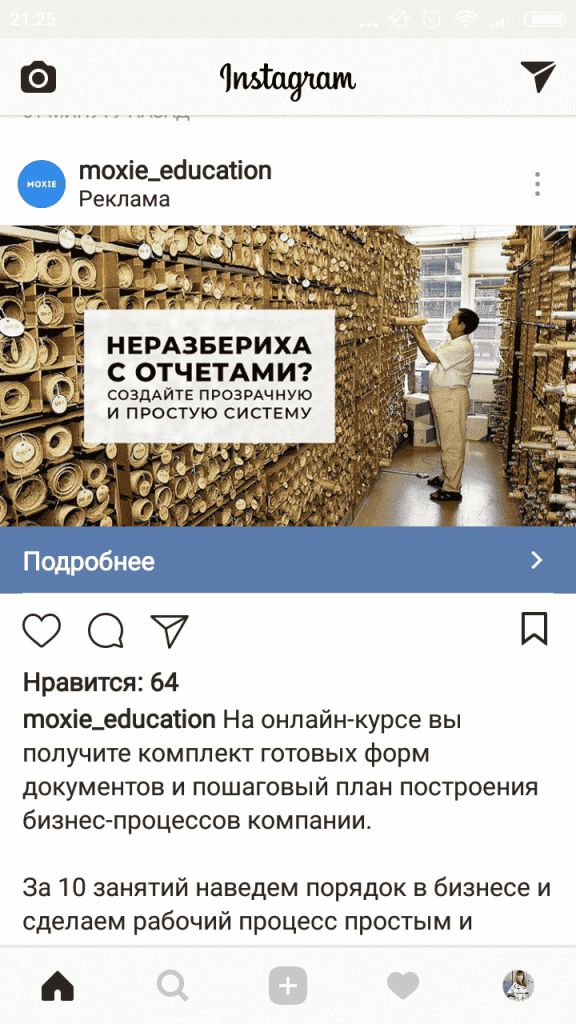 Here with the settings everything is ok. But the photo is just embarrassing. Of course, this is not even a mistake. It's just that, as a user, I got the impression that the wallpaper in the photo is rolls of wallpaper, and not reports.
10)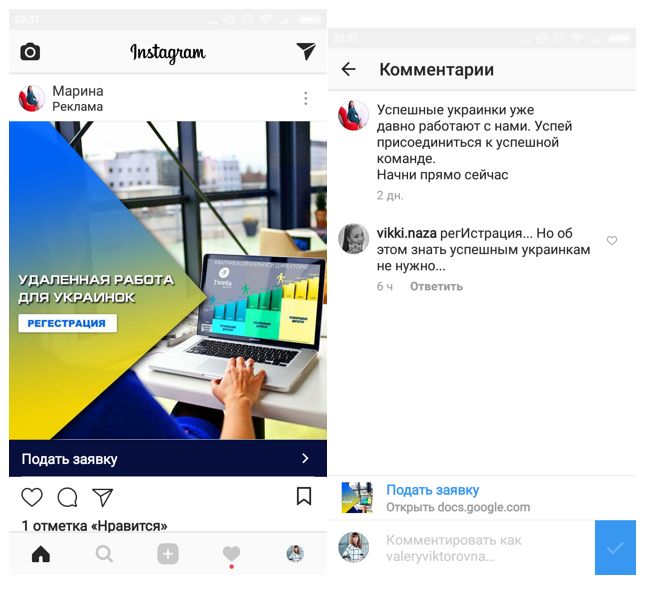 Yes! When you prepare an ad, just remember to check it for errors and typos. We all make mistakes – that's okay. But the verification will only take a couple of minutes.
11)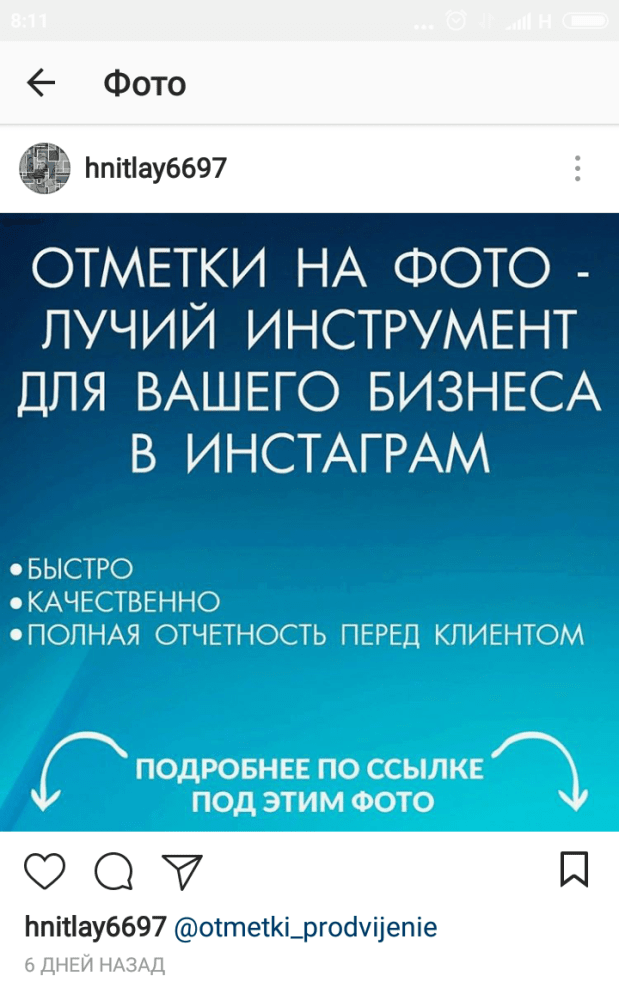 This is not targeted advertising. And advertising, by marking the user. But also about mistakes 🙂
12)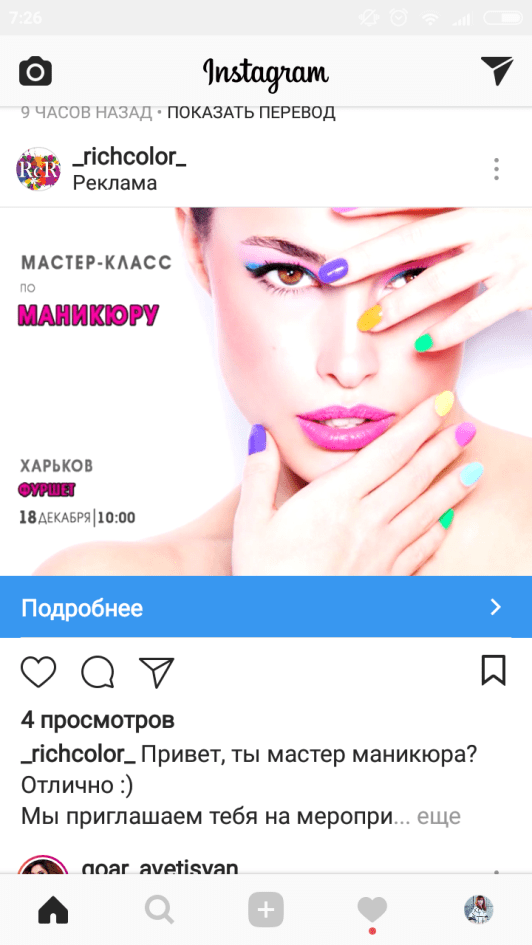 Very often I see advertisements for manicure masters. Although she is simply subscribed to several publics with beautiful nails.
13)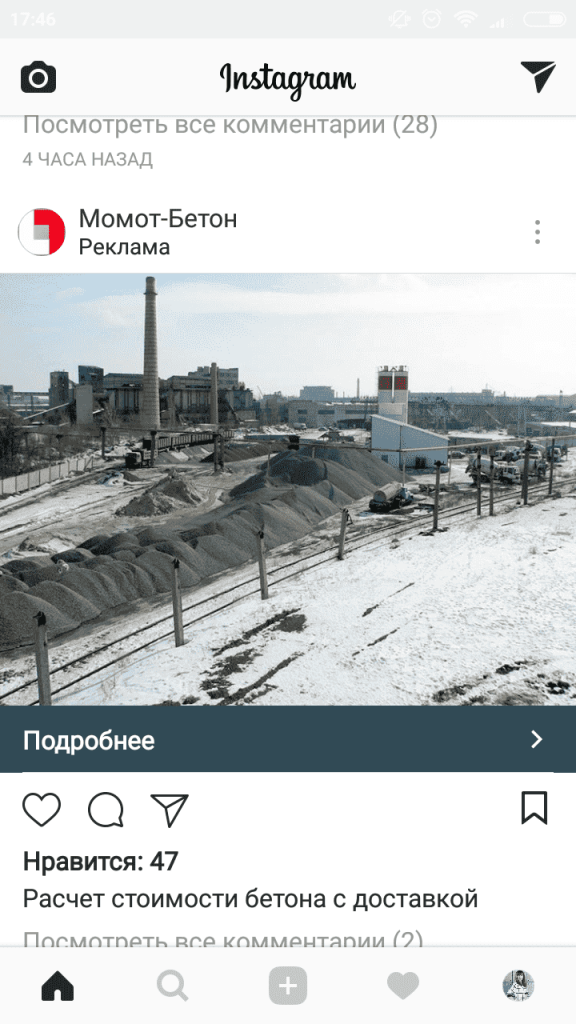 This is the real icing on the cake! Sale of concrete through Instagram! Shows for girls!!! This, probably, if I suddenly suddenly want to roll the enemy into concrete, then …
14)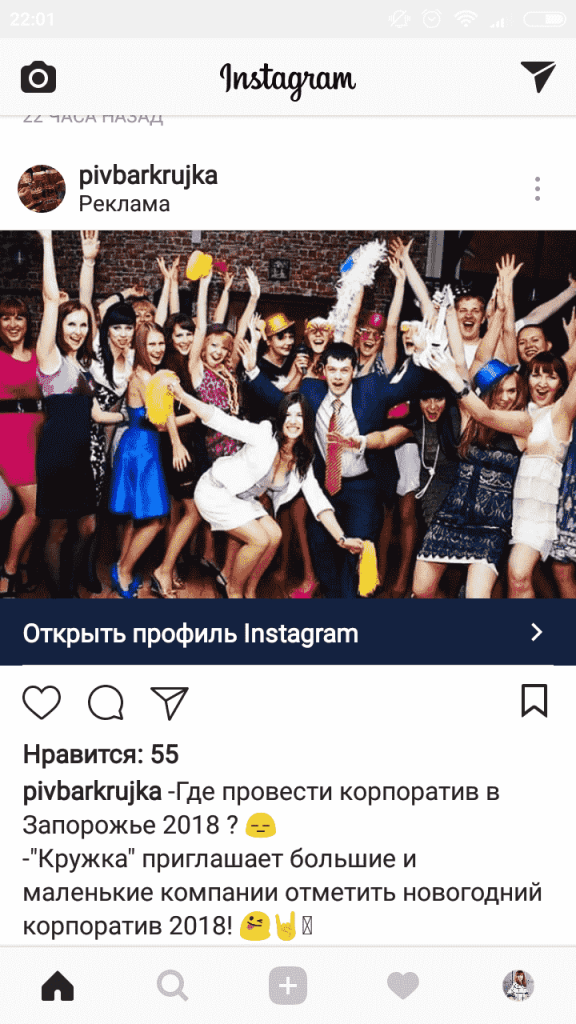 Another error with the geo setting. Although, maybe the targetologist decided that people from Kharkiv would simply give up celebrating a corporate party in Zaporozhye?
15)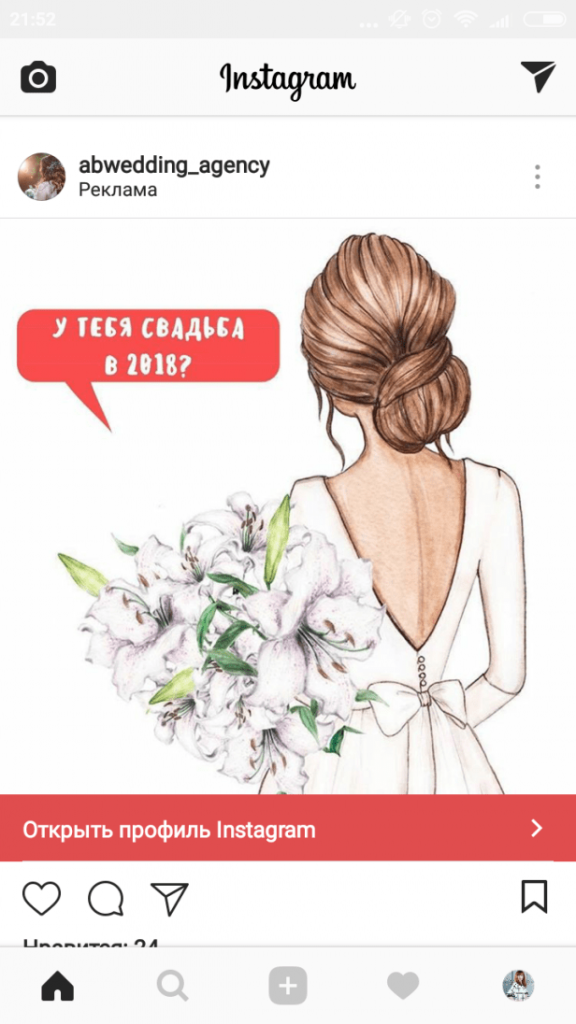 Am I getting married in 2018? Nightmare! 7 years married, but it turns out soon the wedding.
Moreover, to my comment about the fact that I have been married for a long time and am not going to repeat this action, they answered like this: "But you reacted to advertising!" … Yeah, so it works! 🙂
16)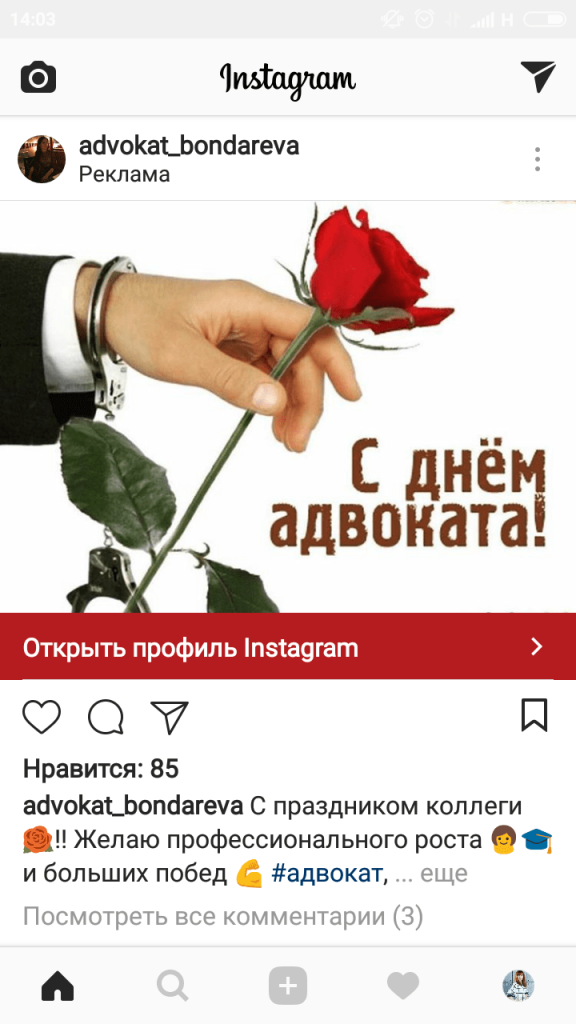 When you are a lawyer, but you didn't know about it!
Congratulations and rejoice. Or maybe this is a hint that it's time to change your profession?
17)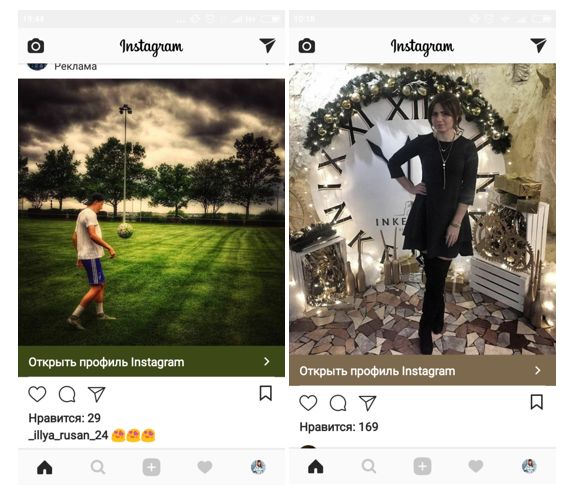 Very often comes across an advertisement for girls and boys, where there is just a photo. Even without text. And sometimes very strange text. The question immediately arises: "so what?" 🙂
The first photo is, of course, beautiful. But it is not clear what I should do with this advertisement, how can the user do it?
18)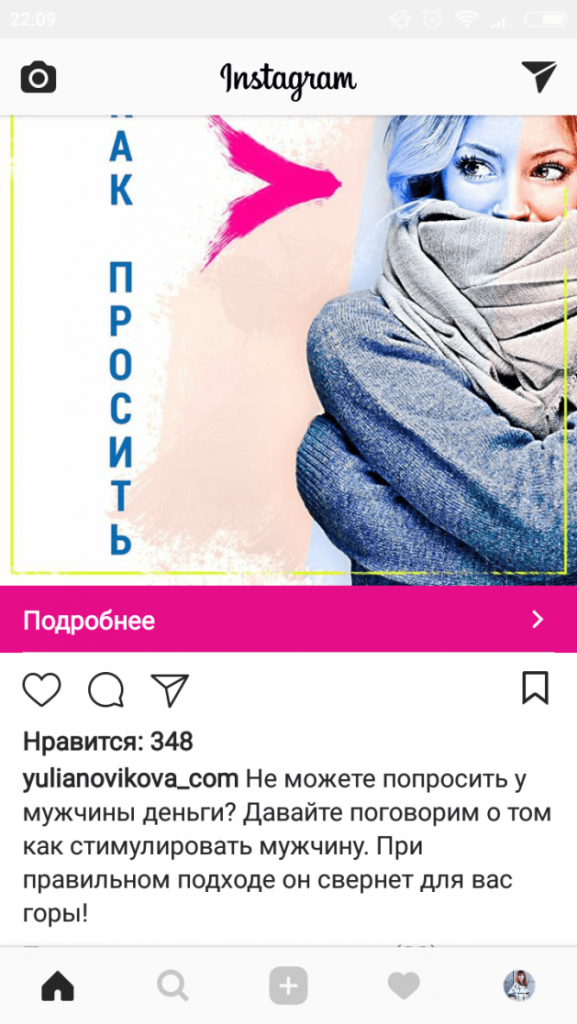 But this ad caught the topic. And not just me. In the comments, a very lively discussion began among the girls: is it necessary to ask at all?
It's interesting how successful the ads were on demand, but the coverage was great – that's for sure!
19)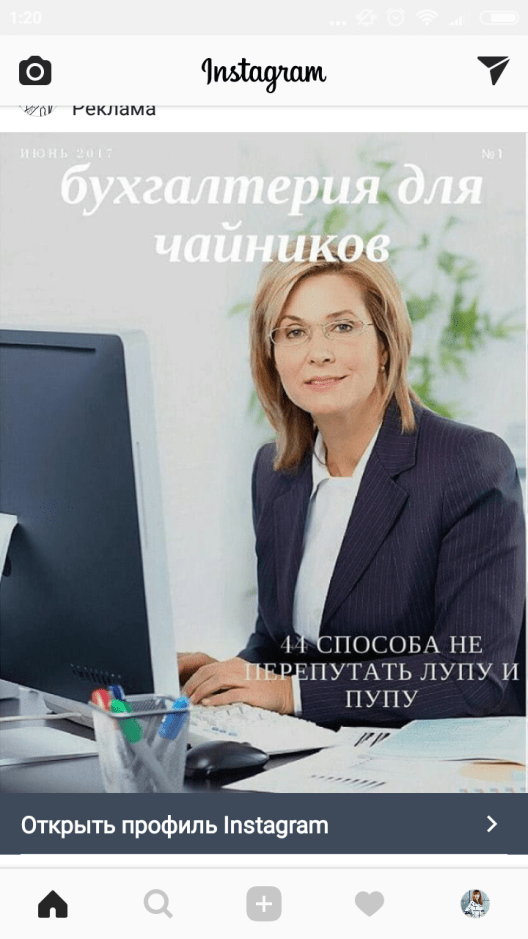 Here's an ad for accounting. Do you think that when you switch, you get on the account of training courses for "under-accountants"? No! This is an advertisement for an entertainment site! How!
20)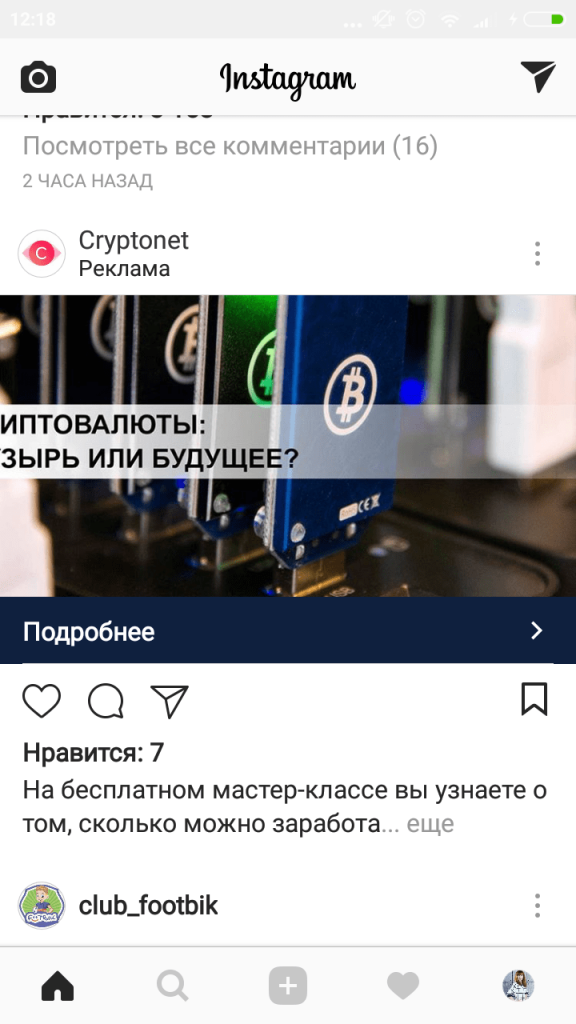 Check the adaptability of text and images for impressions on mobile devices and not only. Don't do it! And then you will get a "zyr" 🙂
High CTR and more conversions to everyone! That's EVERYTHING for now!
Author: Valeria Golovko, head of the SMM department of the IAVR
Internet marketing expert. Head of marketing agency MAVR.
Business degree "Master of Business Administration" (MBA).