How to sell on Instagram: the secrets of a profitable profile
We will send the material to you by email:
Время чтения:

5

мин.
Shopping on Instagram is the most important source of income for many businesses. More than 60% of social network users admitted that they follow goods and services in brand accounts. In the article, we will figure out how to establish a stable flow of orders from Instagram and give a simple step-by-step instruction.

Important stats:
At the beginning of 2020, more than 44 million Russians were actively using the social network.
75% of people click on the website button after reading a sponsored post.
70% higher conversion to sales on this social network compared to others.
72% of companies answered that they attract new customers through their profile.
How to prepare your Instagram account for sales
This social network has a large solvent audience, and it responds responsively to a well-designed account and live communication from the brand. There are a few basic steps that are important to go through before starting the promotion.
Convert your account to the "Business" format. You will see advanced statistics.
Correctly design the header: briefly describe your product or service, indicate a couple of your advantages and leave contacts.
Fill in "Updated". Pinned stories are great for collecting testimonials, an overview of recent collections and arrivals, or important licenses.
Make sure your profile has a simple and unique name. You are easier to find among competitors.
Don't forget to include a link to your website or Taplink.
Choose a concise and bright avatar that catches your eye.
You need to work on texts and visuals. Make a content plan for posts and stories to maximize your benefits. You are now ready to move on to promotion.
How to advertise products
When you properly design the page and take care of the content, it's time to attract an audience. There are many advertising formats and tools on Instagram – promotional posts, promotional stories, placement with bloggers, etc. They have two common disadvantages: high price and high energy consumption.
It is much cheaper and easier for many brands to work with mass following. The scheme is simple: a special service helps you select the right audience, automatically subscribes to it on your behalf and likes it. Some people notice your subscription and follow your account in response, view information about products and are often ready to buy right away – it is only important to warm it up.
The largest, and most importantly, stable and efficient service from this industry is Tooligram (unfortunately, today it has closed). Tens of thousands of accounts receive new orders every day thanks to it. It allows you not only to attract the attention of target users, but also immediately close them for a purchase.
This scheme is suitable for any business: clothes or cosmetics store on Instagram, beauty salons, fitness and any other projects. It is also perfect for experts and specialists from different industries to build a personal brand and recruit clients.
1. We select our target audience
Describe who is in your customer group. Pay special attention to two points: what are their main interests and what social media accounts should they follow. Highlight the accounts of your direct competitors, businesses with related topics, and just profiles on the topics you need.
2. We find a client and attract attention
Start mass following and liking in Tooligram for selected accounts. First of all, aim at the audience of your competitors – it will be the most interested. And then you can try setting up for certain geo-points or collect users by hashtags.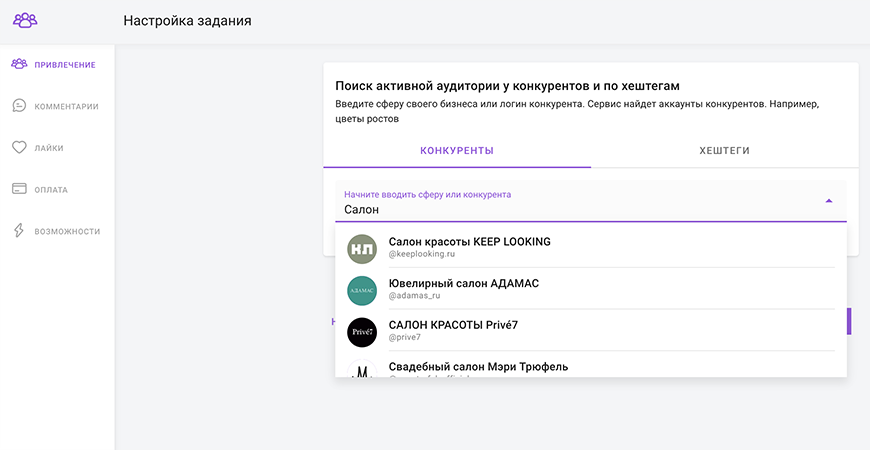 The service will start to subscribe and like, and attracted people will get to your page, begin to subscribe and like.
3. Close for purchase with a quick message
As soon as a person subscribes to you or likes you, the service will immediately send him an automatic message in Direct on your behalf. You can immediately offer him a nice discount or strike up a conversation that will lead to an order.
An experienced SMM specialist came up with an example of a useful start of communication for his new subscribers. A good way to immediately show expertise and engage in a conversation: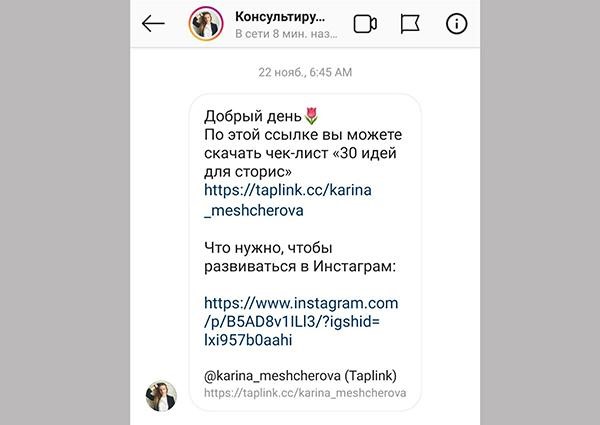 Think carefully about the text of the opening message. It will allow you not to lose the attention of those people who interact with your profile. It is better to immediately write down a list of possible questions or objections from customers in order to have ready-made answers and communicate with them fully armed.
You can follow these steps for free. This helps to make sure that the service is effective for you and to see how things work in practice.
How to increase sales on instagram
3 steps completed and laid the foundation for a stable flow of sales on Instagram. Let's add a couple of tricks that will help you bring the number of orders to the peak level.
Second touch
Do not forget the interlocutors in Direct who did not buy right away. Give them time to think and be sure to write again. Offer them a personal discount or gift, tell them about new products similar to the one that the subscriber initially liked. The second touch will increase the number of new orders by at least 20%.
Disappearing Discounts
A life hack that is actively used in the West, but so far rarely used in Russia and the CIS. Post a special offer in your stories that is valid only for 24 hours. One-time promo codes work especially well. Then the user will feel that something unique has got to him, and he will not want this discount to simply "burn out" – which means he will buy it!
Now you know exactly what steps will help you successfully sell on Instagram. Don't forget to improve content, try fresh ideas, and select new audience sources for mass following. And competent work with Tooligram will help you attract more and more new customers inexpensively and without wasting your time.
Internet marketing expert. Head of marketing agency MAVR.
Business degree "Master of Business Administration" (MBA).