"Query Clustering" – a new tool from Serpstat
We will send the material to you by email:
Время чтения:

6

мин.
Today I want to talk about how to use the new Serpstat tool – Query Clustering (semantic grouping of downloaded phrases). Is he really good?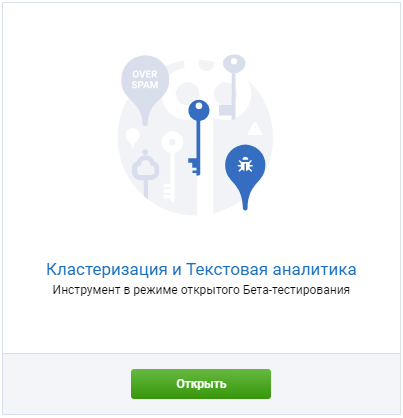 What is clustering and why is it needed?
Clustering is the process of grouping key phrases into separate clusters to promote specific pages. Each group should contain the most suitable phrases in terms of meaning.
1 cluster = 1 page
Clustering is the most important step in working with the semantic core. After all, how the phrases will be broken down depends on how high-quality the pages will turn out and what traffic they will bring.
You can qualitatively ungroup a phrase both manually and with the help of special tools. The first method, as you understand, is very complicated and, most importantly, time-consuming. But do not expect that in the second option you will not have to do anything – you still have to work. Firstly, you need to set up clustering, and secondly, check the result. Yes, there are mistakes. Not only people, but also machines can make mistakes.
What is clustering for?
Creation of a high-quality site structure.
Creating a group of phrases for a specific page (for example, for an article).
Determination of residual key phrases (queries that are not included in any cluster).
Analysis of the semantic core of the site (whether requests are correctly distributed across pages).
What types of clustering exist?
Clustering is of the following types:

Soft clustering
To combine requests into a cluster, you need to take 1 main request and compare all the rest with it by the number of common URLs from the TOP. If at least one pair of requests has the same URL, then all phrases are added to the cluster. With such clustering, large groups are obtained, which means that the probability of error is higher. In such clusters, there are often phrases that are not compatible for promotion on one page.
Hard clustering
Phrases are combined into a cluster if there is a common set of URLs for all phrases that is shown in the top for all these queries. With this approach, there will be fewer phrases in the cluster, but there will be more groups (as well as more unassigned phrases). Accordingly, the output is better semantics.
What clustering settings are there in Serpstat?
Consider what and in what cases to choose. In addition to setting the clustering type to Soft or Hard, the Serpstat tool also has such a setting as Link Strength, which has 2 values: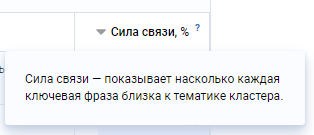 The Strong setting, of course, means that more common URLs in the TOP are required to cluster phrases than Weak. Accordingly, Weak requires fewer common urls.
By default, Serpstat is set to Weak and Soft. Of course, you can change them – it all depends on the goals you are pursuing and on the phrases you are uploading. If you have requests of the same subject, for example, you sell 1 type of product or provide one service, then it is more expedient to use Strong and Hard clustering. You will get many groups and the accuracy will be higher. In this case, the clusters will have queries that are very close in value. Works very well for creating a detailed site structure. Therefore, if you need to ungroup semantics, for example, for a new project, then it is better to use the Strong and Hard settings. Well, or at least Strong and Soft.
If the subject matter is diverse, for example, if it is a large online store of various goods or you provide a wide variety of services, then it is better to use the Weak and Soft settings.
How to work with the clustering tool in Serpstat?
Now let's take a step-by-step look at how the Clustering tool works.
In the "Tools" section, you must select "Clustering and text analytics".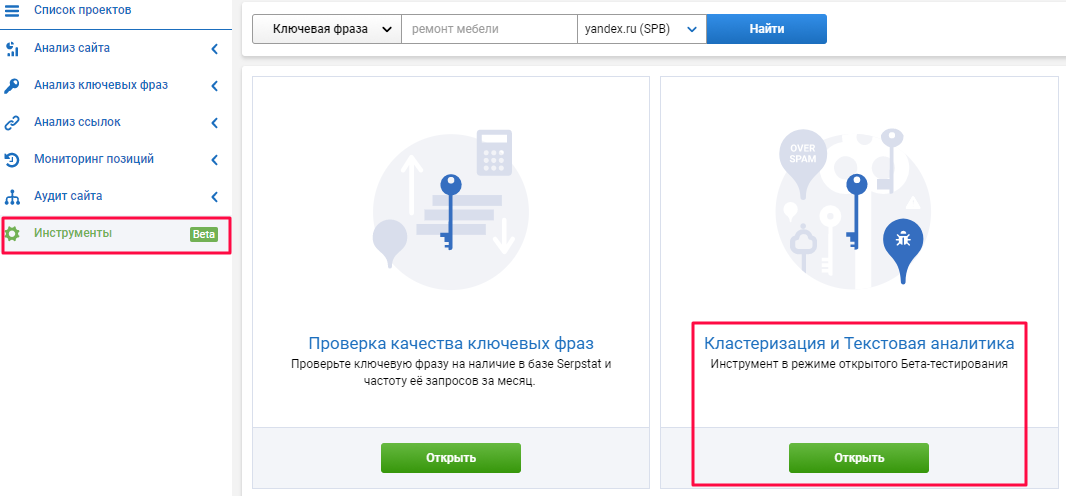 Then you need to create a new project in which you specify the following data:
Project name.
Domain (optional).
Key phrases – can be added manually or loaded from a file.
Then you need to select a search engine and region.
Note: Google Russia is installed by default. At the time of testing the tool, a bug was discovered – it was not possible to select the whole of Russia as a region, the first city from the list was automatically pulled up. But by the time the article was written (only a week had passed), the guys fixed everything 🙂
I remind you that the tool is still in beta version. So, there may be minor flaws. I hope that everything will be fixed by the release of the final version.
And, of course, we set the strength of the connection and the type of clustering.
When all the fields are filled in, it remains only to click on the "Finish" button and wait until the clustering process is completed. How long this process will take depends, of course, on the number of downloaded phrases.
To test the operation of the clusterer, for example, I took an article from our blog Programs and services for promotion on Instagram. To complicate the task of clustering, I added queries that are not related to the subject of the article to the list of keywords.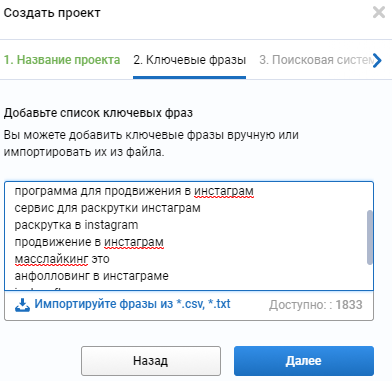 The result is: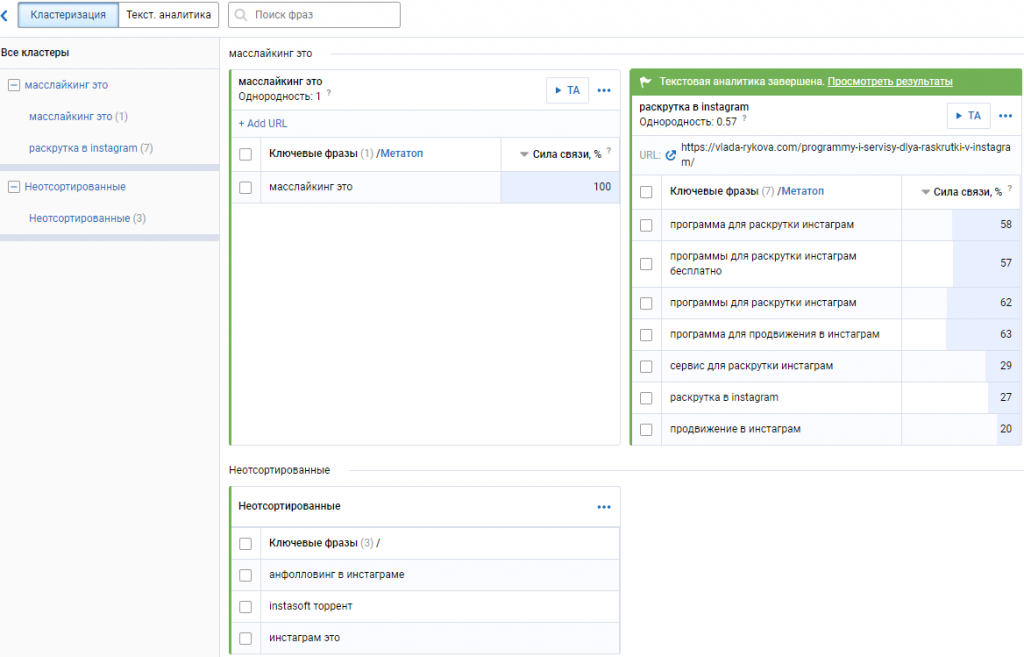 On the left is a list of received clusters, and on the right is their contents (keys that are included in the cluster).
What to do with this information? Can:
Edit the cluster (for example, add or remove a phrase);
View top issue;
Delete cluster;
Move phrases from one group to another;
Create your own cluster;
Export data.
If you have noticed, then there is still an opportunity to conduct text analytics. But I will talk about this in the next article.
The service did a good job with the grouping. Those queries that I added intentionally were distributed into separate clusters. I really like that it is possible to independently edit groups of requests. Not tested for large volumes of information. But I think the tool will make your job easier. Therefore, it is better to use than to do it manually – save time. And this is very important at the present time.
What is the cost of using this tool?
The opportunity to use clustering in Serpstat appears starting from the Plan B tariff (its cost is $69/month). Unfortunately, this tool is not available in the lowest and especially free plan.
In the tariff plans, of course, there is a limit on the number of keywords used:
Plan B – 4000 phrases,
Plan C – 12,000 phrases,
Plan D – 25,000 phrases.
And also while the tool is in the beta version, a restriction is set – for one project you cannot group more than 2000 phrases.
For more information on how clustering works in Serpstat, see the video:
Author: Ksenia Pashkulskaya, head of SEO-department of MAVR marketing agency
Руководитель SEO-отдела маркетингового агентства MAVR. 4 года опыта в SEO.
Имеет опыт в сферах: beauty, спорт, рекламные услуги и т.д.
Количество проектов: более 94