Link to QR – Perhaps Ultimate QR Code Generator
We will send the material to you by email:
Время чтения:

3

мин.
Link to QR is more than just a QR code generator. It's a dynamic tool catering to various needs. Whether you're a business owner, social media enthusiast, or everyday user, Link to QR offers a wide range of QR code types to suit your requirements.
VCard QR Codes
Networking made easy with Link to QR's vCards. Imagine attending events – no more business card fumbling or manual contact entries. Encode your name, phone, email, job title, and company details into a scan-ready QR code. Others instantly access your info, fostering connections effortlessly.
PDF QR Codes: Instant Access to Rich Content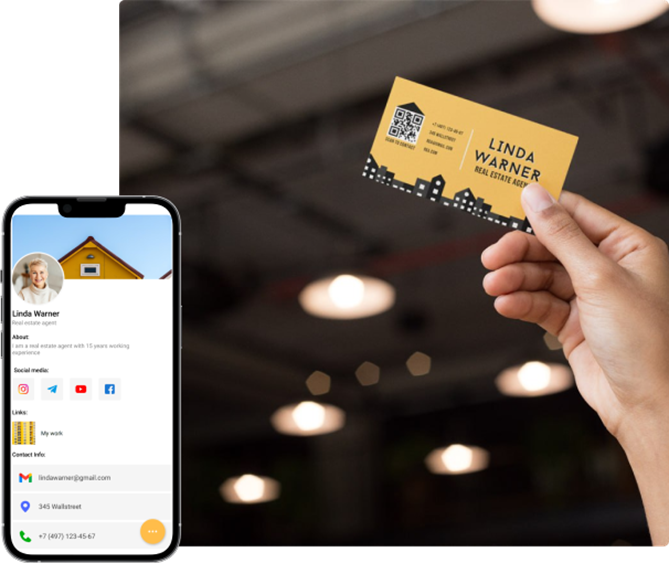 PDF QR Codes
Give your audience direct entry to comprehensive content without lengthy URLs or complex searches. Link to QR's PDF QR codes enable quick access to detailed PDFs, brochures, reports, and more. Share product manuals, event schedules, or educational resources effortlessly.
Rating QR Codes
Enhance customer experiences with easy feedback collection. Link to QR's rating QR codes allow customers to share opinions and ratings with a simple scan. Embed them on receipts, packaging, or within your establishment for instant engagement and insights.
Social Media QR Codes
Elevate your online presence with social media QR codes. Generate codes for platforms like Facebook, Instagram, or Twitter, seamlessly connecting the physical and virtual realms. Expand your reach at events, on promotional materials, and beyond, amplifying your online interactions.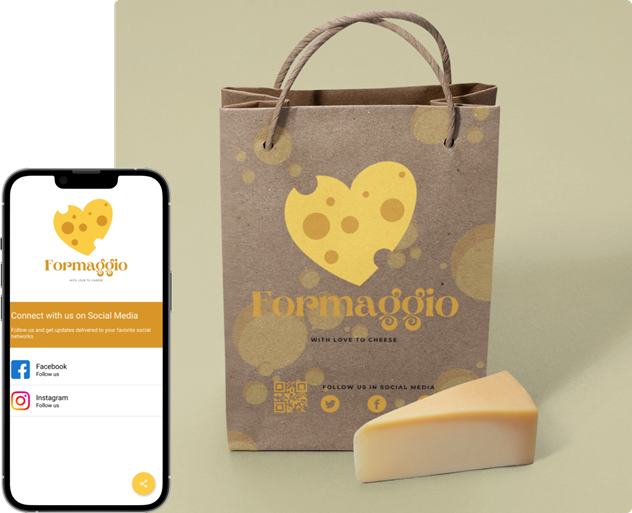 Menus QR Codes
Revolutionize dining with Link to QR's PDF menu codes. Instantly access dynamic menus, images, and descriptions. Update in real-time for specials and promotions, enriching the culinary journey.
Business Page QR Codes
Integrate impactful videos into business communication with Link to QR's video QR codes. Elevate print materials, packaging, and spaces for interactive engagement.
Feedback QR Codes
Refine your business with Feedback QR Codes. Display codes for easy insights and suggestions. Gather valuable feedback, improve offerings, and strengthen customer connections.
Unleash Endless Possibilities with Link to QR
Link to QR's versatility goes beyond contact details, PDFs, and social media. Create QR codes for websites, product pages, texts, or precise locations – all in one user-friendly interface. Simplify communication and interaction, limited only by your imagination.
Experience Innovation with Link to QR
In a world valuing convenience and connectivity, Link to QR revolutionizes QR code use. Discover limitless potential – from networking to dining – all in a single platform. Every scan unveils new opportunities for communication and engagement.
Link to QR Pricing: Empowering Small Businesses
Link to QR offers accessible QR solutions for businesses. Our free basic plan includes a QR code and digital business card. Upgrade for more features like multiple codes, enhanced analytics, customization, and priority support, all at competitive prices.
Free Basic Plan
Upon registration, every user automatically receives a complimentary package that includes:
1 QR Code: Generate and utilize one QR code to promote your business or content.
1 Digital Business Card: Create a professional digital business card to share your contact information seamlessly.
User-Friendly Design
Link to QR prioritizes user-friendliness. Our intuitive interface ensures smooth QR code creation, regardless of your tech background. Generate codes confidently, whether you're a tech pro or a casual user.
Branding and Customization
Link to QR lets you tailor QR codes to your brand's identity. Choose colors, styles, and incorporate logos for a personalized touch. Leave a lasting impression while sharing information seamlessly.
Embrace Link to QR
Unlock new dimensions of convenience and connectivity with Link to QR. Transform information sharing, audience engagement, and connections. Embrace QR codes as gateways to boundless potential.
Internet marketing expert. Head of marketing agency MAVR.
Business degree "Master of Business Administration" (MBA).