Marketing a holistic high-tech product when entering the early financial market
We will send the material to you by email:
Время чтения:

4

мин.
Any high-tech (high-tech) product goes through a technology adoption life cycle. Each stage is dominated by its own types of consumers: enthusiasts, visionaries, early majority, late majority, goof off. In this article, we will only touch on the stage of entering an integral product into the early market, and therefore how exactly to influence and interact with enthusiasts and visionaries – bright representatives of the early market.
Terminology
But first, let's clear up the terminology. In this article, I will use the terminology of Jeffrey Moore, author of Crossing the Chasm.
A complete product is a fully configured solution that includes the entire range of products and services required by a given market segment. For example, there are automated scoring systems (systems that make it possible to assess credit risks for each borrower). They can be applied in:
banking sector for an accurate assessment of the borrower's creditworthiness (Plug-n-Score Modeler),
insurance industry to select the optimal insurance parameters (Scorto InsuSafe)
other areas.
These are not whole products, as do not cover the entire cycle of the insurance company or bank. An example of a holistic product is Turnkey Lender, a cloud-based system that covers the entire online lending cycle, from application to portfolio compilation and monitoring.
You probably already know what an early market is. A striking example of an early market in the financial sector is the emergence of cryptocurrencies and the most famous of them – bitcoin (BTC). If we do the simplest research and see how well known online lending systems are to users, we will see the following statistics for the CIS countries and Russia:

We can also see the history of requests for the year.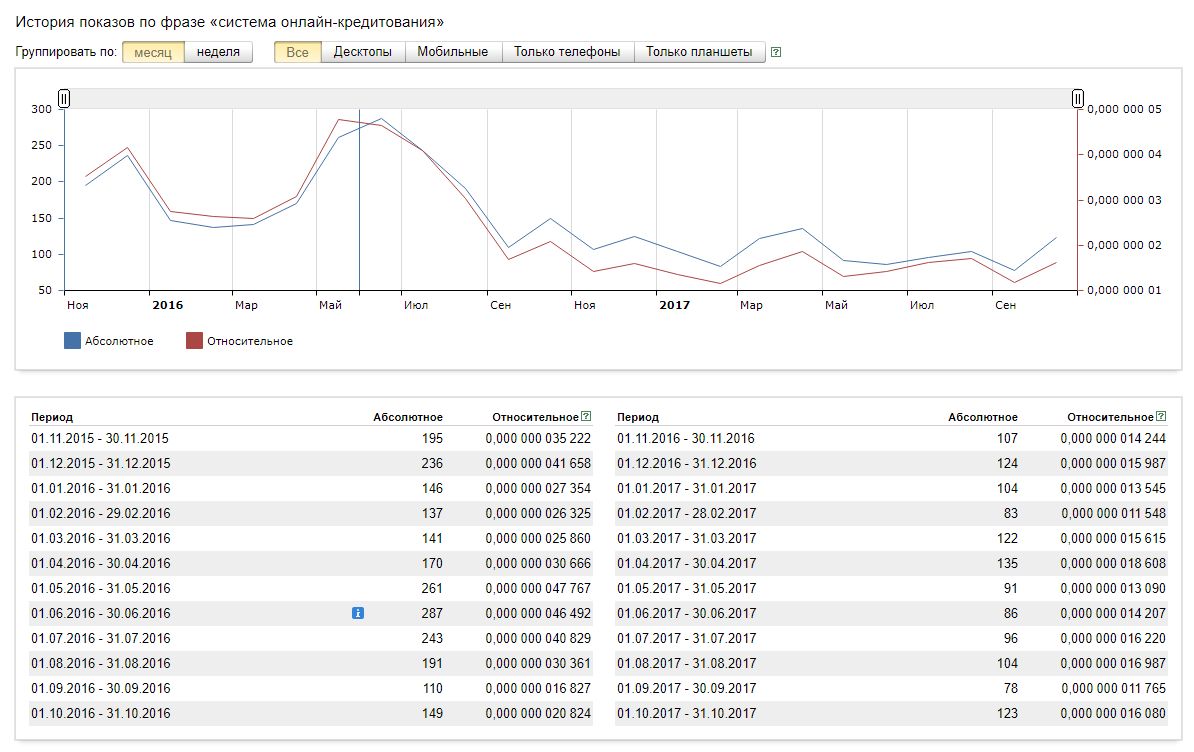 So, this is a new direction, a new technology that is not known to everyone. It is clear that the market is growing. In the West, this is already a developing market, so online lending will be used not only in the banking sector, but even by private entrepreneurs (online stores or payday loans).
Commented Mark Visser, Director of Scorto: "For many years we have served financial institutions of all sizes around the world, and have recently seen a rapidly growing trend in online lending. Companies are looking for simpler and more cost-effective solutions for their credit management needs."
Target audience of the early market
Who is the target audience in the early market? Who enters such a query in search engines? The main participants in the early market are technology enthusiasts or innovators and visionaries.
Enthusiasts are primarily interested in manufacturability. They love everything new, even if they do not understand where it can be effectively applied. A prominent representative of this type of buyer is Dr. Brown from Back to the Future.
Visionaries are those who catch the trend and can predict the development of technology. For example, Henry Ford, who began to use assembly line production of cars so that every family could afford a car, acted as a visionary.
In Russian, there is even a generalized designation for these two types of consumers – "geeks" – people who are overly passionate about technology.
What qualities of a high-tech product are important for these representatives of the early market? As you already understood, this is a product-oriented target audience. Below I list the characteristics to consider in your positioning and marketing strategy. I will use examples of the product I have chosen to explain.

Product features important to the early market
Speed
Examples:
with the help of Turnkey Lender, the lending business will be ready for operation in the shortest possible time;
readiness for operation immediately after purchase;
improving the speed and quality of customer service;
instant assessment of the borrower thanks to the built-in scoring card (part of the credit assessment methodology).
Ease of use
Examples:
ease of installation and use;
manage credit policy with customizable decision rules;
does not require any special skills.
Architecture
The system consists of two functional blocks:
An online interface for a borrower with the functionality of filling out and sending loan applications, managing personal data, tracking the status of an application, repaying a loan through the back office.
Modules for the lender: automation of internal and external processes of the organization: from the creation and processing of online and offline applications by loan officers to debt collection.
The ability to use only those functions that are needed.
Price
Monthly subscription fee only for actually used modules.
Unique functionality
Integration with the Bureau of Credit Histories (BKI), payment systems and other services.
Integrated scorecard.
The system has a modular structure, access is provided depending on the function performed.
Acceptance of online and offline loan applications (loan officer),
Making a decision on issuance – viewing the recommendations of the system on the application with the ability to cancel the automatic decision, if necessary (underwriter).
Loan support through the customer relationship management system (CRM).
Debt collection – quality control of the borrower's performance of credit obligations (system notifications in case of violations of payment discipline).
Recording the history of communication with customers, planning the actions of employees, etc.
Comprehensive reporting on the work of the organization.
Using these messages in your marketing activities, you will reach the hearts of your target audience – innovators and visionaries.
Internet marketing expert. Head of marketing agency MAVR.
Business degree "Master of Business Administration" (MBA).