Mass actions on Instagram. Gramtomato review (closed)
We will send the material to you by email:
Время чтения:

5

мин.
Hello, dear readers, in this article we want to tell you about mass actions on Instagram. Which of these actions we consider the most effective and leading to the achievement of the cherished goals, as well as how they can be automated and not fall under restrictions from the site administration.

Mass actions on Instagram
Mass actions on Instagram is a very effective and profitable way to attract followers and customers to your blog or business. For the past few years, the automation of this method has not been safe for your account. But for performing these actions manually, your account is not in any danger. And so what actions will be most effective for those who want to get the attention of the audience or attract the attention of potential customers to their business?
Subscribe and likes only to new subscribers of your competitors. These people have recently signed up with your competitor and are probably still looking for a product or service that you can offer them on better terms than your competitor. Track and update the list of subscribers – new ones will be at the very top.
The second no less good way to get the attention of the audience is to like and subscribe to commentators of popular bloggers on your subject. These are probably active accounts and they are very likely to subscribe to you and will also be active.
Like your subscribers as well, including new ones, not all of your posts are displayed in the feed of your subscribers. Active Instagram pages attract the attention of the audience and increase the reach of their posts and stories.
But performing these actions manually is a monotonous and routine job that requires a lot of attention and time from you, so it would be appropriate to delegate these tasks to programs designed to perform them. Unfortunately, there are not so many ways to automate today. Instagram algorithms have already learned to record the facts of transferring login data to third-party software, and soon after that the account may be blocked. To avoid such incidents, we recommend using solutions and services that do not require the transfer of login data.
To date, there are very few solutions on the market that can 100% imitate manual work, some of them are quite convenient, and some are not. The last of the above include emulators for smartphones, since for this method to work, you must constantly keep the device on the tab with Instagram, thereby all other functions become inaccessible to you. In addition, this solution is only suitable for smartphones on the Android platform, emulators are not provided for IOS at all. We would like to include browser extensions that can work in the background as convenient solutions, one of which was developed by the Gramtomato team. The extension will work from your home ip address and your account's native session, without drawing the attention of site algorithms to your account, and it will not be blocked. Also a nice bonus will be a free trial when subscribing on the official Gramtomato website.
How to use the Gramtomato extension?
The site and extension cabinet has one of the friendliest interfaces and has a chat with technical support on all pages, so even a novice Internet user can easily understand them. But still we will not miss the opportunity to present it to you.
1. After you register on the Gramtomato website, you will be greeted with detailed step-by-step instructions with screenshots on how to properly install, run and configure the extension. It is impossible to skip this stage until you go through all the steps, you will not get access to the cabinet and settings, which in our opinion is a good indicator, the developers do not sell an incomprehensible product, it is important for them that you get the desired result and not be disappointed.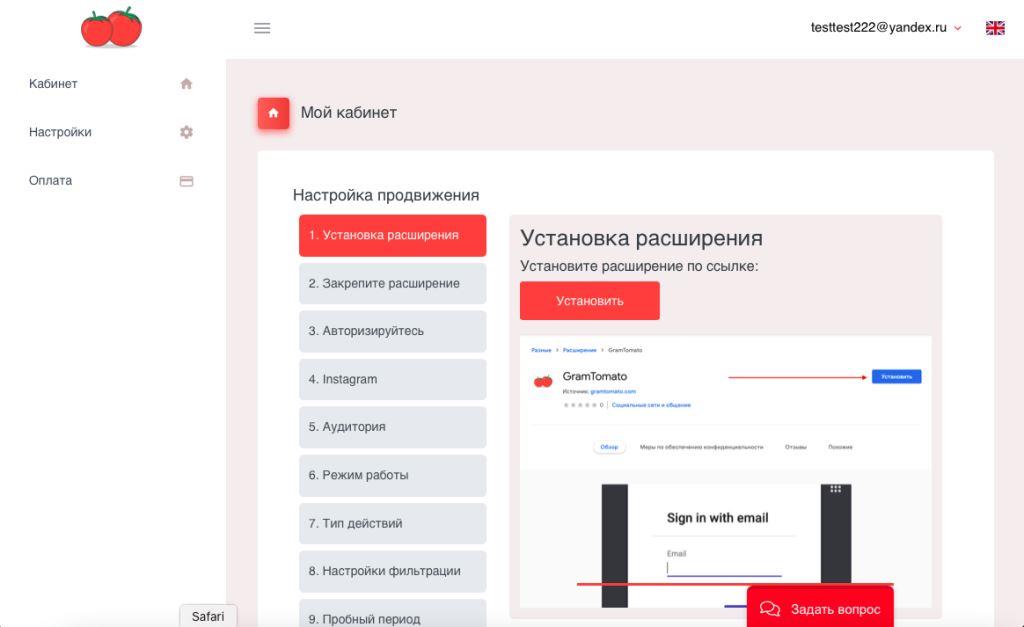 After you go through the instructions, you will have access to the "Account", "Settings", "Payment".
2. In your account, you will see the status of the extension and subscription, as well as statistics on the results of the extension. "Extension status" tells you that the extension is installed correctly and works correctly, or that some kind of failure has occurred and you need to contact the developers. "Subscription Status" informs you about the expiration date of the current subscription. Extension statistics will show you how many people processed in total, how many people liked or subscribed in response and conversion.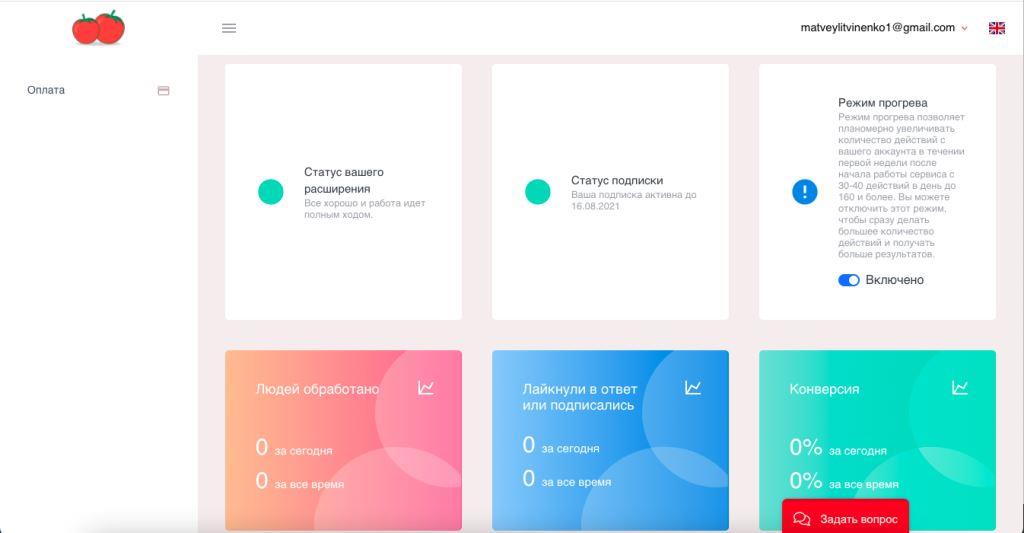 3. Promotion settings are quite simple and intuitive, there are only 4 settings: "Audience", "Operating mode", "Action type", "Filtration settings".
In the "Audience" you need to specify traffic sources, these can be popular communities or competitor accounts.
In "Operating Modes" you can choose from two options: 1 – The Service can only track new subscribers that you selected in the previous account step, follow and like only them. This increases the percentage of backfollowers and likes due to the fact that these new followers are probably active, as they have recently followed someone. Or 2 – The service will search for your target audience among all subscribers of the accounts you selected in the previous step and subscribe and like them.
In the "Action Type" you specify what kind of action you want to attract attention to yourself by liking or subscribing.
"Filtering settings" is an additional option that can significantly improve the quality of the attracted audience, if you enable this option, the Gramtomato extension will be more selective with which accounts it interacts with. The screenshot shows the full list of parameters by which you can filter your potential subscribers.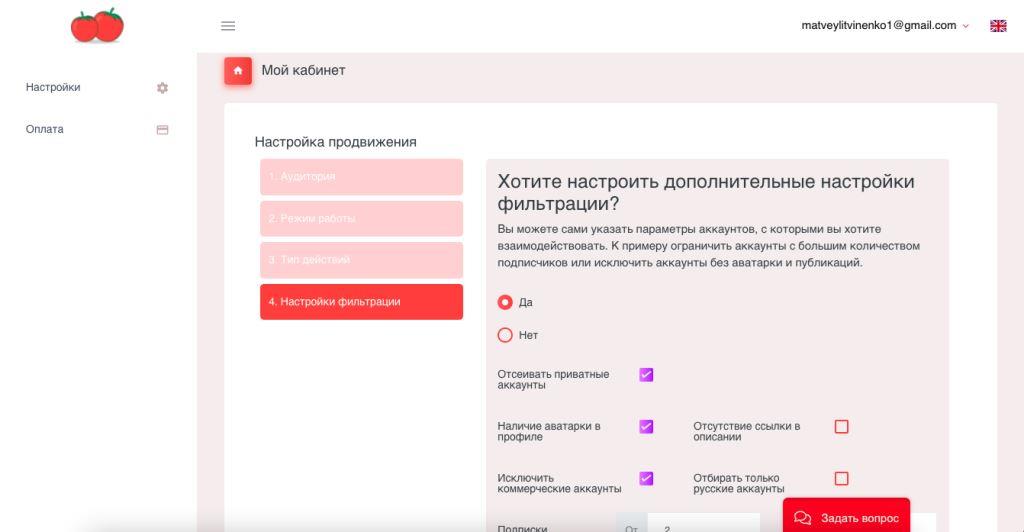 4. On the "Payment" page, you will be informed about the terms of the subscription, as well as when your subscription ends, from here you can quickly go to the payment page so that the attraction work does not stop.
We hope that this article was informative and useful for you, we wish you success in promoting your profiles and enjoy your work with the Gramtomato service.
Internet marketing expert. Head of marketing agency MAVR.
Business degree "Master of Business Administration" (MBA).