Anna Myasnikova: "I help when I see that a person repents. If not, then I don't take on such cases"
We will send the material to you by email:
Время чтения:

4

мин.
Anna Myasnikova, a lawyer and head of a consulting company, shared with us the intricacies of jurisprudence and told us in which court case she would like to take part.

You can learn more about Anna and her company on the website https://biznes-zakon.ru/.
Anna, what are you doing?
I run a consulting company and manage commercial real estate (if we are talking about business) 🙂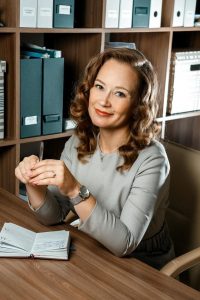 What does your day consist of?
Wake up, breakfast, office (operational once a week with all employees, fulfillment of planned strategic tasks through delegation, litigation, important events, meetings with clients, preparation of documents), sports (2-3 times a week), dinner, reading, lights out .
Why do I need a lawyer if I'm definitely not at fault?
To competently navigate through all the wilds of jurisprudence. Without a good lawyer, you can become guilty 🙂
How can you learn all the laws?
Impossible, but you need to know your basic rights and obligations.
What are the criteria for choosing a lawyer/lawyer?
Choose a lawyer with a good reputation, recommendations and level of training.
What annoys you in your profession?
Preparing a package of documents for the court (that is, photocopying and forming packages for the persons involved in the case), but I solved this problem by delegating this work to my administrator 🙂
How many people work with you?
About 20, but new ones keep coming.
Describe what it's like to help a bad guy 🙂
Eh, this is difficult from a moral point of view. Once I refused to help a traffic offender. This is my former student, who was driven by a vehicle while intoxicated, and the court wanted to deprive him of the right to drive a vehicle. He talked so sweetly about what a "hero" he was that I could not stand it and told him: "I will not help you, because you are not aware of what you are doing. Next time you will hit someone on the road and you will also smile." I help when I see that a person repents. If not, then I don't do things like that.
In which of the closed cases in the history of the Russian Federation would you like to participate?
Well, for example, in the famous arbitration process of 2017, this is the confrontation between Rosneft and the joint-stock financial corporation Sistema of businessman Vladimir Yevtushenkov in a corporate conflict over Bashneft. Rosneft, which has controlled the Bashkir oil company since 2016, considered that the previous main owner, AFK Sistema, caused losses to Bashneft when, under the guise of reorganization in 2013-2014, it withdrew cash and other assets from it. The losses of the "daughter", taking into account the depreciation of the ruble, "Rosneft" estimated the amount of the claim to be a record for Russian courts – over 170 billion rubles. In August, the Bashkirian arbitration satisfied the claims by almost 80%, recovering more than 136 billion rubles from Sistema in favor of Bashneft.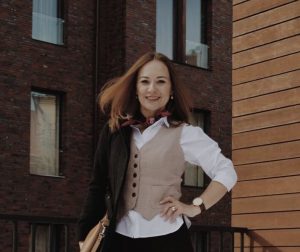 If not for law, then what?
In addition to being a lawyer, I am also a teacher (my very first education was a music teacher at school and a music teacher in kindergarten) and an image maker. All my professions are in demand, so I will never get tired of law. I have been in the profession for 20 years and never once during this time did the idea of leaving it even cross my mind! In general, I am a multipersonality that constantly improves my skills and opens up new horizons in knowledge 🙂
What films would you recommend to young lawyers?
To be honest, I don't watch TV 🙂 And I would advise you to review all possible webinars that are freely available on the Internet related to jurisprudence.
Can I study and become a lawyer in a short time?
To learn yes, but to become in a short time will not work. I repeat that I have been in the profession for 20 years, but I am still honing my skills and striving to be better!
---
The interview was prepared as part of the "Interview with our Clients" project. If you are our Client, and we still have not talked about your project in the blog, contact us in any convenient way to prepare for publication.
Expert in media marketing.
Speaker of specialized events on the topics: journalism, sales and media marketing.