Overview of the service for promoting on Instagram – BMBE
We will send the material to you by email:
Время чтения:

5

мин.
In our age of total need to optimize everything, you rejoice like a child when you find a good service that makes your work much easier. We present to your attention – a service for promoting on Instagram – bmbe.ru

According to the creators of the service, Bmbe is a marketing platform for effective account management. Well, a good goal and a direct hit in the "pain" of the target audience. A multifunctional service is the dream of any Instagram SMM manager!
In this article, we will analyze the functionality of the bmbe service, talk about the pros and cons.
Read also "TOP Services for Deeplinks".
Registration
The registration procedure is simple – enter only your email address and start testing the platform.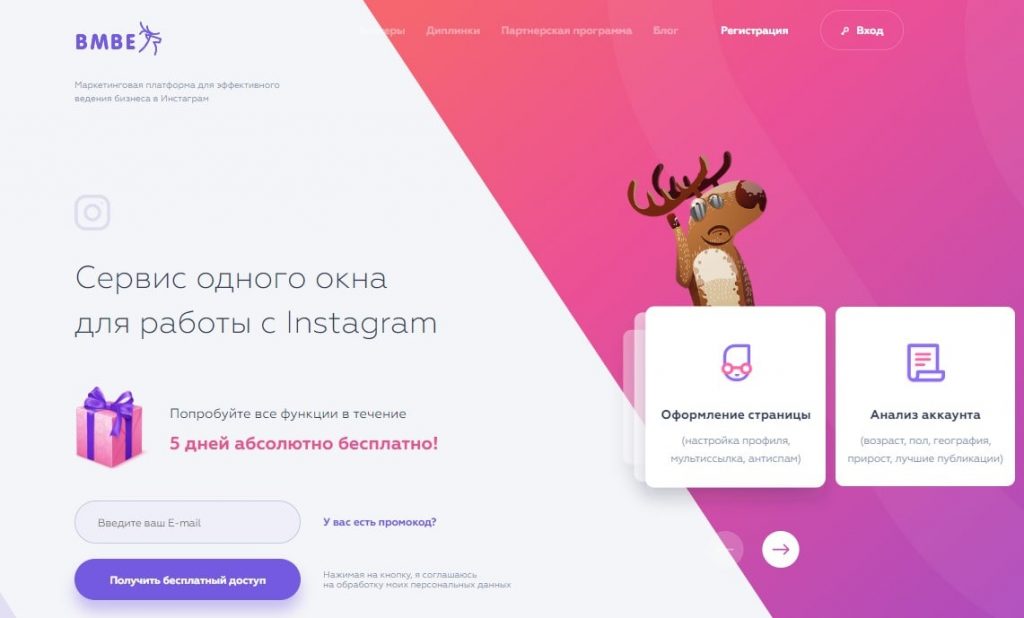 Even before registration, the service offers a useful bonus – an analysis of your account by 30 parameters. Indeed, after 15 minutes, an analysis arrives in the mail. This is the initial audit of the Instagram account. For novice smm-specialists and for business owners who are just starting their invasion of this network, very good information. The analysis sets the development vectors.
Free period – 5 days
Standard free 3 days for many services do not always allow you to fully evaluate their functionality. But 5 days is good for those who maintain an Instagram account. During this period, you can thoughtfully test the platform without making adjustments to your multitasking daily plan.
Rates
Respect to the creators of the service, which saved us from unnecessary communication with technical support. In addition to the cost for each package, they clearly indicated what exactly you will pay for and how many accounts are included in the tariff plan.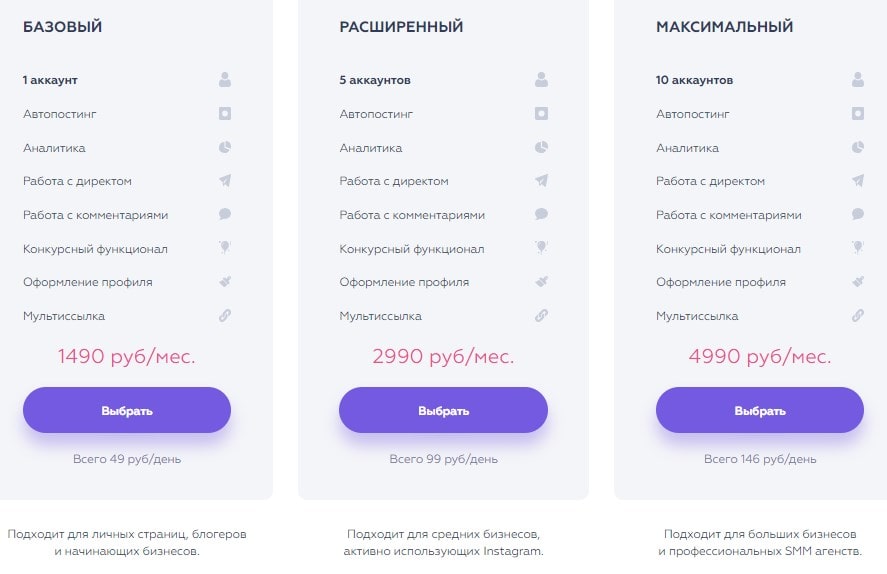 Functional
Autoposting. Through autoposting, you can add not only text format posts, but also video format. The service allows you to download
A block of functions for moderating an account – correspondence and replies in Direct, setting up a Welcome mailing list, connecting an autoresponder, working with comments.
Analytics. Data in the service can be viewed from three aspects:
Subscribers. In the section, general information on the account and data on the audience: gender, age, geo. For clarity, a graph of account growth for the reporting period is presented.
Publications. The service shows the best posts and Stories, as well as analytics on them.
Profile. In this tab, you will find numbers by: profile views, link clicks, messenger clicks, direct messages, comments, and even the average response time for messages and comments.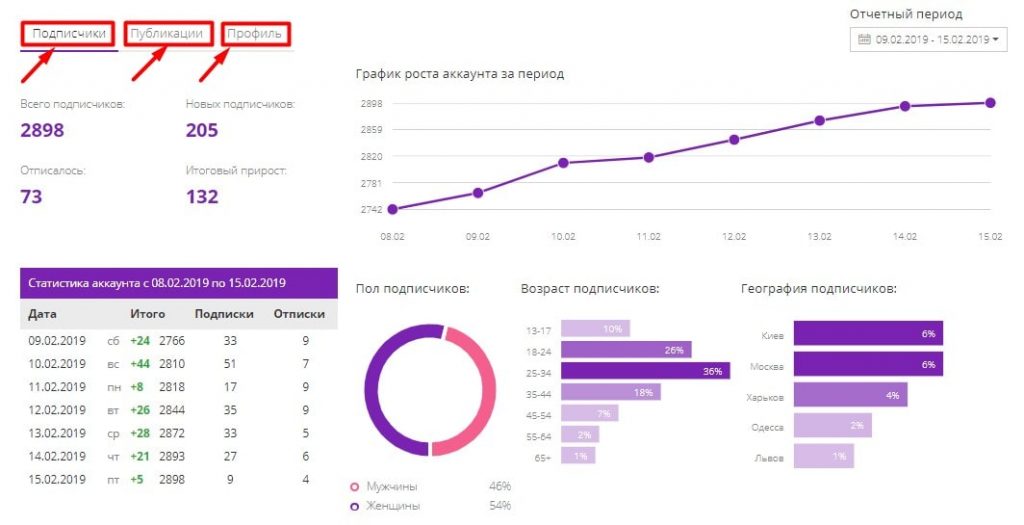 A good feature is implemented in the service interface – it is convenient navigation through the functions. There is a sidebar with sections, and there is a list of functions, description and navigation buttons at the bottom of the main page.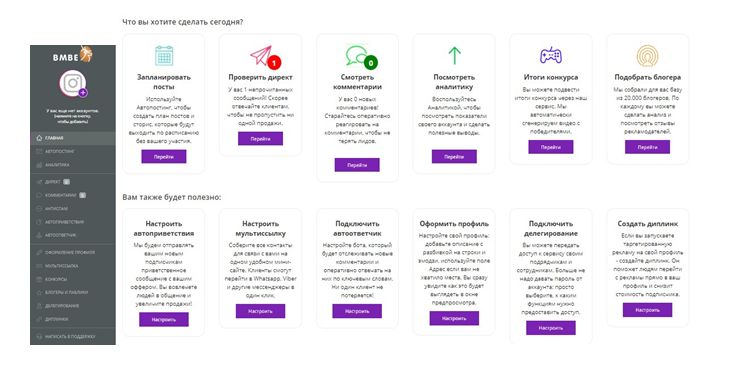 Interesting features of the service
Holding a competition. Let's start with the most delicious. The service has an exclusive function – holding a contest.
"Oh, this is not original. After all, there are services for holding contests in social networks," you say. Yes, but! Bmbe will not only choose the winner for you according to four criteria, but also create a video. The video can be immediately uploaded as a separate post. From you – only text.
See an example here – https://www.instagram.com/p/BtD7CumF1nw/ (at the same time subscribe to our Instagram 😉
Bloggers and publics. The Bmbe service is not only about posting posts, but also the ability to find a blogger, view statistics and decide on starting work with him.
Here are the features in this section:
database of bloggers;
find a blogger by niche, account type, cost of placement;
account analysis;
leave feedback.
Multilink. The function allows you to collect links to all your instant messengers and communication methods into one and place it in the profile header.
As part of the function, you can choose a design for the cover from the proposed options or upload your own.
Delegation. The developers have taken care of solving another "pain" of account holders and SMM-specialists. Implemented in the platform the ability to transfer account management to other employees. You can choose from the list which functions you want to delegate.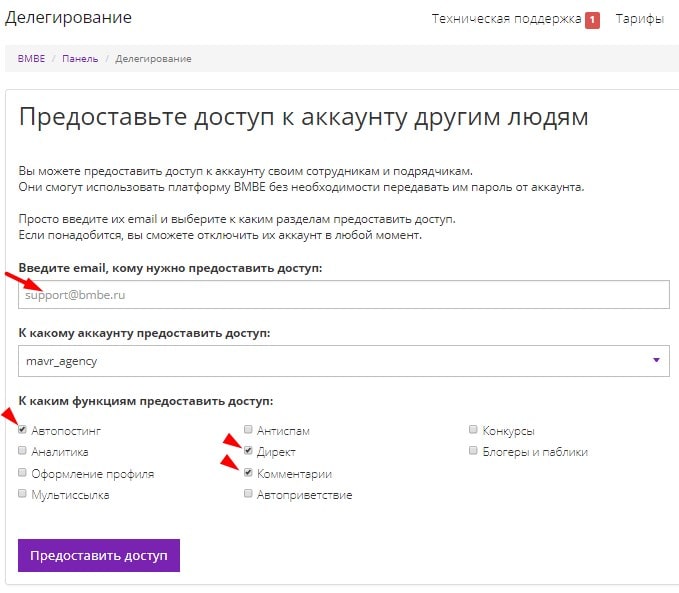 Pros and cons of using the service
Pros:
The main advantage, of course, is the diversity of its function for working with an Instagram account.
Convenient and simple interface.
The possibility of not only delayed posting, but also disabling comments on the post, and its auto-deletion.
Function for holding a contest and creating a final video.
Posting to Stories.
Creating response templates (binders) in Direct and in comments.
Setting spam words for comments.
Minuses:
The main limitation and minus of the service is the work with only one social network. If you maintain accounts on other social platforms, then you will need to use another service for them.
Relatively expensive price. Simple arithmetic. The cost of maintaining 5 accounts in the service costs 2990 rubles per month. If we take the cost of the flagship functions from Bmbe – auto-posting, auto-greetings, auto-responder – from services similar in function to Smmplanner and Leadfeed, then you will spend from 1030 rubles per month for both of these services.
Small area size when working with text for a post. For comparison, here is a screenshot from Smmplanner.
No stickers for Stories. We love them very much, how could we do without them!
Many features didn't work well during our testing. Formation of the video on the day of summarizing the results took us 4 hours. It's good that this was not a client project, but our marketer experienced an impressive amount of stress. Probably, the service is still in the process of improvement.
If you want to test the service yourself and check all its functionality, then when registering using the link from MAVR, you will receive an additional +2 days for testing, i.e. only 7 days instead of the standard 5.
Author: Nadezhda Zubreva, MAVR internet marketer
Internet marketing expert. Head of marketing agency MAVR.
Business degree "Master of Business Administration" (MBA).