Overview of the Bbblogger service for insta bloggers
We will send the material to you by email:
Время чтения:

3

мин.
At the moment, there are a considerable number of services that work with bloggers and brands. Today I would like to talk about a new project that seems very interesting and promising.

The service has closed, but there are others, a complete list of recommended ones at the link – "Opinion leaders: who they are, how to choose, where to find them." Bbblogger.ru is a young but effective portal, the main task of which is to achieve high-quality and productive interaction between bloggers and advertisers. There is no better direction for advertising than through social networks, but you need to be able to work with them. And Bbblogger will help with this!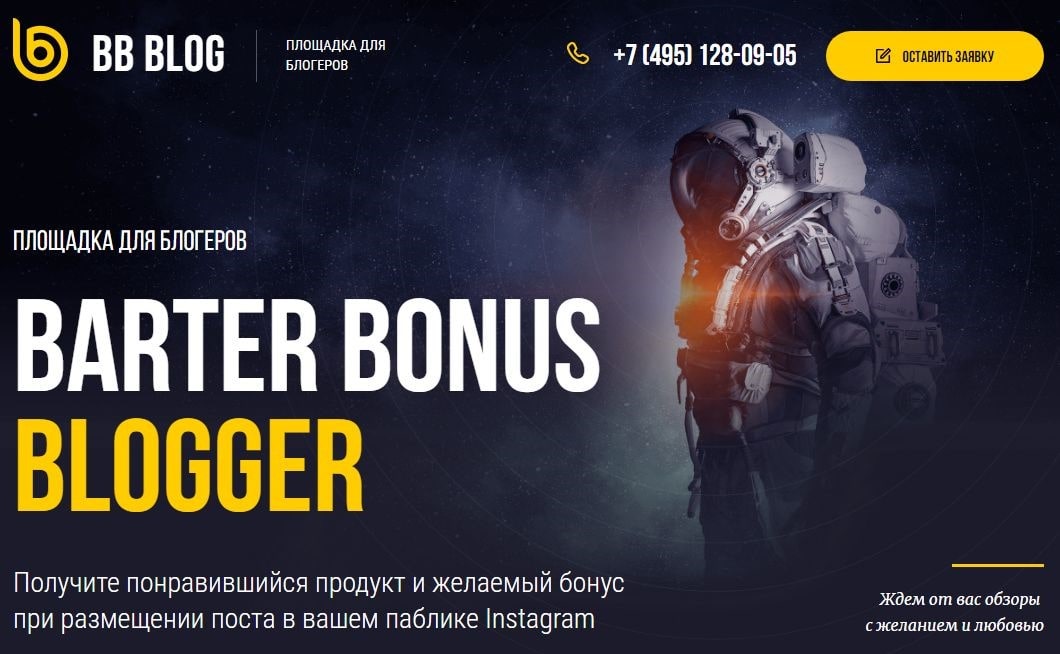 What is the advantage of such a service?
The fact is that often, when a brand offers its product for advertising, a blogger perceives it solely as a job. And when working with Bbblogger, bloggers themselves choose an interesting product that they really like and, therefore, the review is the most sincere, very emotional and brings amazing results. The audience sees in such a review not just an advertisement, but a friendly recommendation, which has a positive effect on the brand.
So, what kind of work plan is offered to us as an advertiser:
First, the blogger leaves an application, the portal specialists analyze the account and transfer all the necessary data to the advertiser. Service managers give recommendations on the conditions of work with each specific blogger.
Price – 1990 rubles. per month. Agree, more than affordable even for a beginner business project. To work as an advertiser, you need to fill out a simple application – you need to specify the website, Instagram, name and phone number. And it is also possible to immediately provide additional information about yourself and your business in a special column.
For a blogger, there are 2 options for cooperation – barter or commercial. The blogger chooses a product and/or a bonus. The application is made in a couple of clicks – you need to specify a link to Instagram, name, email and contact phone number. By the way, Bbblogger managers process applications in record time! This is a very important point.
The Bbblogger.ru portal takes on the responsibility of attracting new project participants, large-scale advertising and a comprehensive analysis of both bloggers and advertisers.
Social networks are now full of all sorts of blogs, and the available cheats can confuse an inexperienced user. Finding a good blog becomes a real challenge. To do this, we, ordinary people, come to the aid of such projects as Bbblogger.
Working with this service, you can not be afraid of unscrupulous reviews, wasted money and ineffective advertising. The portal selects only the best and most active bloggers, working with whom will bring quick and visible results.
Separately, it is worth noting a clear and high-quality interface. Very often it is difficult for many to deal with such sites, but here everything is as simple and convenient as possible, there is nothing superfluous.
As a result, I want to say that I really liked this service, it should be interesting to a large audience and attract with its accessibility and efficiency. If you are a blogger or develop your business in social networks, you should definitely pay attention to Bbblogger.ru.
Internet marketing expert. Head of marketing agency MAVR.
Business degree "Master of Business Administration" (MBA).