Overview of Zenlink Crowd Marketing Service
We will send the material to you by email:
Время чтения:

10

мин.
Automated or semi-automated search engine optimization services are a real find for a webmaster. They simplify the task, speed up the process and at the same time (if the service is chosen correctly) do not sacrifice the quality of promotion.

This article is an overview of the Zenlink link buying platform.
Actual mechanics of SEO promotion
Let's start from afar. The mechanics of SEO changes every year, both in Yandex and Google. The priority is still a positive user experience and reliable, most informative content. The fight for clicks continues, but there are some changes in link promotion: now conversions on your site affect rankings.
That is, if 500 people visit the product page, and only one person buys something, this can become an alarm signal for the search engine: something is wrong.
What is NOT working this year:
1. Chaotic link building, placing a bunch of links on randomly selected sites.
2. Anchor links whose authors overdo it with keywords.
3. Poor quality donors.
By the way, it is worth paying special attention to the last point. Donor sites with poor metrics (read: spammed) will not only not give the desired effect in promotion, but will also help to catch a couple of sanctions from Yandex and Gogle. Sanctions – a multiple decrease in the performance and visibility of the site in the search results.
What's running this year:
1. Crowd marketing.
Yes, this is the most effective and natural way to tell the world about your site. In order to advance according to this technique, the most massive resources are selected: there the specialist unobtrusively places links to his site. Or does not post, but simply tells how good this company is, what quality goods (or services) it offers, pretending to be a good-natured client. Works great in 99% of cases.
You can advance manually or using automated services.
A few words about automation
Almost every stage of search promotion requires a lot of time and effort. Performing all tasks manually is an absolutely meaningless process with dubious efficiency.
Automation allows not only to simplify and speed up, but also to reduce the cost of promotion. There is some distrust towards this method: they say that without control, you can only count on a low-quality result. Perhaps a few years ago it was. But now the services have gone far ahead in the quality of their service, so you should not worry: just choose a good platform.
Purpose of the platform
A few words about Zenlink. This is a platform designed for link promotion on the principle of crowd marketing already mentioned above. The bottom line is to place links on relevant resources, offering the reader soft, unobtrusive advertising in the format of a recommendation.
A forum or review site is most often chosen as a platform for placing a link. And on Zenlink you can also work with Q&A sites or various ads. Moreover, you choose the site yourself, and the platform is already engaged in placing links.
It costs a little more than regular link promotion (we'll talk about tariffs below), but only at first glance. Having saved, we inevitably encounter annoying mistakes and omissions: then we have to spend money on correcting them. The amount is much more.
How to use
The process of using the platform is simple, designed not so much for specialists as for ordinary people. That is, you do not have to be a webmaster to post links.
To join, it is enough to create an account: you can use mail, or you can simply log in to Google or some social network of your choice. Then, in your personal account, links are added that you want to place on donor sites, a semantic core is compiled and the donors themselves are selected.
A few words about the semantic core. This is a small list of keywords that can be used for more effective link promotion. Here they are implemented with care, so the site will not get banned from the search engine.
From additional settings:
1. Region of search results (you can work both locally and without restrictions);
2. Promotion in Yandex, Google or both;
3. Promotion language – Russian or English, focused on foreign traffic;
4. Selecting the type of link;
5. Anchors.
When you set up a campaign, the platform will gradually place links, taking care of the natural process. The duration depends on the chosen tariff: as a rule, the promotion lasts about a month.
The minimum number of links is 10. Just right for those who want to test the platform first and make sure it works. The maximum is already 150, but on an individual basis, you can ask for more.
And finally, the cost of such services: depends on how many links you buy. More links means less price. The maximum is 269 rubles, but if you decide to buy the largest package, each link will cost only 229 rubles.
Who will need
Crowd marketing is quite versatile.
It allows:
1. Build link mass. Actually, one of the main functions and features is link promotion, which is quite natural and therefore safe. We increase visibility in search results, traffic, conversions and other important metrics that indirectly affect revenue.
2. Attract targeted traffic. Since only relevant platforms are selected for placement, the chance to stumble upon the target audience is quite high. Therefore, we get additional clicks or even conversions.
3. Achieve brand awareness. For example, if you have a new store or there is too much competition in a niche. Reviews-recommendations and crowd-links do a great job.
4. Increase audience loyalty. Recommendations = trust, plus in crowd marketing, only the strengths of the product, service or the entire company are considered.
Accordingly, crowd marketing is useful for companies that pursue one or more of the goals from this list.
It can be tried by representatives of the following niches:
1. Retail companies;
2. Companies providing demanded services;
3. Agencies;
4. Young projects, startups and so on.
In fact, the main task is to find a topical discussion in which you can harmoniously fit your proposal. Do not pull by the ears – it will be very noticeable and is unlikely to inspire confidence in people.
But with standard essentials without special features, this will not work. You can try to advertise bread or toilet paper in this way, but be sure that it will not give a big response from the audience.
Otherwise, there are no restrictions.
Cases
Now we will look at how the service helps to cope with different problems of different sites.
Case 1:
Online store of goods for animals
Search engine: Google
Campaign launch: May 5, 2019
Geography: Ukraine
Total amount of ordered links: 335
Before contacting them, the client's site had big problems with visibility in the search engine: periodically it sank to almost zero. One of the main concerns was the level of competition in the niche.
A fairly large package of links was used for placement: 335 pieces. However, this paid off: it not only improved the metrics, but also had a positive effect on brand awareness.
Results:
Increased visibility from 0.17 to 0.87.
Increase in traffic from 4565 to 14941 users.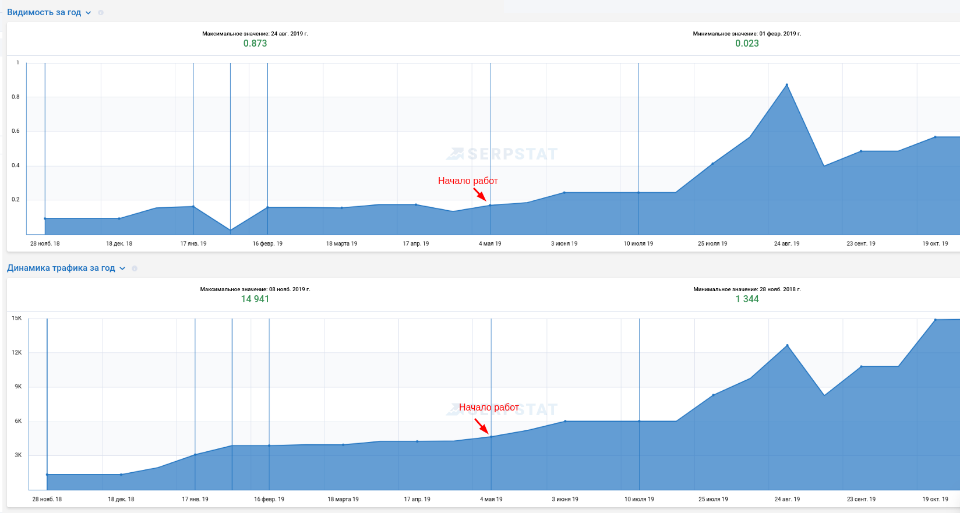 Case 2:
Online spare parts store
Search engine: Yandex
Campaign Start: June 13, 2019
Geography: Ukraine
Total amount of ordered links: 50
The peculiarity of this case was the badly damaged reputation of the client. Plus, a fairly filled niche with strong competition, plus technical problems on the site – as a result, there was practically no visibility.
50 new links on reviewers smoothed over the bad reputation. Plus, the client received some recommendations regarding the audit and removed broken links so that the site had a better chance of ranking favorably.
Results:
Visibility increase from 0.001 to 0.07
Traffic increase from 198 to 430
Then the owner of the site refused to cooperate and the indicators deteriorated again. This is visible on the chart.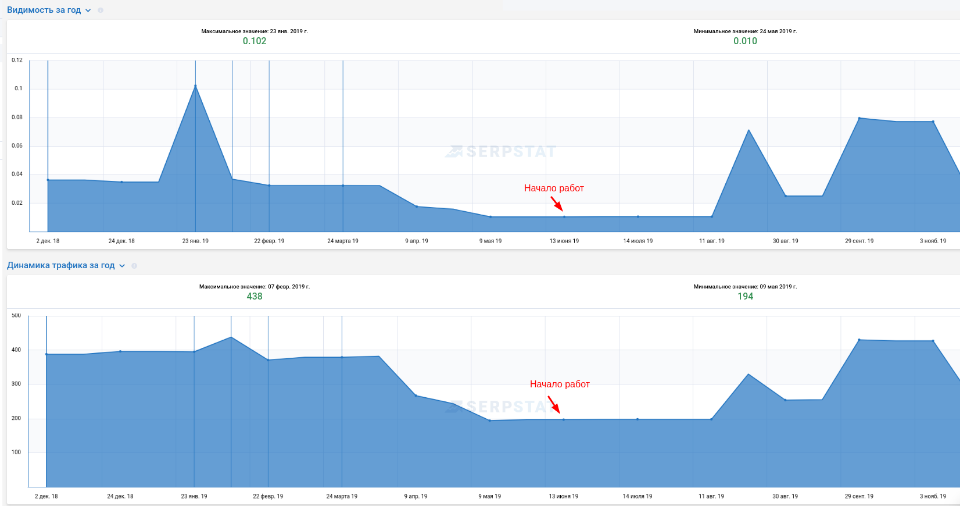 Case 3:
Online store of tea and sweets
Search engine: Yandex
Campaign Start: April 3, 2019
Geography: Russian Federation
Total amount of ordered links: 90
Zenlinks are also effective for promoting completely new sites. The work is large-scale and lengthy: in this case, 90 links were purchased to begin with. With their help, we managed to attract the first customers, then consolidate the result. In parallel, work was carried out with reputation and recognition.
The peculiarity of this case is in the state of the site. It was not finished, which affected both ranking and user experience. However, this did not stop the metrics from improving slightly.
Results:
Visibility increase from 0 to 0.001
Increase traffic from 0 to 4
Case 4:
Online store for women's clothing and cosmetics
Search engine: Yandex
Campaign Start: January 19, 2019
Geography: Russian Federation
Total volume of ordered links: 150
A client offering a very common product faced intense competition and an inexplicable drop in site visibility. He was recommended to conduct an SEO audit, which helps to identify the technical reasons for the deterioration, while simultaneously dealing with the placement of links.
After a little work on technical errors and a gradual increase in the link mass, the site's performance has improved significantly. On the chart, they are consistently high with a slight upward trend.
Results:
Visibility increase from 0.015 to 0.207
Traffic increase from 772 to 1451
Why do you need it
If you plan to promote your site with links, Zenlink will most likely come in handy. There are several reasons:
1. This is an automated promotion with manual settings in the most crucial moments. The customer takes part in the process only during the creation of the campaign: think of it as the execution of the terms of reference for the contractor. In the future, you will only have to track the growing indicators of metrics.
2. The service works in accordance with modern requirements for link promotion. That is, your link is guaranteed not to end up on a donor site with a bad reputation, a garbage pit created only to collect traffic, and similar not very favorable places. Also, no adult content and prohibited. All applicants for donation go through a rigorous selection process.
3. You can order promotion in English. This is not a very common service, but it can be useful for those who want to enter a new market and capture the English-speaking audience. Thanks to this service, you can not only focus on foreign resources, but also count on high-quality materials in English.
4. The most simple interface for those who do not want to spend money on a separate specialist and plan to promote the site on their own. This is not a problem: if you do not need an SEO audit, you can quickly and easily order the required number of links, and then track the progress of the promotion.
5. Author's texts. Working with copywriters is always good: a specialist knows how to present information depending on the situation, sell without imposing, and leave a good impression. Relevant for reviews and articles.
6. There is something like a test mode: you can buy only 10 links to understand how it works in general. After careful natural progression, you will be provided with statistics that evaluate the effectiveness of the measures taken.
7. Here you can set up campaigns and link mass. A strong emphasis on naturalness and safety has led to the fact that sites and links are selected manually, tests are written by hand, and additional settings (anchors, geos, donor sites) are specified in a similar way.
8. And finally, different promotion formats. Reviewers, question-answers, announcements, forums, and so on – you can choose one thing or combine several options, depending on the goals and objectives of promotion. Feel free to ask for advice from local experts, they will definitely help you.
Both cases and the main features of the service show that promotion with its help not only corresponds to the modern mechanics of search engines, but also gives a good result. Even if the site is imperfect.
Internet marketing expert. Head of marketing agency MAVR.
Business degree "Master of Business Administration" (MBA).