Overview of the service for promoting on Instagram – Tooligram (closed)
We will send the material to you by email:
Время чтения:

8

мин.
Every day, Instagram users receive offers to promote pages on this network. For a long time, many have been using special services that help attract live subscribers from the right areas in a short time. And if there is a demand, then there is a supply. Therefore, effective and safe promotion of your Instagram account has become possible with the help of the Tooligram service!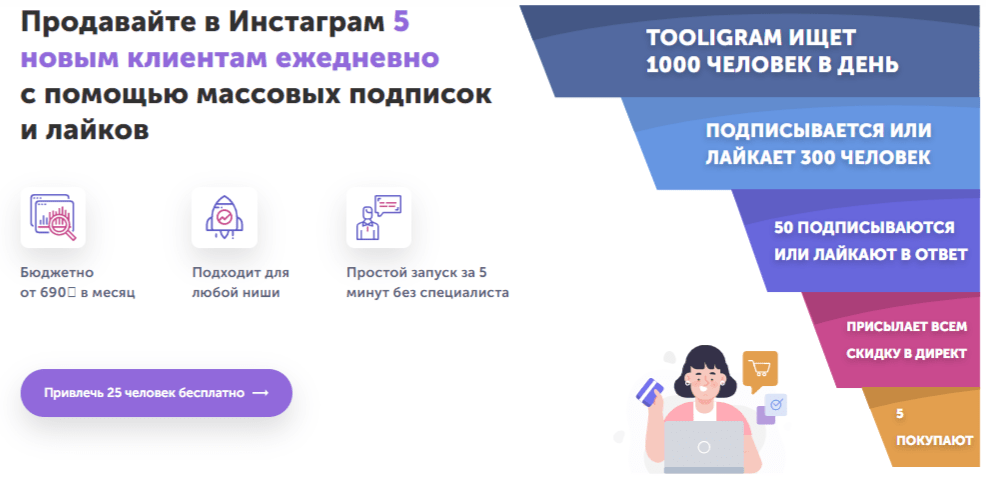 The Tooligram 2.0 interface is native and comfortable to use. Everything is presented in your personal account and you do not have to look for the necessary functions for a long time.
Tooligram is the largest service for Instagram promotion
It can be said that he is a pioneer in the mass following market. This is no longer just a service for subscriptions and unsubscribes. A decent set of tools has been added to the standard functionality to help you gain coverage, increase engagement, and simply manage your Instagram conveniently.
Let's understand in more detail.
Many people are afraid to use auto-following services, as they have heard that Instagram is actively fighting them. We hasten to please you that Instagram fights only with direct cheats, i.e. buying subscribers-bots.
In terms of security, Tooligram is the market leader in promotion services, as it is the only service in which the actions performed from your Instagram account completely imitate the activities of a living person. That is, you do not just subscribe and like people, the service imitates views of accounts, stories and news feeds. The advantage is that all actions are performed according to your time zone, using random time intervals.
The effectiveness of promotion through any services will depend on two factors:
Profile design.
The functionality of the service and the possibility of fine-tuning.
Responsibility for the first point falls entirely on your shoulders. If the account is not prepared, it is maintained from time to time, it is littered with unnecessary photos, the header is not framed, then not a single service will help you attract subscribers. If everything is in order with this point, then go to point two – the functionality of the service.
Tooligram functionality and fine-tuning options
In Tooligram, one of the big pluses is the ability to fine-tune with the definition of your target audience, without bots, schoolchildren, Arabs and other unwanted accounts. This becomes available due to the use of a self-learning neural network in its algorithms and the large functionality of filters during configuration.
Let's take a closer look at the possible functions.
Getting subscribers
We go to "Attraction". Here you choose sources: competitor accounts and hashtags.
The task works on likes and subscriptions. You can also add a welcome message to new subscribers.
In the advanced settings on the screen for entering sources for searching for accounts, it is possible to refuse mass subscriptions and leave only likes. Filters for customization are adjustable, by default the best option is set.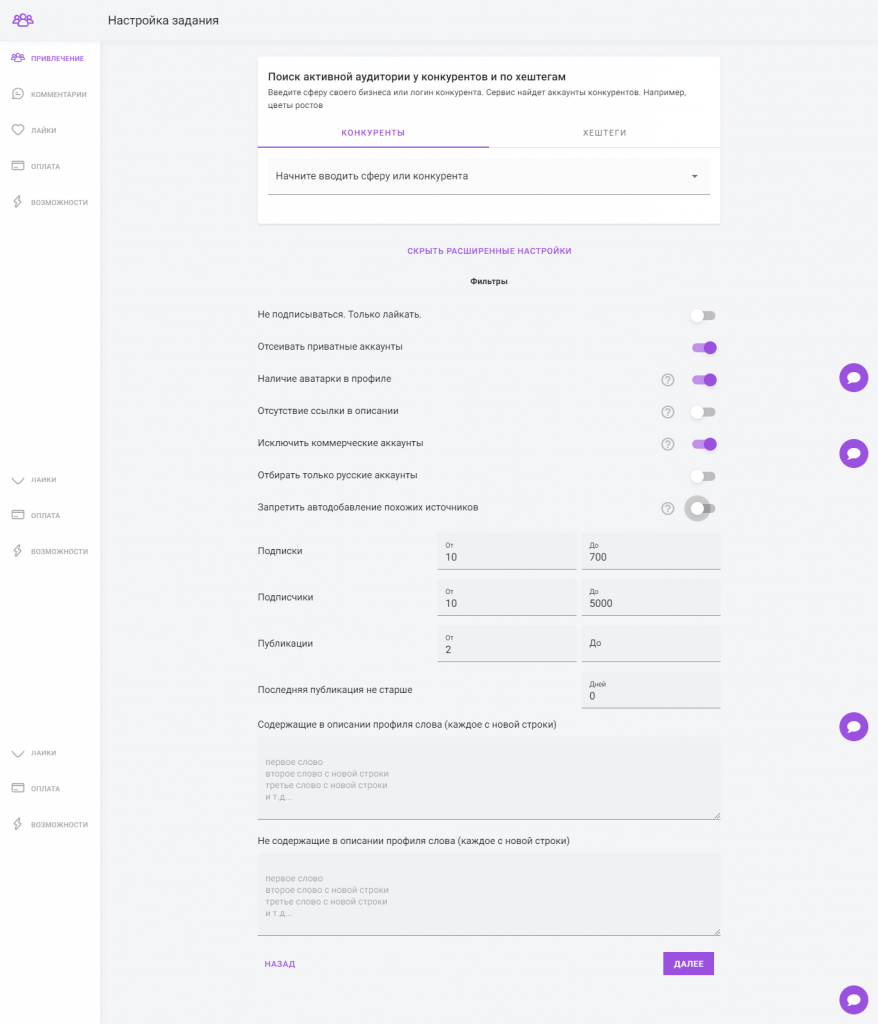 With the "only Russian accounts" filter, the algorithm will check the profile description and the last 12 posts for the presence of the Russian language. You can disable commercial accounts with up to 500 stop words.
Each function can be configured using filters, which allows you to subscribe only to the active target audience, excluding bots and inactive users.
For many, a very important problem when using auto-subscriptions is the clogging of their own news feed. The program subscribed to 1000 people, and you no longer see your friends in the feed. Tooligram solved this problem with the automatic unsubscribe feature. After three days, the service will unsubscribe on its own from those users who have not signed in response. This feature is available in the "Features" section for accounts that previously used mass subscriptions and now need to be cleared.

Likes and comments from live accounts
Function for likeholics and commentators. The essence is simple: in automatic mode, you get likes and comments from other Tooligram users. This is not a standard cheat likes, but likes from real people, the same as you registered in the service. This method is good if you need to bring the desired post to the top or download a new account.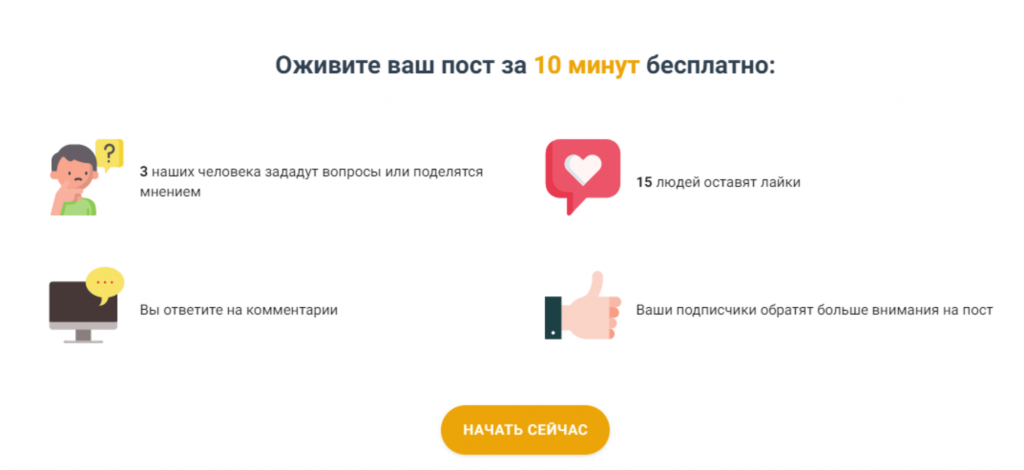 I would especially like to note the option with likes for your users, for the majority, with the advent of the ranked feed, coverage has dropped catastrophically, that is, your subscribers simply do not see your posts. And this method is an extra opportunity to remind yourself and return the former coverage. The only thing to remember is that it is important to strive to get likes from your own followers, autolikes are a small help, not the main indicator.
Newsletters in Direct
One of my favorite auto features, an indispensable tool for stores and business accounts.
The moment when a person subscribes to a profile is the most successful one to start a dialogue with him and move him along the funnel to the cherished goal, and here we use automatic mailings. You can just greet in a friendly way, ask how you can help, or offer a dream offer, then the choice is yours.
What does the mailing from Tooligram 2.0 allow?
In addition to welcome messages, you can set up mailings for open dialogs. You can announce new promotions to subscribers with whom you have already had contact.
Autoposting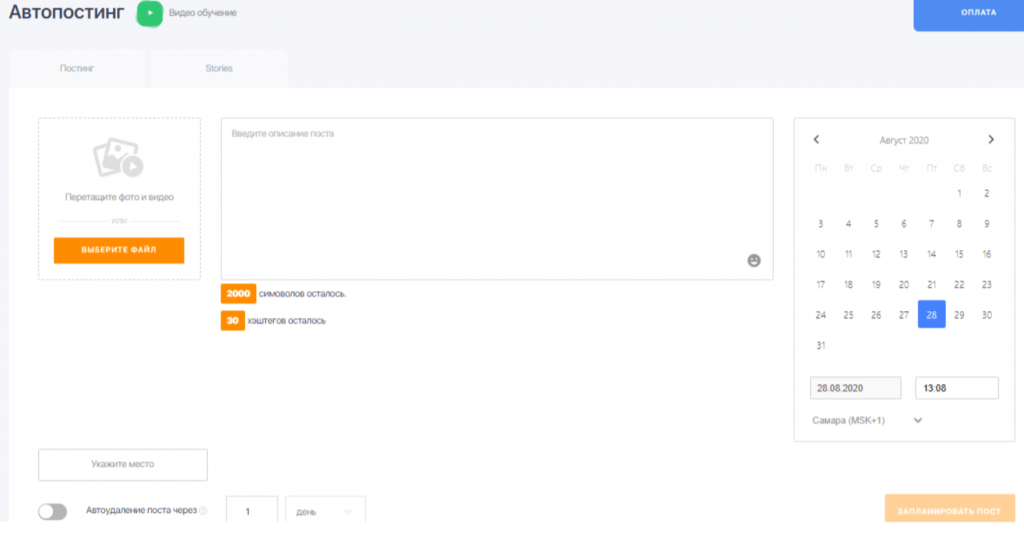 Everything is clear and simple here. A feature for those who want to publish on time, but forget or do not have such an opportunity.
Autoposting features of Tooligram:
Unlimited publications
Publish photos, videos, stories and Instagram carousels
Automatic deletion of posts
Adding geotagging to posts
Photo and video editor
Analytics
Want to know all the information about your audience and account? Be aware of what is happening and make the right conclusions in time! Tooligram added really high-quality analytics of what is happening with your account
What can she do:
Analyze subscriber growth dynamics
Show top popular posts
Detect ER of publications and account
Display the dynamics of the growth of likes and comments
Comment monitoring

With the help of monitoring, you can track the appearance of comments and marks on your account. Answer them directly in your personal account of the service. For convenience, you can set up receiving notifications in Telegram and respond to comments directly from the messenger!
Direct messenger

A handy feature for those who work with a PC. You can chat with subscribers without leaving your browser.
Multilink
The function of creating a multilink is built-in – a simple landing page with built-in instant messengers for direct communication. I am glad that there are immediately statistics on clicks on these messengers.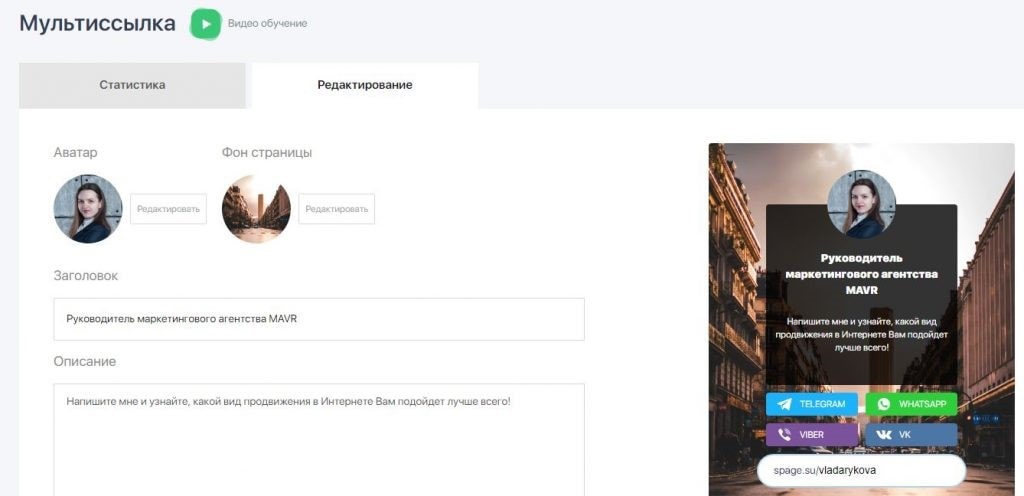 How Hot Client Search Works
The service finds an active audience – those who liked or recently subscribed to a competitor. The scheme of work is simple:
You enter several competitors, hashtags or geo points. Takes 3 minutes.
Tooligram subscribes and likes active subscribers.
A person sees these actions and, out of curiosity, goes to your profile to see who you are.
If he likes the profile, he signs in response.
You can also compose a welcome message and offer a discount. The service will send it to everyone who likes or subscribes in response. That is, only those who have shown interest themselves get into the mailing list, so the message is not perceived as spam.
Service cost
The user is offered to pay for the basic function "Attraction" for 690 rubles. In your personal account, you can connect additional options depending on your promotion strategy.
At the same time, Tooligram offers a trial subscription. You will get the first 25 subscribers for free. There is also a test period for mailings, direct messenger, comment tracking and other options.
When you add an account, Tooligram warns you about "likes and follows" rate limits. By default, this limit is 150 subscriptions 250 likes per day. But for new accounts that are not ready for such activity, warming up is turned on. Most of the time, scrolling through the feed is simulated and a minimum of likes and subscriptions is set, gradually their number increases.
From the advantages of Toolligram
The biggest problem with this service has always been technical support. To apply, it was necessary to switch to another platform and only through email. This problem has been fixed and now you can report any problems to support directly from your personal account in the "Help" section, where the most frequent requests are already listed and you just have to select the one you need.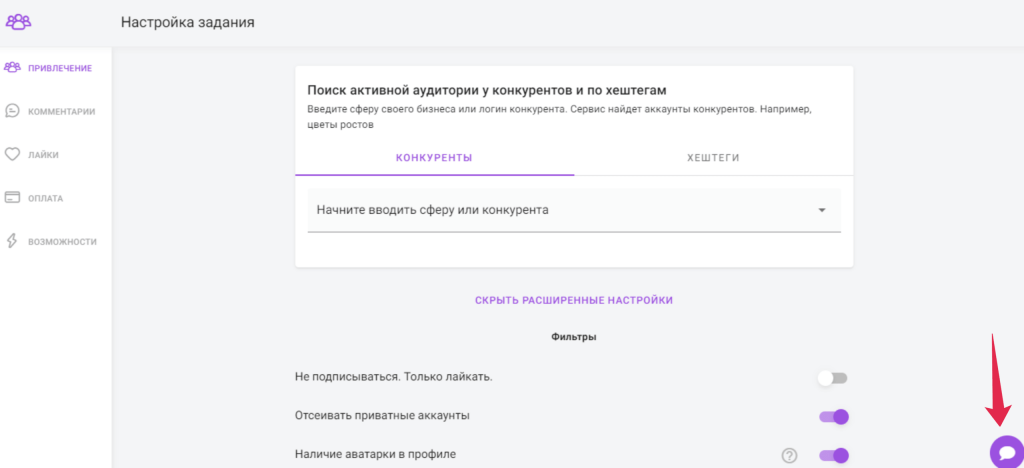 The service is a whole "insta-combine", where you can not only set up tasks for mass following and mass liking, but also use auto-posting, monitoring posts by hashtags and geolocations, as well as attract likes and comments from real users, create a multilink, set up mailing messages new subscribers or through open dialogues.
If you don't have time to set up tasks, then Tooligram provides agency services and a manager will set everything up for you, with whom you can chat.
Of the minuses of Tooligram
There is no column in the filters where you should specify the number of likes, subscriptions or unsubscribes for the entire task. This means that these tasks need to be controlled independently if you plan to attract a certain number of subscribers.
See also: Programs and services for promotion and promotion on Instagram
In conclusion, I would like to say one thing, that Tooligram 2.0 is a very simple service, which has almost all the functions necessary for promotion.
And one more piece of advice – test your projects and services, this is the only way to find the optimal program and the way to promote social pages.
Internet marketing expert. Head of marketing agency MAVR.
Business degree "Master of Business Administration" (MBA).