Pepper Ninja – review of the parser of groups VKontakte, Odnoklassniki
We will send the material to you by email:
Время чтения:

5

мин.
Targeted advertising in social networks is one of the fastest and at the same time effective ways to get the desired results in the form of leads, sales, brand awareness.
And, despite the wide functionality of settings in advertising accounts (both on Facebook and VKontakte), without a third-party service for collecting the target audience, it is more difficult to set up advertising.
Of course, the TOP of well-known Russian-language parsers includes Pepper Ninja.
First of all, the huge functionality and capabilities of the parser are striking. It's good that there is a trial period. Just for joining the official VK group, you will be given a month of free use with limited functionality. Also, immediately after registration, you have 3 days of free use to explore the service to your heart's content.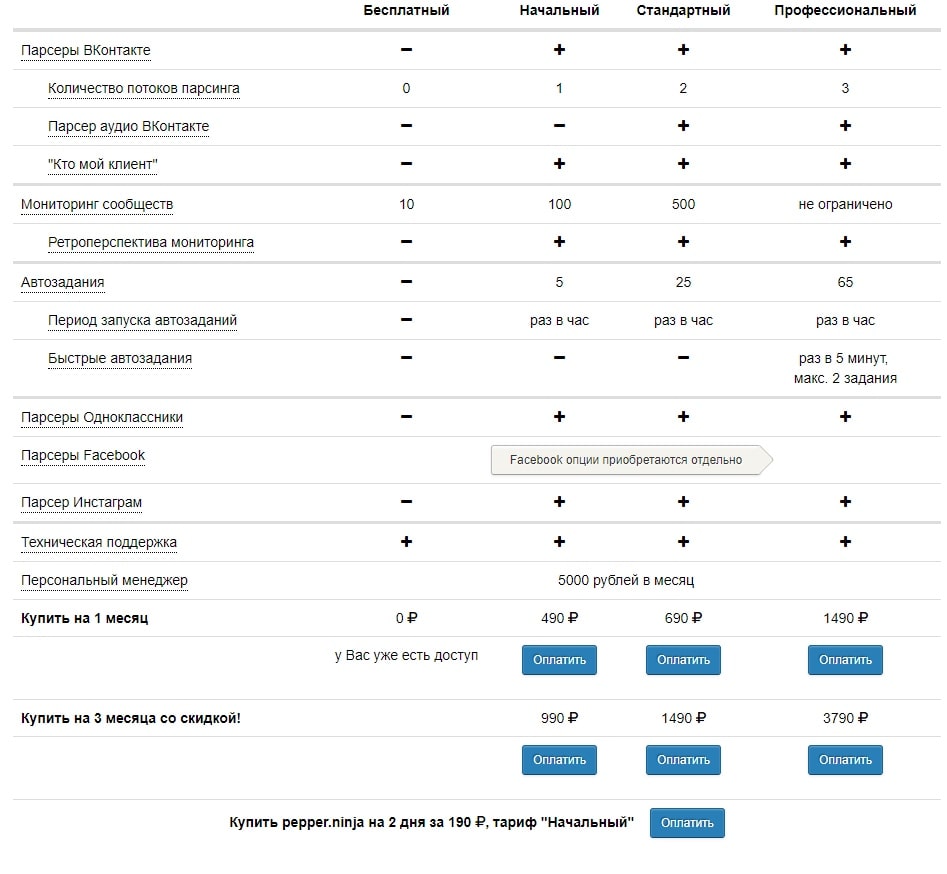 What does a parser do?
In contact with
Instagram
Classmates
Facebook (you can collect the CIS audience from groups and public pages, there is from 10 to 80% of the audience (mail and phone numbers that can be uploaded to the Facebook advertising account)
Functional
Pepper Ninja has a wide… No! The widest range of possibilities. I will focus on some of them:
For VKontakte
The simplest feature that I recommend all beginners start with is "Who is my customer".
Ideal for a community that already has a small but targeted audience. That is, if you knowingly previously received subscribers by cheating, this function will not work.
The bottom line is that you simply enter a link to your community, and Pepper Ninja analyzes the audience, collects similar (Look-a-like audiences on Facebook), selects the communities where your audience is, and even provides detailed analytics.
Community Monitoring
It allows you to track not only the number of people who joined the group, but also immediately parse these users into your database.
Community Search
You can search for communities by keywords, by the degree of involvement of members in the content of the community, by geo and type of community. In 2018, the search for communities was improved, now you can search by audience parameters, for example, find groups that include more than 70% of women or communities that have less than 2% of people under 18, there is also a search for the interests of the audience and its geo (namely the audience, before there were only geo groups) well, there were also group statistics and other filters.
Parsing people from the community
It is very convenient here that you can not collect everyone in a row, but only active ones. And you can even specify what exactly the activity is for you. Also in 2018, the "Quick parsing" button appeared, where you can insert any link (to a group, post, person, etc.) and the parser itself will show which audience you can find by it, you can search for posts, hashtags, upload the audience by geo (works with VK).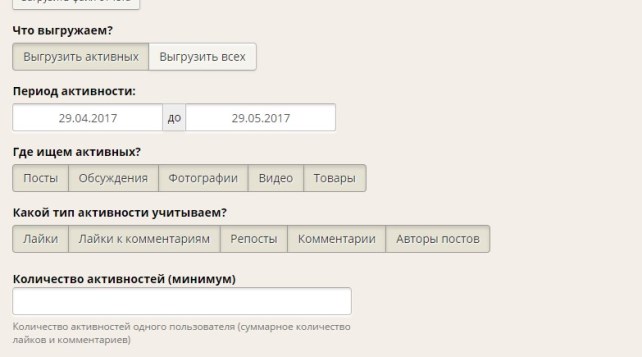 Search for the target audience by intersections
Pepper Ninja shows in which other groups in VK your target audience intersects, except for the one you indicated.
Audience of 2 or more
Allows you to collect users who are members of certain groups specified by you. Moreover, you do not need to enter specific links. Enough keywords.
Parents
Need to collect only those who have children? Easy. Pepper Ninja even has a separate tab for this.
Website Widget Scanner
Very interesting option! Insert a link to the site page where users leave comments after logging in through VK. Voila, and the purser gathered those who commented on the materials on the site.
Popular posts
Need viral content? Use this option. An analogue of the FeedSpy service.
In addition, you can scrape birthday people commenting on photos or videos, search for relatives of your audience and meeting participants. All collected databases can be loaded directly into the advertising account.
And one more thing (!!) for each finished base in the account, statistics are displayed, where you can see the following characteristics of the participants:
Gender
Age
Geo
profession
Universities
Communities that users belong to
P.S. In October 2018, the guys rolled out another Audio Parsing or how to find music lovers.
Instagram
Search by cities.
Moreover, you can choose an audience, not only taking into account the city, but add a filter by gender and age.
Relatives and search for parents.
Everything is the same as for VKontakte.
Converter.
Another handy feature is the ability to convert users from Instagram profiles to VKontakte accounts and vice versa.
Classmates
Here the functionality is limited. You can either collect the audience of the post or the audience of the communities (moreover, the second function is now in the BETA version).
Facebook
Need community analytics? In this matter, Pepper Ninja will do just fine. Just enter the desired link and go.
Metrica for VKontakte
Analytics is the key to success in any online business. This function allows you to collect groups on VKontakte, which include users who visited your site. Real fantasy, right?
Service benefits:
convenient and intuitive interface. Even if you are a business owner and want to run advertising campaigns on your own, everything will be easy for you;
advanced functionality and the ability to filter users to an ideal portrait of the target audience;
the ability to set up periodic tasks. That is, you can pre-set tasks on the timer that should be performed several times a month;
visual section "Help" with video instructions;
the presence of a blog with interesting articles and cases;
remote operation of the service. You just need to set up tasks and you can safely turn off your PC;
no less excellent partners of the service: Popsters.
Service Disadvantages:
The only drawback of the service is the limited functionality for social networks Facebook and Odnoklassniki. Things are better on Instagram.
In general, I was very satisfied with the service, and I can confidently recommend it to both beginners in SMM and pros.
Internet marketing expert. Head of marketing agency MAVR.
Business degree "Master of Business Administration" (MBA).