POPOVA & NARIMOVA: "Increasingly, men are choosing professions related to the beauty industry"
We will send the material to you by email:
Время чтения:

5

мин.
The heads of the eyelash extension studio Alla Popova and Svetlana Narimova told what marketing tools they use, where they find inspiration and motivation, and why young professionals should sign up for their I-Lashmaker course.

What services does your studio specialize in? What makes you different from your competitors?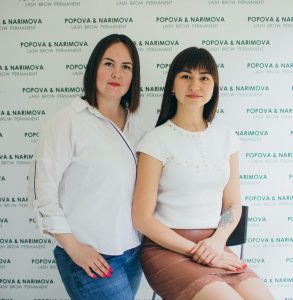 Our studio Popova.Narimova deals with eyelash extensions, eyebrow architecture and shaping, permanent makeup. Also on the basis of our studio, we teach copyright courses on eyelash extensions and eyebrow shaping.
We understand our client, we know what he needs and we have an individual approach to each! Therefore, after visiting our studio, our clients become happier.
Alla, is there a lot of competition in Kaliningrad?
In Kaliningrad over the past few years, partly and thanks to us, a lot of both independent masters of lash makers and eyelash extension studios have appeared. And this is very good, because, as in any business, the growth of competition pushes us to self-development and self-improvement. But, in general, there are no more than 10 large organizations in the city, which creates a large field for development for us.
What marketing tools do you use to stand out from the competition?
The first thing to note is, of course, advertising in social networks, advertising in search engines, and we also use outdoor advertising.
We create stunning eyebrows, increase eyelashes in such a way that others may not even guess about the interference with natural beauty.
The next tool, price range. In our studio, services are available to every female representative.
Workplaces of masters are divided into zones, which create a feeling of solitude and tranquility.
Svetlana, what thematic conferences do you attend?
Every year we hold a beauty conference for lash makers, teachers and studio leaders. For example, LASH FIRE. Here our colleagues share their experience, new trends, etc. It's always interesting and gives you new ideas!
You are professionals in your field, how do you continue to develop, where do you find motivation for yourself?
Our experience is more than 5 years of continuous practice, of course, professional and emotional burnout may occur during this time. So, no matter what happens, we constantly improve our skills both offline and online. We try to draw knowledge from everywhere and apply it in business. We pass annual marathons and conferences. In them we find our inspiration in order to make women more beautiful!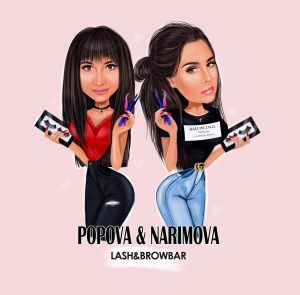 Why should professionals sign up for your courses?
For several years now we have been teaching the basic course "I am a Lashmaker". This course is copyright, i.e. was written by us based on our own knowledge and experience. During training, we generously share information. We answer all the questions that beginners have: how to start, where to buy materials, how to save money, where to get clients, what kind of couch and lamp to buy, where to buy, how to meet the first client, what to tell clients, what glue is best, what to do with allergies, how to take care of your health and the health of your client, why eyelashes fall off and what to do, and many other questions. We grow masters from scratch, we constantly have contact with novice lash makers, so we understand very clearly what problems we have to deal with and this allows us to provide relevant information. In addition, we provide a unique opportunity to practice on the basis of the studio after training, both short-term independent and long-term with our direct participation. This gives novice masters the opportunity to plunge into the atmosphere of the studio, see and understand how the order of work with clients, dialogues are built. It also eliminates shortcomings in the work. The two-week practice is in high demand and gives brilliant results. We stay with our students forever. During the training, chats are created in which the consultation continues after the completion of the training. We also conduct individual courses and master classes to correct mistakes and improve the work of existing masters.
Are there male browists or lash makers?
Yes, more and more men are choosing professions related to the beauty industry. But this is not surprising, because now is the time when beauty services bring a very good income.
How is Kaliningrad now living in the conditions of the virus?
As the situation has shown, Kaliningraders are quite responsible people and most of them observe the regime of self-isolation. Therefore, the demand for services has fallen sharply. For some time, all salons and studios had to close. But, to be honest, we received various offers from clients, because even in difficult times, girls want to look beautiful. What can I say, even during the war, hairdressers worked. But we will persevere and return to work with even greater enthusiasm and new ideas.
Is Kaliningrad more Europe or more Russia?
Kaliningrad is primarily a Russian city, Russian people live here. Of course, the proximity of Europe has a rather strong influence and leaves its mark on the manners of behavior, being and, in general, social life. There are a lot of tourists from different countries in Kaliningrad. The city has a rich history and culture. It is necessary to visit Kaliningrad so that everyone can answer this question for himself.
---
The interview was prepared as part of the "Interview with our Clients" project. If you are our Client, and we still have not talked about your project in the blog, contact us in any convenient way to prepare for publication.
Expert in media marketing.
Speaker of specialized events on the topics: journalism, sales and media marketing.