Overview of the promotion service on Instagram – Instapromo (closed)
We will send the material to you by email:
Время чтения:

4

мин.
Less than ten years ago, no one could have imagined how social networks would join our lives. Now you can make new acquaintances without leaving your home, capture your achievements and memorable moments, study or do business using accounts in popular social networks. One such platform is Instagram, a place where people post photos or short videos about their lives and activities. If you are interested in the popularity of your account, then you need to know the basic principles of Instagram promotion:

Quality and variety of content
Working with the audience
Personality
Active communication with subscribers and target audience
The optimal number of posts and the timing of their publication
Use of hashtags
Instagram promotion is a time-consuming business, because you need to actively study your target audience, study the "market" of posts, and try to create unique content. If you are interested in accelerating the development of your account, there is the possibility of using the service to promote Instagram.
It is one of these assistants that is an innovative program for promoting on Instagram – Instapromo.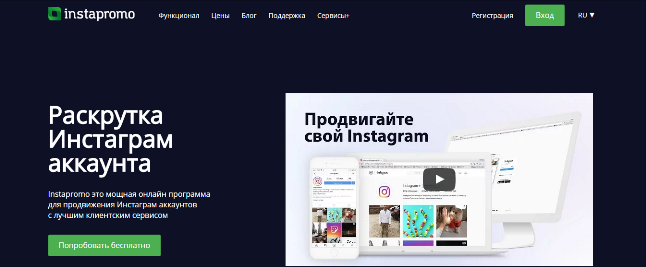 The main advantages of the service are its thoughtfulness and ease of use with high returns. Even a beginner who is not particularly versed in account promotion will find it very easy to follow the prompts and set everything up to their work criteria without any problems.
The settings and filters of this service for promotion on Instagram are so multifaceted that they will satisfy the requirements of even the most harmful users. You can set limits by gender, by the number of subscribers and user subscriptions, daily and hourly limits for subscriptions/unsubscriptions, likes and comments. To simulate human actions, you can select options for skipping accounts and a night break.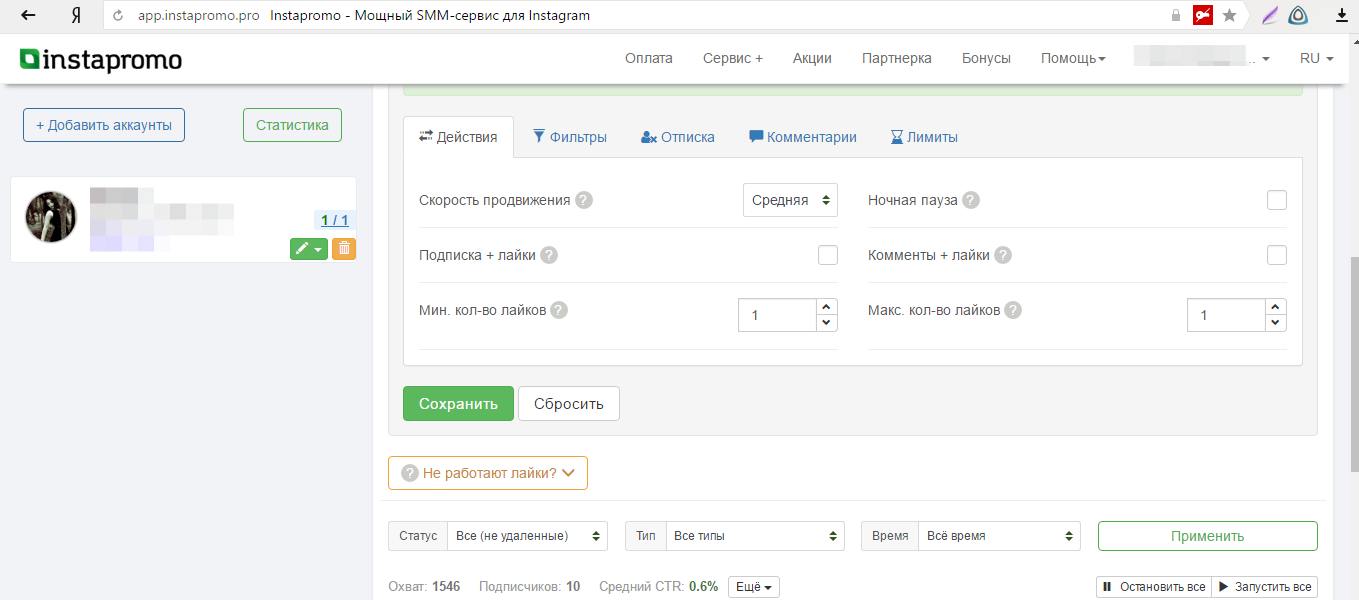 If you go about your business during the day and do not have access to a computer or smartphone, you can use delayed posting.
You can always look at the statistics, see the conversion of all promotion methods, study which hashtags or accounts are more active in attracting subscribers.
This Instagram promotion service works without the use of proxy servers, it is also possible to access it from any device thanks to the use of the cloud. You don't have to worry about gray subscribers, the program skips all bots and fake accounts.
Instapromo offers three modules:
Promotion
Direct
Working with comments – comment tracking
See also: Programs and services for promotion and promotion on Instagram
Promotion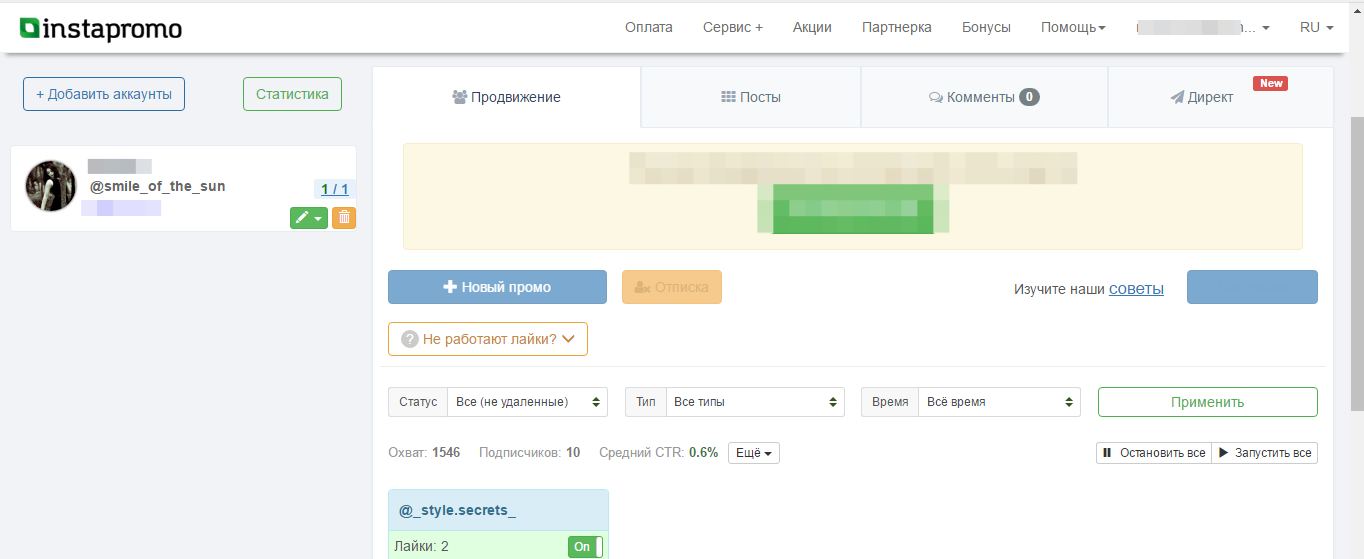 First of all, let's figure out what methods of promotion Instagram provides us with this service for Instagram promotion:
Automatic subscription and unsubscription
You set up the criteria for determining your target audience, the system creates a list, subscribes to users, and they subscribe to you in response. The process of unsubscribing from accounts is simple and convenient – you just need to select the items you are interested in in the settings and start the process.
Massliking
One of the most effective methods for promoting young accounts, built on the same principle as the previous Instagram promotion method: the service puts a huge number of likes, as if hinting "And links me back"
Automatic comments
The developers have already created templates for mass commenting, so you don't have to puzzle over unique comments, because the system does it for you.
Direct in Instapromo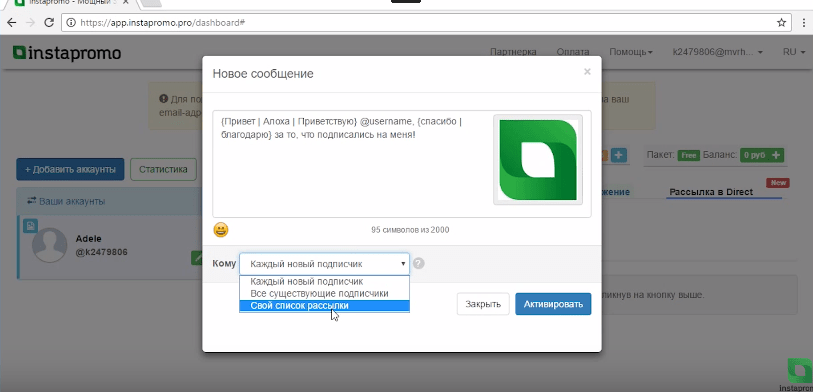 If you are interested in the successful promotion of your Instagram account, then it is advisable to devote time to your subscriber and in private messages. This service for Instagram promotion will help you send a direct mail to all or a group of selected subscribers, talk about new interests in your profile or conduct a survey, etc., you can filter users by gender, activity, number of photos. You can also add photos, emoticons and address by nickname to these messages.
Comment tracking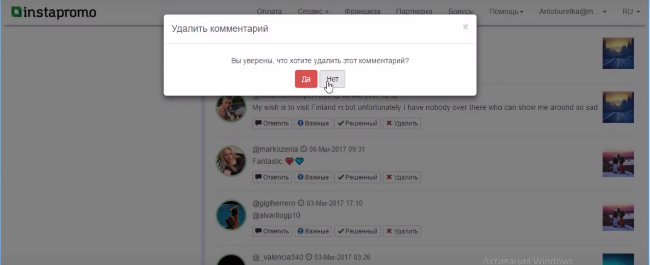 The Instagram promotion program Instapromo offers you thousands of ready-made unique comments that will make users follow you without fail. You can also add your individual comments to the list. You can track comments, reply, delete them, which is especially useful for accounts that sell various products.
Summing up, I would like to say that the functionality of Instapromo does not end there. More details can be found only by trying all these buns. After all, it is better to try once and feel the result than to hear ten times and doubt.
Internet marketing expert. Head of marketing agency MAVR.
Business degree "Master of Business Administration" (MBA).