TikTok: how to promote yourself and your business in a hype social network?
We will send the material to you by email:
Время чтения:

6

мин.
TikTok is a social network that appeared literally out of nowhere and immediately became the fourth most popular.

Some statistics: more than 500 million users in 2 years, who together easily make about a billion views per day! Impressive? And yet, on average, a user spends about 52 minutes a day on TikTok, which indicates good engagement.
TikTok gained such popularity on the concept of "short videos". The essence of the social network is that users can upload videos with a short duration – usually from 15 to 60 seconds, in which they implement original ideas that collect thousands of views.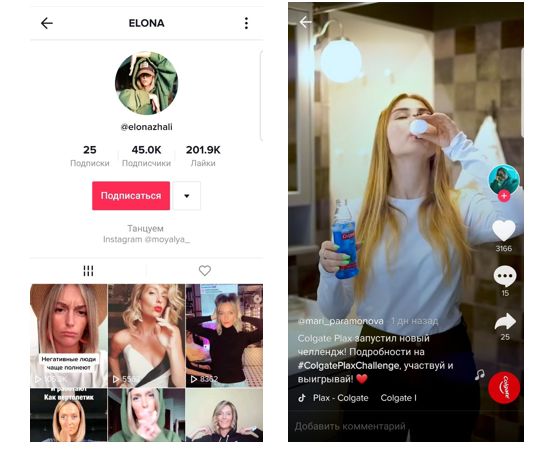 When it comes to advertising and getting the attention of big brands, TikTok is doing well with this – many companies are actively collaborating with the social network, creating challenges and content.
Why should you pay attention to TikTok?
First and foremost, as we said above, is a huge number of audiences of different ages, fields of activity and interests. The service has a huge potential for development – after all, every month it consistently breaks records for downloading applications in the AppStore and Playmarket.
Loyal attitude to coverage – any user can get into the top. TikTok algorithms today allow you to do this, again, exposing Instagram in a not the best light – algorithms have long been used there that do not allow you to "speak" to a wide audience.
Earn money on TikTok
The social network offers development paths for everyone – whether you are a blogger or a businessman, you can find your niche in TikTok.
Bloggers are given the opportunity to place advertisements for brands or other bloggers, take part in challenges from brands, earn money on it, and, attention, become a brand evangelist by constantly posting it on their account.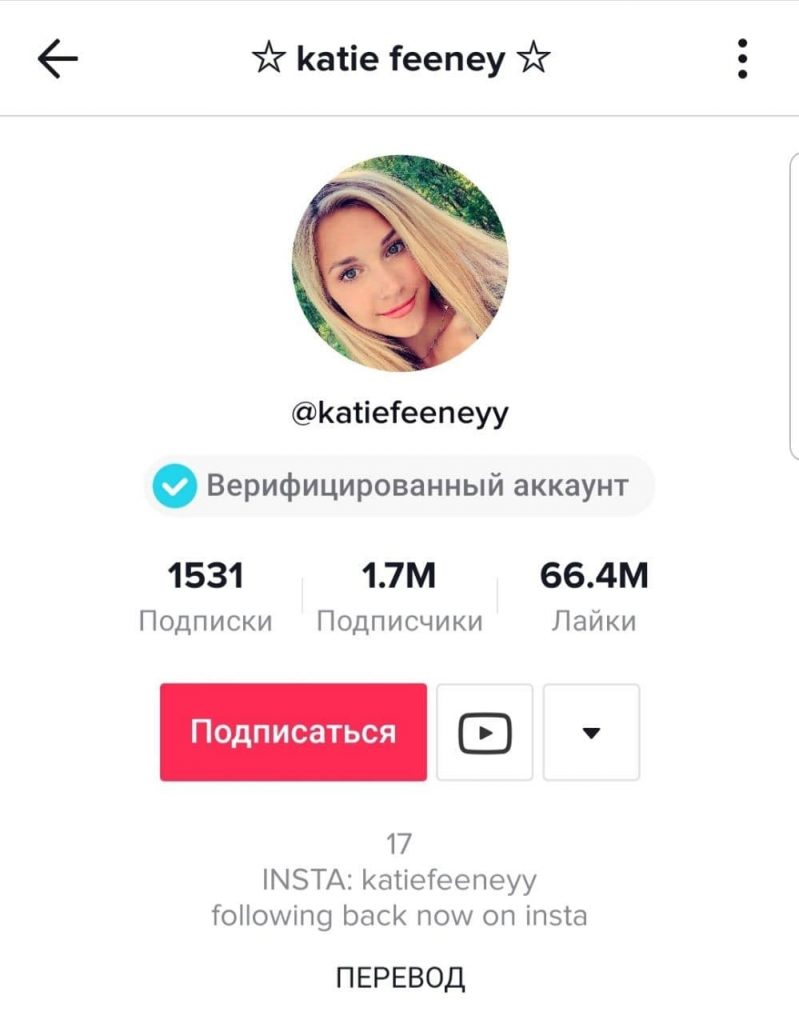 In the case of a business, it's even easier – you just need to attach a link to your main social network so that users can go there and make purchases. All that is required of you is to attract an audience that will be interested in what you do. And in the near future, TikTok will allow you to add active links to sites in the profile description and in the videos themselves – tests are already underway.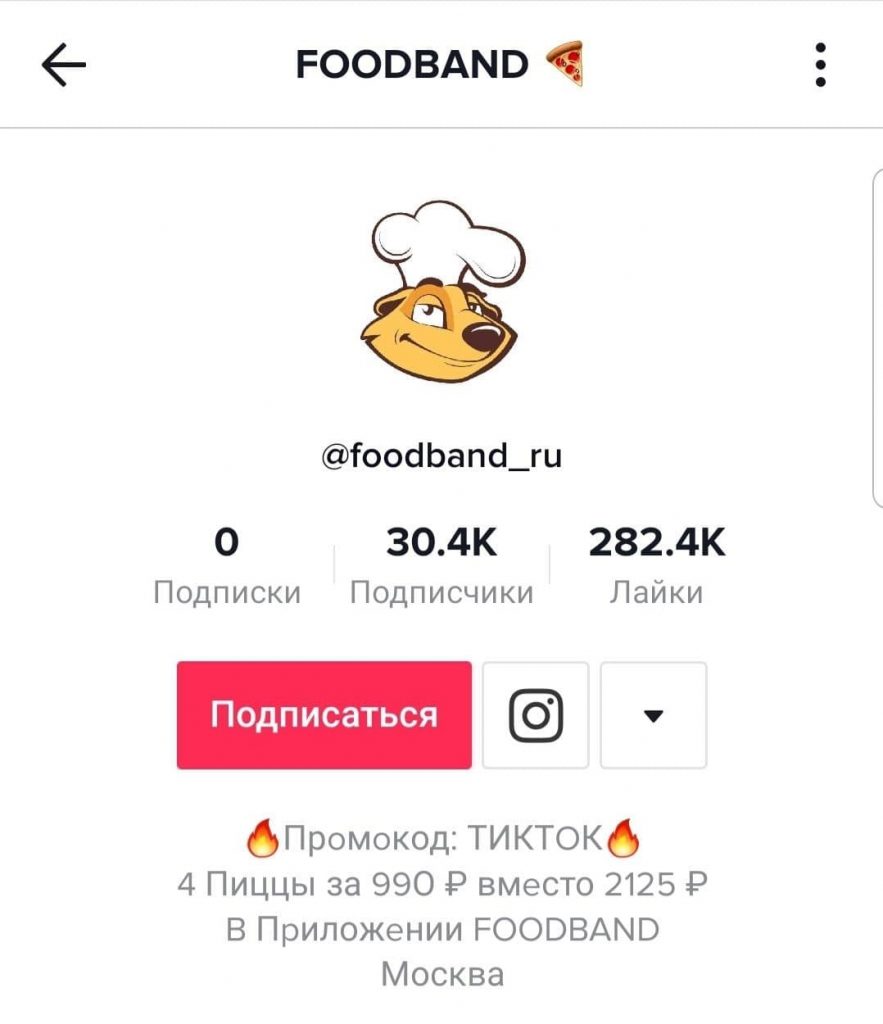 How to start promoting on Tik Tok?
What do you need to get started with TikTok? Everything is very simple, here is a step by step algorithm:
1. Create a profile
After downloading the application to your smartphone, go through a simple registration – you will be prompted to choose a nickname. After that, you will be able to start using TikTok, trying out many features in practice.
2. Design a profile header
Profile description, however, as in any social network, plays a big role in TikTok. You will be judged by the cap, it will depend on it whether a potential subscriber will be interested in you or not.
3. Switch your account to PRO mode
Remember that doing this is extremely important – you will have access to the valuable data that TikTok collects for you: the number of views of your videos, profile views, subscriber dynamics and data about your subscribers – their geo and gender.
4. Shoot videos
All you need to do is just start posting. The flight of fancy is wide, there are a lot of ideas that can be realized – get inspired and act, you will succeed!
Promotion in Tik Tok: step by step instructions
Now the audience in the social network can be recruited very quickly. True, the option of official advertising on TikTok is still available to a few. There are partner agencies that work directly with TikTok, the amount of required advertising budgets is tens of thousands of dollars.
We have identified some of the most effective ways that are available to everyone:
Buy advertising for your page from bloggers. They will film a video and tag you.
Try to get into the tops by hashtags and recommendations. To do this, you need to actively shoot videos, select popular hashtags and get good starting activity on your account.
Competition with a branded hashtag. The contest mechanics are as effective as ever, and if the contest video itself hits the top, it can bring you a lot of free coverage and new subscribers.
Auto-actions. We subscribe to users, like them, they notice it – and subscribe to you in response, put likes, watch videos. An extremely effective way that allows you to get a lot of subscribers very cheaply. But doing so many subscriptions manually is tedious and time consuming. Therefore, the actions are automated by the Tokker.ru service. Here's what it looks like: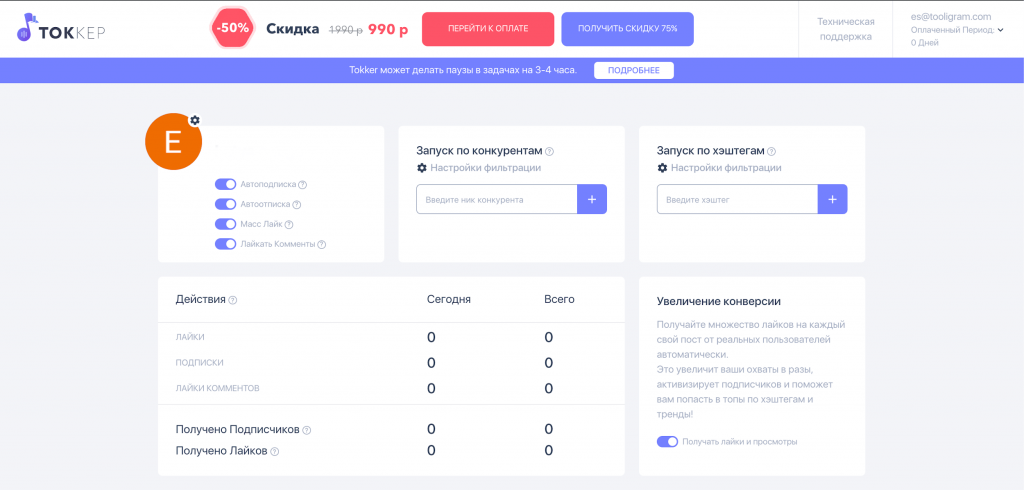 Read also the article: Cheat likes and followers on Tik Tok: TOP of the best free and paid services.
TikTok: mass following and mass liking
Using Tokker, you can collect a user base according to parameters that you choose yourself – you can lure subscribers to specific pages if they are your target audience, or try to find those who posted your target hashtags to attract their attention to you.
In addition, you can subscribe and like user profiles – they will definitely notice this and be active in response – they will become your subscribers and increase the number of likes in the profile.
It helps Tokker and get into recommendations and tops – the service gives a stream of likes and views to your videos from live users. The social network regards them as an indicator of the high quality of your content, promotes your videos itself and sends them to recommendations. As a result – even more coverage and subscribers!
We already know examples of bloggers and businesses that promote accounts through Tokker. The blogger girl went from scratch to 10,500+ subscribers in just three weeks, and one of her videos was recommended and got as many as 765,000 views. And this despite the fact that in total she has 10 videos on her account.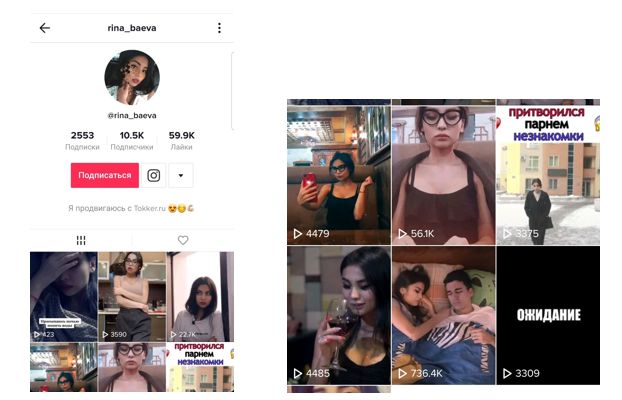 How to use Toker? Service closed!
You sign up for Tokker.
Go through TikTok authorization inside the service – enter your login (page name) and password. If you logged into TikTok through another social network, it will not require a password, but you can still set it in "Account Management".
Enter the titles of the pages with the audience that suits you and the target hashtags.
Done, the task will start, the service will start performing actions, and you will receive subscribers and likes!
What results can you expect?
We have already said in social networks that the social network has great potential and a huge user base. In a few days, any user will be able to get to the top, in a week – to gain thousands of subscribers and become truly famous. All it takes is regular posts and active promotion!
Mass following and mass liking are simply indispensable for promotion on TikTok – these functions have already shown their efficiency, now this is the easiest way to promote on the social network.
Summing up, we want to say that you need to start a TikTok account as soon as possible – level up as a blogger, make your business more successful, or just share funny videos with friends. The main thing is to have time to unwind and skim off all the cream!
Internet marketing expert. Head of marketing agency MAVR.
Business degree "Master of Business Administration" (MBA).