Getresponse Email Marketing Review: My Email Marketing Experience
We will send the material to you by email:
Время чтения:

6

мин.
With the closure of the Smartresponder.ru mailing service, its users have the opportunity to choose another platform, even better in most respects. They are lucky – they are forced to change it, while most bloggers, infobusinessmen and marketers are sitting on their usual email service and losing customers. Just because of the limited capacity. Unless, of course, they initially chose Getresponse. About him today and will be discussed.

It is necessary to send letters to your subscription base. So that they don't forget, that they trust, believe and see you as an expert.
I changed and tested more than one similar resource and settled on Getresponse – it is ideal for me, as a marketer.
We will talk in detail about its capabilities, functions, interface and support service today. Get ready to compare with your service.
From your personal account, you can immediately, without looking in the top and side submenus, create a new subscription form for the site, a new company, send a letter to subscribers. You can even organize a landing page – a bunch of templates, everything is intuitive and clear.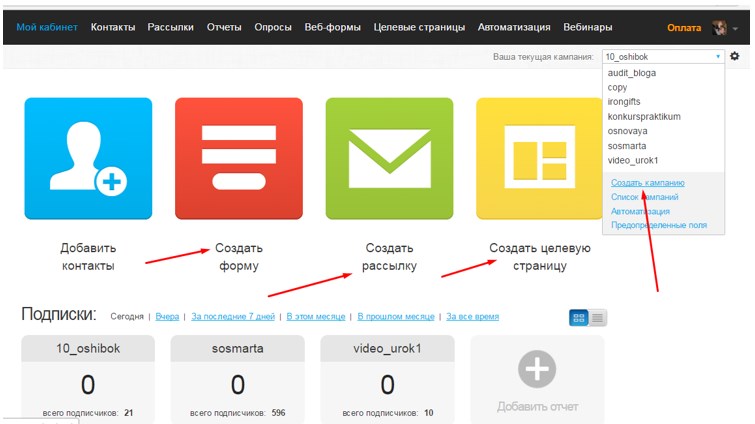 A user-friendly interface is good, but let's look at how Getrespons solves the basic tasks of email marketing.
Increasing sales
Your sales depend on many parameters, one of which is letters to potential subscribers. How do you send them letters? Do they remember you?
Obviously, using the Getresponse service, you can send letters. But the chain of letters to your subscribers and customers can be easily configured so that each next letter is sent depending on the subscriber's action with the previous one. For example, if the subscriber did not open the letter that came from us in the morning, then another one is sent to him in the evening, in which we invite him to familiarize himself with the contents. If the subscriber opened the letter, but did not click on the link, then another letter can be sent to him, in which we will try to convince him to click on the link. Or, let's say you have several links in your email. And depending on which one the transition took place, this or that letter is sent.
Agree, a simple implementation of such an opportunity for email marketing is super. Moreover, it can be configured in such a way that everything works automatically, without your participation.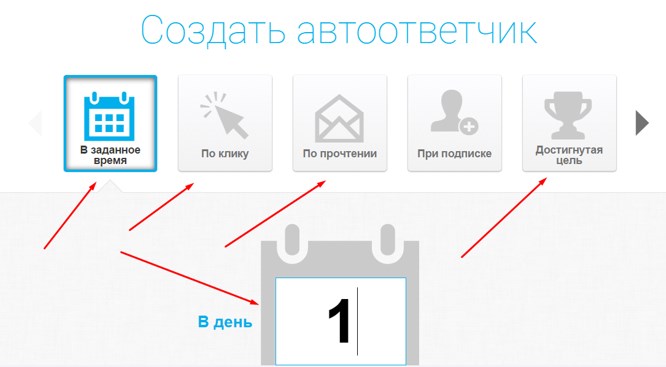 Subscriber base segmentation
Base segmentation for me starts from the very first contact of the client with me. Depending on what form he fills out on the site, he receives such a series of letters. Let's look at marketing in action with a specific example.
I have several free materials on my blog that I give to the visitor for a subscription:
free book about creating a website;
checklist of correct article writing;
video tutorial on blog promotion.
Three free gifts – three subscription forms – three companies – and three series of letters.
Suppose a visitor is interested in blog promotion, left his email and received a video instruction. A day later, you send him a new letter with another blog promotion video that he should be interested in (since he subscribed to information about the promotion). Depending on his actions, you send letters until he watches the second video. And in this video, you offer him an already paid webinar, or some kind of course, or coaching. By the way, you can also host webinars with getresponse.

Everything is easy to implement, in any case, the subscriber remains in his group and receives only targeted, interesting letters in the future.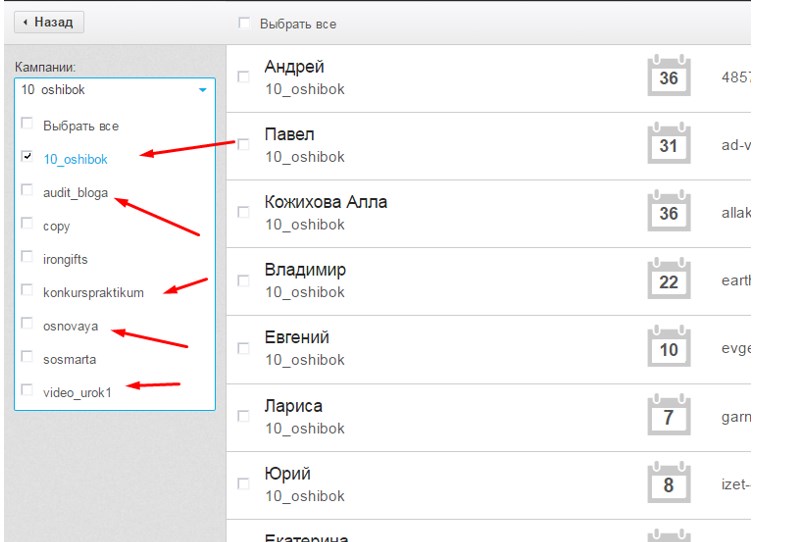 Automatic mailing
Everyone understands the importance of an automatic series of letters for himself. But if there is such an opportunity, then why not take advantage of it? So that the subscriber does not forget you, you should sometimes send him letters with useful things and remind him of yourself. Preferably automatically.
In getresponse, this can be done like this: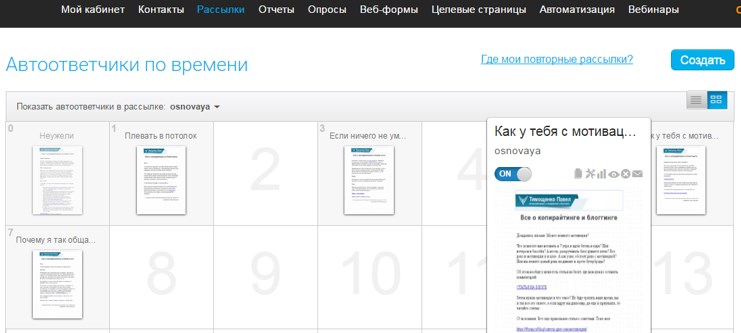 You choose a campaign, a day and plan emails, arranging them by day from the moment of subscription. Moreover, the letter can be shown depending on the time zone of the client, on the time when he signed up or on his actions. Very convenient and fast.

Letters immediately go adaptive: for viewing on different mobile devices. It is possible to preview, and a test letter to your mail, and check the display of the letter in different browsers and mailboxes.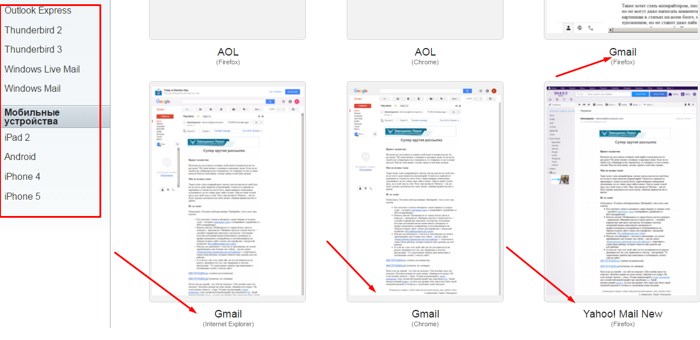 Analytics and database cleaning

You can track and analyze the situation with the subscription base even without UTM tags:
deliverability of letters;
opening percentage;
percentage of clicks;
failures;
delivery errors;
goal achievement.
This is what my statistics collection process looks like: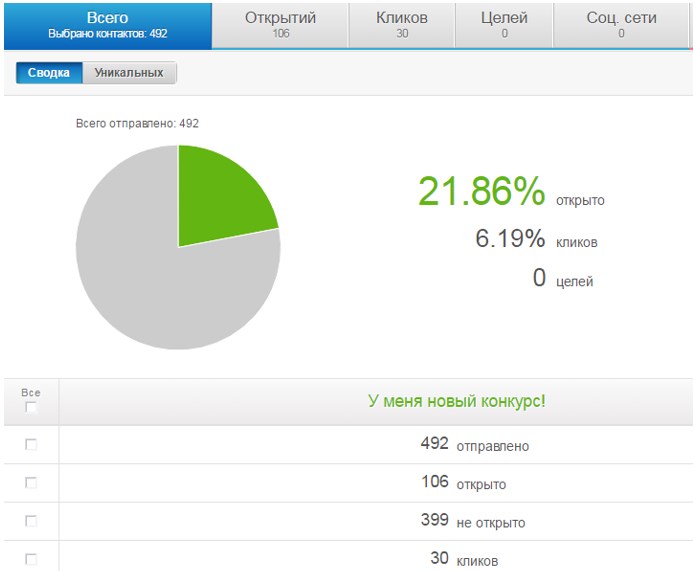 In real time, you see how your emails are opened and conversions are made. In a few days, for those subscribers who did not open my letters, I will send a second letter, then a third, and then delete the inactive ones. By the way, these are subscribers from the smartresponder, I imported them here.
As for analytics, I will show you another possibility like SPLIT testing or A/B testing.
You can test dozens of different landing page designs within a single URL using this service.

Getresponse has its own app for iOS and Android where you can study statistics, create and send emails.
As for other interesting things, this is the integration into the Google Analytics mailing list. You can monitor and track statistics in more detail using your Google Analytics account. Here, tags are automatically assigned and even more parameters are tracked, a click map and mailing analytics for each individual message. There are many functions, and just the most necessary and effective.
Support
The support service made me happy. I contacted on Saturday night, and they fully answered all my questions in the online chat. The only thing I note is that this round-the-clock support was in English, with an American. If you do not speak English, then you will have to wait until the morning, and you will be helped a little later, but they will help you. I asked the support service in both Russian and English. In English, they helped me within 7 minutes. And in Russian on Monday morning they made sure that I solved my problem.
By the way, I asked about the following:
Is it possible, after having conducted a survey of subscribers, to segment them depending on the answer option. There is no such function yet, but they promised to introduce it soon. This can be attributed to the next point.
Flaws
There are few of them, but it is necessary to say about them:
As many as 10 fields during registration.
There is currently no way to send SMS messages.
The trial period is only one month, then you have to pay $15 for a base of 1000 people. Not the lowest rates.
In general, a good mailing service. Huge functionality, hundreds of templates, tons of integrations, everything is thought out and made for people. I recommend.
Author: Pavel Timoshchenko.