How to create and set up a VKontakte group?
We will send the material to you by email:
Время чтения:

8

мин.
Advantages of VKontakte
VKontakte is a social network that includes all such main advantages as:
VKontakte makes it possible to communicate with work colleagues, friends, relatives who live in different cities or countries;
VKontakte can be used as a tool for self-development. You can watch informative films, listen to good music, read interesting books. You can subscribe to an interest group where you can find information that interests you
VKontakte helps with studies. Surprised? And everything is exactly like this, because in this social network it is very convenient to exchange notes, laboratory, assignments and other useful information! Do you want to improve your knowledge? Join a group with a topic that interests you and there you will find both video materials and useful links, you can also discuss questions with group members!
VKontakte is a platform for business development! Here we can advertise your online store, web design studio, etc.
Interested in creating a VKontakte community? Then let's first look at the main differences!
The main differences between the Public Page and the VKontakte Group
| | | | |
| --- | --- | --- | --- |
|   | Group | Public page | Conclusion |
| Purpose | For discussions and associations of interest | To publish news on behalf of a company or a famous person | Choose the type of community that suits your goals. |
| Privacy | Open, closed, private | Open | The group can be made private or private. The public page is always open. |
| Profile display | To see the groups to which the user is subscribed, you need to click "Show detailed information". But they are not always visible: if the group is private or users have hidden their display in the privacy settings, you will not see them. | Public pages that the user is subscribed to are under the block with friends, and this list cannot be hidden in any way. | People see interesting publics on the pages of friends and subscribe to them. This happens to groups less often due to their unfortunate location and privacy settings. |
| Invite friends | Yes | No | You can invite friends to join your group. To do this, go to "Community Management" – "Members" – "Invitations". Public pages do not have this feature. |
| Posts from subscribers | In groups, you can enable the "Open Wall" mode. On such a wall, any user can write a post, and everyone who enters the group will see it. However, such entries do not end up in the newsfeeds of group members. | Any user can offer a post to the public, administrators will be able to publish it on behalf of the community with the signature of the author. Before publication, the proposed entry is not seen by anyone except administrators, and after that it gets into the news feeds of subscribers. | If you need moderation of posts, it is better to give preference to the community. |
| Community type change | Yes | Yes | A public page can be transferred to a group and vice versa. But only the creator of the community can do this. You can only change the community type again after 30 days. Also, for the transfer, the number of participants must be no more than 10,000, otherwise the decision is made by VKontakte support at your request" |
| User Content | "Open" in groups can be not only a wall, but almost all sections: photos, videos, music, documents, photo albums, etc. | Public administrators can give permission to users to upload photos to certain albums – no more. Users cannot add anything else. | Want a lot of user-generated content? Then a group is more for you. As for the public, users can only upload photos and offer posts for publication. But even this is enough. |
| Locations and check-ins | In group management, you can specify the location. It will show up in the description. People who will be near the specified place, when creating a record and attaching their location to it, will be able to select your group as a point for flagging. | In the public, you can specify several places at once. They are displayed in a hotel block in the right column on the page. However, unlike groups, you can check in these places only through the community itself. | If you are the owner of an offline business, your visitors often visit your establishment and check in, then you should choose a group. If there are few check-ins, and you realize that this function is not effective and does not bring the desired result, you can always change the community type. |
| | | |
| --- | --- | --- |
|   | Group | Public page |
| Live broadcasts | ✅ | ✅ |
| Possibility to pin a post | ✅ | ✅ |
| Subscribing to Notifications | ✅ | ✅ |
| Community Online | ✅ | ✅ |
| Detailed statistics | ✅ | ✅ |
| Ban on commenting | ✅ | ✅ |
| Goods | ✅ | ✅ |
| Money transfers | ✅ | ✅ |
| Applications and Widgets | ✅ | ✅ |
| Dynamic cover | ✅ | ✅ |
Perhaps these are all important differences.
You probably don't need a "just to have it" group. You are pursuing a specific goal, right? Most likely, you want to make your brand more recognizable, or perhaps you want to increase sales or you want to attract new customers. To achieve these goals, it is very important to properly create a VK community and set it up. I will help you deal with this quickly and completely.
Ready to learn all the intricacies of running a VKontakte business?
Then let's get down to business!
How to create a VKontakte group?
Create a group in VK in 7 easy steps:
Go to site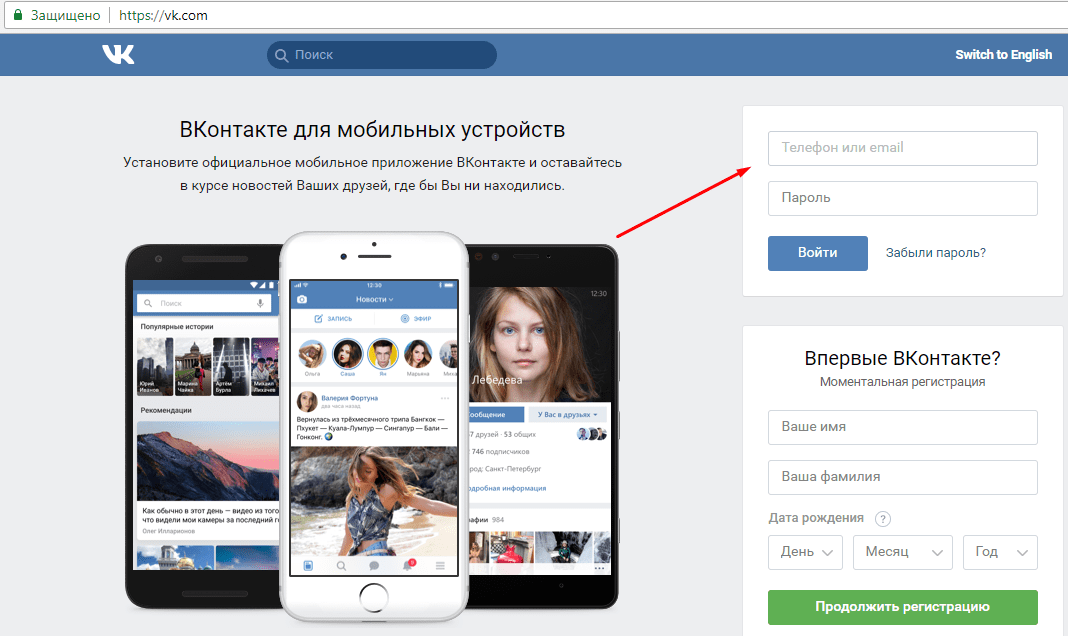 Choose community type

Enter the title

Important! The title should contain a keyword that potential subscribers can search for you.
Fill in the information about your group:
The description should be interesting and exciting, so that after reading it, there is a desire to subscribe to this group.
Intrigue the subscriber.
Think of a page address
The page address should be simple and memorable so that it would not be difficult to find you.


Create an avatar for your group

If your company has a brand name, then design an avatar with the colors of your company, also use a logo to better remember your company.
When searching, the first thing a person sees is the group avatar. It can be seen in the news feed and in search results. Your task is to make it very high quality!
The avatar should be meaningful and intriguing. If you decide to add text to it, then check if it will be read in a thumbnail.
Community Avatar – 200 pixels wide x 500 pixels high
Use no more than 2 fonts.
For convenient navigation of subscribers around the site, a menu is often used when creating a VKontakte group.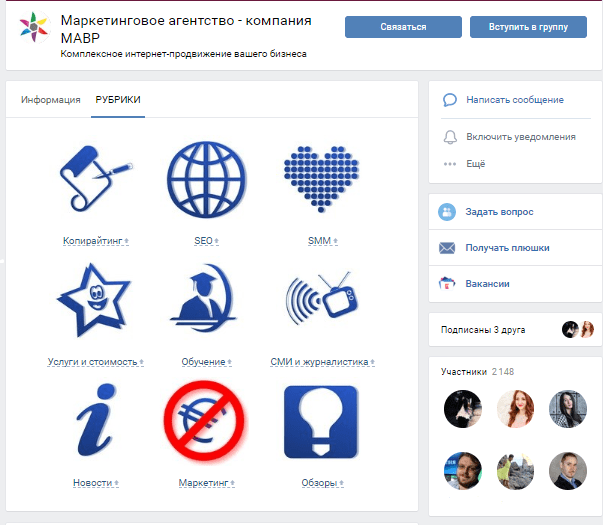 Key features of a good menu:
Everything is structured;
It is easy to find the information of interest;
Nice and clear design.
How to create a menu:
Create a page in the VKontakte group. The link to it will look like this: vk.com/pages?oid=XXX&p=YYY. XXX is the page id of your group, and YYY is the title.
Add to this page everything that subscribers should know about.
Write text and insert an image to open the menu and add a link to the page you just created. Now, when a person clicks on the picture, he will see the page you need.
Make a post out of text and an image and click "Attach":
This post will be fixed at the top and so new subscribers will immediately see it.
To prevent a new subscriber from changing everything in your menu, make sure that only the group administrator can edit. Allow subscribers to view only.
Let's take a closer look at how to properly set up a group.
How to set up a VKontakte group?
The community settings are on the right and they are divided into sections.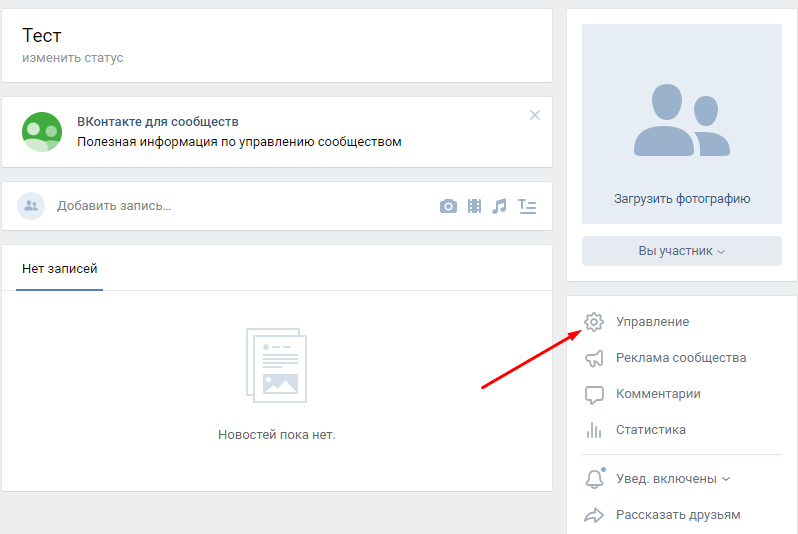 This section contains basic information and additional: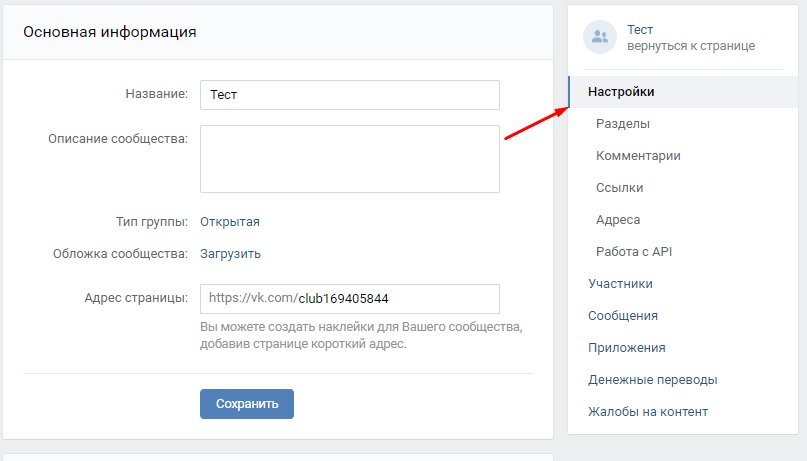 Name. You have already chosen the name, but you can change it at any time.
Description of the community. The description should reveal the essence of your community, its purpose, detailed information about the community. Remember, the description should not be too long, it should be no more than 10 lines.

Group type.
There are 3 types of group:
Private
open
Closed
When you choose the type of group – follow the prompts.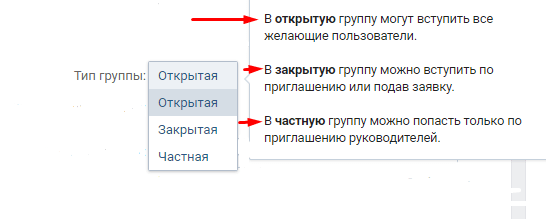 Community theme. Choose the right topic for your community.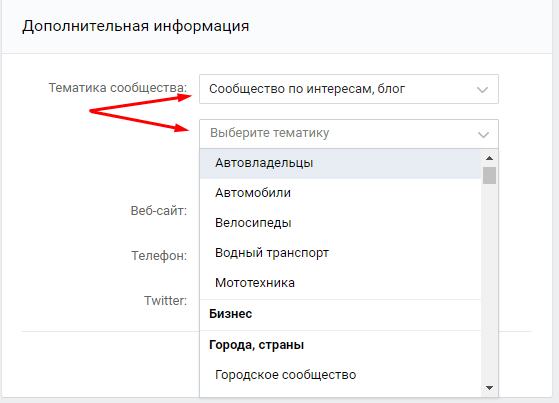 Web site. If the materials that you will publish relate to your site, then enter the address of your resource in this field.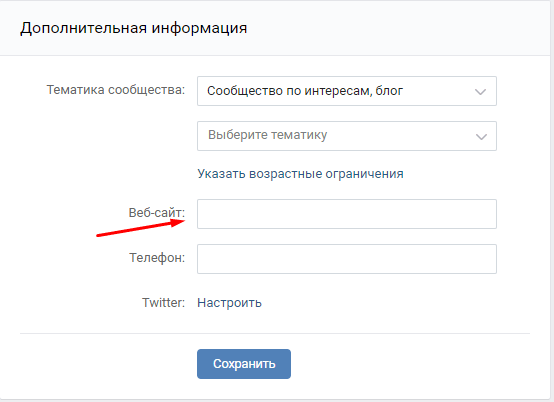 Addresses. If you have an establishment, then you can specify the work schedule, breaks and working days. You can make the block the main one in the settings so that customers see it at the top of the community. Then users will be able to see your location and get directions to it, which is very convenient.
Another very handy feature is available to the community administrator. It can display one button and assign one of the following actions to it:
Call by phone or VK.
Write to mail.
Open a site or community.
Go to the app on your phone or community.

How to appoint a community leader?
Add a team leader. To do this, go to the "Community Management" section.
In the search box, find the person you want to make the leader of the community, add him with the ENTER key, and appoint him as the leader.


Also, you can choose who to assign the user to.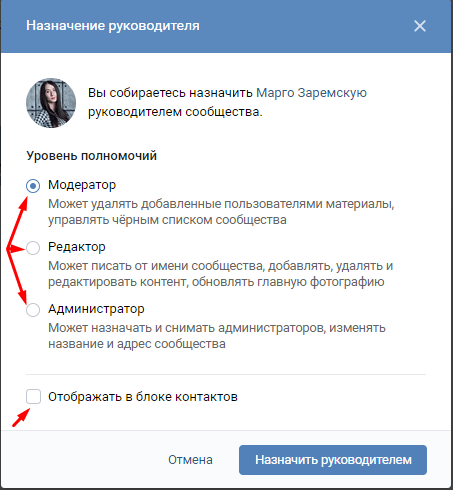 If you want the manager to be displayed in the contact block, then check the box next to "Display in the contact block".
Conclusion
There are many marketing tools out there and social media is one of them. Proper work with it will lead to an increase in the number of customers and profits
Internet marketing expert. Head of marketing agency MAVR.
Business degree "Master of Business Administration" (MBA).