External optimization is the main stage in the promotion of any website.
We will send the material to you by email:
Время чтения:

3

мин.
External optimization is not just a way to promote a site, but a whole range of actions aimed at building up a link mass with the help of high-quality external links. It is due to external links from other resources that the site receives a target audience, traffic growth and an increase in search engine results. This article will talk about how to independently get external links and use them to competently promote the site.

Social media
Almost every person has an account in some social network, so social networks have long turned from platforms for exchanging opinions and messages into information resources with a huge audience. Advertising opportunities of social networks can be used to promote your site. External links can be placed in posts and communities with topics similar to your site.
However, an even more convenient option may be to post links in the comments to posts. For example, you can write a response to a comment under the post under discussion, indicating there any useful information on the topic of the question and posting a link to the site. Some site owners, wanting to promote them faster, use bots in social networks that send out standard messages with links to the site. However, this method cannot be called effective. Firstly, advertising bots are regularly blocked, and secondly, users most often negatively perceive such mailings and consider them spam, so they will not click on them to the site.
Guest posting
The essence of this method is to place a publication with an external link on various third-party sites. These sites include:
MASS MEDIA. Often, online publications are reluctant to host guest articles, but some of them make exceptions. For example, if the material is very high quality and interesting, or if you can attract new readers to the resource that posted it with the help of a guest article.
Blogs. Blog owners often agree to publish guest articles, but they have to agree on the terms of placement. They may charge a fee for posting, or they may publish for free if they think the article will attract new visitors to their blog. Guest articles can help drive traffic, but their success depends on the credibility and popularity of the hosting site. In addition, sites and blogs have the right to independently remove a guest article if they need it, which may adversely affect promotion.
Link exchanges
On link exchanges, you can buy external links that will be placed on various resources. The indisputable advantages of link exchanges include a large number of links that can be purchased on them. Of course, the times when site owners used the tactics of "link explosions" with the help of a huge number of low-quality links on various resources are over, but you can't completely refuse to buy links on stock exchanges, because this can help publish them on a vast number of resources.
You can read more about what link exchanges are, how to choose a link exchange here: https://referr.ru/30-best-link-services/
And here you can learn in detail everything about buying links to your site https://referr.ru/kak-pokupat-ssylki/
Comparative table of link exchanges: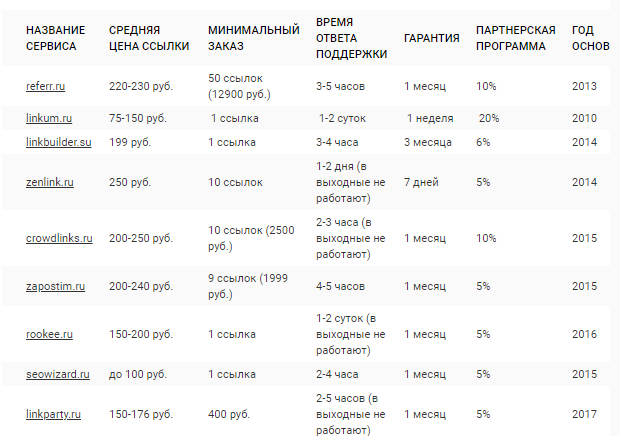 There are several ways to get external links, but it is best to combine them effectively, promoting the site both by the number of links and by placing them on thematic resources, blogs and comments. It is also worth remembering that the placement of links should not acquire the features of spam, because the main goal of external optimization is to gain the interest of the target audience, and mass mailing can only interfere with this.
Internet marketing expert. Head of marketing agency MAVR.
Business degree "Master of Business Administration" (MBA).