Automobile slogans
We will send the material to you by email:
Время чтения:

3

мин.
Probably no industry pays more attention to the creation of slogans than the automotive industry. Literally for every brand of car, for every manufacturer, there is a certain phrase that makes you choose it. This is understandable: by choosing the right automotive slogan, you will see how sales will accelerate, like a racing car on a smooth track.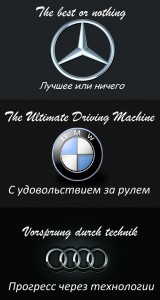 Don't believe? Here is a simple example. David Ogilvie coined the automotive slogan for Rolls-Royce: "At 60 mph, the loudest sound in the cabin is the ticking of the clock." Car sales immediately increased by as much as 30%. In this story, one must also pay tribute to the mechanic, who jokingly answered him: "I always said that something had to be done with this watch." However, this did not affect sales in any way.
We can recall another example when a well-chosen automotive slogan saved an entire company. For a decade, Volkswagen tried in vain to sell its Beetles in the US. At that time in America there was a demand for powerful, huge cars. German manufacturers have focused on the fact that their cars are more convenient to park and they are more economical. The automotive slogan "Volkswagen is the best second car for the American family" was a resounding success. At that time, almost every housewife drove the "beetles".
In this article, I will not break down slogans into categories for different types of cars. Why write the obvious? This is already clear that for business-class cars, the slogans must be appropriate. The same applies to "family" cars. I propose to break them down by country of origin.
So, for example, in America, image and prestige are primarily valued:
"Lincoln: this is what a luxury car should be" (Ford Motor Company);
"The world standard is Cadillac" (General Motors);
"Cadillac. Make way for the king!" (General Motors);
"Jeep". American Legend" (Chrysler);
Chevrolet. Pulse of America" (Chevrolet).
As for manufacturers from Germany, they rely on the world-famous German quality and "art of the automotive industry":
"Designed like no other car in the world" (Mercedes-Benz);
"Audi. Superiority of high technologies" (Audi AG);
BMW L7. Wide opportunities" (BMW AG);
Opel. Movement for the better" (Adam Opel AG);
"Volkswagen Polo BlueMotion – 1 liter 31 km Your fuel has never lasted so long" (Volkswagen Konzern).
The Swedish manufacturer of the "safest" cars does not miss the opportunity to emphasize this:
"Volvo" – "A car you can trust" (Aktiebolaget Volvo);
"What is the most valuable thing in a luxury car? Your life" (Aktiebolaget Volvo);
"Security without borders" (Aktiebolaget Volvo);
And here are the competitors. Pay attention to the trick they use:
"It's not dangerous to run into a Volvo… If you're driving a Saab" (Saab Automobile AB)
It was possible to consider the domestic auto industry, but after the slogan "IZH 2126: A good car" I changed my mind about something 🙂
Of course, you can't write everything in one article. So help in the comments 🙂 See you soon on the blog pages.
Author: Dmitry Tunkov