Top 8 Exchanges to Buy Ads on TikTok
We will send the material to you by email:
Время чтения:

10

мин.
TikTok is one of the young social networks that has already attracted over 1 billion users from 150 countries. Launching the platform in 2016, Chinese developers could not have imagined that in five years it would become the largest advertising platform in the world. Native promotion through TikTok is an easy way to convey the benefits of the product to potential customers and scale the business.

Working with bloggers on TikTok: is it right for you?
Tik Tok has many bloggers with a multi-million audience who are ready to promote services and products. Global market leaders buy ads from tiktokers that present goods and services in short videos.
How to promote your products and services now:
create your own account where you will promote the company with the help of videos;
contact influencers by buying ads from them;
find bloggers through exchanges and buy ads from them.
Where to look for Tik Tok bloggers?
You can independently search for tiktokers, ask them for statistics of views and transitions. But often this method of promotion turns out to be ineffective due to inflated statistics or poor selling skills. The principle of the exchanges is simple: the advertiser wants to promote his product or service, and the service is looking for bloggers with a high rating and real subscribers.
Working with influencers is a new trend in promotion. Tiktokers shoot bright, catchy videos that motivate subscribers to follow the link, purchase services or goods.
What is the best way to move in the exchanges:
Analyze your target audience. Use the metric counters to highlight the geographic location, age, and gender of potential customers.
Prepare the terms of reference and a list of requirements for the video in advance.
If the service allows, set up blogger search filters based on data about your target audience.
Since the TikTok advertising market has not yet been formed, there is a risk of stumbling upon scammers when personally searching for an artist. In this case, a search platform is a safe option for creating an advertising campaign. Below is a selection of the best exchanges that will help you buy ads on a social network and not lose money.
Classification of bloggers
Advertising exchange Tik Tok
Advizer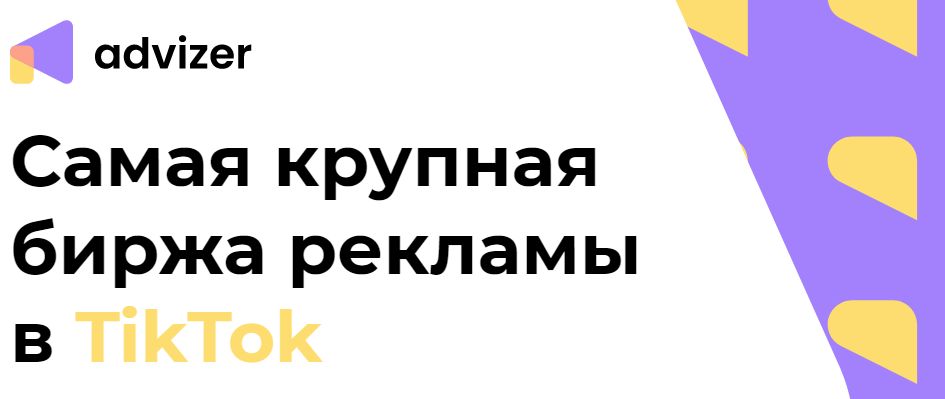 Link to the Tik Tok exchange – https://advizer.me/
A popular service for buying ads from bloggers. On the platform page, you can view ready-made cases with official statistics of views, subscribers, examples of advertising integrations.
Platform advantages:
the possibility of a refund in case of an unsuccessful transaction;
automatic payment for services through a deposit account;
has more than 1600 influencers who have already created advertising integrations;
the presence of a Telegram channel with useful information;
providing assistance in coordinating the TOR from the client manager, marketer;
round-the-clock technical support, which will help you find a suitable author, solve problems with registration and payment for services.
| | |
| --- | --- |
| Who is suitable for | Large companies, newcomers |
| Integration examples | Can be viewed on the website |
| Aadvertising cost | From 100 rubles |
If you have found an order executor, payment occurs only after the content has been agreed.
Tiktopers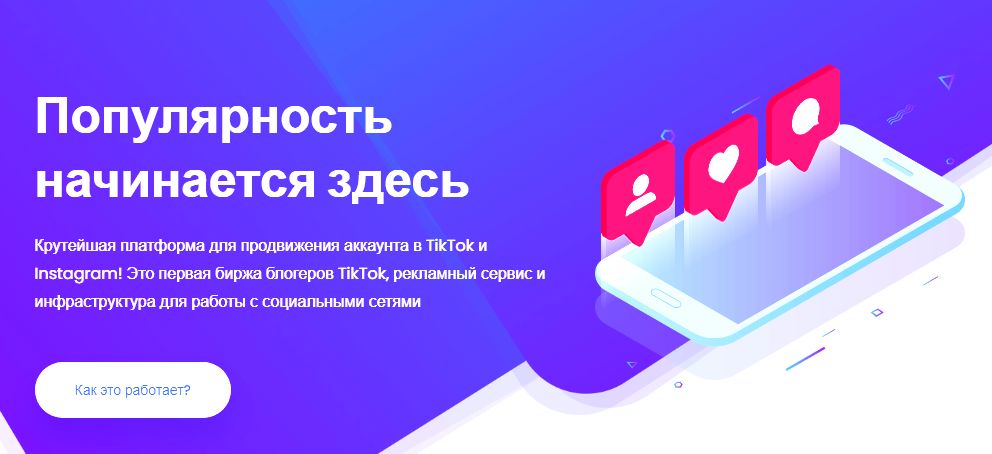 Link to the exchange of bloggers Tik Tok – https://tiktopers.ru/
One of the first ad buying platforms. The service contains a selection of bloggers who are ready to cooperate, and the cost of advertising. To create an integration, you need to select a blogger, draw up a technical task and transfer funds for advertising to him. On the pages of influencers there is a price list for services, the topics of videos are described in detail, the advertiser only needs to choose the right artist.
Service benefits:
availability of secure transactions;
providing full statistics from the blogger;
careful review and selection of applications;
the advertiser pays for placing a video with a blogger according to his price list, without extra charges;
section with reviews about the performers, calculation of the effectiveness of their work.
| | |
| --- | --- |
| Who suits | Start-up companies, big brands |
| Integration statistics | In developing |
| Advertising cost | From 200 rubles |
For those who want to quickly promote their account, there is a function to cheat subscribers. This does not comply with the rules of the site, but it helps to bring the company's profile to a new level in a short time. We recommend that you do not resort to such methods.
Perfluence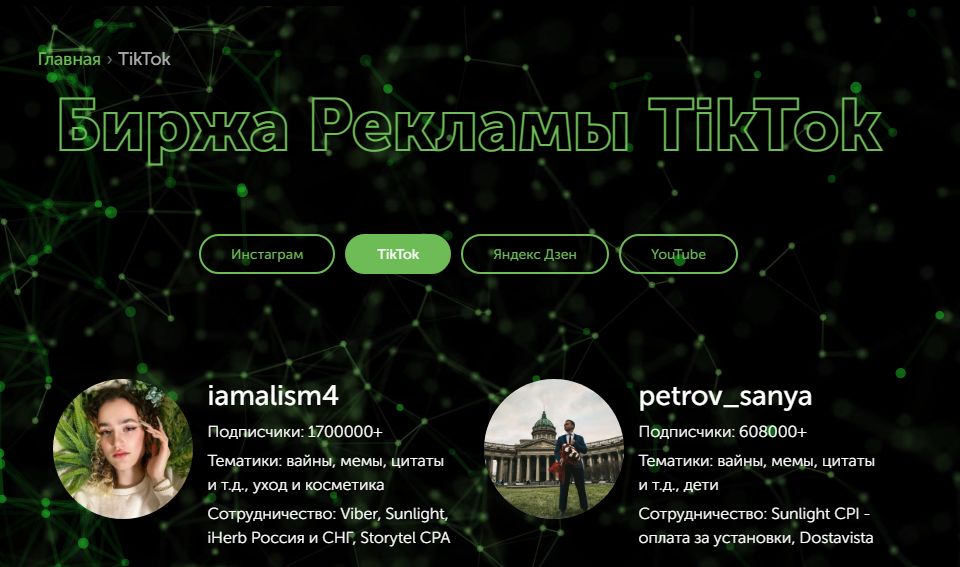 Link to the advertising exchange in TikTok – https://perfluence.net/tiktok
A platform with over 90,000 active bloggers. Every month, 30,000 advertising transactions between advertisers and performers are made through the service. The platform cooperates with dozens of well-known brands from Russia and around the world, and has proven its effectiveness after working with Yandex, Tinkoff, AliExpress.
Platform advantages:
the service works according to the CPA system: payment is made not in advance, but after the creation and placement of the video in the blogger's account;
advertisers include the largest Russian companies (OZON, Yandex, Tinkoff);
an opportunity to develop for those who sell products offline.
| | |
| --- | --- |
| Who suits | Start-up brands, large companies |
| Blogger statistics | You can see it in your account |
| Advertising cost | The advertiser chooses the cost |
The peculiarity of the site is that you do not need to look for a blogger for your budget. The advertiser independently chooses how much he is willing to pay for CPA, and based on this, the performers respond to the request.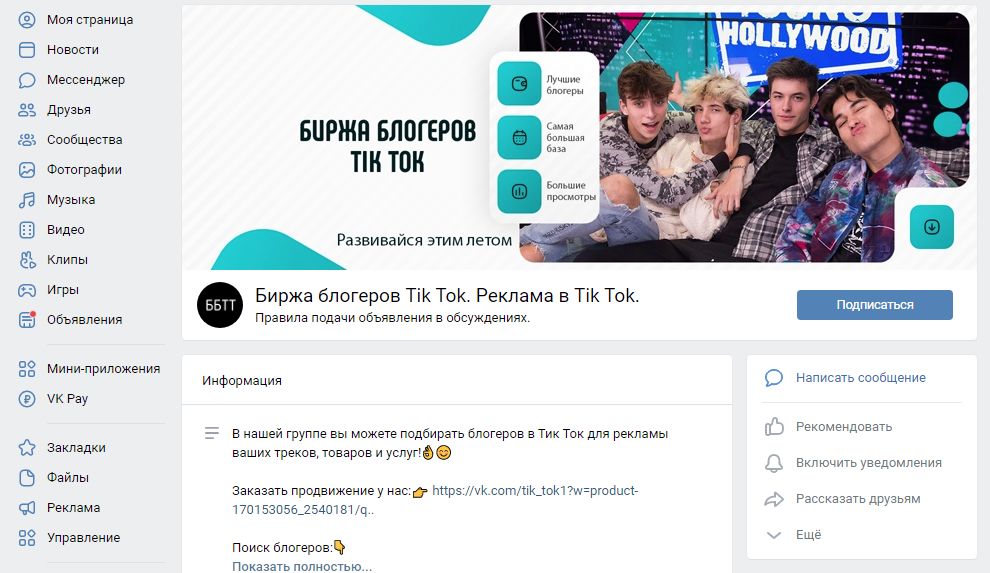 Link to the TikTok account exchange – https://vk.com/tik_tok1
Vkontakte group, where you can find the best bloggers to promote your services and products. Those who wish to remove the integration post information about themselves, the cost of the work. It is also possible to advertise tracks (shooting a video to the prepared music). The site page contains ads from users who are ready to shoot a video for your company. In addition to the basic data about the account, the blogger provides information about the subject of the video, location.
Exchange advantages:
communication with group administrators, technical support from the site;
there is a black list of bloggers involved in fraud;
you can buy advertising from users with a multi-million audience and an official mark of the social network;
providing official statistics from each influencer.
| | |
| --- | --- |
| Who suits | Small brands, big companies |
| Advertising cost | From 500 rubles |
| The popularity of tiktokers | From 30,000 subscribers |
The advertising exchange allows companies to develop from scratch, find well-known publishers for ongoing cooperation. Even a small investment in promotion will bring guaranteed results and new customers.
Socialjet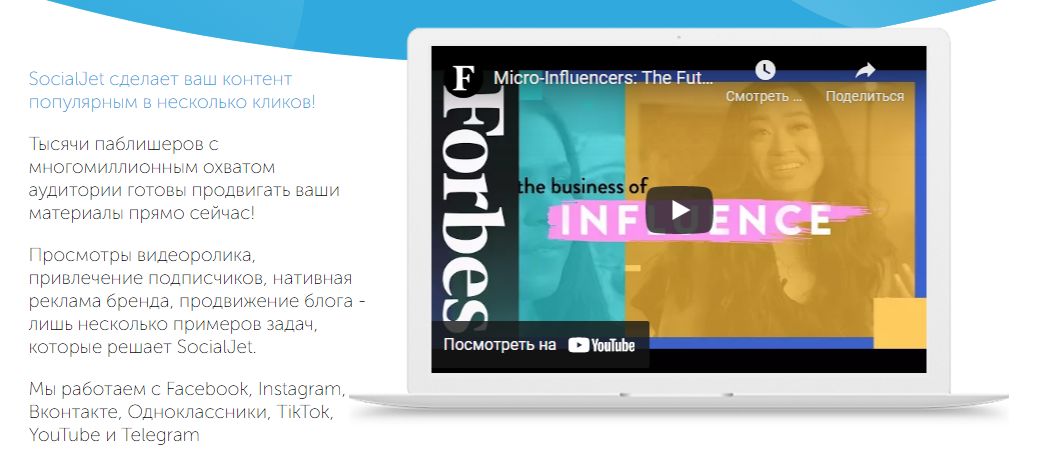 Link to Tik Tok exchange – https://socialjet.pro/
Platform for promotion of large companies. If you already have a ready-made promotional video, you can upload it to the platform and the influencer will post it on their page or repost it. The service is easy to use, it is possible to work with legal entities by bank transfer.
Exchange advantages:
work with content made by bloggers to order, or ready-made videos;
full automation of ready advertising orders;
Opportunity to work with official advertising agencies.
| | |
| --- | --- |
| Who suits | Large companies, government organizations |
| Promotion cost | From 1500 rubles per action |
| Integration statistics | Available in personal account |
The service is suitable for online stores, advertising and production agencies, film distribution and media companies. Business promotion will become even easier thanks to the full automation of the process, because you do not even have to develop a creative task.
GetBlogger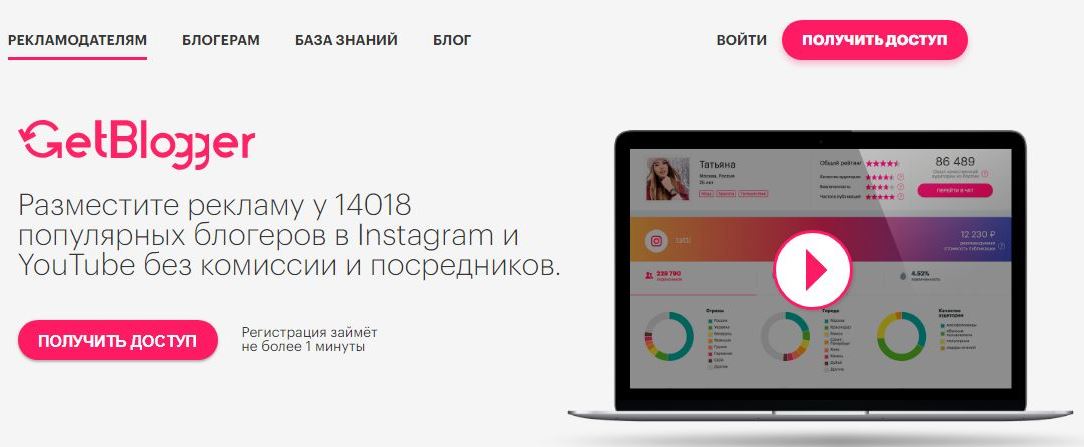 Link to the TikToker exchange – https://getblogger.ru/
Automated ad buying service. When searching for an influencer and developing a technical task, you can set up filters by geographic location, type of videos, age of subscribers. More than 42,000 bloggers are ready to advertise your product and showcase its best features. The platform allows you to conduct mass advertising campaigns with several bloggers and in different social networks.
Advantages:
pricing is based on the analysis of the blogger's audience, the calculation of active and solvent subscribers;
the target audience is calculated by geographic location, gender and age of subscribers;
ease of payments to the contractor: thanks to the deposit, payment for services is made with one click;
the ability to view all the statistics of the integrations carried out, to evaluate the effectiveness of cooperation with the contractor;
provision of official documentation at the conclusion of the contract.
| | |
| --- | --- |
| Who suits | Mid-sized companies, market leaders |
| Advertising budget | From 50 000 rubles |
| Integration analytics | Access to the metrics of completed advertising integrations is provided in the personal account |
Read also the article – Interview with Alla Inozemtseva, PR-manager of the GetBlogger platform for searching bloggersИнтервью с Иноземцевой Аллой, PR-менеджером платформы для поиска блогеров GetBlogger
LabelUp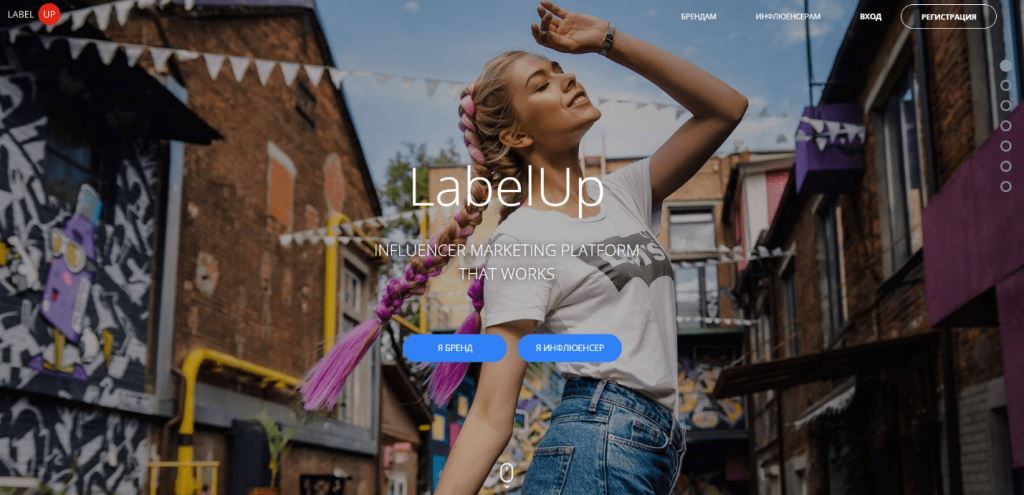 Link to the advertising exchange in TikTok – https://labelup.ru/
The service began its work even before the creation of TikTok, promoting brands in other social networks. A database of over 50,000 influencers will allow you to create an effective advertising campaign with only professional performers. The platform cooperates with the largest financial companies, cosmetic brands, online stores, mobile applications.
Advantages:
setting filters when searching for bloggers (selection by the number of subscribers, hashtags, video topics);
providing access to data on completed integrations;
Telegram bot that provides information about influencers, statistics of views and clicks;
free analysis of competitors for effective promotion in the chosen niche.
| | |
| --- | --- |
| Who suits | Start-up entrepreneurs, owners of small, medium and large businesses |
| Promotion cost | Depends on the amount of work (providing a ready-made TOR or a comprehensive development of a promotion plan) |
| View statistics | Data available after registration |
The site's creative team helps develop technical specifications based on customer requirements. Marketers will think over a promotion strategy, content makers will create bright, selling videos.
TikTok Creator Marketplace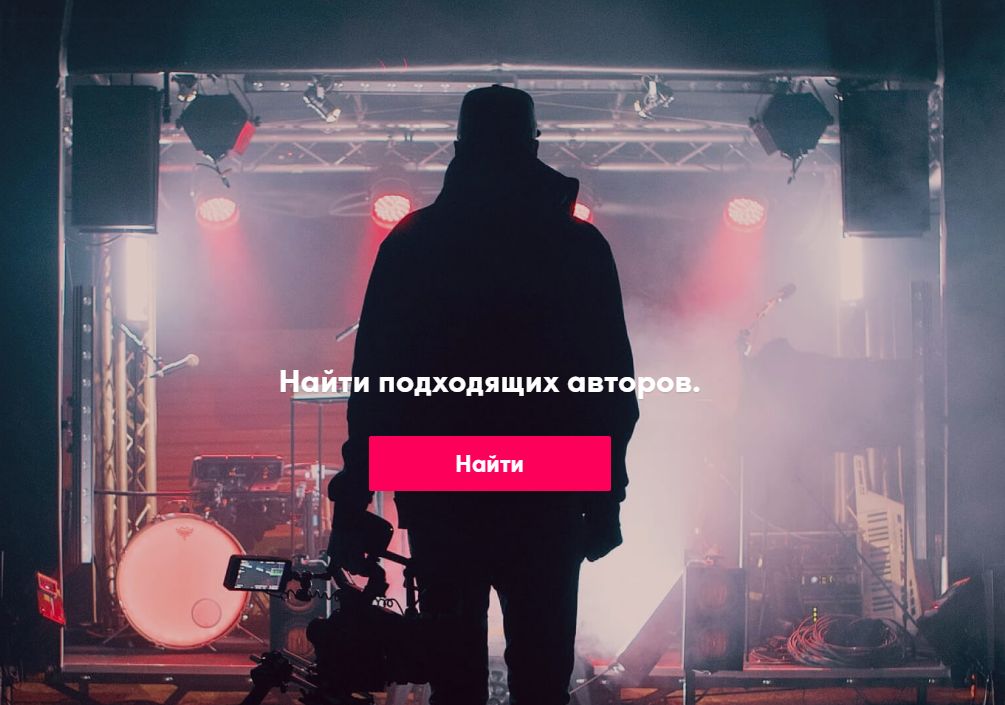 Link to the official platform for finding bloggers from the social network itself – https://creatormarketplace.tiktok.com/
TikTok provides complete information about trends, popular videos, site audience. You can view the accounts of top tiktokers, study their statistics. It will be possible to create integration not only with Russian-speaking bloggers, but also with foreign performers.
To work on the exchange, you need to fill in the details about your company: the type and name of the organization, which region of the audience you are counting on, the planned promotion budget.
Advantages:
only adult authors with an audience of over 100,000 subscribers;
provision of official statistics: engagement rate, activity, views;
distribution of the audience by age, gender, geographic location, type of device used;
the ability to create a list of favorite authors to expand the advertising campaign.
| | |
| --- | --- |
| Who suits | Official companies, big brands |
| View statistics | Analytics of authors and integrations is available in your account |
| Advertising cost | Each author individually |
The platform was launched quite recently, but the ability to create native integrations together with the authors, an accurate analytics system is already bringing it to the level with popular job exchanges.
Previously, the services tiktokfun.ru and TikTok BIRZHA were popular, but at the moment they are not functioning. Also, companies often look for influencers through the Blogun exchange, but at the moment the advertising we need is not available in it.
Promotion through TikTok in 2021 is an opportunity to promote your company in a short time, increase awareness and create an image. Popular bloggers actively advertise products and services of the largest and most famous brands. If you want to cooperate with quality salespeople, buy advertising through special services.
In summary, advertising integration is a win-win deal, thanks to which the firm gets new customers, scaling the business, and the blogger earns. Choose the exchange that suits your business and start developing your company using the most popular social network!
Internet marketing expert. Head of marketing agency MAVR.
Business degree "Master of Business Administration" (MBA).