Irina Piskovaya: "We all work in a competitive environment, in a growing market"
We will send the material to you by email:
Время чтения:

6

мин.
Preparing for the birth of a child is an important and difficult duty of future parents, because in addition to their love, mom and dad strive to provide their child with all the best and necessary. The mission of the company "Mom's House" is to take care of mom and baby, with which they do an excellent job. We tried to find out from Irina Piskova, Marketing Director of Mamin Dom, how they help parents.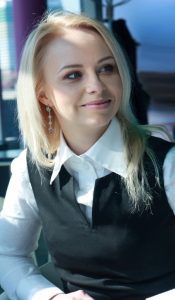 Irina, what are you doing?
A very general question 🙂 I live, love and work… I live with my husband and daughter, I love them madly. Now I work in the company "Mamin Dom" – this brand is 20 years old, it was created in Kharkov. I started with the 1st store and clinic, and now it is a network of 10 centers in Kharkov and Kyiv.
Is it necessary to love children to work at Mom's House? 🙂
I am sure that it is necessary 🙂 and not only for children. In fact, our main thoughts and actions are aimed at taking care of MOM. We are constantly thinking about how to improve our spaces, range of services and products to make mom feel more comfortable in our centers. There is no way without love … for children, pregnant women, moms and dads 🙂
Irina, do you attend specialized events? Do they make sense?
You know, I've only recently been to "Mother's House" and have not yet attended such events. In general, I noticed that our Leaders are very active in attending profile and learning events; not only as guests, but also as speakers.
I know that recently, the CEO of Mamin Dom was in Cologne at the international exhibition of children's goods. He was most inspired by the Danish sector (they strike with great design!). I think that there is always a sense from such events, because the result is always a collective image of all your experience.
If we talk about future events, then I plan to attend selectively for a specific purpose.
What are your responsibilities?
Responsibilities… in general, I would formulate what my key tasks and KPIs are. Globally, it is "only" one 🙂
The main task is to tell "What is "Mom's House" to as many target audiences as possible. This is an interesting task because our audience is constantly updated. After all, the state of pregnancy and a young mother is temporary, and accordingly, we need to constantly look for new and new mothers and talk about us 🙂
Do you watch your competitors? 🙂
Necessarily! For me, this is one of the basic rules of marketing. We all work in a competitive environment, in a growing market, and even during the active development of digital marketing and digital business in general. Of course, you need to consider the context of your market and the categories that affect it; it's like on a carousel – although you go fast, you won't get far! Therefore, we need to look around, introduce new things, experiment, otherwise we will sit like prisoners in Plato's Cave.
What is the USP of "Mom's House"?
The main idea of "Mom's House" is a single space where a mother can visit a modern clinic, buy goods, come to classes for herself or bring her baby to a developing "lesson". Moreover, Mom's House centers are located in residential areas so that mom can walk with a stroller to a store, clinic or development center. She doesn't need to go somewhere special, we are very close 🙂
The entire quintessence of the USP "Mom's House" is set out in its mission: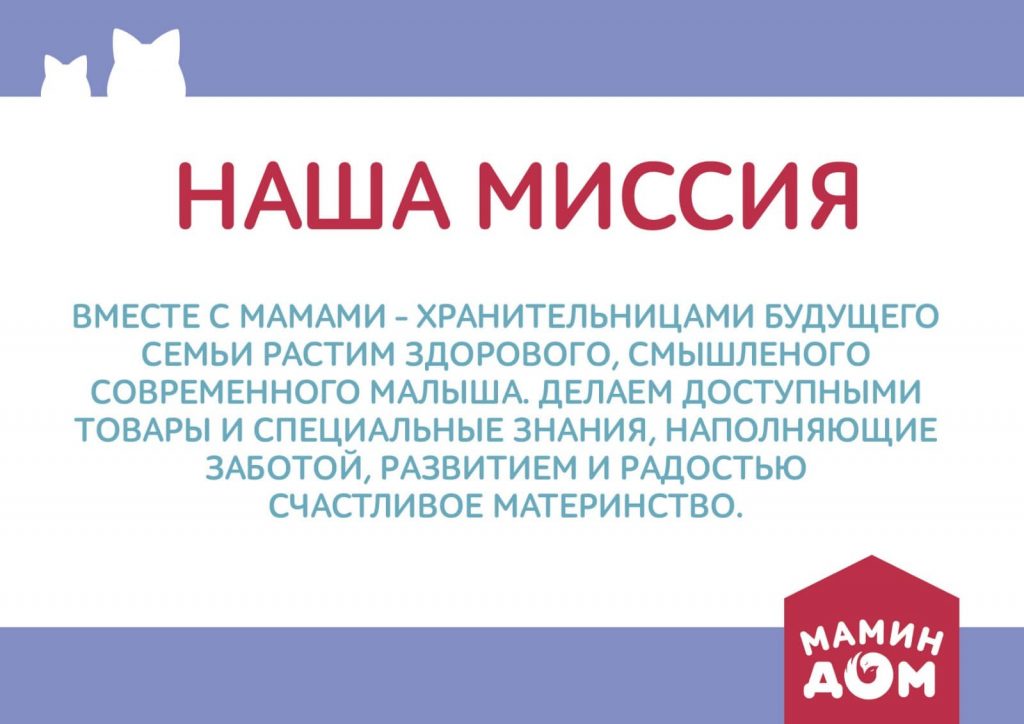 A mother can simply, passing by the center, come in and ask any question to an employee of the center about the health, development of the baby, about any product. Even if we do not immediately give an answer, our mom-manager will definitely call the next day to provide detailed advice on this issue.
This is the uniqueness – we are not a store, not a clinic, not a development center, we are "Mom's House", where mom feels good, calm and interesting.
We are not a store, not a clinic, not a development center, we are "Mom's House", where mom feels good, calm and interesting.
What qualities should your subordinates have?
The most important quality is that employees must be caring, because CARE is the main value of our company. It manifests itself in everything: in relation to MOM and her family, in relation to company employees, suppliers, guests and customers.
There are a number of important competencies that will definitely be needed when working at Mom's House: communication skills and confidence, responsibility and efficiency.
It is good if employees still have a predisposition to innovation and teamwork.
All these qualities are spelled out in the values of the Company and underlie the formation of the Mamindom team.
What is more important for a marketing director? To be a pro in SEO and SMM or have a good managerial experience?
Ah, what a question! Which is more important, the right arm or the left leg? 🙂
It is certainly better to understand marketing tools in order to manage it! A good manager will be able to support the RAM, understand the processes, and even possibly motivate people. But he will not understand the main thing – how to influence the result, the indicators. In my opinion, a good manager who does not understand the depth of marketing tools will manage superficially and communicate with political slogans.
Based on this, if you really have to choose, I think it's better to "grow" from a marketing specialist to Heads of Department. Of course, the marketing director is not a universal soldier and is not required to know / be able to do everything. But it is extremely important to understand the system, what the result depends on, what are the main and new tools.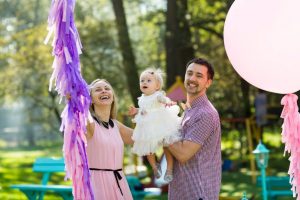 Name 5 things you can't do without in your day.
Kiss and hug your husband and daughter.
I'm driving somewhere 🙂
Coffee with milk.
Dreams or reading 🙂
Warm bath.
What do you find motivation for every day?
My main motivators are my husband and daughter!
Support from the parental family is also extremely important to me.
We lead a healthy lifestyle, which means we get enough energy for interesting tasks at work, inspiring travel and learning new things!
This is enough to wake up in the morning with pleasure 🙂
What is the average age of mothers who buy products at Mom's House?
I smile 🙂 our mothers are so beautiful and different that I can't average their age, weight, height and the like. They are in a single social role – pregnant women and young mothers, so their average age is far from being the main indicator (even for marketing purposes). I will say that the age of the first pregnancy really shifts to 28-30 years. After all, our clients are both young mothers in anticipation of their first child, and those who have become mothers of a 2-3-4th baby 🙂 The main range of their age is 27 – 37 years.
---
The interview was prepared as part of the "Interview with our Clients" project. If you are our Client, and we still have not talked about your project in the blog, contact us in any convenient way to prepare for publication.
Expert in media marketing.
Speaker of specialized events on the topics: journalism, sales and media marketing.