Links-Stream: a powerful service for creating a high-quality link profile
We will send the material to you by email:
Время чтения:

6

мин.
Links-Stream is a reliable service for improving the position of your site in search engines by creating quality backlinks.

Links-Stream has been successfully operating on the market for five years and has two offices in Kyiv and Nikolaev, Ukraine. The company has a team of 40 people and also collaborates with freelancers to work with rare languages on demand. Every month they process over 15,000 reviews and links of various types.
On the Links-Stream blog you will find a lot of useful materials about working with companies in the field of reputation management (SERM) and link building. Here are collected articles with successful cases and interviews with opinion leaders in this field. This blog will become a valuable source of information for those who are interested in promoting websites and increasing their ranking in search engines.
The service provides a wide range of services for promoting websites of various topics and levels of complexity. Consider the main services provided by Links-Stream.
Links-Stream Service Review: An Effective Way to Improve Your Website's Link Profile
Links-Stream service provides a wide range of services for creating a high-quality link profile for your site. Below are the features of each of the services and how they can help promote your site.
Crowdlinks for SEO

Links-Stream offers guaranteed placement of crowdlinks on quality sites, which can help improve your site's position in search engines.
Exchange links Links-Stream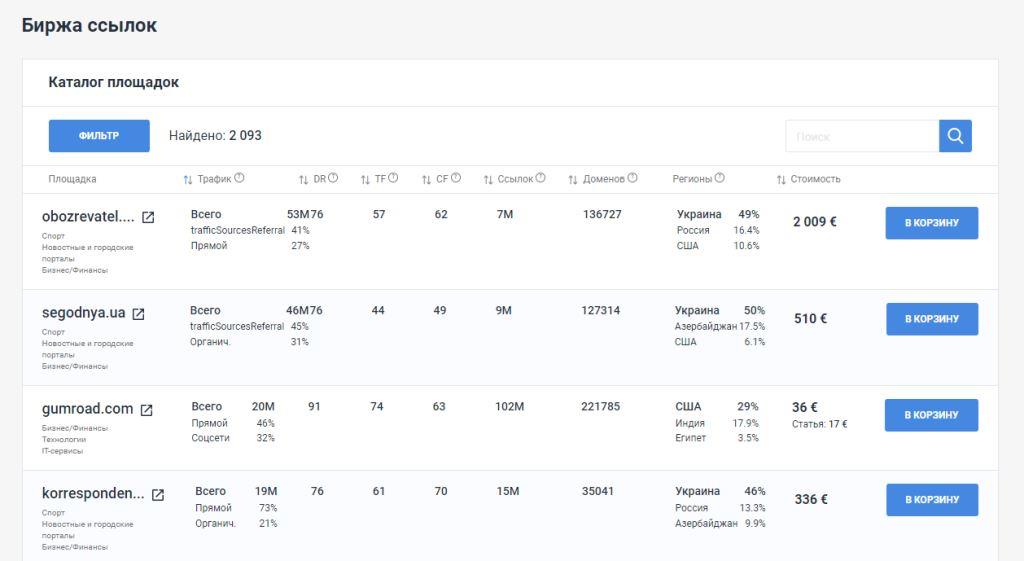 The service offers a large selection of sites by subject, as well as PBN filtering, which ensures the safety and quality of placed links.
Thematic links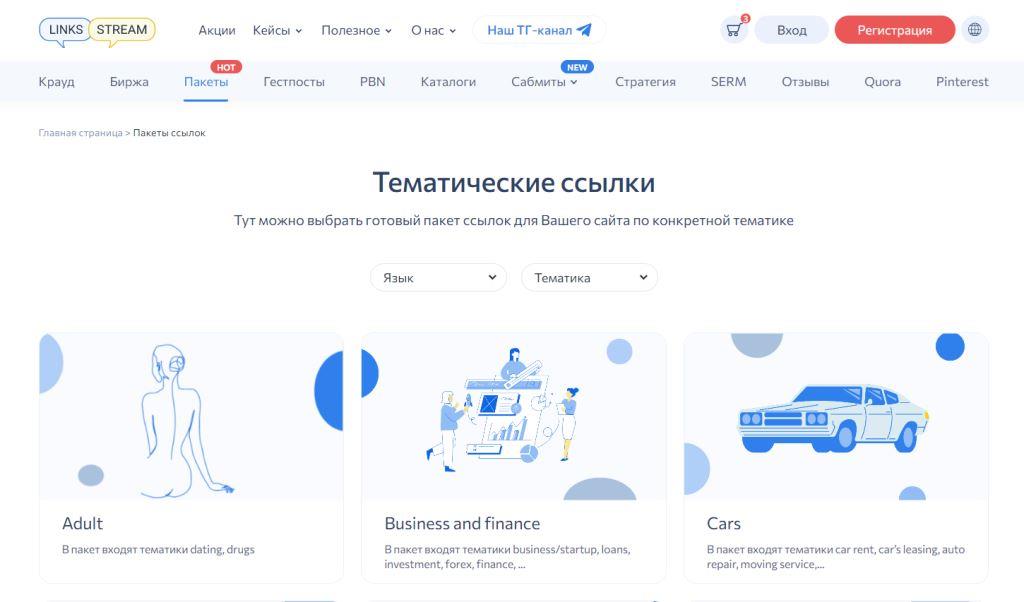 You can choose a ready-made package of links for your site on a specific topic. Links will be placed on sites with high DR and DA, which guarantees their effectiveness. Each pack contains a variety of accessible link types such as crowdlinks, submissions, directories, Q&A sites and more to help grow your link profile. Most packs can be used multiple times without repeating the pads. This is a reliable way to improve your site's SEO performance and attract new visitors.
Gestposts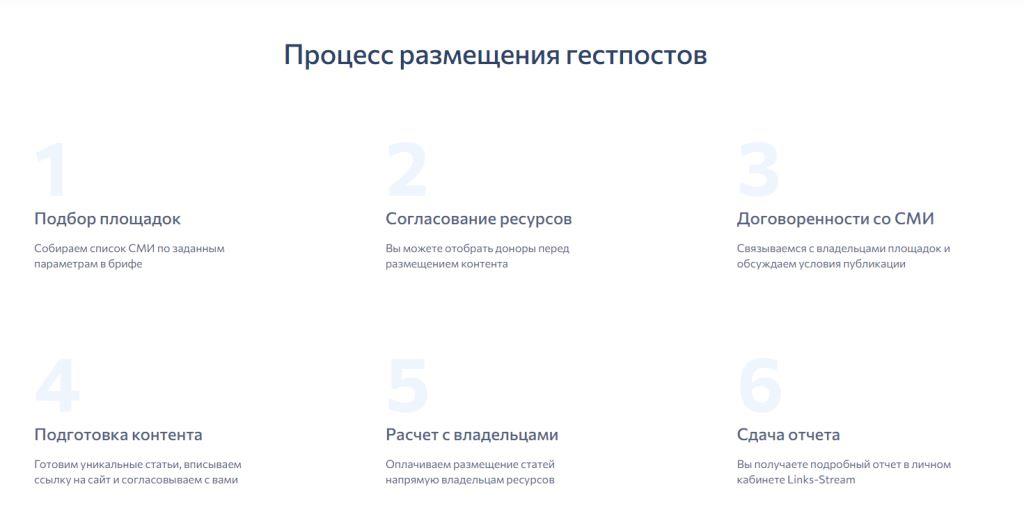 Links-Stream will help to place articles and press releases with links in thematic blogs and other media. The service works only with trusted sites where the placement of your content will be the most relevant and useful for users. The list of available sites becomes available after registration, and the service commission is only 10% of the transaction. Currently, the list contains about 1000 sites covering various geographic regions and topics, and the list is regularly updated.
Create a PBN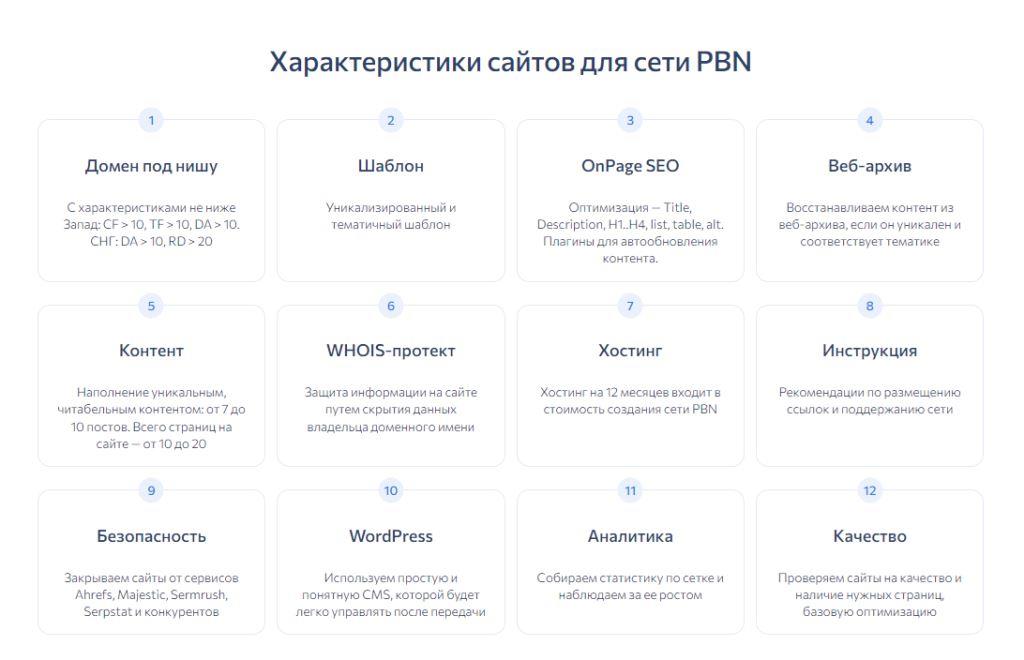 Links-Stream will help you create your own PBN (Private Blog Network). This is a set of sites that you create in order to link to your main site. Thus, you can control the quantity and quality of links to your site.
Registration in the "white" directories of sites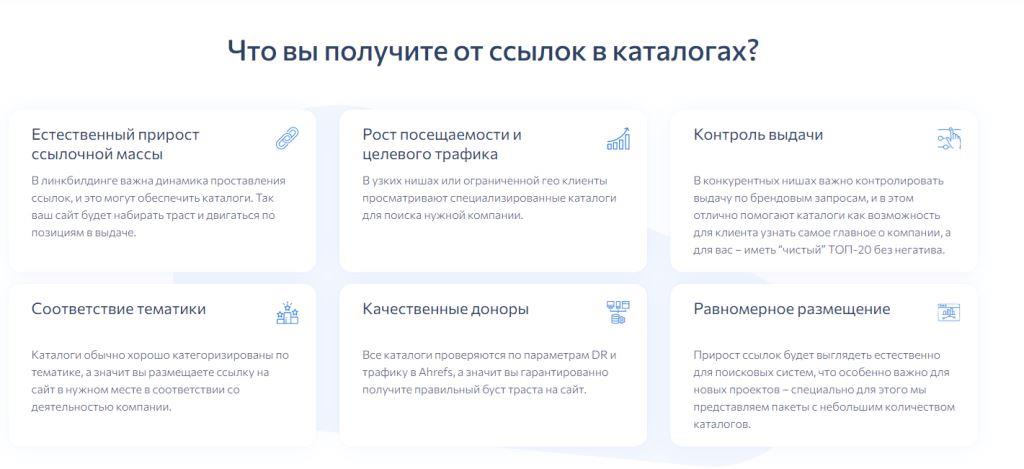 The service offers manual placement of a link to your site in directories, search engines and directories of organizations. Experts will select the most suitable and high-quality catalogs to guarantee the maximum return on this service.
Placement of submit links and content links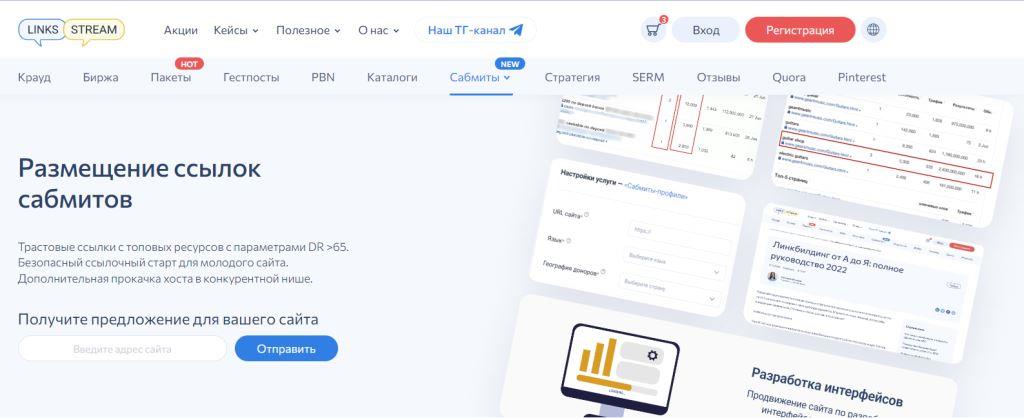 Links-Stream provides the ability to obtain trusted links from top resources with DR>65 parameters on various sites. Such links can significantly increase the trust of search engines in your site, which in turn can lead to an improvement in its position in the search results.
Link Strategy

A team of professionals will conduct a full audit of your site with a detailed analysis and develop a strategy for 6 months in advance. This will help to achieve the most effective result when promoting your site in search engines.
Monitor reviews and fix reputation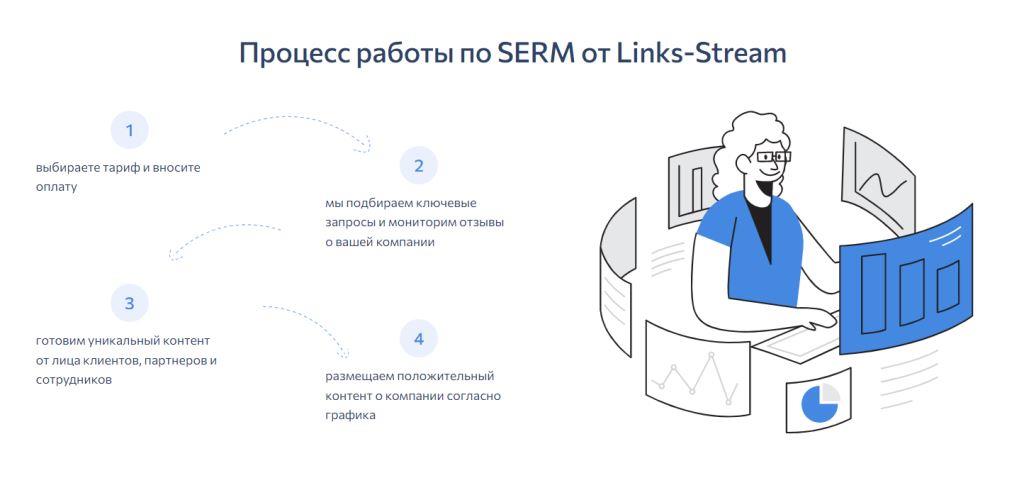 Links-Stream can help create a positive image of your company on the first pages of search engines. Specialists will post reviews on review sites, maps, marketplaces, and neutralize negative reviews.
Writing reviews to order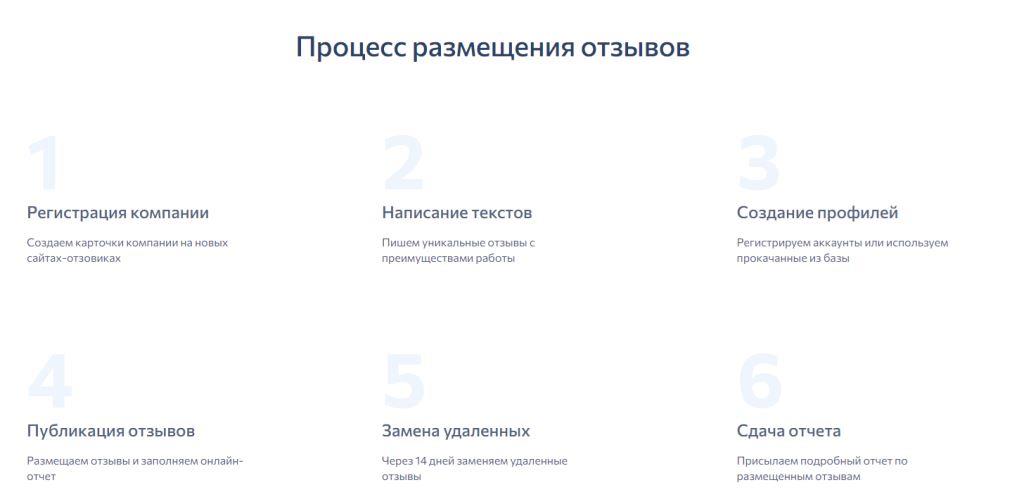 The Links-Stream team offers a custom review writing service that will help you improve the reputation of your business and attract new customers. Experts will carefully monitor feedback about your company to determine the strengths and weaknesses of your business. Reviews will be written by professional writers who will carefully study your business and prepare high-quality material.
Links from Quora and Reddit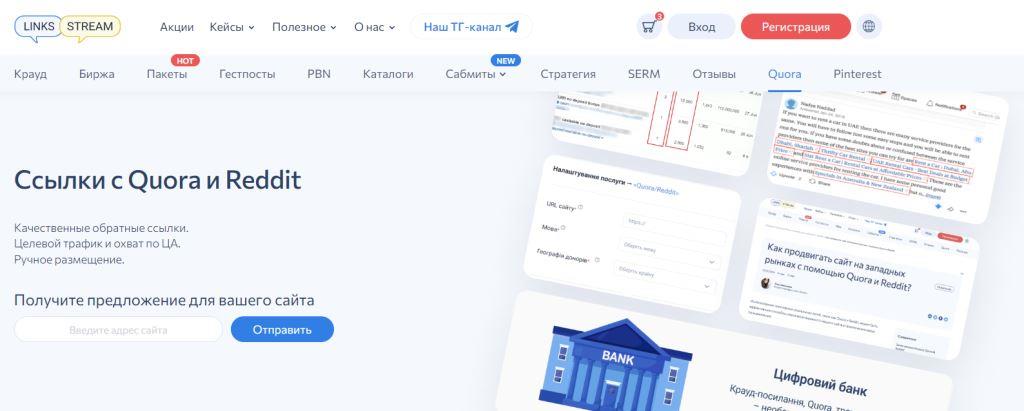 Links-Stream offers quality backlinks on the popular Quora and Reddit platforms. This will help you attract targeted traffic and reach your audience, as well as increase the authority of your site in the eyes of search engines.
Posting a collection of pictures with links on Pinterest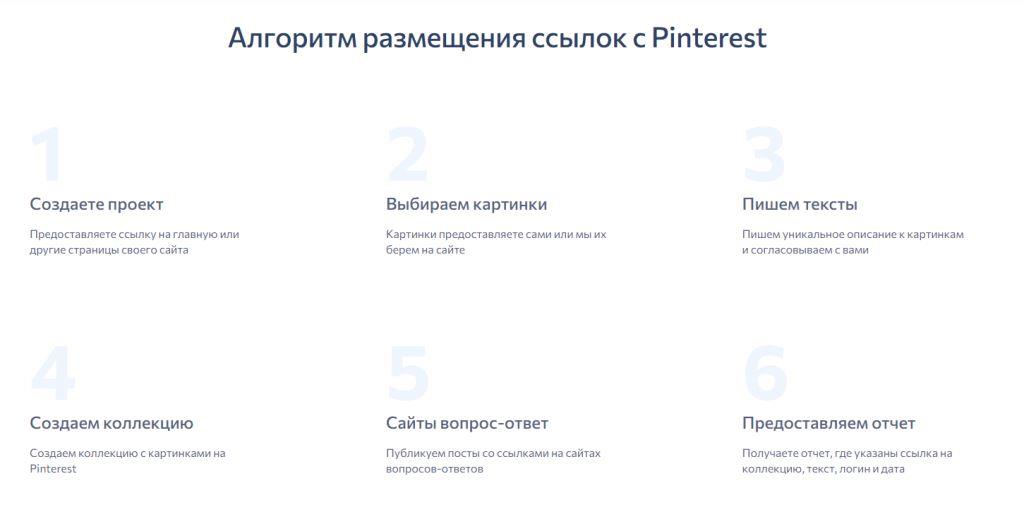 Links-Stream specialists will post beautiful and original pictures that will attract the attention of Pinterest users. Each picture will contain a link to your site, which will help increase your traffic and improve search engine rankings. The company guarantees high-quality placement and control over the fulfillment of the order on time.
How much do Links-Stream services cost?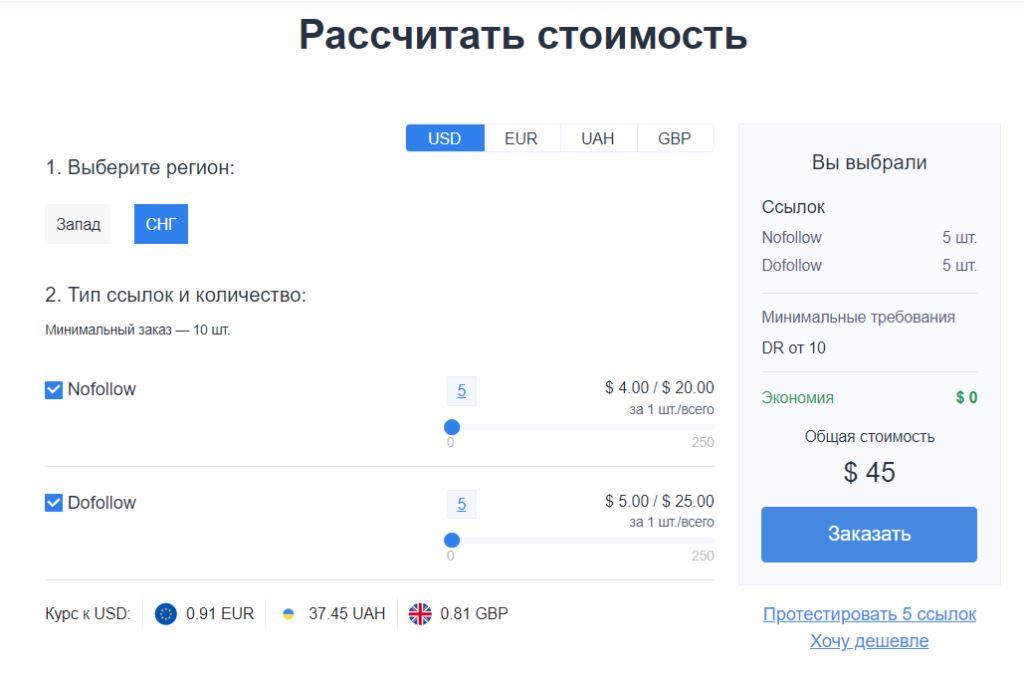 The average cost of one crowd link in the Links-Stream service is about $5, and the price of manual outreach is 30% of the budget, as specialists manually search for sites that do not participate in link exchanges and agree on placing links.
If you need a Manisite Satellite Network (PBN), then the cost of building one site starts at $160, and the time for building 10 sites is about 3 weeks. When ordering large volumes, discounts are possible, which can be discussed with the sales department.
A handy calculator is available on the site, with which you can quickly calculate the budget for link promotion in five different currencies. In addition, promotional codes are published on a regular basis in the Telegram channels of the service, which allow you to save even more on promotion. Optimal prices are available when buying links in bulk or several months in advance.
Affiliate program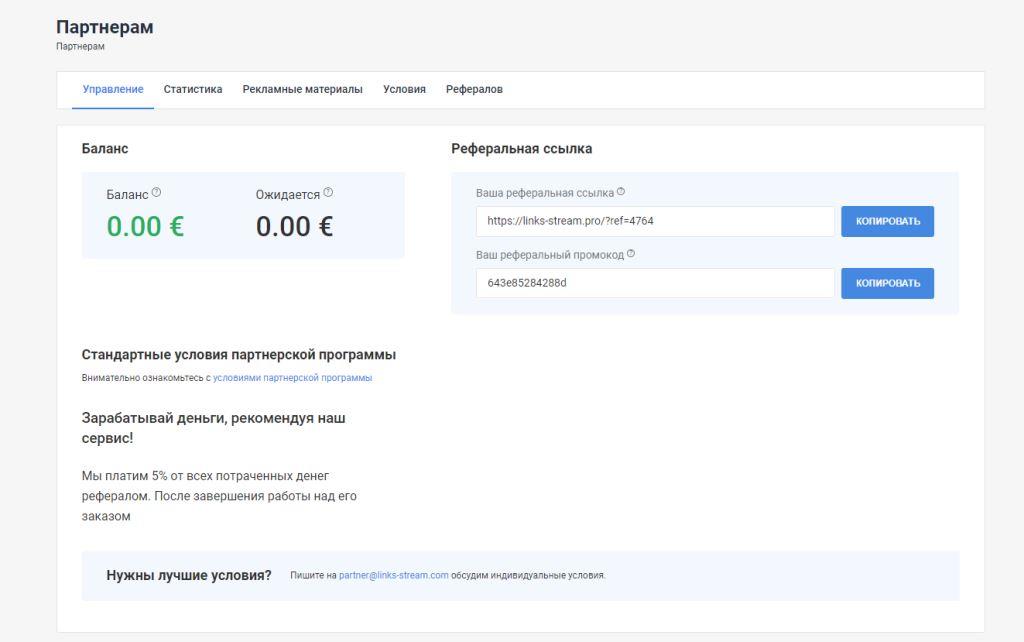 Links-Stream offers its partners the opportunity to earn money on an affiliate program.
For each order made by a referral using an affiliate link or promotional code, the affiliate receives a 5% commission. You can attract referrals through any traffic, except for the branded context.
Bonuses and discounts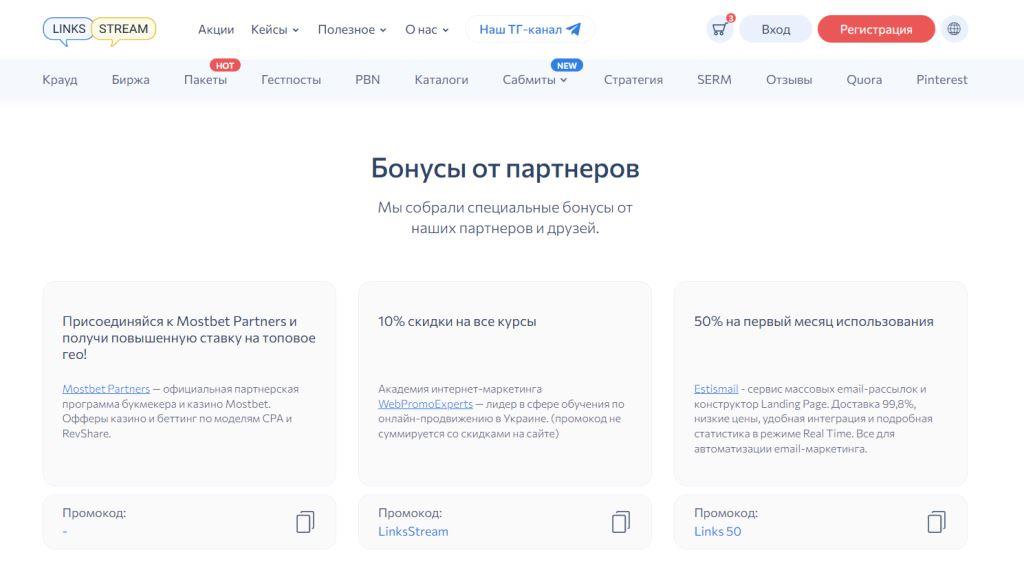 Links-Stream offers its customers many additional bonuses and benefits. On the site you will find special offers and discounts from partners that will help you save on hosting services, SEO services and search engine promotion courses.
The Links-Stream team is always looking for new partners and cooperation, so the list of available discounts and offers is constantly updated.
Features of the Links-Stream service
The service offers a number of advantages that will make your website promotion the most effective:
Guaranteed placement of links on sites with high quality donor indicators, which significantly increases the weight of links and their impact on the growth of the site's position in search results.
The ability to use your own link exchange within the framework of the service, which allows you to distribute your budget for promotion as efficiently as possible and get the best result.
A profitable affiliate program that allows you to earn on referrals and receive additional income.
100% manual placement of links, which ensures high quality of work and reduces the risk of being banned by search engines.
Accelerated indexing of posted links due to the use of special technologies, which allows you to quickly see the results of promotion and track the effectiveness of ongoing work.
Real results from placing links on quality donor sites, which ensures increased traffic and sales growth.
Quality control of donor sites with the help of the best SEO services, which guarantees the choice of the highest quality and safest sites for placing links.
Continuous professional development of employees to guarantee quality results.
The company successfully solves the problem of creating a high-quality link profile for the site. If you are looking for a reliable and effective service to improve your website's link profile, then you should pay attention to Links-Stream.
Internet marketing expert. Head of marketing agency MAVR.
Business degree "Master of Business Administration" (MBA).