Top 12 Websites to Build an Online Photographer Portfolio
We will send the material to you by email:
Время чтения:

6

мин.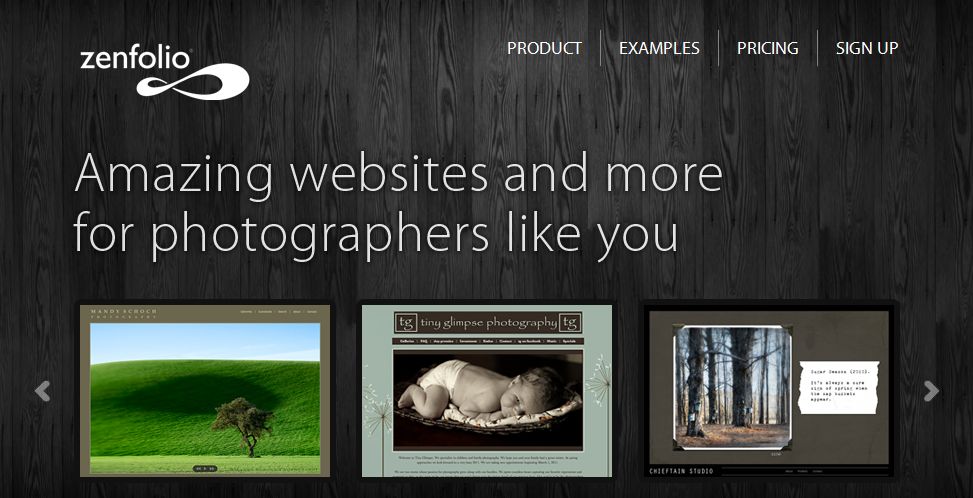 If you are a photographer, building a portfolio is definitely one of the most important things you should do. There are a number of benefits that a portfolio can bring to you: it will showcase your work online, attract new clients, and create a stable and expansive online platform for your work.

The sad thing is that not all photographers have the technical skills to build a portfolio. Some may feel a little concerned about the lack of knowledge in website development, while others may think that it takes a lot of time to create a portfolio.
The good news is that there are a number of platforms for creating an online portfolio for your work. At the same time, you do not need to waste your precious time and be able to program.
Here is a list of the top 10 portfolio websites for photography lovers, presented in random order.
Wfolio
Wfolio.ru helps photographers create their own website: inexpensively and without any programming skills.
Pros:
Unlimited Hosting
Excellent search engine optimization
Responsive mobile version
SSL certificate
Multilingual
Variety of templates
Intuitive Interface
Integration with Instagram
Low fixed price of 2990 rubles per year or 299 rubles per month
Filling out the site will not take you much time. Spend a couple of hours on your site, and devote the rest of the time to creativity.
Thanks to excellent SEO, the site will work and bring customers without your participation – the main thing is that the site has texts and search settings are filled.
Read the full review in "Wfolio Photographer Website Builder Review"
PhotoShelter
PhotoShelter (closed) is one of the most popular platforms for creating photo sites and online portfolios. The site allows you to manage layouts, fonts and images quickly and easily.
The bottom line is that it doesn't require programming. Not only does PhotoShelter give you the tools to showcase your work, it also attracts buyers for your photos. It integrates with social media and SEO, making your photography business strong and solid.
Orosso
Orosso is a portfolio creation tool that allows registrants to create professional, functional portfolios and maintain them with ease. Creating your photo site does not take much time. With Orosso, the process is easier than a steamed turnip. Within a few minutes you will have your portfolio, and a custom look and basic functionality is instantly created.
Artists, designers and architects may consider Orosso as a good portfolio option for serious online presence. You can try it for free for 14 days and decide if it's worth paying or not.
Foliolink
Foliolink is an online portfolio tool specifically for photographers and artists who want to have a professional portfolio and easily sell their work online. You don't need any knowledge of HTML or CSS to get it.
Foliolink features: mobile version of the site, e-commerce settings and tools, search engine optimization. You can create a free 7-day account before deciding which plan suits you best.
Zenfolio
Zenfolio is an online tool that helps you create amazing portfolios quickly and painlessly. If you are a photographer who is looking for a platform to build an amazing portfolio or is seriously thinking about selling your work online, then Zenfolio is your right choice.
Convenient e-commerce interfaces, point-and-click and easy setup are the features that allow you to almost instantly complete the creation of a photo site. Subscription fees start at $30 per year. However, they provide a free trial premium account, so there is nothing to lose.
FolioHD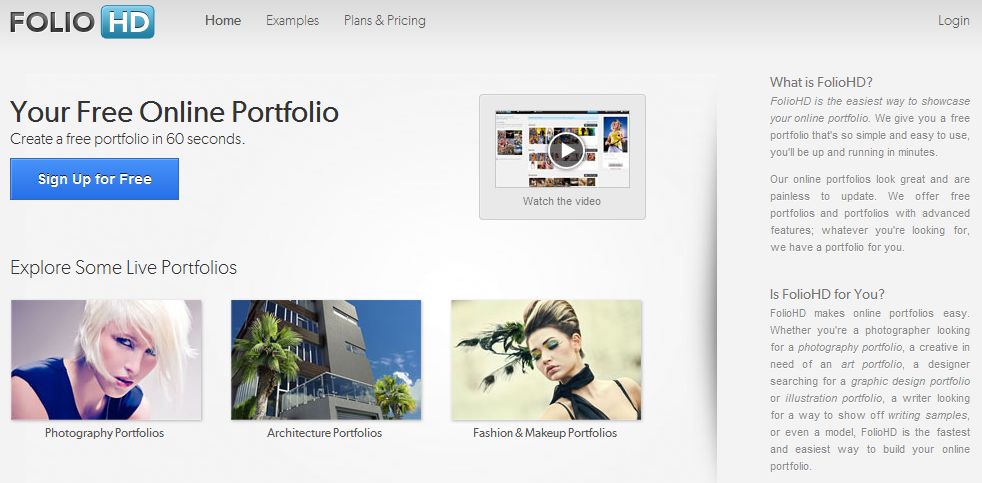 FolioHD is a self-hosted platform for photographers, artists, architects, designers and models. They offer significant differences in website building depending on the plan you sign up for. There are three of them in FolioHD: basic, power and pro. The basic one only supports downloading 36 media files, but it's free.
On the other hand, the power and pro plans come with amazing features like Google Analytics, privacy options, and access to Fotomoto. Power and pro differ only in the number of downloads: 1000 and 2000 respectively.

Folio Websites
Folio Websites is a website for creating mobile and professional photography websites. Clarity, simplicity and user-friendly design is what sets Folio Websites apart from the competition in a crowded marketplace. They run on the WordPress platform, which has many customization options, such as SEO tools to improve search engine rankings and mobile device compatibility. You can sign up for a premium account from $14.60 per month.
1X
1X is more of a social network and online community for photographers than a portfolio building tool. However, photographers can use this platform for productive exposure with thousands of users in this community.


The interesting thing is that not every photo you upload will be published. Each photo you submit is selected for publication by a moderator. 1X has a forum where professional designers discuss the projects they work on and give suggestions for improvement.
500px
500px is a personal tool for creating portfolios quickly and easily, as well as a marketing platform for selling your work.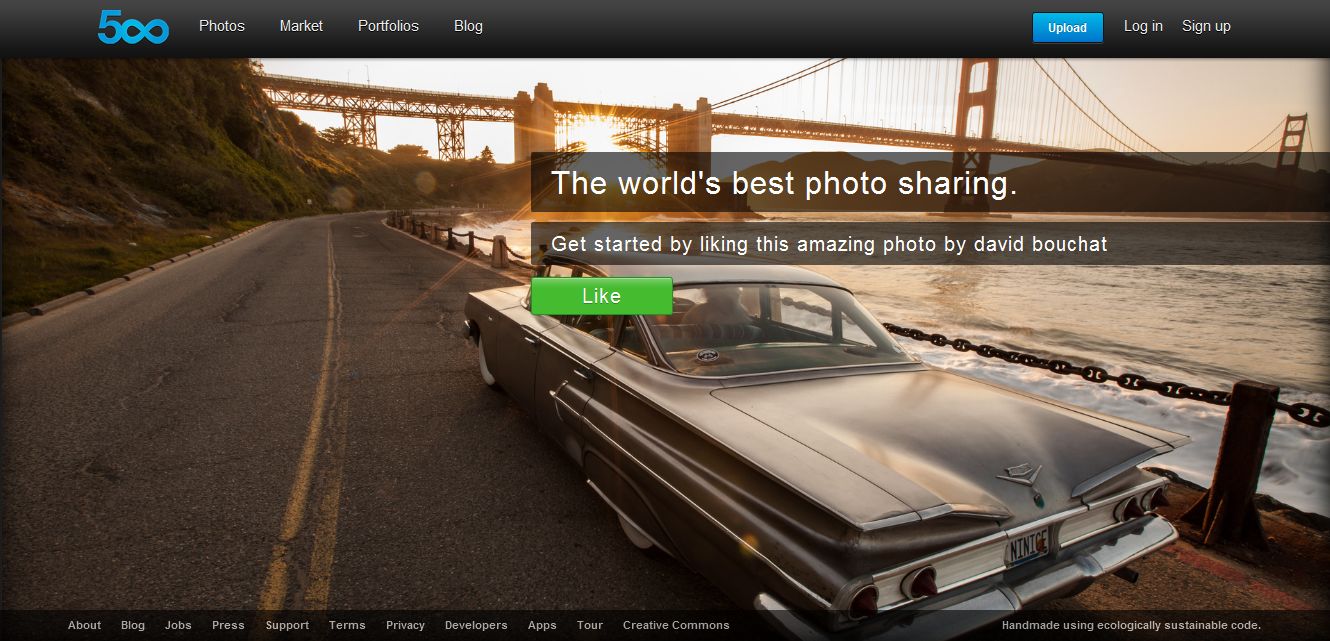 With 500px you will be able to maintain and control the site at any time and for this there is no need to "dig into" the code. For registrants, they provide a wide range of features, such as advanced visitor tracking systems, unlimited photo uploads, a custom domain name, and a photo shop to sell photos online.
SmugMug
SmugMug is a photo sharing platform where photographers can share their masterpiece with tens of thousands of users. SmugMug provides registrants with beautiful and elegant themes to create professional portfolios that spark interest.
The interface is intuitive, with easy customization of fonts, photos, colors and themes. For wider distribution, share your work on Facebook, Twitter and other social networks.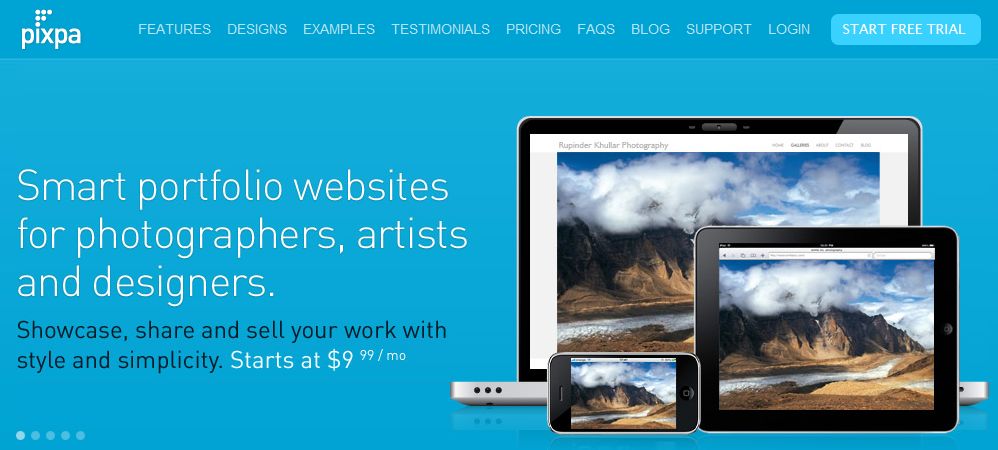 Pixpa
Pixpa is a site that allows photographers to create amazing and elegant portfolios to showcase their work. It provides you with hundreds of pre-made templates to choose from. You can choose the one that best suits your needs and all with just one click. Easily customizable fonts, backgrounds, colors, menus and many other features to create your website.
If you're craving your own domain name to build a competitive presence on the Internet, Pixpa has you covered. Here you can also sell your photos online using an integrated e-commerce platform called Fotomoto. Use this opportunity for 15 days (no credit card required).
Russian platforms
I found a Russian platform for creating a photographer's website http://portfolios.ru, as well as 2 communities of photographers http://www.photosight.ru and http://gallery.ru.
Photographers, what communities do you belong to and what platforms do you use to present your portfolio?
Internet marketing expert. Head of marketing agency MAVR.
Business degree "Master of Business Administration" (MBA).