10 Technical SEO Things WordPress Blog Owners Need to Know
We will send the material to you by email:
Время чтения:

13

мин.
Every blogger who dares to create his own site based on WordPress, sooner or later faces the issue of attracting new readers to the site. One of the most expedient ways is to promote the site in organic search, which begins with technical optimization. To take your fears out of the unknown world of SEO, we have prepared a list of 10 key aspects of technical SEO that every WordPress site owner should pay attention to.

1. Set up a secure connection today
Setting up a secure connection involves moving to the HTTPS protocol instead of HTTP, which is initially used by default for all sites. The procedure does not take much time, but includes quite a few steps. The sooner you connect an SSL certificate on your site, the less hassle the move will bring to you. In addition, every year the HTTPS protocol is becoming increasingly important in terms of search engine optimization.
You can entrust the move to a web developer, or you can do it yourself. The procedure will take you no more than an hour and will not require any cash costs: you can safely use a free certificate for a blog. You can learn more about connecting a Let's Encrypt certificate and setting up HTTPS with it in the WordPress SEO series article on the Netpeak Software blog.
2. All content needs optimization
Even if you are extremely zealous about maintaining the quality of your content, this will not be enough to successfully promote your site in search. The fact is that search engines have a number of criteria according to which they evaluate millions of pages every day. According to the requirements of search engines, optimization needs:
Text content.
Content should be useful and contain only organic and relevant keywords. The recommended length is 500 characters.
Structure.
The ideal structure of the text involves the use of one H1 heading, several relevant second and third order headings (H2 and H3), as well as bulleted and numbered lists. All elements should be used to improve the readability of the text.
Title meta tag.
The title should be short, concise and unique. It should reflect the essence of the page and consist of at least 10 and no more than 65-70 characters. There can only be one Title per site.
Description meta tag.
Description content follows the same rules as Title. Only the size differs: the minimum is 50, the maximum is 320 characters. But keep in mind that Google will often truncate text in snippets so that only two-thirds of the description you write will be visible.
Used media content.
Content should not only consist of text: to improve perception, it should be diluted with images, animations and videos. Images, in turn, should be placed with the ALT attribute, where the essence of the picture will be described in a nutshell.
To optimize content in WordPress, you only need two tools – a universal SEO plugin (Yoast SEO or All in One SEO Pack) and an error checking crawler (Netpeak Spider).
The basic SEO plugin allows you to enter all the necessary metadata, optimize it, and see how the specified Title and Description will look on a computer and mobile device.
The crawler will detect all errors on the site related to content optimization. Directly Netpeak Spider can point you to the following problems:
Too long or too short Description / Title.
Duplicate Title / Description.
Duplicate text.
Multiple Title / Description on one page.
Missing or empty Title / Description.
Broken images.
Images without an ALT attribute.
Missing or empty H1.
Multiple H1 headings.
Duplicate H1.
Too long H1.
Too small or too large amount of text.
3. A clear site structure and the appearance of links is more than a whim
A thoughtful structure of the site and addresses within it is not only a manifestation of concern for the convenience of users, but also a long-term investment in improving the search engine optimization of the site. What do these concepts really mean? A well-thought-out structure suggests that the type of links between the pages of the site resembles a tree with branches, for example, by categories or tags. All of them are consistent and logically follow one from the other.
A similar situation should be observed in URLs. If the site has a huge number of pages and sections, the URLs should reflect the relationship between the content and its heading. This will help users navigate, and search robots – to make a complete picture of the site and evaluate the relevance of the page.
When designing the site structure and building URLs, you should follow just a few basic guidelines:
Initially, think over all the pages that should be present on your site, as well as the sequence of transition to each of them.
Build links between pages in such a way that the user can get to any material on the site in 2-4 clicks.
Give pages and categories appropriate titles. Separate words with hyphens.
Customize the appearance of links in Settings → Permalinks. Select the option in which the page addresses will be written in words. Be careful with options like website.com/category/post-name: if you have posts that belong to different categories at the same time, they will be available from several different links. This will result in the appearance of full duplicates on the site.
Use transliteration so that page names appear exclusively in Latin. The Cyr-to-Lat plugin will help you with this.
4. Making the site as fast as possible is your sacred duty
Site speed is directly related to how well the site is perceived by both users and search engines. Therefore, you, as the site owner, should do everything possible to increase the speed of server response and content loading speed. You can influence these indicators in the following way:
Disable and remove all unnecessary plugins.
They create additional load and slow down the site loading process due to the number of additional tools working at the same time.
Use a caching plugin.
It can be WP Super Cache and W3 Total Cache for example.
Disable the generation of additional thumbnails for images of different sizes in the site settings.
Optimize images (more on this in paragraph 6).
Change hosting provider.
If the server can't handle the load and responds too slowly, it might be time to choose either a new plan with high performance hardware or a new service provider.
There are two ways to assess how critical the situation is in terms of download speed:
Using Google PageSpeed Insights. The service evaluates the loading speed of a particular page on a number of indicators and gives its assessment on a 100-point scale.
With Netpeak Spider. The program analyzes for each page of the site the server response time and content loading time.
5. Connections to panels for webmasters and analytics systems cannot be avoided by anyone
If you are planning to start working on search engine optimization, then you will probably be interested in tracking the results of your efforts and getting reliable first-hand information, namely from search engines. Based on this, you must necessarily register the site in the Google and Yandex webmaster panels, as well as in the analytical systems of the relevant search engines.
Registering in webmaster panels allows you to track the status of indexing pages, as well as receive information about the problems that search robots detect during the next crawl of the site.
Registration in analytics services provides you with detailed information about who, when and from where comes to your site, as well as on which pages visitors linger the most. Based on this data, you can form a strategy for promoting your content and choose which channels to use in the future.
All of the above services are available absolutely free of charge.
6. When it comes to images, size matters
Surely you have often encountered situations when the text on the page has already appeared, and the picture continues to load for another 30 seconds, if not more. It doesn't sound so scary, but in fact, the wait is excruciatingly long, especially if you are viewing the site from a mobile device.
I must say, this is not only annoying for you: search engines also pay attention to how quickly images load on sites. From the point of view of optimization, the ideal image size is no more than 100 KB.
In order to bring the images on your site even a little closer to the ideal, you should adhere to the following recommendations:
Determine the minimum dimensions of the images, at which your site will look good on the vast majority of devices – both on computers and on mobile devices of different sizes. Bring images to the specified dimensions before uploading: this way you will reduce their physical size, reduce the load on the site and speed up the loading of content.
Compress images before uploading to the site. Services like TinyPNG are best suited for this, which compress images without any noticeable loss in quality.
If the site already has a lot of images that you do not want to replace, install and activate one of the special plugins. It can be, for example, reSmush.it or Compress JPEG & PNG images from the developers of TinyPNG mentioned above. Both of them allow you to optimize the images already on the site.
We also recommend that you include image size checks in your regular website technical audits. You can use the Netpeak Spider mentioned above for this.
To start image analysis, all you need to do is enter the site address in the "Start URL" field and be sure to check the "Images" item in the list of options in the sidebar. After the scan is completed, you will see in the error report if there are images on the site that are larger than the recommended 100 KB.
By the way, if you are convinced in practice that the optimal size for your site is, for example, 250 KB, you can specify it in the "Settings" → "Restrictions" section. With this setting, the program will pay your attention only to those pictures that exceed the limit you set.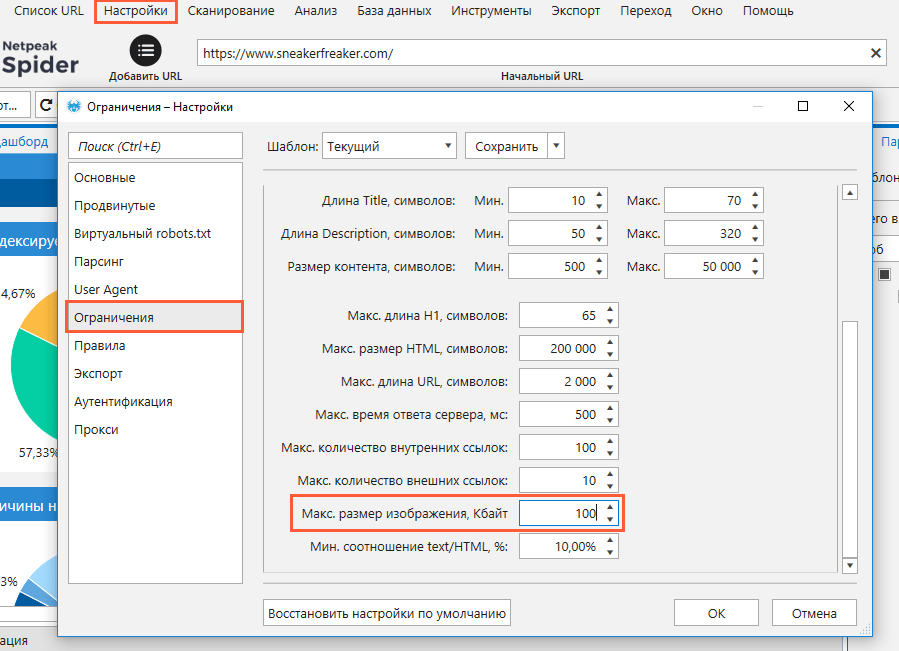 7. Likes and ratings are not only of interest to users
User activity within the site does not directly affect the ranking of your site. However, user rating and comment systems, like and share buttons, and any other functionality to engage visitors can positively affect the promotion of your site. There are a number of reasons why it's important to let users interact with your content:
Additional interaction can keep the user on the page, thus lowering the bounce rate.
Star ratings are an element of micro-markup that is taken into account by search engines. In addition, asterisks are displayed in the page snippet with the correct compilation of structured data and allow you to attract additional attention.

Share buttons in social networks increase the chance that the user will share the article or news he is interested in on his social network profile Facebook, Vkontakte, Odnoklassniki, etc. Each of them can become a significant source of additional referral traffic for you.
To set up rating microdata, use the Schema Review plugin. And to add most of the popular social buttons and widgets, the Jetpack plugin will be enough for you.
8. Micro markup as a way to make your site look organic
As mentioned above, micro-markup allows you to make your site snippets more attractive in organic results. Since organic promotion is an endless battle for user attention, micro-markup can be considered one of the key tools in this fight. It is thanks to her that the snippet will show not only the Title, Description and page address, but also a lot of other additional elements: navigation chain, phone number, price, rating, name of the author of the publication, and much more.
There are many automated solutions for implementing microdata. Among them are Schema Pro plugins (the best solution, which, alas, you have to pay for), WP Review (there are paid and free versions) and All In One Schema Rich Snippets (entirely free, but not the most convenient plugin). The functionality and usability of each of the plugins differ significantly.
9. Don't let the robots get lost – create a sitemap
The sitemap serves as a kind of navigation tool for search robots. It is an XML file that contains the addresses of the site pages that search engines should index.
It helps to show robots a complete list of pages available on the site, which is especially important for large or frequently updated sites. Also in the sitemap, you can specify all sorts of additional information, for example, the time the page was last modified.
Sitemaps can be created using specialized WordPress plugins, online services, and a special built-in Netpeak Spider tool. You can find detailed instructions in the article on the WebPromo Experts blog dedicated to sitemaps.
10. Mistakes can appear where you don't expect them.
A one-time competent site setup is not a guarantee that in the future there will be no errors on the site. They may not even be your fault.
To avoid the negative consequences of any internal site errors, regularly conduct a technical audit of the site. It will help to identify and promptly eliminate all key problems related to site indexing, metadata, redirects, content duplication and many other aspects of technical optimization.
The easiest way to check is with a desktop crawler like Netpeak Spider. The program is able to analyze more than 50 parameters and determine about 60 errors, two thirds of which are of medium and high criticality. In addition, on the Dashboard panel, a significant part of the most important information will be presented in the form of visual clickable diagrams.
Before starting a global site audit, select the number of scan threads and decide on the set of parameters to be analyzed. As a rule, the default option is sufficient.
Briefly about the main
Blogs on WordPress, like any other sites, need technical optimization. And even if you're not a technical SEO expert, there are a few basic aspects you need to take care of. We have compiled them into a small list that can serve as a checklist for any new WordPress site owner:
Setting up a secure connection.
Optimization of all content on the site.
Building a competent site structure and URLs.
The maximum increase in the speed of the site.
Connection to panels for webmasters and search analytics systems.
Image optimization.
Building the mechanics of user engagement.
Implementation of microdata.
Create an XML sitemap.
Regular internal audit and subsequent elimination of errors.
How did you get started with WordPress? Have you made any serious mistakes in site optimization, and if so, how did you eliminate them? Share your experience in the comments: perhaps at this very moment one of our readers is about to make a mistake that your advice will help prevent 🙂
About the author: Alexandra Metiza, content marketer at Netpeak Software. In marketing since 2014. Specialist in PR, SMM and external content marketing.