Checklist for launching a search advertising campaign in Google Ads – how we do it at MAVR
We will send the material to you by email:
Время чтения:

8

мин.
This is a slightly non-standard checklist, because usually, a checklist means a clear algorithm of actions to achieve a result. Unfortunately (or fortunately), there are no 100% correct, clear rules in marketing, do Step 1, Step 2, you will get such a specific result – 10 leads, 5 orders, 1 return.

Therefore, if you do not want to turn on the brain when working with a project, then simply do not go into this area. Each project is individual and it is impossible to say with 100% certainty what needs to be done this way and not otherwise. This is what distinguishes Junior from Senior specialists.
The checklist below has references of the If type, this indicates some exceptions to the rules, but unfortunately it is unrealistic to provide for all exceptions within one checklist.
Checklist for launching a search advertising campaign in Google Ads
Create an account, basic settings
In the MCC account, you need to create a regular account, you must perform the following steps:
Sign in to Google AdWords.
Click on "+", "Create a new account".
Fill in all the required data.
You should skip the payment settings and provide the customer with instructions to add payment information.
Grant access to the client's mail Tools and Settings – Account access – "+", select the required type of access.
If the ad will lead to a full-fledged website from which you can record conversions and see the full picture of the effectiveness of the advertising campaign, you will need to link your Google AdWords account to your Google Analytics account.
Sometimes it is impossible to do this, for more details about this case, read the "Case study on how to increase sales on Instagram using Google Ads".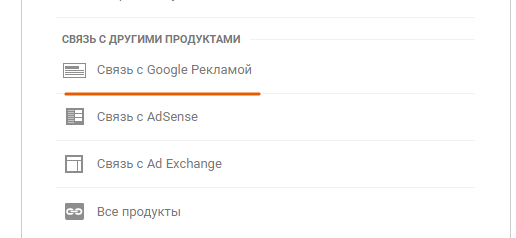 In your Google Analytics account, you should check the following points: whether conversion goals are set up, for example, purchase, registration, filling out a lead form.
Not suitable for the purpose: viewing the contact page, viewing more than 3 pages of the site, etc.
6.1. Don't forget to start building an audience for Remarketing right away.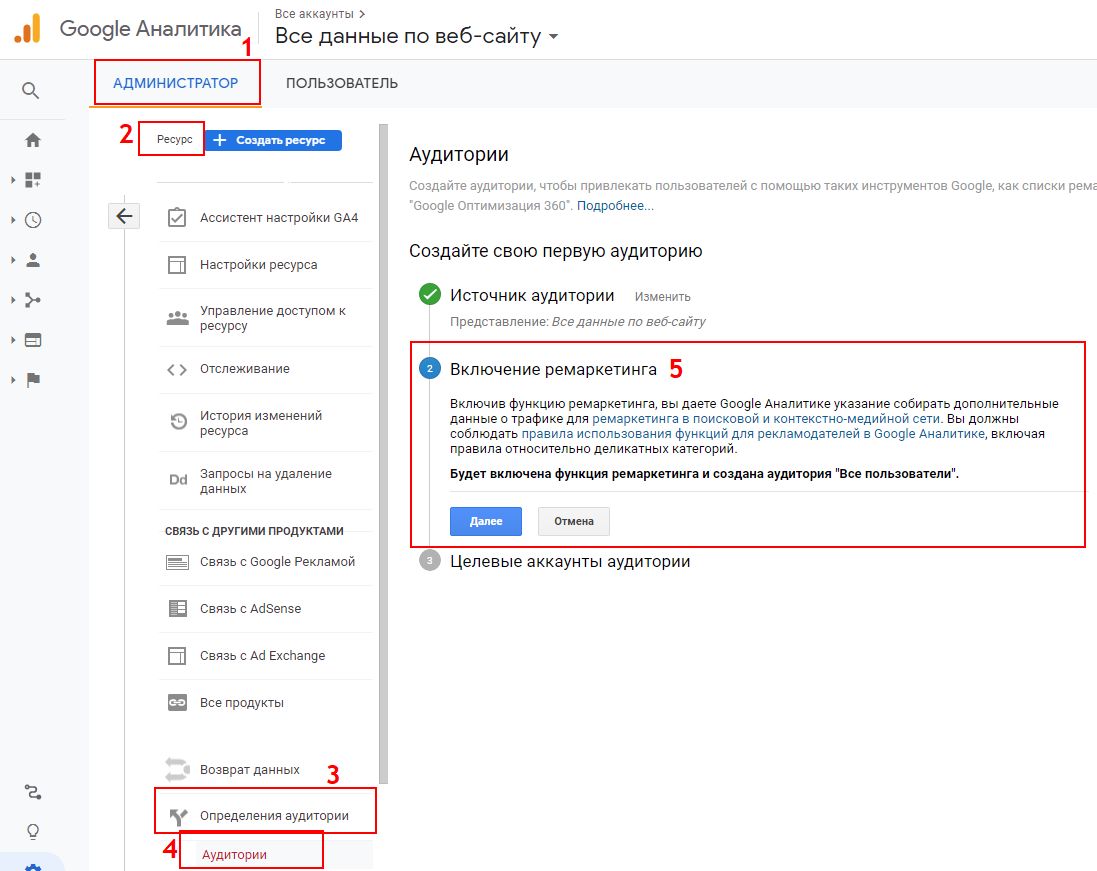 Read more here – How we check Google Analytics settings in MAVR.
You need to link your Google Ads account and analytics in Google Ads, and then you need to import conversions: "Settings and tools" – "Tracking" – "Conversions".

It is also desirable to set up tracking by calls; a PPC specialist can add this functionality himself if he has access to Google Tag Manager. If not, you can ask the customer to install the code themselves. In this case, you must definitely use the "Phone Numbers" extension. Relevant only for the region Russia, for Ukraine – no. Read more Where Google forwarding numbers are available.

Immediately you need to check whether auto-tagging is enabled with tags and whether it works correctly. To check, you can use the instructions: https://support.google.com/analytics/answer/2938246?hl=ru
Collection of semantics
At the pre-sale stage, the Client fills in a brief with priority categories for him, services for which advertising is required.
Sometimes, before collecting semantics, it is worth additionally agreeing with the Client on the structure of advertising campaigns, especially if you need to run many advertising campaigns at the same time.
Standard structure options:
by region (for example, the semantics in English for the US will be different from the semantics in English for the UK);
by site category;
by the conversion of keywords (for example, warm keywords like "buy", "order"; cold, general, branded);
by devices;
combined (for example, region + category, warm keywords + category, etc.).
Semantics can be collected using the Google Ads Keyword Planner (pay attention to target regions and languages), you can also use Serpstat, Key Collector and other tools to check keywords.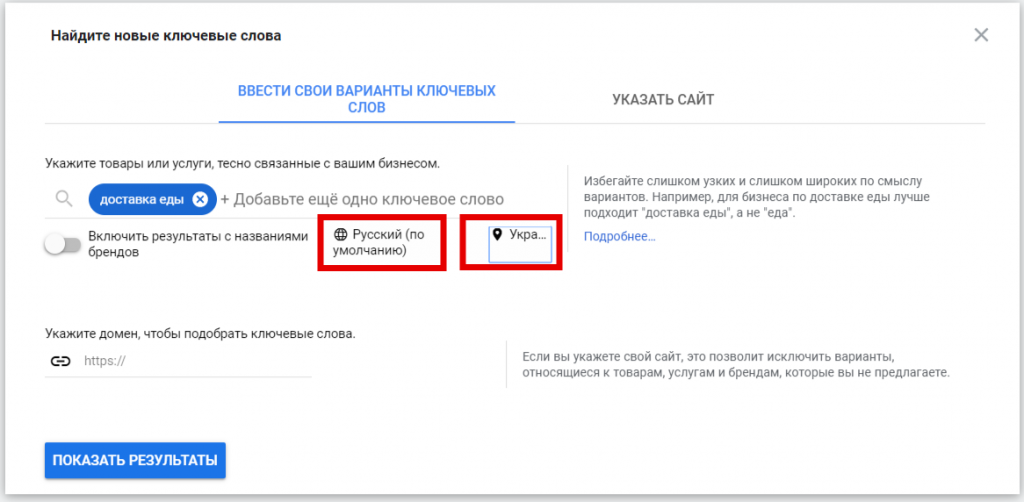 We download variants of keywords Excel document (in the output results, you can immediately filter out queries that contain negative keywords).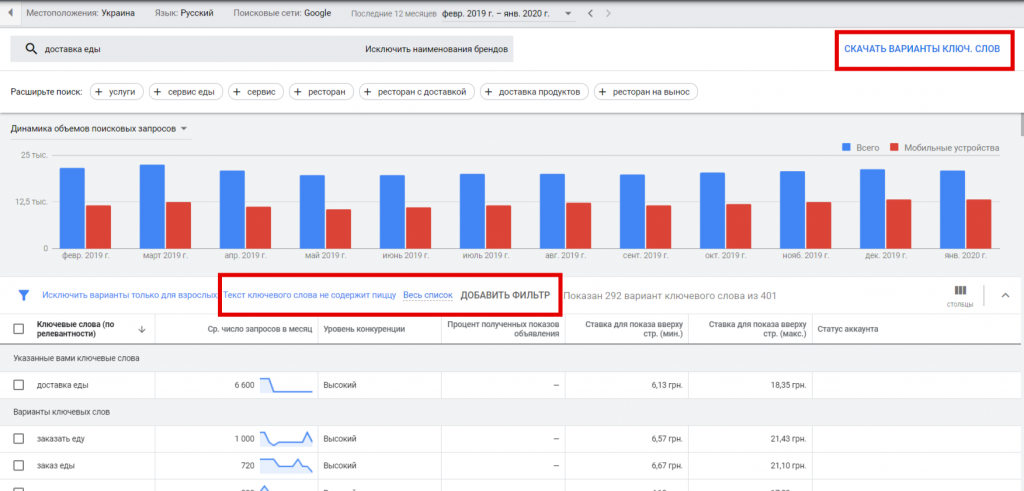 Remove irrelevant keywords. We send to the client for approval in the form of an Excel document.
Creating an advertising campaign
To quickly launch advertising campaigns, you can use Google Ads Editor. To do this, you need to use an Excel template to fill in ad texts and keywords.
Preparing announcements
The easiest way is to collect one ad for all advertising campaigns (only the target url can be changed), in which the first title will match the name of the ad group or have a dynamic title.
However, for maximum relevance to the query and the most accurate demonstration of the benefits of the advertised goods or services, it is better to create one ad for at least one advertising campaign. Headings and landing pages will also change depending on the name of the ad group.
When writing ads, be sure to take into account the allowed number of characters: for titles – 30, descriptions – 90, paths (i.e. display url) – 15. If this number is exceeded, the system will not allow adding ads.
To quickly create headings that duplicate ad group names, you need to copy the list of ad group names into a Word document, and set the list case to "As in sentences." If the number of characters in some headings exceeds the allowable limit, they should be reduced, rewritten.
The texts of advertisements should be agreed with the Client in advance.
Keyword Preparation
It is better not to use a broad match type at all – the probability of capturing a lot of irrelevant queries is too high.
It is best to use two types of match for all keywords at the same time: exact match and phrase match.
Service for working with match types https://tools.yaroshenko.by/matchtypes.php
Importing Ad Campaigns into Google Ads Editor
This technical setup can be done according to the instructions here.
Setting up a search advertising campaign in Google Ads
After publishing an advertising campaign in Google Ads Editor, you need to set up an advertising campaign directly in Google Ads.

Setting the goal of the advertising campaign (if necessary)
If the goal is obvious, you can select one of the existing goals in the advertising campaign settings: sales, potential customers, site traffic.
In general, an advertising campaign can be launched without using goals.
Network selection: search network or/and partner network
A separate advertising campaign is created for impressions in the Display Network (Contextual Display Network), it is better to follow the rule: one advertising campaign – one network. At least because text ads without banners look extremely unattractive on the Display Network.
Location selection
Select the target geo for the client (country, region, city).
Choice of languages
Pay attention to the chosen location (what languages are spoken in the selected regions), the language of the advertising campaign, the language of the version of the site or the page to which the advertisement leads (if there are several language versions of the site, and we lead to one particular one, it is better to select only the language this version, regardless of region).
Calculating and assigning a budget for an advertising campaign
If this advertising campaign is the only one, we calculate the daily budget based on the monthly budget and the number of days in the reporting period.
If there are already other advertising campaigns (ACs) in the account, we distribute the daily budget among all the ACs, not necessarily in an equal amount (it all depends on how the advertised ACs showed themselves). You shouldn't set a big budget for the added AC, you need to test it, negate irrelevant queries, which you can't avoid at the first time after launch, see how it will unscrew: the established budget may be enough, or vice versa, it will need to be increased.
Assigning a bid strategy
The betting strategy can be chosen based primarily on one criterion: whether there is at least a minimum collected statistics.
In general, automatic bidding strategies such as "Max Conversions" or "Target CPA" work best.
Downloading negative keyword lists
Generic lists of negative keywords to avoid when promoting most types of businesses. This will help to avoid showing ads for irrelevant queries, respectively, not to spend the budget on them. For example, words related to an information request (reviews, review, like, etc.) or a job search (position, hire, vacancy, etc.). There may be several such lists, based on the subject matter of the business.
In the account tools and settings, select "Negative keyword lists", "+", add a name and insert negative keywords as a list.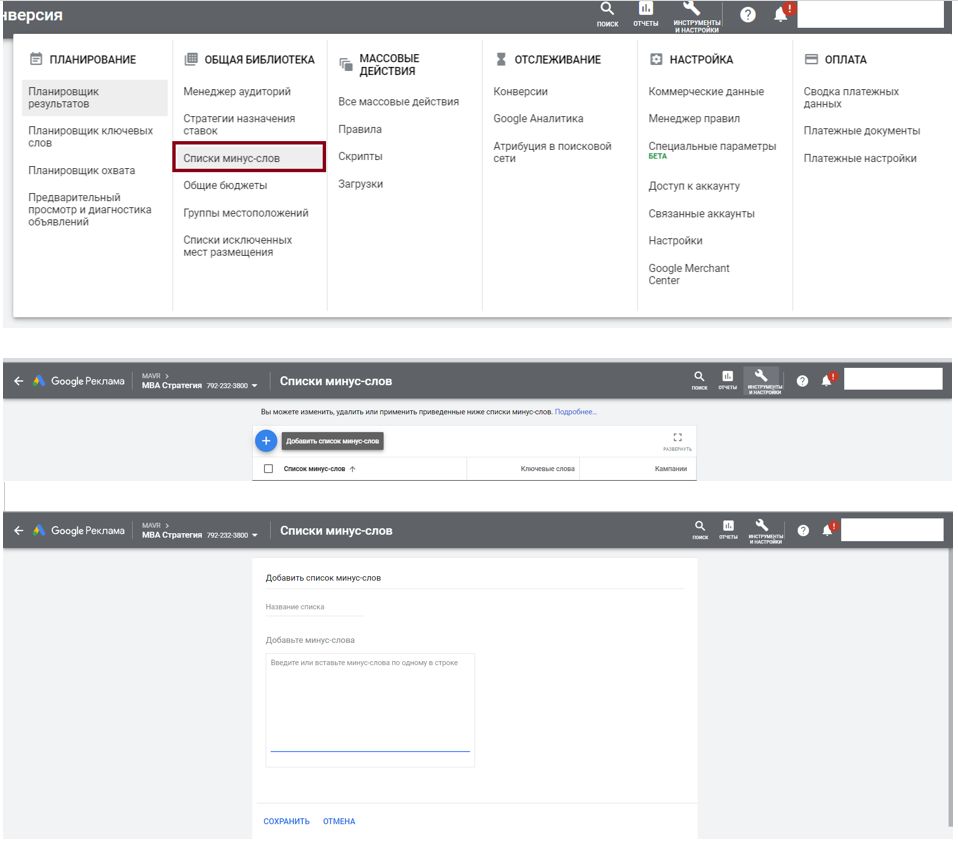 Add extensions at the campaign level
If the account is already active, the extensions that are added at the account level will be distributed to the new advertising campaign. You should also look at extensions at the level of other campaigns and add or modify and add them at the level of a new campaign.
If the account was created from scratch, then you should add a universal minimum of extensions: additional links (at least two), clarifications, structured descriptions.
Address and phone extensions
When linking an address to an account, you will need to link it to Google My Business (Google Business Profile) in order to take data from it. It often happens that there is no such possibility, then you can add addresses through the Adwords Editor. The situation is similar with the phone number. If Google My Business (Google Business Profile) is not linked, you can enter the number yourself.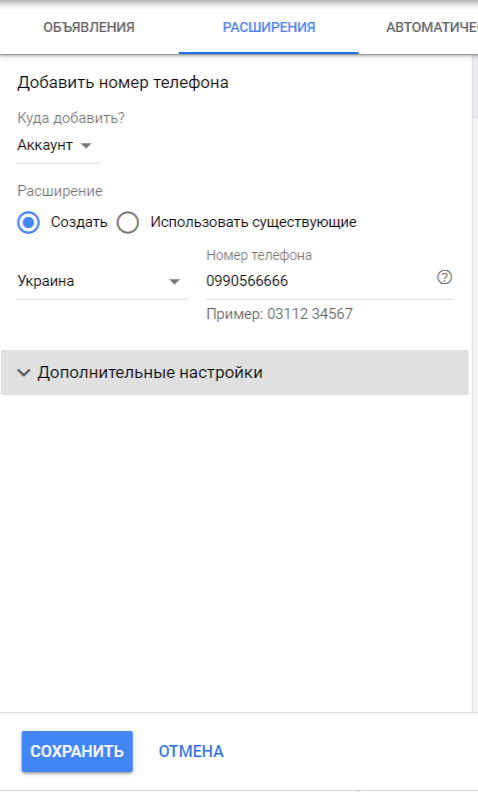 We launch an advertising campaign, test, monitor, optimize
After the launch, the next day, you need to check whether all ads and extensions have been moderated, and for the first three days it is better to check the RK daily for budget cuts and requests for which ads are shown.
Also, in order to control the account budget and always be able to warn the client in time about the need to replenish the account (sometimes replenishing the account, as well as the process of receiving money into the account takes several days), you should write a script to send an automatic email to the project manager and specialist about that the N-th amount remained on the balance sheet.
Good luck with your advertising campaigns!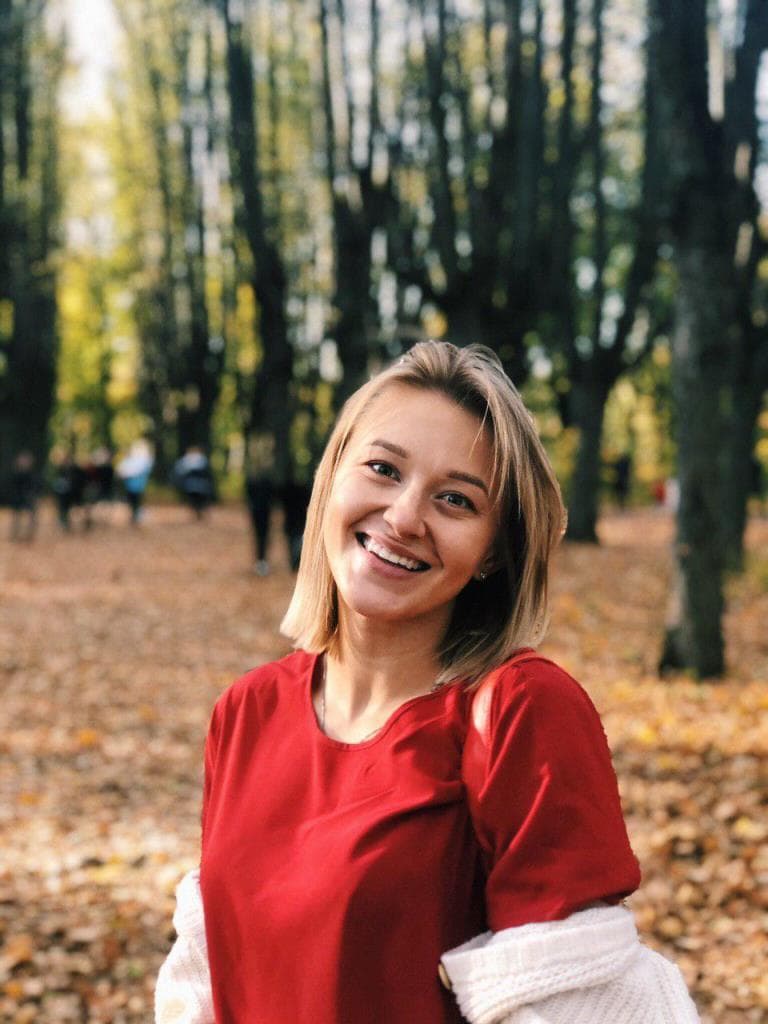 Интернет-маркетолог маркетингового агентства МАВР