Educational program: What is digital marketing?
We will send the material to you by email:
Время чтения:

2

мин.
Digital marketing is the whole range of marketing strategies that are used on internet-connected devices. The term "digital" can be used with television and radio, but misidentify them as digital marketing platforms. Digital marketing is largely determined by the interactivity of the medium. Although some devices, such as DVR and TiVo, provide a limited degree of interactivity and can be included in its broadest definition. In most cases, digital marketing is limited to computers, mobile devices, and gaming consoles.


Digital marketing relies on the marketer's ability to quickly disseminate information and gather insights quickly, usually measuring the effectiveness of a marketing strategy.
This fast and accurate quality of gathering digital marketing information precludes television and radio initiatives that provide delayed and inaccurate measures of marketing effectiveness. The Internet is the backbone for digital marketing due to its inherent analytical nature and as a communication tool for marketers and consumers.
The two main forms of digital marketing are "Push" and "Pull"
Push marketing uses content that is shared with potential customers and includes email, instant messaging, and RSS feeds.
Pull marketing relies on consumer-initiated activity to access content and includes SEO, online advertising, and affiliate marketing. Some digital marketing strategies, such as social media marketing, can span the line between these two categories, including both types.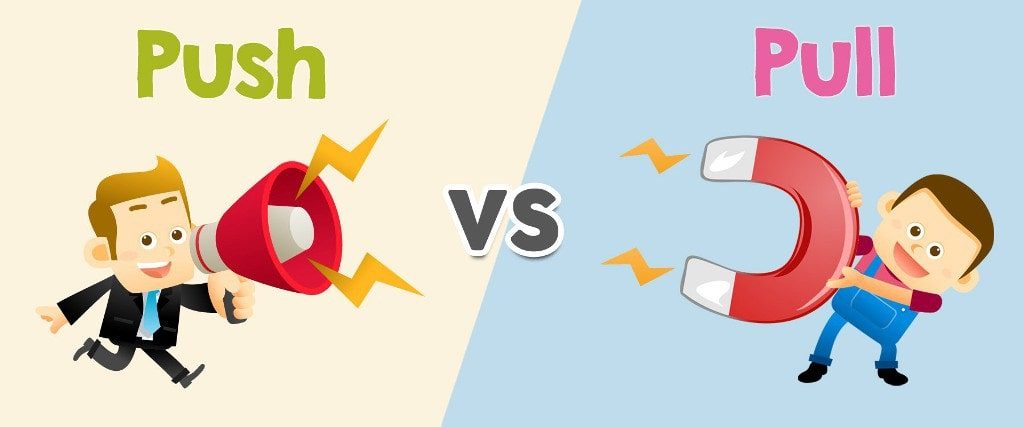 Push Marketing Has Some Important Benefits
Setting. Through the use of automated email collection and processing systems, the marketing team usually has access to important customer information. Because the email recipient has likely already provided important information, such as interest in certain products or brands, digital marketers can tailor email to consumer tastes.
Instant messaging mechanisms provide instantaneous dissemination of information, which can be critical for time-sensitive marketing campaigns or for quickly resolving any public relations errors.
Strengthening business relationships with clients. Through the use of promotional offers, exclusive promotions, and informational messages, marketing promotion can strengthen relationships with existing customers and encourage them to interact with your company.
Low cost. Since the target audience has already been identified, marketing resources can be focused on maximizing the impact on these people. Email marketing campaigns tend to be very cost-effective due to their limited scope, while other types of push ads such as pop-up ads can be more expensive due to content and advertising space.
Internet marketing expert. Head of marketing agency MAVR.
Business degree "Master of Business Administration" (MBA).