What should be a good engine for an online store? OkayCMS Overview
We will send the material to you by email:
Время чтения:

5

мин.
Now running an online store is one of the most popular and most grateful, with the right approach, ways to make money on the Internet. At the heart of any network resource is some kind of engine (or lack of it). It is from him that the effectiveness of the site will largely depend, both in terms of conversion and promotion. Therefore, it is important to choose the right CMS initially or at the stage of reorganization of an adult online market.

Why is OkayCMS good?
Ease
Unlike seasoned engines, which were often created for other (more often content) purposes, like the same WordPress or Joomla, OkayCMS was specially designed for e-commerce. Therefore, it does not contain unnecessary elements, unnecessary pieces of code, modules, and so on, which makes the system heavier.
Ease also lies in simple development. The interface is not that intuitive, even a grandmother or a child can handle it. In addition, you can choose the language for the site and for the admin panel.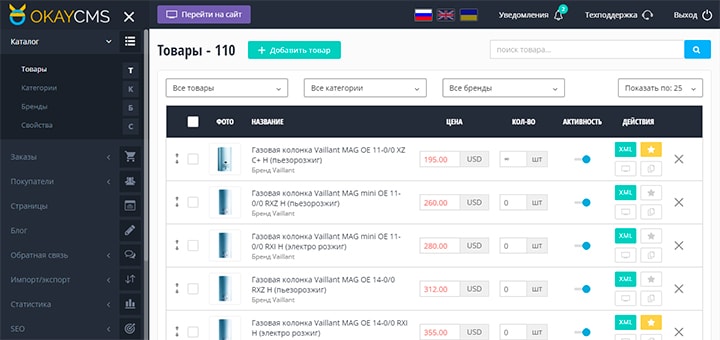 The system is also open source, i.e. It will not be difficult to modify it to suit your needs. OkayCMS is easy to integrate with various services and payment systems: 1C, MySklad, Yandex.Money, QIWI, WebMoney, PayPal… There are many ready-made add-ons, as well as templates that you can choose from the Marketplace and install on your website.
Adaptability
Mobility for the site has already become a must-have, now it has a strong influence on promotion. But few website platforms can boast of the adaptability of the admin panel as well. And this already greatly increases the effectiveness of managers.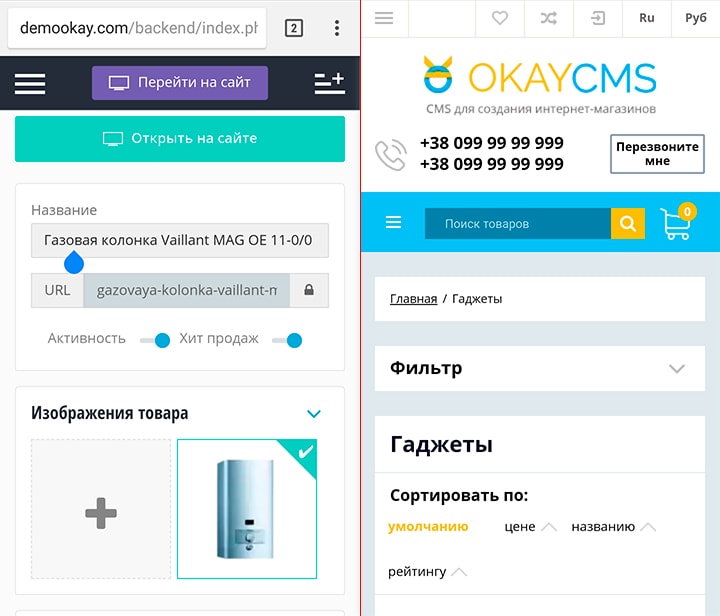 It should be noted that using the catalog from a mobile device is convenient, which is still rare.
SEO optimization
It is declared in many modern engines, but does it actually work? Displaying a couple of text fields like title, description, alt does not mean optimizing. At OkayCMS, SEO was developed on the recommendations of recognized experts. Its implementation has received high marks. You can verify this by reading the reviews.
What has been done for SEO optimization in OkayCMS:
Marketing and sales tools
The system is really easy to promote and control, but the useful arsenal does not end there. Advertising banners, promotional codes, email subscription form, rating – all this and much more can be easily configured for your online store.
Because the platform is specially tailored for e-commerce, it has many built-in functions that will please both the site owner and the buyer: favorites and comparison, the ability to filter by several values of one property, set price limits without reloading the page, updating the cart also without reloading, all checkout process on one page. There's also a pre-order!
Ease of work with products and catalog
Makes life easier for managers and content creators
Feedback
Developers support and regularly update the system, taking into account the comments and wishes of users. If there are difficulties, you can get an answer on any of the many channels:
Availability
The system exists in two versions: OkayCMS Pro and Lite – paid and free, respectively. It's nice that the functionality of the free one is not cut to the point of impossibility, and Pro is paid once and costs $195 (this is less than the savings on the built-in functionality). The choice depends on the volume of the assortment and on whether you want to control sales and promotion of the resource. You can see in detail how they differ here. Both options can be downloaded and viewed in demo mode.
To be successful, a store needs the right premises, and an online store needs a good engine. OkayCMS is a good engine, everything is ready in it so that the online store can bring in money and expand your business.
Internet marketing expert. Head of marketing agency MAVR.
Business degree "Master of Business Administration" (MBA).