FlorryCat: Hard work on service, product appearance and high-quality advertising help you find your customers
We will send the material to you by email:
Время чтения:

7

мин.
Women remember roses that were not presented for too long, Vera Kamsha wrote.
Alexey and Ekaterina Kovalenko are the people who help us to please our loved ones by creating small masterpieces from flowers.
Today, in an interview, they told us how they got into the flower business, what kind of advertising helps them develop, and how quarantine has affected their business.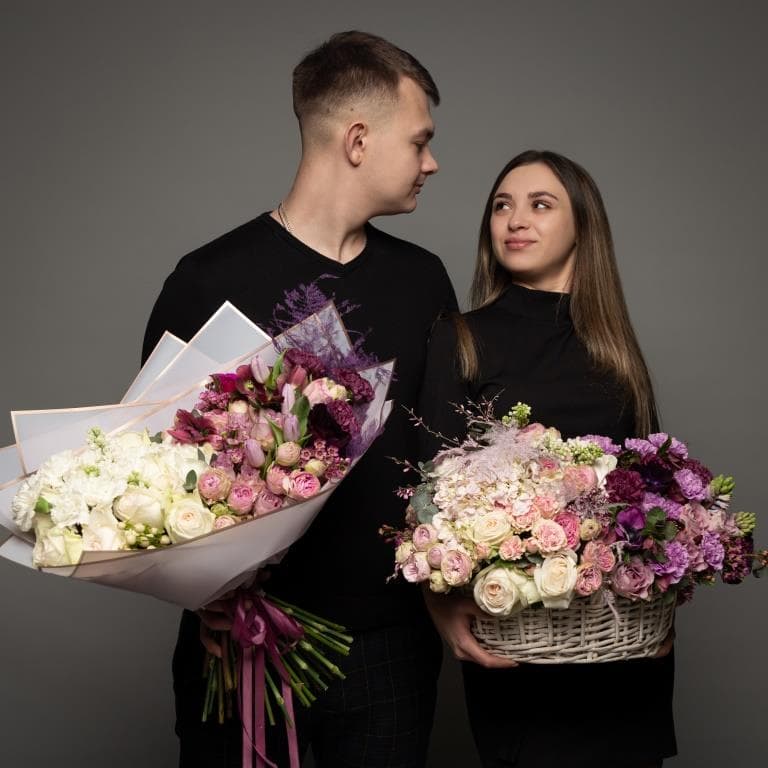 Alexey, how did you get the idea to start your own flower business? Where did it all begin?
I come from the district center, a city built from a junction station – Lozovaya. All my life I've been selling something. At the age of 10, I got my first job for the summer – a place in the market where my parents worked. They were selling books. That's when the idea of starting my own business came up. Every summer I worked at the market, and when I moved to Kharkiv to study, I established an uninterrupted supply of goods.
After graduating from college, I realized that I didn't want to be a programmer. In search of myself, I returned to Lozovaya. Looking at the business of my parents from the other side, I saw something that I had not seen before – opportunities.
Together we opened a new stationery and bookshop that needed development. That's when I met her. Katya came to work and I immediately fell in love. She worked with me and helped rebuild and improve the store. After some time, there was a result – by joint efforts, we increased sales at times. I wanted to scale the business further, but not everything depended on me. Parents saw a different path and we disagreed.
Katya and I left for Kharkov, taking the car and some money with us. There was no specific understanding of what to do next, but I wanted something of my own. I started making custom furniture. Katya studied at the university. Everything went too slowly, and I did not want and could not wait long. It took years to return to the level of sales that was in Lozova. Or a jerk. For several years I followed the sales of tulips on March 8, collected information, studied methods of processing and storage. It was the perfect moment to take a chance.
Ordered 12,000 pcs. Katya could not pass by such a case and joined the work. We rented an office and hired a florist. Since it was the first time we held real flowers in our hands, it was a bit difficult. Having sold all the tulips, the idea came up to continue and open my own flower business. And so began our path in floristry.
Katya, how is the procurement process going? Do you receive goods from abroad? If yes, how is it different from receiving a regular parcel?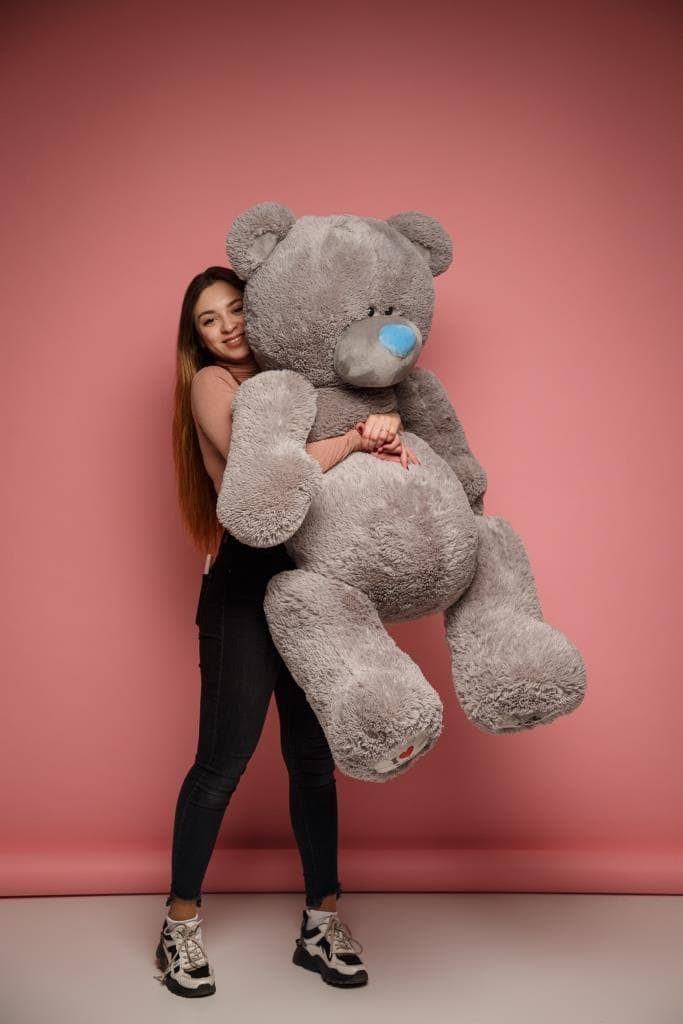 We buy flowers directly from the Dutch auction online on the website. The flower is coming to us in a special refrigerated car. They do not ride on water, but dry in boxes.
Flowers come to us in Kharkov after being reloaded in Kyiv. After receiving, we clean each stem from unnecessary leaves, thorns and set up a showcase. It happens that a spoiled flower arrives, so these are always risks!
Receiving a flower from Holland can't be compared with a regular parcel, because flowers don't come by mail 🙂
In my opinion, the competition in the flower business is quite strong. How do you manage to stand out from your competitors?
Indeed, there are many flower stalls, shops and studios in our city. But most of them sell a local flower, which is inferior in quality and appearance to the imported one.
We work daily on the appearance of our bouquets and compositions:
take online master classes;
make collections of bouquets;
we read articles in various floristic magazines;
watch live broadcasts of influential florists and famous floristic studios
And, of course, we keep an eye on our competitors.
Hard work on the service, the appearance of the product and high-quality advertising help you find your customers and win their love.
The main thing is to love what you do and then everything will definitely work out!
Even 10 years ago, all children carried flowers to school on September 1st. Now the situation has changed, am I right?
Yes, things have changed a bit. Previously, each student bought a bouquet for his class teacher. Mostly it was inexpensive bouquets, 3-5 roses or something like that. Now, instead of a bunch of small cheap bouquets, most of them give their teachers one big expensive beautiful bouquet from the whole class. I think it's better that way.
Alexey, what marketing moves did you use for your business? What works, what doesn't?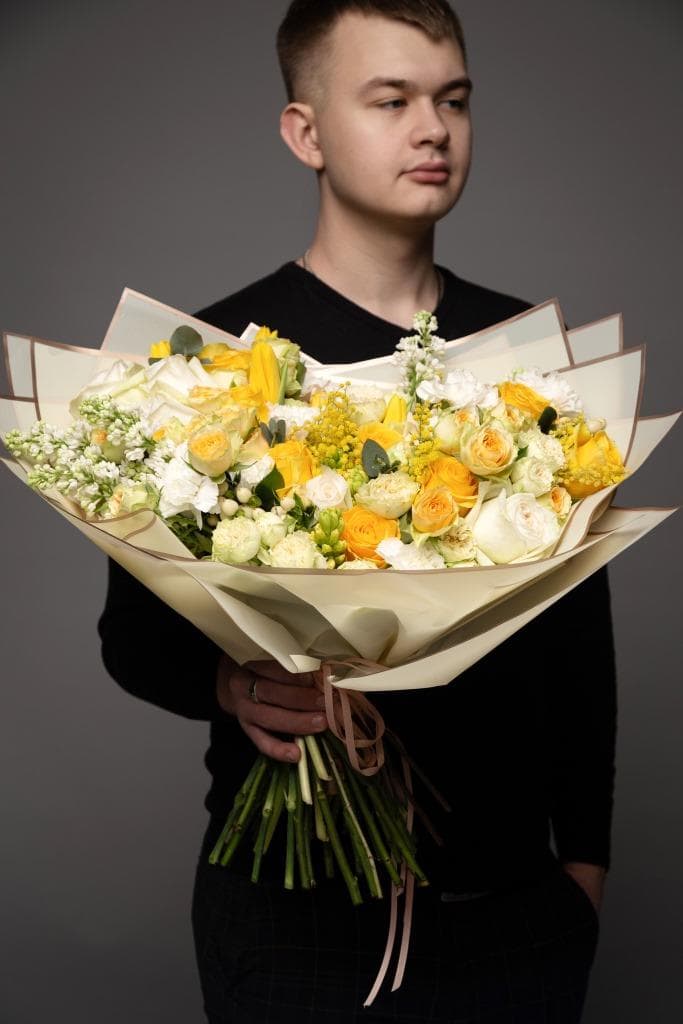 This is my sore subject. I am constantly implementing something, testing, analyzing the market, conducting market research, optimizing and improving promotion methods. It depends on what part of the business and in what period of time we are talking about. I have tried many moves for various niches. I can talk about this for hours. In short, discounts and bonuses always and everywhere work. People like to think that they are saving themselves the same. Works flawlessly. Sales increase by 3-5 times.
Disappointed with offline advertising. The time, money and effort spent is rarely paid off. The chance to guess the target audience is very small. Handing out flyers near the subway, delivering them to mailboxes or sticking ads on boards is not effective compared to other types of advertising.
Katya, what flowers do Kharkiv residents buy more often?
Of course, the classic version is roses. They are clear and will definitely please the recipient. And in general, almost all mono-bouquets of tulips, peonies and other flowers have always been taken and will be taken.
Another thing is prefabricated bouquets. It is very difficult to explain to many men that 101 red roses a meter high is not the ultimate dream of girls. Much cooler is a large combined bouquet with peonies, hydrangeas, forget-me-nots, the same roses and a bunch of interesting and incredible flowers.
Roses are given to everyone, but a truly beautiful bouquet, thought out to the smallest detail – only to special girls!
Holland is world famous for its fields of tulips. And what could Ukraine be known for?
In terms of growing flowers, I think it will be difficult to surpass the Dutch plantations.
But as for the production of various floral materials, packaging, etc., I think we have every chance.
How has quarantine affected your business?
Oddly enough, but quarantine has opened up new opportunities, helped to rethink a lot and showed that we are firmly on our feet.
During quarantine, we opened a wholesale flower database, worked out the style of our bouquets, and came to grips with business processes in our organization.
Therefore, I think that quarantine has done us good.
Katya, how is the creation of the bouquet? Do you watch your competitors?
Many people think that making a bouquet is very easy and simple. Maybe if you want to create a "market bouquet".
In fact, creating a beautiful bouquet takes time and effort. It all starts with the wishes of the client: color, texture, composition, packaging. Next, the florist carefully thinks over the bouquet, looks at examples on the Internet, selects the composition, makes a sketch, and only after that proceeds to create the bouquet itself.
I think that "tracking" your competitors is an integral part of any business. And monitoring our competitors takes a very long time. I am subscribed to more than 100 flower pages from different cities and even countries. I look at their style, bouquets, how they manage Instagram, what photos they take and much more. This is fine. And I will be glad if someone also follows our page and is inspired by our work.
I am against the "impudent copying" of other people's ideas and the use of the work of other florists. Everything should be in moderation and according to conscience. To be inspired by the work of other florists, then coming up with something of your own – yes, stealing other people's ideas – no!
---
The interview was prepared as part of the "Interview with our Clients" project. If you are our Client, and we still have not talked about your project in the blog, contact us in any convenient way to prepare for publication.
Expert in media marketing.
Speaker of specialized events on the topics: journalism, sales and media marketing.
How MAVR is involved in the fight against COVID-19 – an interview with Roman Buchimensky, founder of the research center "Via Homeopatica"