Andrey Kostenko: "For me, a brand is the history of the company's creation, attitude towards customers, views and values of the manager and team"
We will send the material to you by email:
Время чтения:

10

мин.
Not every entrepreneur is ready to develop his production and create a brand. Most take the path of least resistance and buy products abroad. Simply put, they work on a buy-sell system.
The founder of the PROchehol online store told us how he develops his production and how to become a Rosette partner.
Andrey, tell us about the PROcase store.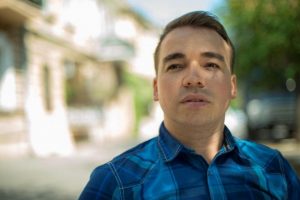 I opened the PROcase store in 2014. It was an ordinary store selling mobile accessories that I bought 7 km away. I didn't have any strategies, missions, and the like, which are talked about at all trainings today. There was only a great desire to earn money and only on the Internet.
After 6 months of working with a product of rather poor quality, I realized that I did not want to sell it to my customers anymore. A year later, we completely switched to selling cases for phones made of genuine leather from a Ukrainian manufacturer (let's call it Manufacturer X). Cases from manufacturer X, although they were made of genuine leather, but the build quality was often worse than Chinese. We also sold other accessories, various films, glasses, chargers and holders, etc. but it wasn't all that.
Once, I received feedback on a case that we sent directly to a customer from this manufacturer X, I did not see this case before sending. When I received the return and the comment along with it, I looked at this case and I felt so ashamed that we are selling this to customers. Then I felt ashamed for the production of X and, in general, for all Ukrainian manufacturers of phone cases. I had a question why everyone makes such slag, why waste raw materials at all on this? I was just disappointed.
Within 2 months we started our production with a firm focus on quality. And today, just like 5 years ago, quality comes first for us. Today, PROcase is practically a monobrand accessories store with a huge range of device models from the STENK brand.
Is there a lot of competition in your business?
The competition is very high in this niche. Lots of big and small shops. There are many, many of the same product, but unfortunately there are very few really good offers. Unfortunately, it's hard to pinpoint a competitor as we compete with everyone who sells phone cases. After all, people are looking for a simple phone case much more often than a leather phone case.
In fact, of course, if a person is looking for a good and high-quality leather case for a phone or tablet, then most likely he will find us. We try to inform people about our accessories and those who see the point in this become our regular customers, I am very grateful to them for this.
As for competition, specifically in our niche of high-quality leather cases for mobile devices, it is very low, but there are also significantly fewer customers who want to buy just such products. Therefore, in order to form a good USP in this niche, you need to pay attention to 3 very important components – this is the quality of the product, the quality of the service and once again the quality of the product.
Are there big expenses for the production of cases under your own brand?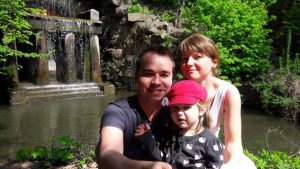 Before I registered the trademark, for about half a year our cases were NONAME (No name) and I was very uncomfortable. I felt like I was cheating my customers by not showing them who made the product. For me, this is probably more of a psychological barrier and it seems to me that it is much more profitable and less costly to produce products under my own brand, but there are features – this must be done honestly and in good faith.
I will explain my position.
You can put any logo on any product, but it acquires meaning only when it is put on a high quality product. The value is that the client also receives internal security without worrying about the quality of the product, because he trusted the brand. Today you can observe a huge number of Ukrainian brands made in China. At the same time, all the goods are the same, only the packaging is different, and the quality is questionable.
If we talk about financial costs, then in principle, it is very expensive to produce something yourself. It's not just that today a brand was invented, but tomorrow you are already a major manufacturer. It is much easier to order goods under your own brand in China, and many go down this path in pursuit of profit, but this way you do not control the quality of your products.
For me, a brand is the history of the company's creation, attitude towards customers, the views and values of the manager and the team. Without all this, any brand becomes NONAME, and production becomes so expensive that such brands have to save on everything and produce 2nd grade products.
I chose a different path and today I have a team that shares my views, and each case is made with love for our customers, as for themselves.
Do you work with Rozetka? Is it difficult to become a Rozeta partner?
Yes, we have been working with Rozetka for almost 2 years. I am very pleased with the cooperation with them and value it very much. We even built a separate portal for synchronization and automation of work with marketplaces.
For me, Rozetka and other marketplaces are the embodiment of my old dream, when we pay a commission for an attracted client, i.e. an order has already been actually placed, while we independently communicate with customers, identify their needs and guarantee quality from the manufacturer. It is very important for me that our customers not only receive a good product, but also associate it with high service.
Was it difficult to become a Rozeta partner? Yes and no. Unfortunately, it took me about half a year before I was able to contact one of the managers. When I found out about the possibility of cooperation with Rozetka, I immediately applied, but no one answered me. A week later I wrote again and nothing. I really wanted to work with them and began to methodically write letters once a week and send applications that I really want to work with them. And on January 3, 2018, I immediately received 3 responses from different managers. It was the best Christmas present for me. All paperwork was completed very quickly, as I had been ready for this for a long time. In a word, it was worth it. The socket is a very good opportunity, I am very grateful to them for their cooperation.
Where do you get design ideas?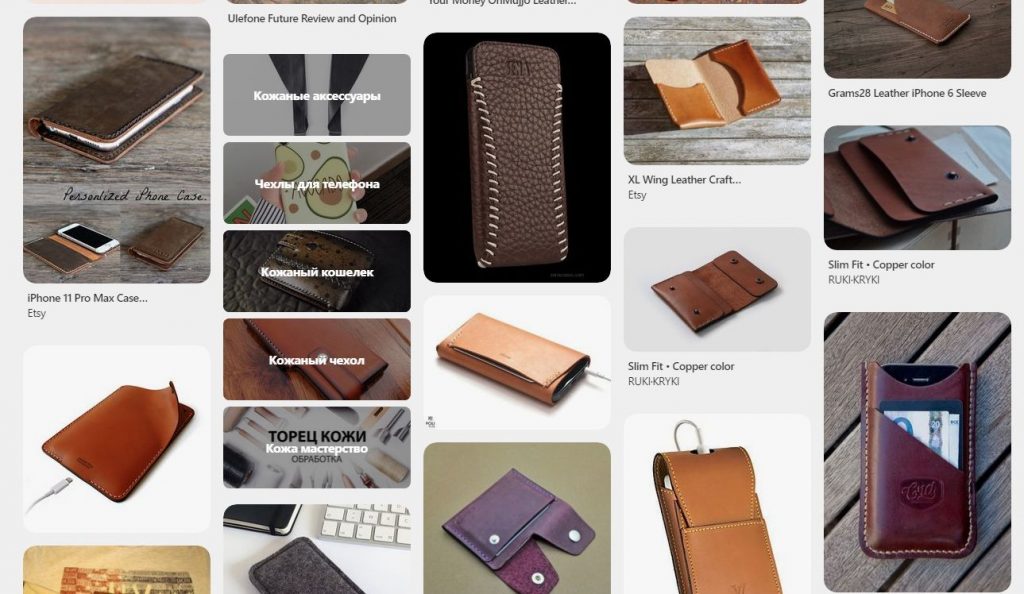 I can't say that I always draw them from somewhere, many ideas come by themselves as a result of traveling to various foreign sites of various brands and, unfortunately, we simply do not physically have time to implement them. I am constantly on Pinterest. I also have about 5 favorite American brands that inspire me. These are brands from different industries – shoes, phone cases, interior items, watch straps, bags. I do not copy models of accessories of these brands, for me it is important.
Perhaps the question is brewing, what do I consider in them then?
I review the websites of these brands, how they are made, how the product is served, how the photos are taken and what the client focuses on. Then I look at the quality of work, the technique of tightening the skin, stitching, and how this or that brand solves the problem of open skin sections where they should not be. How they solve the problem of product thickness, what materials they use.
So one day I saw material that interested me very much, I was looking for it for about a year. First I found a distributor in Minsk, then we started ordering material in Korea. It is a very tough non-woven fabric with very high wear resistance. Now we use it in our STENK Premium cases.
Even in shopping centers, I constantly look at who sells what leather accessories and always look in detail. I'm really interested in how people make different accessories and what manufacturing techniques are used, maybe something new that I don't know yet.
Which brands are more likely to buy cases?
I want to say right away that this statistic is true only for us, since it implies exactly leather cases for phones and our price range. These are fundamentally different things compared to other cases such as plastic, silicone, substitute. Many advertisers we've worked with in the past confuse these things and as a result, we've been losing money.
For more accurate statistics, I take data for the last 3 months, as new phones enter the market every month. At the moment, there are top 5 brands: Samsung, Xiaomi, Meizu, ASUS, Nokia.
To track the dynamics, I use statistics for each month. For example, it can be seen that over the past 30 days the Top 5 list has changed a bit: Samsung, Xiaomi, Meizu, Sony, HuaWei.
From this, it can be seen that Sony and HuaWei have increased in sales. We determine which phone models of these brands have begun to sell more and if these are new items, then we make banners on the site and include contextual advertising on these models.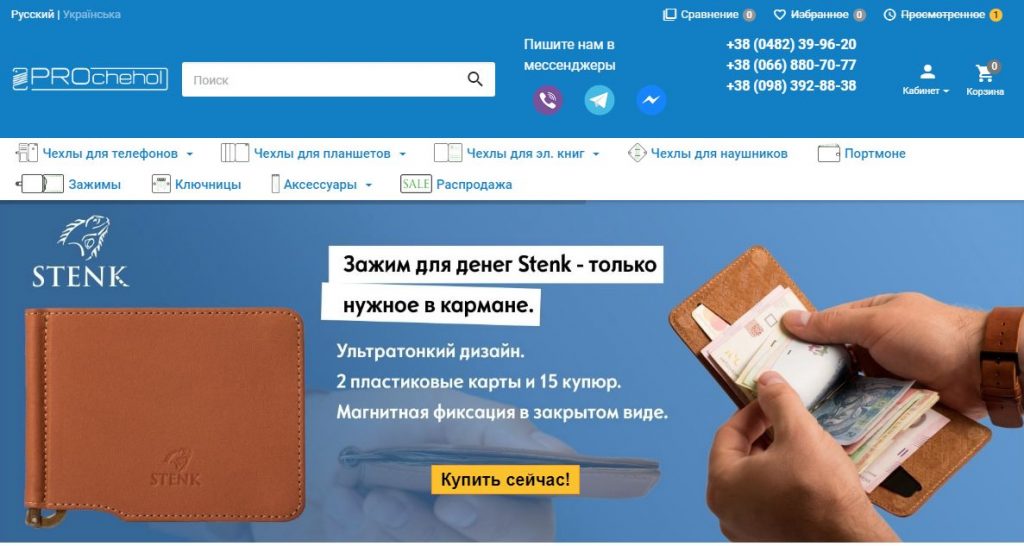 What marketing tools do you use for promotion?
Today, the most effective way for us to promote is CPA. Marketplaces work exactly according to this model. In my opinion, this is the best way of cooperation for all parties. I think any entrepreneur would agree with me. It's always better to pay commission on an order that's already paid for. With such cooperation, either everyone or no one earns, and this is fair. Today we are ready to pay any person a commission of up to 25% for attracting customers, but only for a paid order. But today, there are few people who want to work according to this model, because it is the responsibility for their money and not everyone is ready to take it upon themselves.
In addition to marketplaces, we currently use Google Merchant, Dynamic Remarketing, price aggregators, email newsletters.
Andrey, do you make cases to order, with my design? Can I order a logo on the case from you?
Today we make cases according to individual customer requests, but there are limitations. There is an assortment of case models that we make with basic colors. We can, at the request of the client, change the color of the thread, the color of the lining, add a hole on the cover, add a pocket for a card, or vice versa, remove it in the case model, where it is provided, we can make a case for a phone that has just gone on sale and only in America, and we make a cover for it. The only thing we never remove from our products is our logo.
Covers under the order with individual design are generally a separate niche. We are unlikely to do this. This work, in my opinion, is for masters who work individually, they will completely do what the client wants. This will be expensive and take some time, but in this case the client will probably get what he designed himself. We sometimes take on such orders and I design and assemble them myself. I do this when I like the idea and this product can be put into production.
We can engrave our covers today, but there is a limitation. We do not apply logos of other brands for a number of reasons, including legal ones. In all other cases it is possible to do so. Also, we are now planning to introduce embroidery on the skin, but this is still in the process of setting up equipment.
---
The interview was prepared as part of the "Interview with our Clients" project. If you are our Client, and we still have not talked about your project in the blog, contact us in any convenient way to prepare for publication.
Expert in media marketing.
Speaker of specialized events on the topics: journalism, sales and media marketing.