Margo iMage: "I love looking at the happy faces and smiles of my clients after their makeover"
We will send the material to you by email:
Время чтения:

6

мин.
Who is an image stylist and who needs one? How to distinguish a good stylist from a bad one and where to learn from him, stylist-image maker Margo iMage answered these questions.
I am an image stylist. I create a personal style from scratch, transform the style to suit the client's tasks, and teach stylish tricks. Simply put, I decorate, motivate, teach, increase self-esteem, give a new look at myself and style as a resource for success.
Why do fashion weeks show what people don't wear in real life?
Catwalk shows at fashion weeks are spectacular and promotional events where fashion-media representatives, major authoritative bloggers and public figures who have weight in the fashion industry, and major buyers are invited. After all, fashion is primarily a business and quite serious. Therefore, the collections are made as spectacular as possible and consist of the so-called show pieces. They are made in 1-2 copies for display. Subsequently, they can be sold from the show or placed in any of the brand's flagship stores. In general, catwalk collections show design developments in the field of silhouettes, cuts, decor, prints, color combinations, and stylish wearing techniques. In doing so, they take into account the brand's DNA and fashion trends.
How do you tell a good stylist from a bad one?
From my point of view, a good stylist, before starting work with the visual aesthetics of the client, will study his inner world well and be able to understand what tasks he faces. After all, by changing the visual range, the stylist changes the impression of a person that he makes on the people around him. In fact, he interferes in the life of the client. This is quite a responsible job. Ethical communication and confidentiality are also important. As a rule, clients want support, good mood, increased self-esteem. When communicating with a client, you should always keep this in mind.
A good stylist, before starting work with the visual aesthetics of the client, will study his inner world well and be able to understand what tasks he faces.
How to make it clear to the Client that he has no taste?
The expression "you have no taste" should not be part of the stylist's vocabulary. When communicating with a client, you can say that these colors give him a tired or unhealthy look, so it is better to refuse them. Either this cut does not take into account the features of his figure or distorts the proportions of the body (for example, it shortens the legs or makes the shoulders, arms, torso, etc. massive). We can say that this thing is not relevant or not modern and throws a dozen years to the passport. The stylist must operate with arguments, the main meaning of which boils down to one thing: this thing does not decorate the client, but rather the opposite.
Where can I learn to be a stylist?
You can get an education in Ukraine or abroad: in Russia, Italy, Great Britain, USA for every taste and budget. You need to understand who your client is and where he lives, his mentality is important. This must be taken into account when deciding where to study. I was educated as a personal stylist-image maker at the Image Inn Academy by Inna Evtikhova and at the school of stylist-image maker Anna Maltseva. In addition, I am a certified fashion stylist. She received this specialty on the educational platform UFEG of Marina Loseva.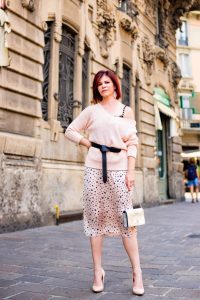 What do you like about your work? What's annoying?
I really like to look at the happy faces and smiles of my clients after the transformation. For me, this is the biggest motivation in my work. I used to be very annoyed by the incompetence in matters of style of people who call themselves stylists. Very often they give a lot of false information on social networks and I had to convince my clients on many issues. But then I realized that it stimulates me to learn and develop in order to provide services at the highest level. With each question in the field of stylistics, I understand thoroughly, lay out, as they say, on the shelves.
How much can a stylist earn in our country?
The market for stylistic services is now developing. This is facilitated by the fact that people begin to value their time more and delegate certain work to specialists. So far, few stylists are earning enough good money in Ukraine. As for specific figures, among stylists they are not very willing to share information about their earnings. In addition, before you start making good money, you have to earn a name, connections, partner and client bases for a long time.
How can a stylist now make himself known to the whole world?
Tell me, do you often hear that stylization in a film or in a fashion show was done by a stylist such and such? Very few people know the names of famous stylists. The stylist is always on the sidelines. Therefore, to declare yourself to the whole world can be very conditional. You can be famous in professional circles. Fame is promoted by success in any well-known project. For example, a fashion show, stylization of costumes for artists, musicians, stylization of videos and fashion photos. This is professional recognition for a stylist.
Who is easier to work with, men or women?
Easier-harder ratings can only be applied to certain aspects. For example, working with men requires a certain psychological preparation. At the same time, men are the most loyal clients, provided that the stylist has proven his professionalism. Women are completely different in this regard. They love options, choices and are always ready to consider them ad infinitum. This is especially evident in shopping and in the desire to try to get services elsewhere, even if they liked everything.
Do the shop assistants hate you? 🙂
Unfortunately, there is such a phenomenon, especially in our country 🙂 but fortunately not in all stores. At the same time, this phenomenon does not exist abroad from the word at all. They always welcome the arrival of a stylist and help with the choice.
Is there competition and envy in your environment?
As in any professional environment, there is competition. It is due to the limited demand for the services of stylists. But competition is a very good incentive to develop and improve the quality of services. Therefore, personally, I only welcome competition. I didn't deal with envy. Stylists criticize each other from time to time. But I don't think it's jealousy. There are different stylistic schools and approaches: both innovative and outdated, effective and not very effective. And most of the controversy and criticism occurs in this area. But I think that such phenomena exist in any professional environment.
---
The interview was prepared as part of the "Interview with our Clients" project. If you are our Client, and we still have not talked about your project in the blog, contact us in any convenient way to prepare for publication.
Expert in media marketing.
Speaker of specialized events on the topics: journalism, sales and media marketing.