How to make money freelancing while on maternity leave
We will send the material to you by email:
Время чтения:

3

мин.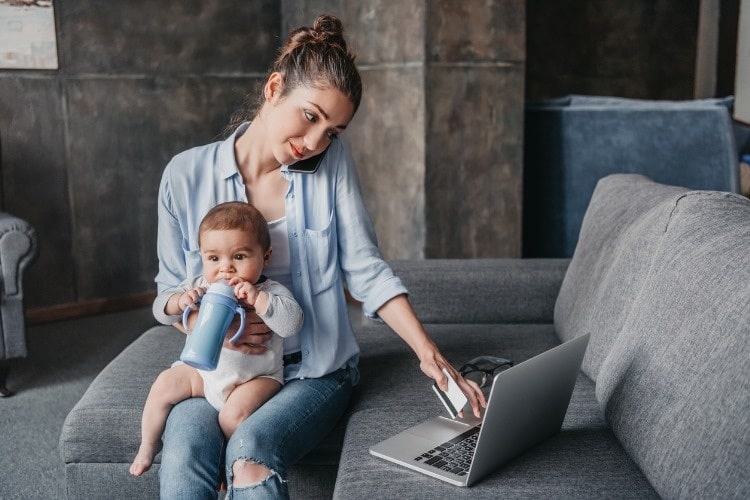 Freelancing is the execution of ordered work from anywhere in the world. At the same time, there is no binding to a specific workplace and employer, with the exception of cases of permanent cooperation. The ability to do business at a convenient time, in a convenient place, has made freelancing an attractive option for maternity leave moms.

About working as a freelancer on maternity leave
Talk about the fact that the fair sex on maternity leave does nothing but raise a child, run a household and run shopping is no longer relevant. Thanks to the development of technology, new professions have appeared, as well as the principles of work in existing areas have changed.
The presence of a computer, mobile gadget, fast Internet allows you to do almost any business. Moms on maternity leave can use their smartphone or laptop not only for communication, showing cartoons to children, but also for full-fledged work.
The necessary conditions
Despite a certain freedom in freelancing, there are still certain conditions for it. The main advantage of this principle of work is the ability to be anywhere and work according to your own schedule. But customers of services do not tolerate delays, and an explanation like "I urgently needed to go to the store for baby food" is not appropriate here.
In order for maternity freelance to be beneficial, including financial, the following conditions are necessary:
free access to the objects of labor (computer, smartphone, tablet, etc.);
lack of fear to take even complex orders (programs, texts, images, etc.);
performance of work according to the established deadline;
keep in touch with employers;
use of specialized exchanges, sites where orders are placed.
Since freelancing involves remote collaboration, it means that payment will be in the appropriate mode. For convenience, provide yourself with a bank account, access to webmoney and other ways to receive rewards that are convenient for you.
Payroll guidelines
Freelancing is completely different than in the office. Often orders from one client are one-time (if you like each other, then you can cooperate on an ongoing basis). Payment can be made in different ways: for one order or for several at once.
If you interact with the same client or work for any agency, wages can be paid 1, 2 or more times a month. It depends on the terms of cooperation.
Since it is difficult or impossible to control freelancing work, payment, as a rule, occurs for the amount of work performed or at the rate that was originally indicated in the order. The more projects you take on, the higher the income. Also, its size is affected by the degree of complexity of the work.
On freelancing on maternity leave, you can earn from $ 100. There is no upper limit, because it depends on the conditions, volume, quality of work. On average, you can receive up to $500-700 per month. It is also possible to build a full-fledged career and earn decent money without having to return to a stationary workplace in the future.
Pros and cons of working on maternity leave
Working on maternity leave, like any other mode, has advantages and disadvantages. The advantages include:
flexible schedule;
a large number of orders on exchanges;
opportunity to choose a place to work;
combine with household chores;
decent income.
The main disadvantage of maternity freelancing is the lack of stability. A permanent place of work assumes that in the middle or end of the month they give out a salary. Freelancing rarely does that.
Another disadvantage of this format is self-discipline. Without it, it will be impossible to achieve success in this field. There is no order that can be observed in a traditional office. There is no clear work schedule. So it all depends on the freelancer.
Conclusion
Freelancing is one of the results of the technological revolution. It allows moms on maternity leave to dilute their days and get paid for it. But in order for such work to be joyful and profitable, it should be treated accordingly.
Internet marketing expert. Head of marketing agency MAVR.
Business degree "Master of Business Administration" (MBA).