PRNEWS.IO Review: Placing PR Publications on News Sites Around the World
We will send the material to you by email:
Время чтения:

8

мин.
What is PRNEWS.IO
PRNEWS.IO is a convenient tool for posting publications in the online media of the Russian Internet and around the world for PR, reputation, marketing tasks, getting backlinks and for other purposes.
This is a service for PR, reputation and digital agencies, PR and SEO specialists, PR and marketers of companies, and even for a person with no experience in this area who needs to place their material in online media.
The service is built as an online media store for posting articles in the media. The directory now has 50,000 sites in 200 countries. For each, you see the conditions of publication, full information on traffic and metrics, prices, available additional options.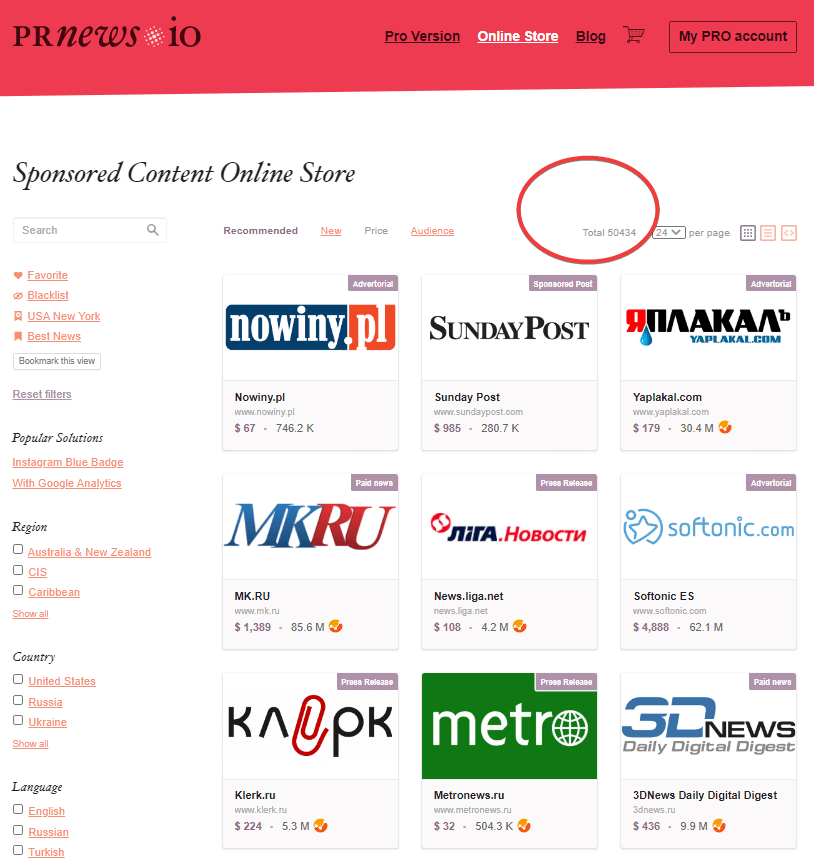 Convenient filters allow you to select the options you need, for example, by country, language, subject, link type, material format, audience, metrics.
For deeper analysis, sorting and selection by detailed criteria, there is also an Advanced filter.
You can publish any texts on the sites from the Catalog: articles, press releases, news, interviews, biographies, native advertising, etc.
Service Benefits
PRNEWS.IO has a number of advantages in comparison with independent search and communication with the media, as well as working through link exchanges. Namely:
the widest range of quality media: options from the lowest to the TOP for each country and region, the world's leading media;
guaranteed conditions: the service works with all sites directly, without intermediaries, therefore it is responsible for all the specified conditions of placement and terms. In comparison with link exchanges, the service is not intended in its pure form for link placements through webmasters, therefore, for both PR and SEO tasks, you will always be sure that high-quality material will be placed in a normal (not hidden or basement) section, gets into live feeds, and that neither the material nor the links will be lost after a week.
complete information on each site for analysis: audience, traffic sources and dynamics, a full set of SEO metrics;
any payment method from any country: by card, by bank transfer (including from Europe or anywhere in the world), WMZ, BTC. A common scenario for using the service is paying in hryvnias/rubles for publishing in the USA, Nigeria or Korea, for example, or vice versa. The service takes care of all transactional issues and costs.
support: each client is accompanied by a personal manager who is ready to help with any questions;
work on custom requests: the service helps to solve non-standard client requests with specific media.
Additional services from the service in addition to the publications themselves:
guaranteed views of articles using banners / teasers on other sites;
guaranteed targeted views of articles using push notifications on other sites;
strengthening articles – several outlets in other media to increase the weight of the original source + imitation of the work of journalists who "picked up" cool news, increasing the chances of getting into news feeds and stories.
Writing, rewriting, translation – and all this in any language of the world from native speakers.
Analytics on article views in your personal account
PRO version with additional functionality for agencies and professionals (more sites, special filters for sensitive tasks, uploads, custom lists and other features)
assistance with publications for verification on Instagram, Facebook, getting a page on Wikipedia, for applying for a talent visa
How to get started with PRNEWS.IO
The first thing to do is register an account.
You will have:
a personal account through which you will post all publications, track the results;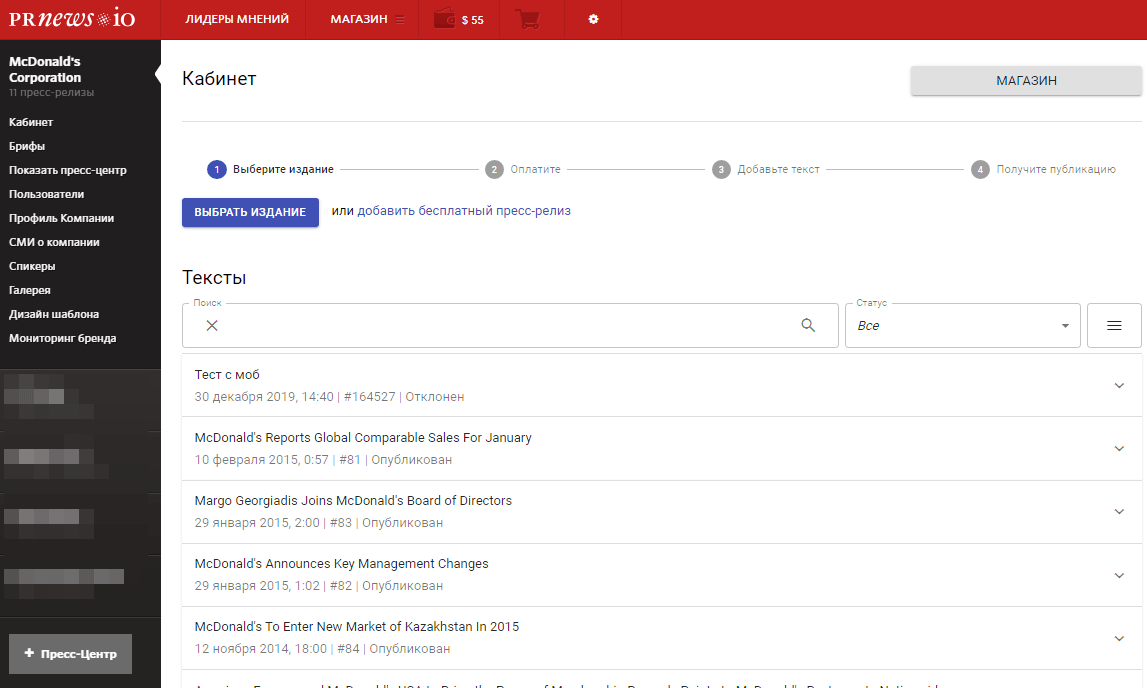 access to all metrics and data for each site
your first press center, which you can already design, fully use, post press releases for free.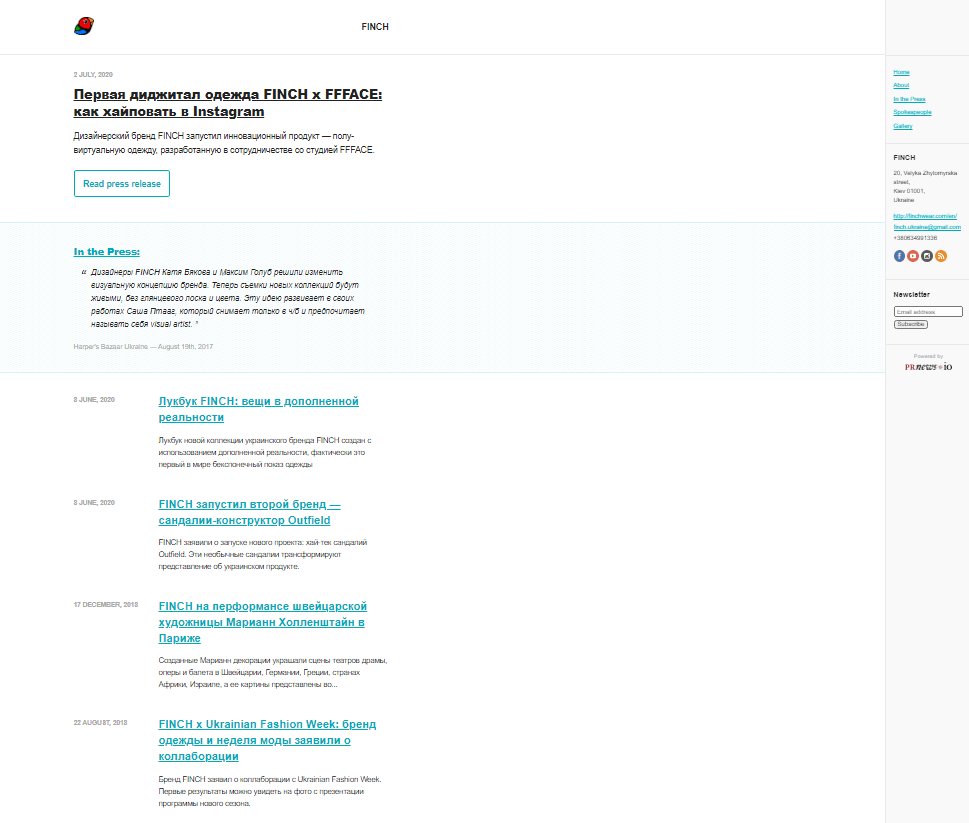 After registration, the manager will contact you. If necessary, he will hold a presentation and suggest how to select resources and place publications.
You can customize the system for yourself: change the interface language, currency.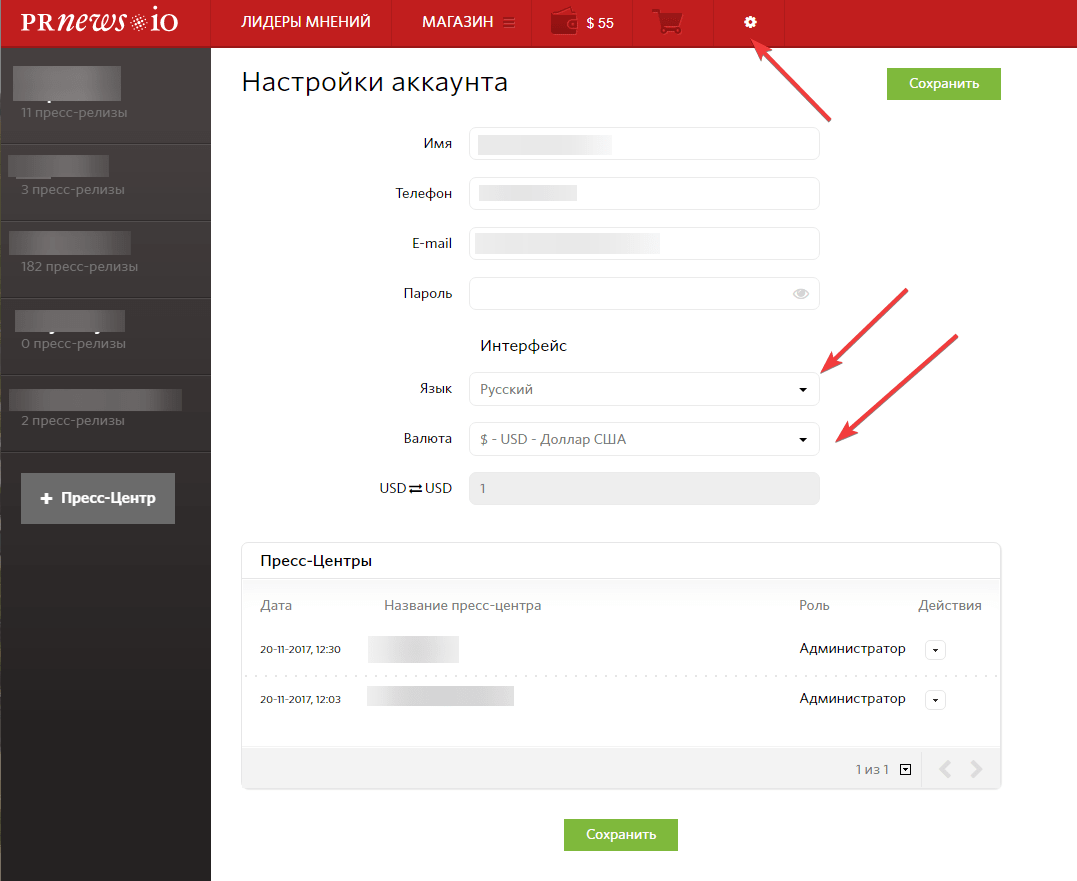 How to choose resources
It is convenient to use filters to select resources.
The main filters on the main page of the catalog allow you to select the desired region, country, city, language, subject, text format, type of media, broadcast to news aggregators, additional conditions (announcement on the main page, whether there is a plate, type of links, etc.).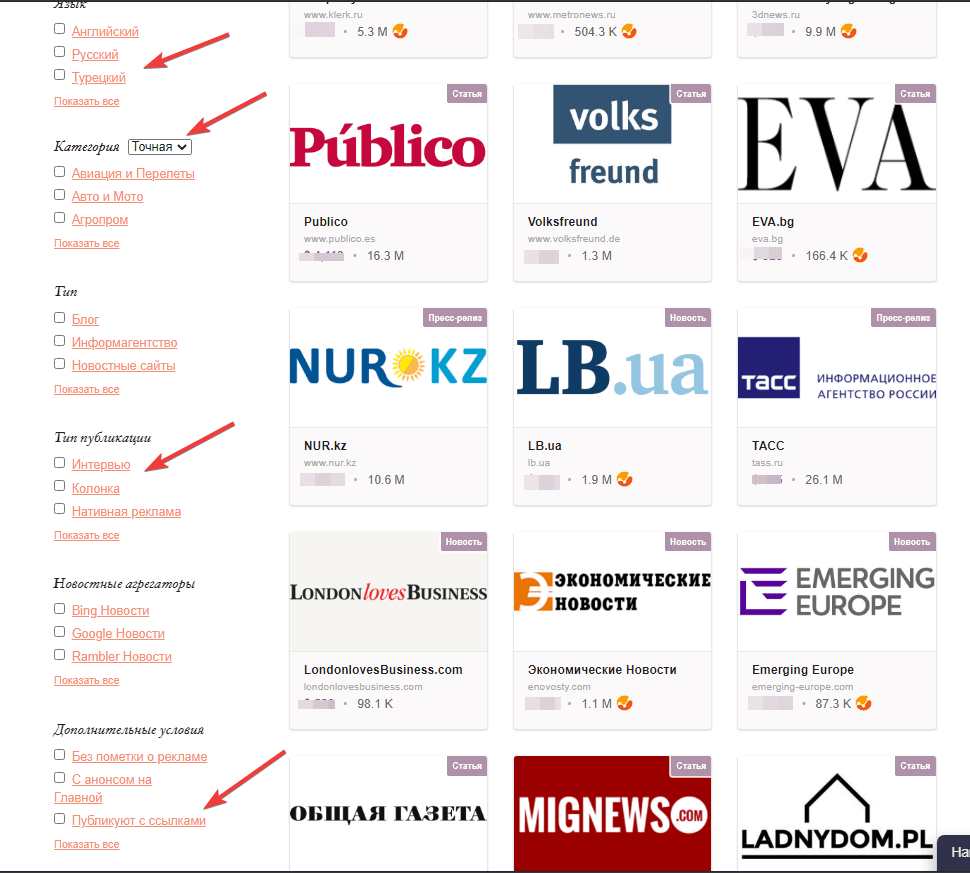 On the top panel, you can set a range or sort by price, date added to the catalog (select new sites), audience and traffic.
There is an interesting opportunity to select countries by traffic if they belong to another country. For example, among Polish sites, choose sites with Ukrainian traffic, or vice versa – Ukrainian sites with Polish traffic, which indicates a significant component of immigrant readers. Or, if you have already selected all the interesting sites in Austria, you can consider German and Swiss sites with significant Austrian traffic.
And more importantly, in such a situation, you can always tell PRNEWS.IO managers that you need new Austrian sites for such and such parameters, and new options will be worked out and added to the media catalog for this request.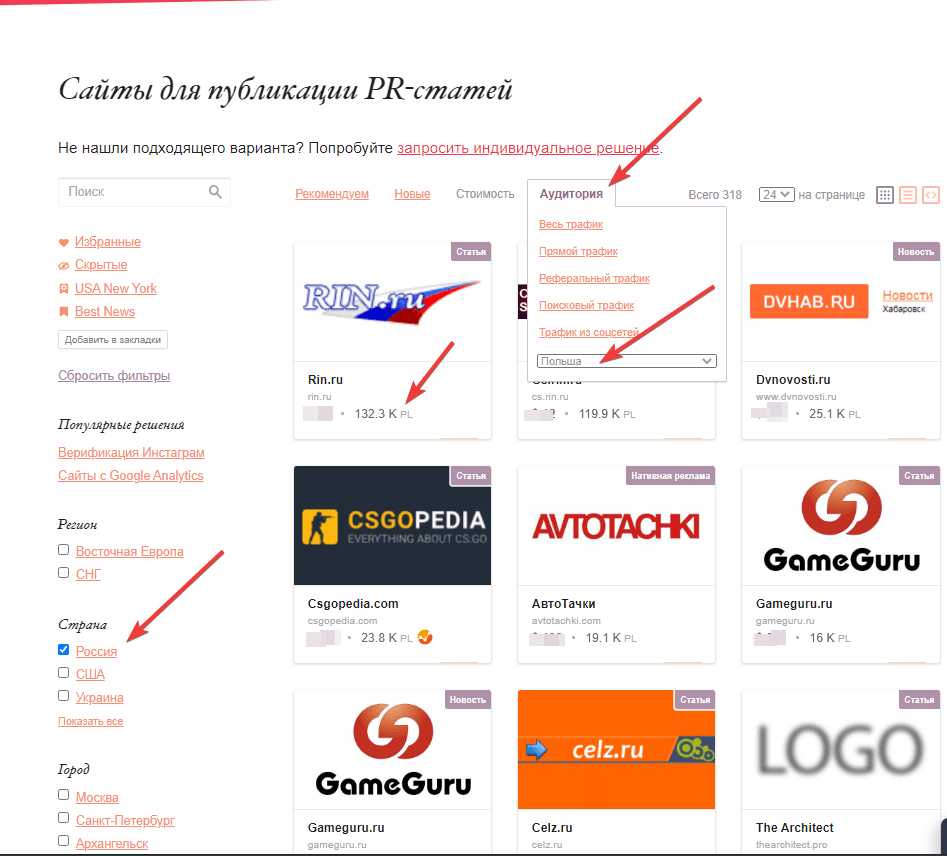 If you need to go deeper into site metrics, you can use the Advanced Filter.
Here you can display the necessary data – attendance, direct traffic, Yandex X, Ahrefs Domain Rank, Moz Domain Authority, trust, spamming, and so on.
You can set ranges, for example, looking for US resources, price from 50 USD to 300 USD, traffic over 50,000, Ahrefs Domain Rank over 30.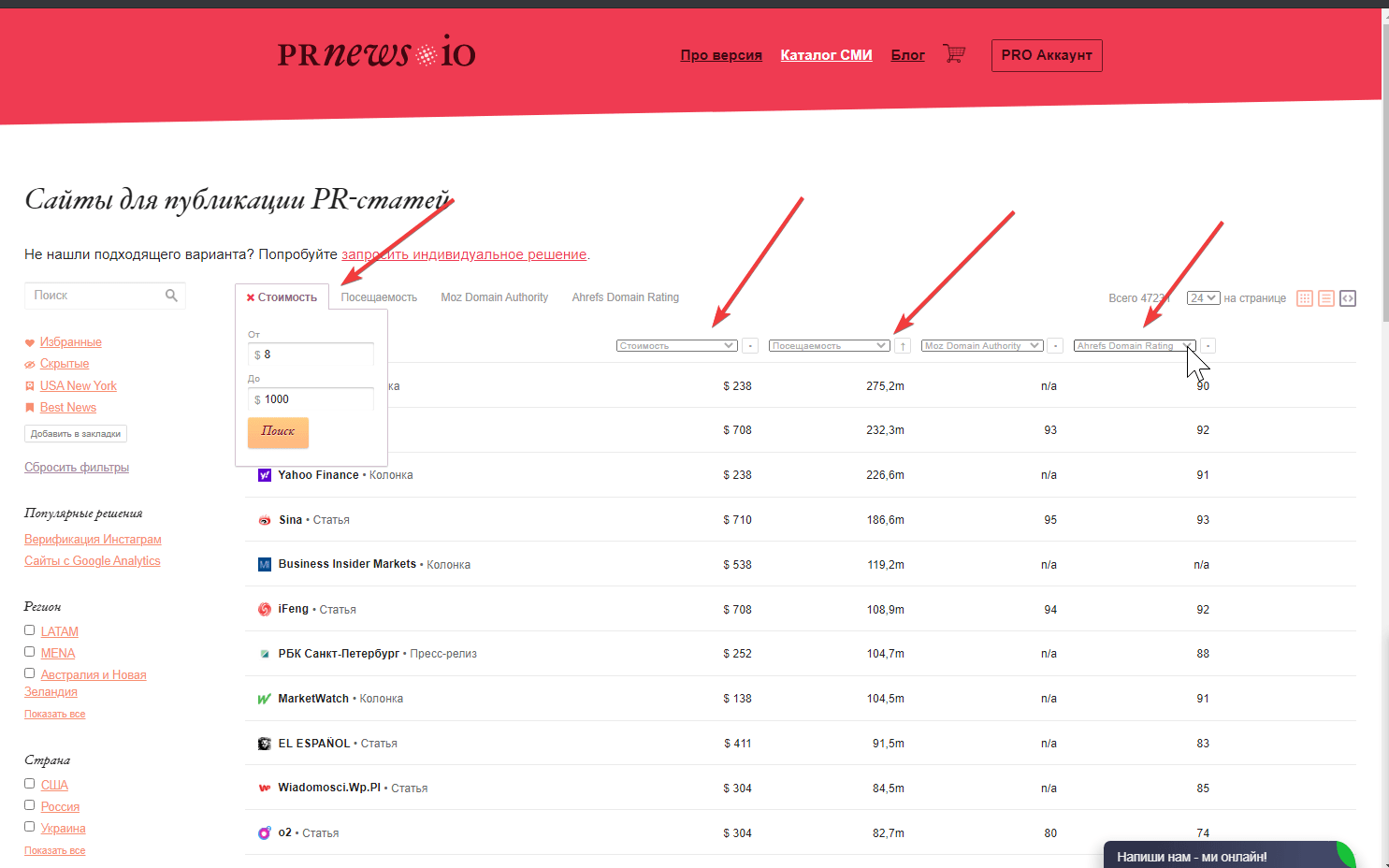 When you are interested in a certain site, you can go to its card and study in detail all its metrics and publishing conditions: in which section, how many links and what type, will there be a note about advertising and which one, an announcement on the main page, how many illustrations, text size, term the release of the publication, whether it will be eternal or temporary, etc.
For each site there is an example of placement.
In the price tag on the right, you see the base price and what options you can add, such as: writing, translation, rewriting, +1000 views, reposting to social networks, and so on.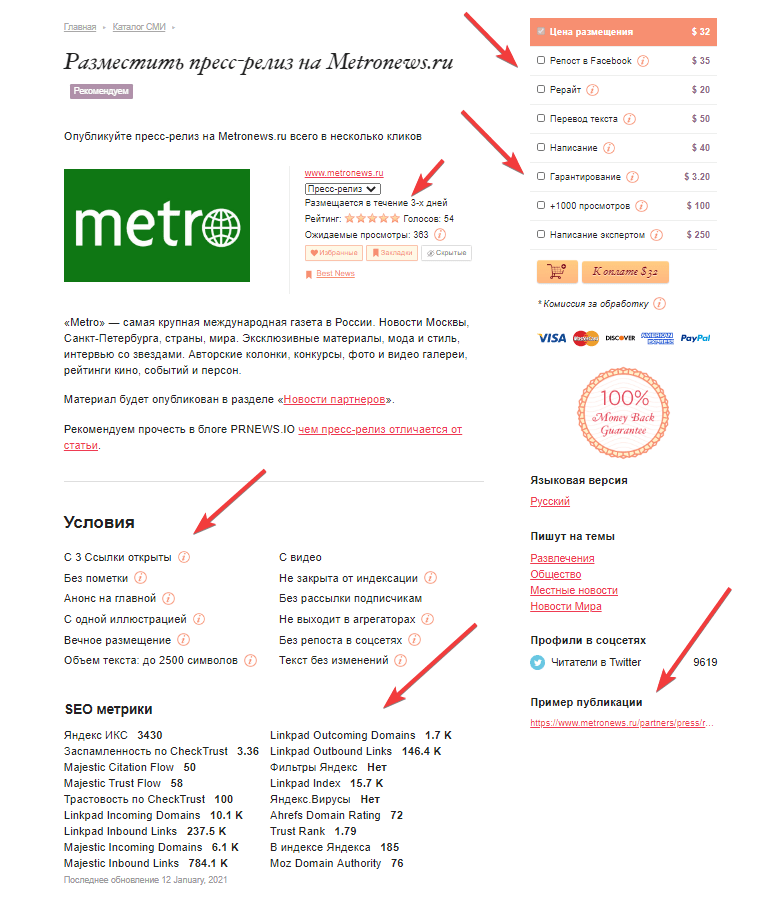 How to post
We chose a site – add it to the cart, pay in any way.
Alternatively, you can replenish the balance and then buy sites from the balance.
After payment, the ordered sites will appear in the personal account in the form of buttons. Click on them and go to the interface for adding text.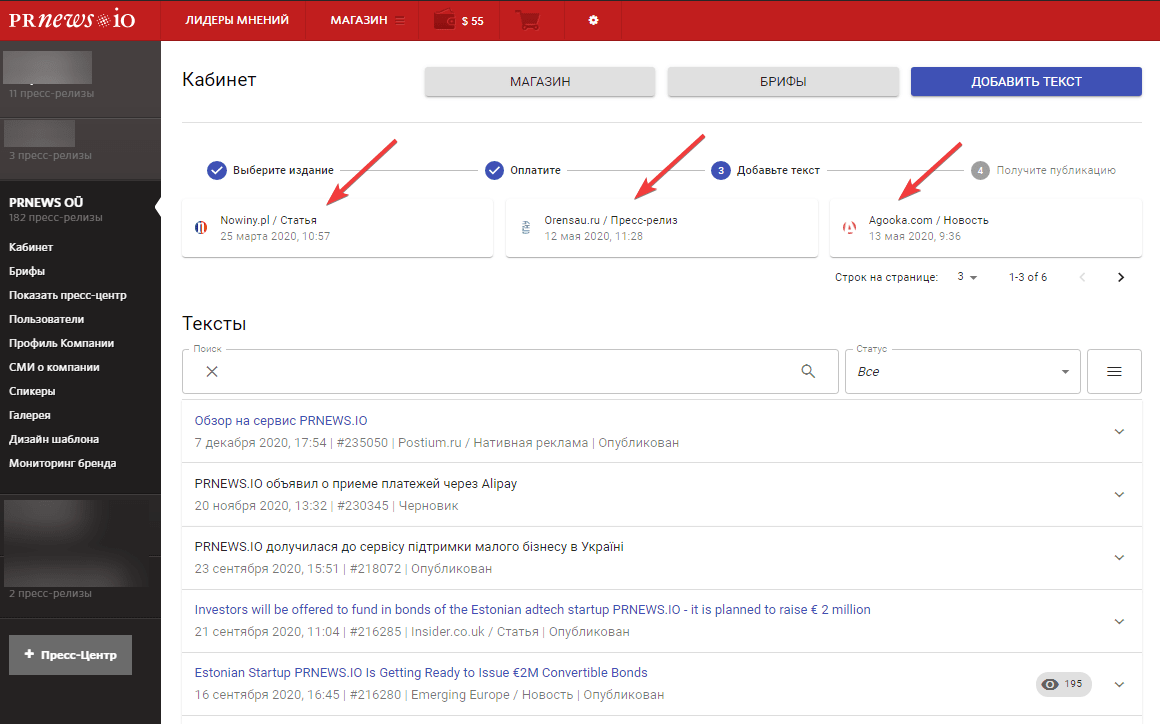 Fill in your text, add links, pictures, you can – additional comments for the publisher. You can use HTML markup.
If you need the material to be released on a certain day or not earlier than a certain day, the system also provides for this.
All filled in, click "Publish" and the text goes to work. The term of placement is indicated in the card of each site. Usually this is a few days on the Runet, in different countries it can be up to 5, up to 10 days, depending on the site.
The real average time for posting an article through PRNEWS.IO is 24 hours.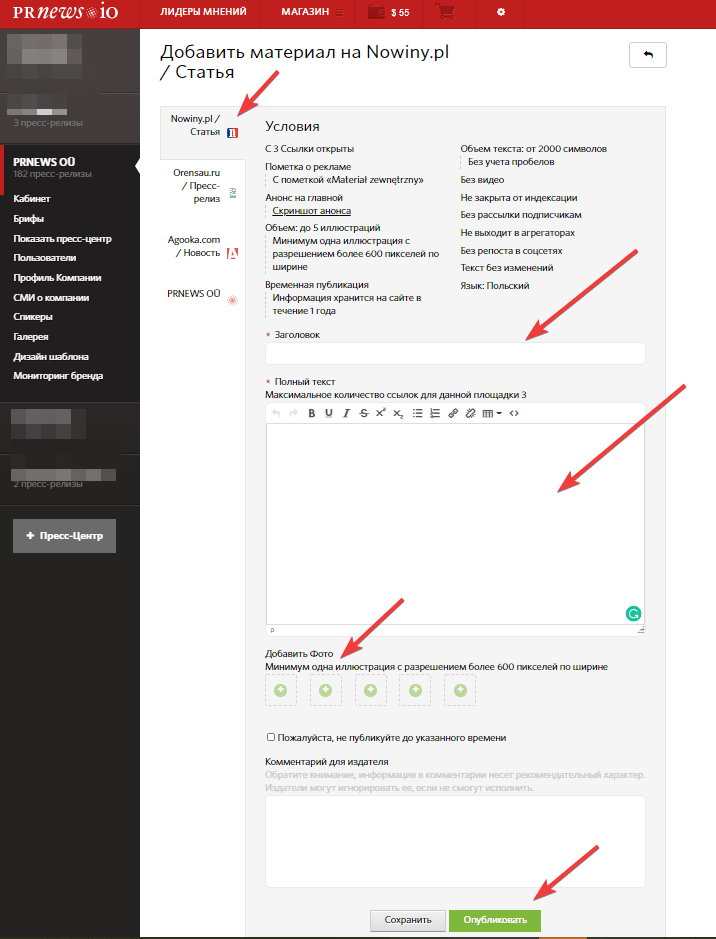 How to track results
As soon as the publication is published, a link will appear in your personal account and the status of the order will change to "Pending confirmation". You will also receive an email notification with this link.
If the publisher has any questions during the order process, he will write to your personal chat under the order, and you will also receive an email notification.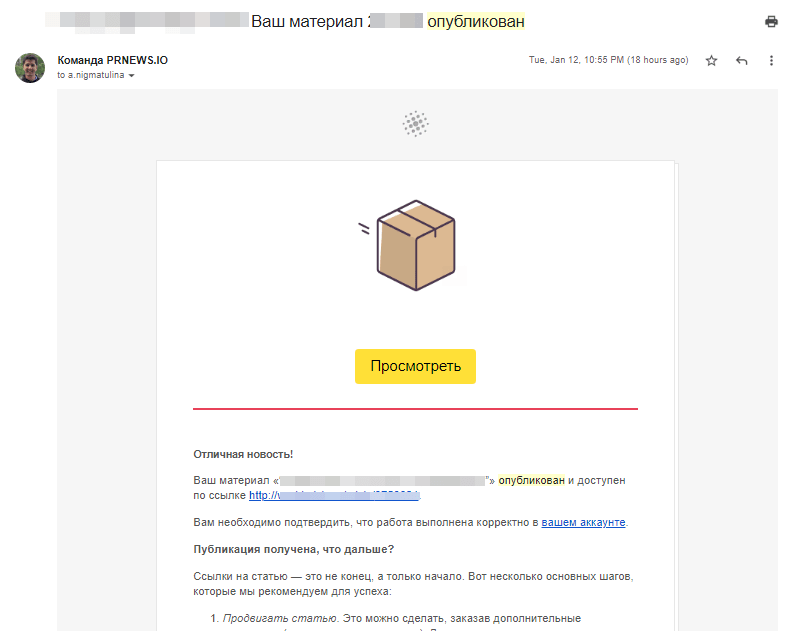 If for some reason your publication is not posted (for example, a sensitive topic does not suit the resource), then the order will be canceled immediately and the funds for publication will automatically be returned to the account balance. You will receive a notification by mail and you can pick up another resource to replace it.
At any stage, you can contact the manager via the support chat on the PRNEWS.IO website, by mail, on Facebook, by phone or in any other way, and they will help you.
View analytics is connected to 1000 sites and you can track the views of your materials in real time.
In your personal account, you can upload all posted publications, which is convenient for reporting.
By the way, the transaction history is also available – everything is transparent and understandable.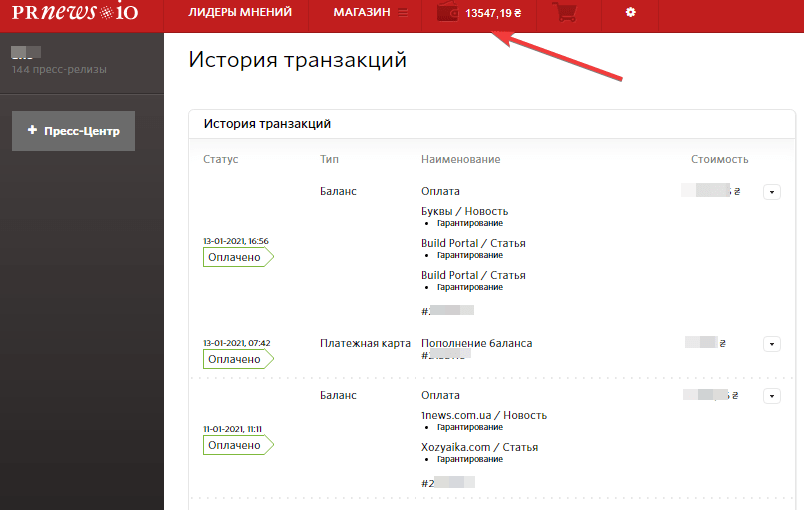 How to get into the catalog for a publisher, media, webmaster
If you have your own media, you can also add it to the Media Catalog so that PRNEWS.IO clients consider your resource for their tasks.
To do this, simply write an email to media@prnews.io and they will tell you how to connect.
What is the advantage for you – an additional sales channel, automation of orders, timely payment, filtering customers and texts – orders reach you in the best possible way and everything is as simple as possible.
Each publisher also has his own account on PRNEWS.IO, through which he receives and implements all orders.
How the affiliate program works
You can recommend PRNEWS.IO to your colleagues, partners, clients, acquaintances for whom such services are relevant – invite them through your personal affiliate link and receive a commission from their orders.
You can find your link in your personal account, in the settings, and the terms of the affiliate program can be found on the PRNEWS.IO website.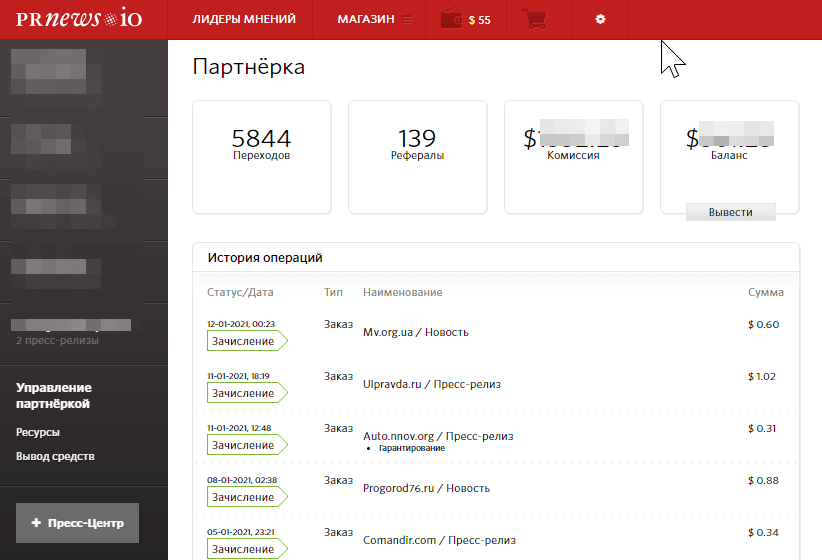 Outcome
PRNEWS.IO is an indispensable tool for PR managers, SEO specialists, marketers, SERM specialists to place publications in the media as quickly and efficiently as possible, solve professional problems of any complexity and receive help and support at the highest level at any time.
Come and evaluate for yourself! 🙂
Internet marketing expert. Head of marketing agency MAVR.
Business degree "Master of Business Administration" (MBA).