Advantages and disadvantages of the program for promotion on Instagram SocialKit
We will send the material to you by email:
Время чтения:

3

мин.
Today, Instagram is undeniably one of the most popular social networks in the world! And if a few years ago, Instagram could be described as a convenient social network for sharing and evaluating photos, now it is a full-fledged business platform!
With a good Instagram strategy, you can promote everything from women's clothing to massage services.
By the end of 2016, the main problem on Instagram that all entrepreneurs and startups face is the information glut of the market. The abundance of posts flashing in the feed reduces the chances of reaching the target audience. It's not even about sales! The minimum is to become noticeable to your target audience.
That is why manual promotion of an Instagram account has long been insufficient. You write beautiful texts at least three times, even if you are the most brilliant photographer, you cannot do without systematic promotion.
A professional service or program tailored for the promotion of Instagram accounts can help in this matter. One such tool is SocialKit.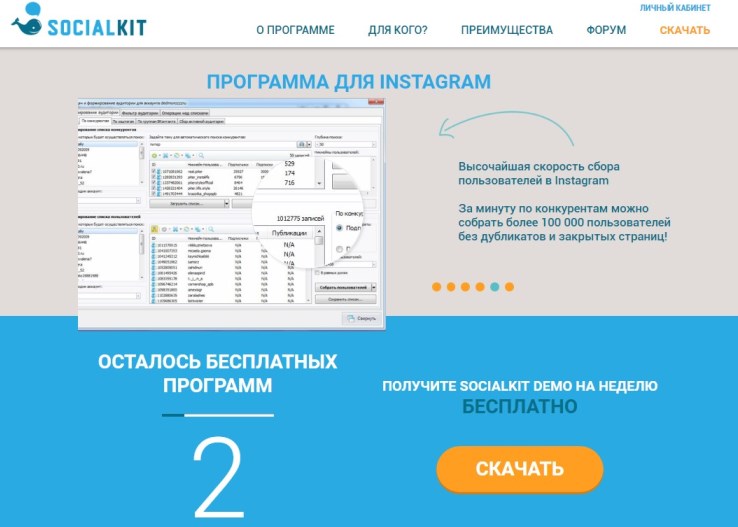 Compared to other services, this program has a number of differences. First of all, it is truly multifunctional! Over 30 useful options and lots of fine tuning.
To get this SMM dream, you just need to register on the site and download the program in your personal account. The developers offer two options for the program:
SocialKit Demo (free version, limited functionality).
SocialKit Pro (paid, full version. (Cost from 23 to 43 rubles a day, depending on the license validity period).
It is noteworthy that the demo version has no restrictions on the time of use. You use it until you want full functionality.
Benefits of SocialKit
Here are the main benefits of the SocialKit program that I personally experienced in my work:
Unlimited number of connected accounts;
Ability to create new accounts and edit them;
Ability to link accounts to Facebook profiles;
Option to collect a base of target subscribers (by keywords, according to the list of competitors' subscribers, through the search for communities in VK);
Fine-tuning filters for sorting the collected base of potential subscribers;
You can follow hashtags;
It is possible to automatically place likes and comments when new entries appear in the profiles of certain accounts;
You can unsubscribe users;
You can like and comment on user posts;
The ability to perform delayed posting and set up a geo-position for posts;
It is possible to integrate the program with other services (for example, services for captcha recognition and SMS confirmation);
Export and import of the received information in a format convenient for you.
It is possible to set up tasks in bulk mode.
See also: Programs and services for promotion and promotion on Instagram
Disadvantages of SocialKit
Of course, like any other program, SocialKit has its drawbacks.
First of all, the program requires detailed study. Due to the multifunctionality, it is immediately difficult to figure out what's what;
Do you work both at home and in the office? You will have to install the program both there and there;
When creating a task, you need to pay attention to all the settings. Otherwise, you run the risk of setting an inaccurate task and getting the wrong result that you expect;
When uploading a new post, you can not immediately find out where to find emoticons, where to upload a picture and how to format the text.
But it is necessary to separately note the quality and efficiency of technical support. With any question, you can contact both the online consultant on the site and find answers on the forum. The program is constantly updated and modernized, which is pleasantly pleasing.
To summarize all of the above, we can say that SocialKit is a convenient tool in cases where multitasking and systematic operations are important.
Internet marketing expert. Head of marketing agency MAVR.
Business degree "Master of Business Administration" (MBA).