Bulk email platform overview — Snov.io
We will send the material to you by email:
Время чтения:

4

мин.
Email marketing continues to be one of the most effective marketing tactics for generating leads and driving business growth.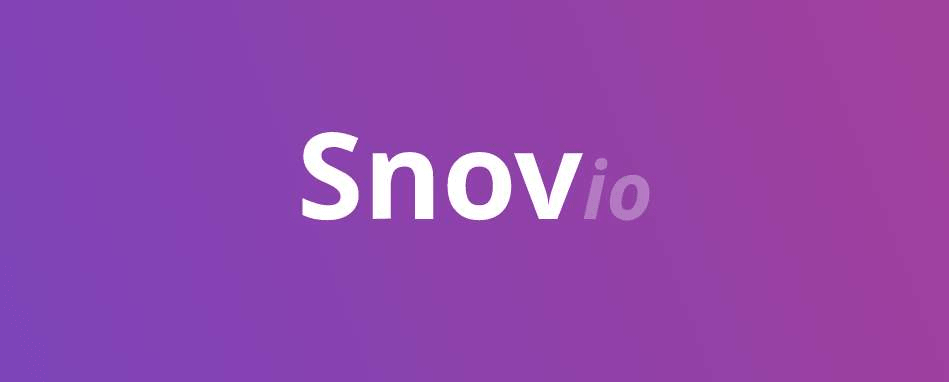 Snov.io is a SaaS platform that provides its users with the ability to launch and run a successful email marketing campaign. It is an all-in-one easy-to-use tool that helps professionals and entrepreneurs successfully navigate through all stages of email marketing. You have full control over the process of lead generation and mailing settings.
Snov.io main features
Snov.io is a customer relationship automation and customer relationship management (CRM) software designed to help businesses of all sizes generate, validate, develop, convert, search and track leads in a centralized platform. Marketers can create personalized email conversations and campaigns using a drag-and-drop interface to connect with leads, influencers, and media platforms.

To easily run a marketing campaign, four tools are offered:
Email Finder: A browser extension that searches for email addresses on any website.
Email Verifier: tool allows you to check email for validity, activity and usage; each email in the list is color-coded so you can easily delete the invalid ones.
Drip Campaign: An easy-to-use drag and drop system allows you to create a triggered email campaign based on a database that will automatically be sent to recipients.
Gmail Tracker: You can always keep track of sent emails and know how many times each email has been opened and a link has been clicked.
Snov.io Email Finder Tool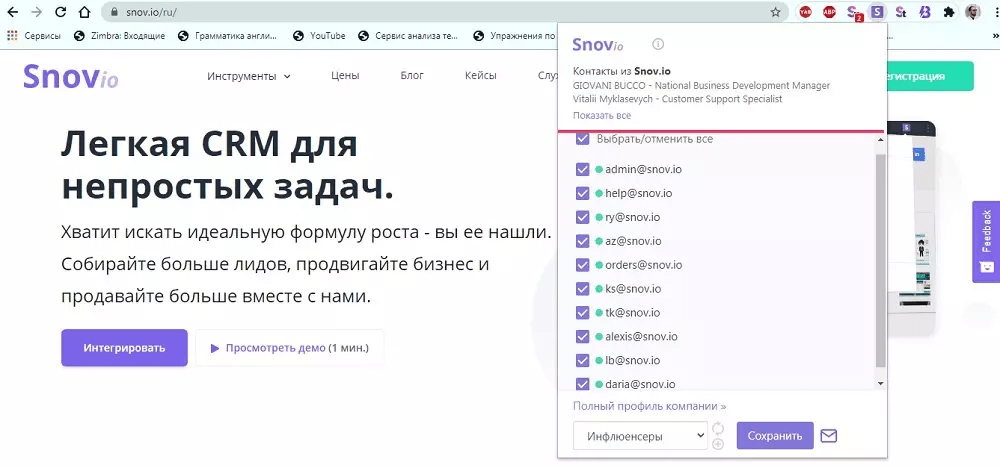 With Snov.io Email Finder, you can find the right people faster with unlimited outbound reach. Email Finder is also available as a Chrome extension and searches for email addresses on the web. This tool makes it easy to find email addresses while browsing a website. You can get email addresses by searching for names and other sources of leads. You no longer need to think about finding out the owner of the email, this tool from Snov.io will do everything for you!
Email Search Tools:
Search by company profile.
Email search through social profile lists.
Search email by name and domain.
Logical search by positions and location.
Electronic search on any site.
Electronic search in professional social networks.

Snov.io Email Verifier Tool

Once the emails are found, you can check them to see if they are all valid and if it makes sense to email them. If you do not check the found emails, the bounce rate may increase and the sender's account may be blocked by ESP. So always use an email verification program and be sure that the emails you send will reach real people.
7-level verification method:
Full email and domain verification.
Syntax check for common errors and incorrect character placement.
Gibberish email check.
Checking for the existence of a domain.
MX record check.
SMTP authentication (ping email address).
Free mail check.

Snov.io Email Verifier is fast and accurate and provides users with three options for verified emails: Valid, Invalid, and General. Invalid emails are best removed from the list of recipients. Contact lists can then be exported to CSV, XLSX and Google Sheets.
Snov.io Email Drip Campaigns Tool
Thanks to this tool, you can send emails at a specific time and date instead of bulk emailing your customers. It's much easier to reach your marketing goal with personalized and targeted automated trigger emails. Compared to other tools, users can add as many emails as they want to the sequence.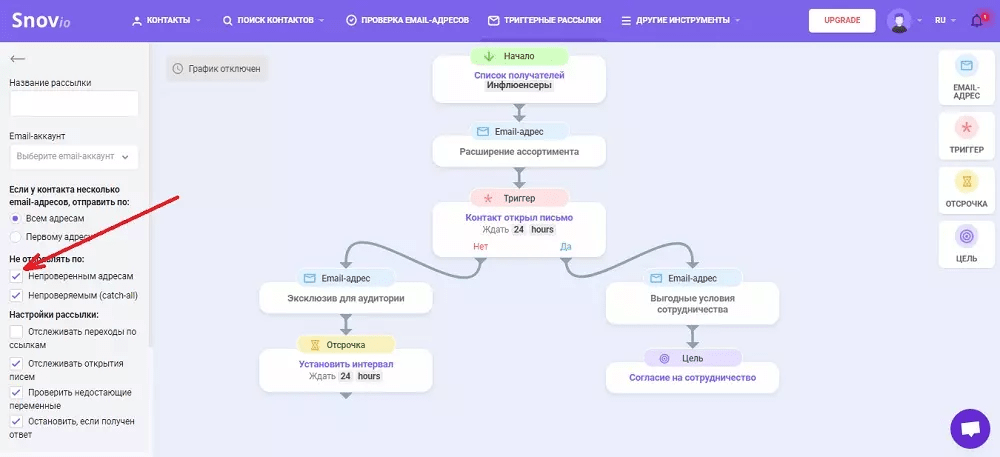 Peculiarities:
Triggers and delays that allow you to send emails automatically.
Scheduling gives you the ability to set up automatic mailing according to your time zone and predefined times.
Personalized emails that guarantee high open and conversion rates.
Plain text emails increase deliverability and reduce spam.
Statistics allows users to know every detail about a running campaign.
Templates are handy for saving time.
The unsubscribe feature allows people to unsubscribe if they are not interested in what you have to offer.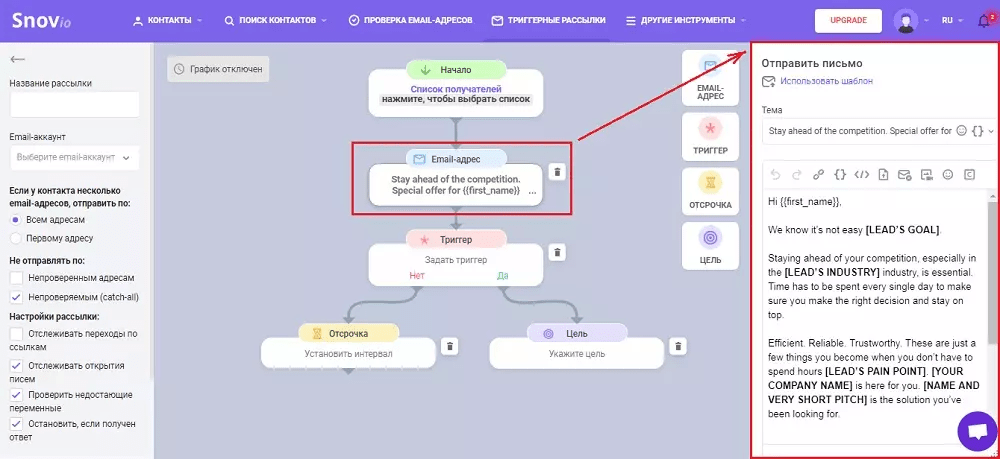 With a drip setup, you can identify the most important triggers for each follow-up action. Drip emails are very helpful in converting a large number of leads in just one click.
Snov.io Gmail Tracker Tool
Emails you send from Gmail or G Suite can be easily tracked. In fact, statistics allow you to find out who opened emails and how many times, the number of replies, unsubscribes and link clicks. The process is fast and completely free. No signatures are added to emails, so you can be sure that no one will know that you are tracking their activities.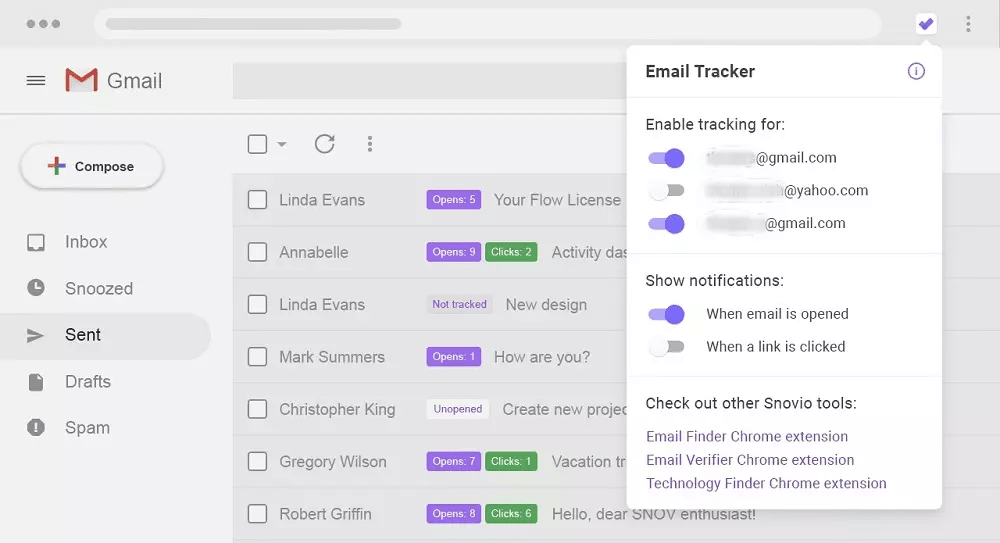 The tracker lets you switch between your Gmail and G Suite accounts, so it's easy to track any Gmail account. With its authorization, you get timely notifications and a complete email history. You can also disable tracking whenever you want in a Chrome extension.
Summarizing
Snov.io is a great CRM for effective contact management and powerful outreach. The platform is good because it has the key features of email search and verification, email tracking and email campaigns. In addition, it is really inexpensive compared to other platforms.
Internet marketing expert. Head of marketing agency MAVR.
Business degree "Master of Business Administration" (MBA).
New social network Clubhouse: development history, how to register, comparison with other applications