The 8 Most Common Reasons for Blocking Facebook Ad Accounts and 1 Obvious Solution
We will send the material to you by email:
Время чтения:

5

мин.
One of the most popular topics on Facebook is account bans.
I'll tell you about the most common reasons that I learned over several years of working with Facebook – why accounts are blocked and how to reduce the risk of blocking. I will not write about black ways. Maybe next time 🙂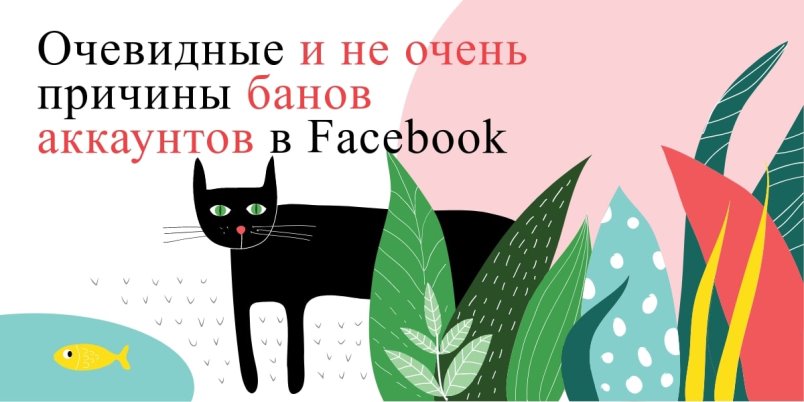 Possible reasons why FB is blocked
They mark a domain that was blocked in another account.
It is not advisable to add to the admins those accounts whose advertising account has been blocked.
1 advertising account = 1 card
Mismatch between billing country and account country.
The bank card must be registered in the name of the account holder.
Do not allow the situation that FB cannot write off funds for advertising.
Lots of similar actions in a short amount of time.
Complaints about ads from users
In my experience, the key reasons are: 1, 3, 8.
1.
Example: they blocked an account with ads for domain X. I took another account, created campaigns for the same domain, a minute after sending it for moderation, the new account was blocked. Since my accounts were blocked a bunch of times, I tried to use the same creatives (text, picture) and completely different ones in new accounts with domain X. The results are the same – ban.
Solution: Keep a couple of other domains handy.
3.
There was an N card in the blocked account. In the new account, I advertise for a new domain, but I add the same card. The result is a ban.
Solution: issue additional cards in your bank, use customer cards.
8.
Too subjective reason, which is difficult to understand and, unfortunately, influence. Knowing the rules of advertising, which can be indicated in the text and pictures, is not enough.
By hiding comments, you can only influence the effectiveness of advertising, and not conditional "karma". The problem is that the difference between "fierce negative" and "moderate negative" is not clear.
There are accounts that I still can't unlock. Exactly because of this reason.
Caringly standard support response: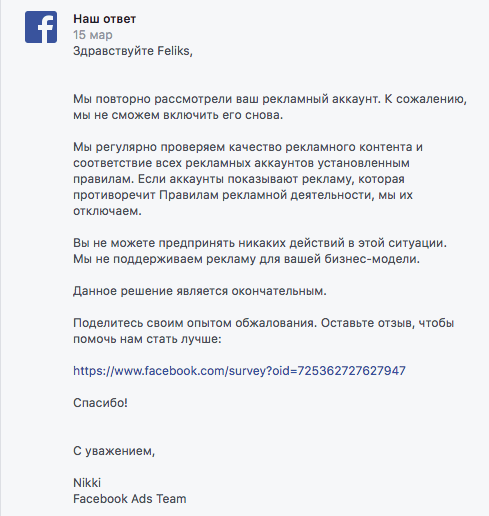 Let's deal with the rest of the reasons for blocking the Facebook advertising account
2.
The reason is indirect. If you add a person with a "bad reputation" to your ad account, it is very rare that your account is instantly banned.
If you add a football team of bad users, then you can get banned, but this rarely happens.
This is more of an indirect reason, which, in combination with others, affects the account ban. In my experience, it strongly affects cause 8.
4.
If you work in the Russian market, it is difficult to get banned for this reason. Create a client account or use your own – choose Russia. Overslept and chose the wrong time zone? It's okay, it does not affect the ban. It is inconvenient to look at statistics for advertising and nothing more.
It often happens that Facebook blocks an account for the reason "it feels like your card was stolen and we will secure your account – verify the card if we are wrong"
You will be prompted to follow this link – https://www.facebook.com/help/contact/531795380173090 – and confirm the card. Go ahead, confirm. In this case, support is friendly and should unlock the account quickly.
5.
There was a time when Facebook blocked for a mismatch between the card details and the name of the account owner. You could add a card in someone else's name and Facebook instantly blocked the account. Today it is one of the rarest causes.
Facebook sometimes blocks and says: "it feels like you stole the card – confirm the card if we are wrong"
Confirm the card by following the tips in the previous paragraph.
6.
You can get a ban:
if you constantly forget about payments. For example, for 5 or 10 times when Facebook fails to charge money.
if you paid off the debt after a few months (or even years).
If you forgot about the payment a couple of times for several hours or days, it's okay.
Be careful and always keep the required amount on the card.
7.
Maybe, but rarely.
Copy a bunch of ads, send for moderation; copy, send copy, send and so on for half a day.
Take breaks if you are going to work with a lot of ads in your account all day.
Important point:

If there was a history of communication with the support service and the situation was resolved in your favor, subsequent bans are very easy to appeal and much more difficult to get a ban.
Business Manager (hereinafter BM)
This is a method that solves the maximum of possible problems and reduces the risk of blocking on points 1 and 3.
1) Create a BM if you don't have one.
There is no point in writing instructions on how to create a BM.
Facebook to help you: https://www.facebook.com/business/learn/how-business-manager-works/guide
By the way, Facebook has a fairly detailed and understandable knowledge base. I advise you to use if you do not know some settings: https://www.facebook.com/business/resources/
2) Link an existing advertising account to your BM and create new advertising accounts.

For most BMs, a maximum of 5 accounts can be created at the beginning. This is enough for 5 different clients/products and even for budgets up to 3-4 million per month if you want to advertise the same product from different accounts.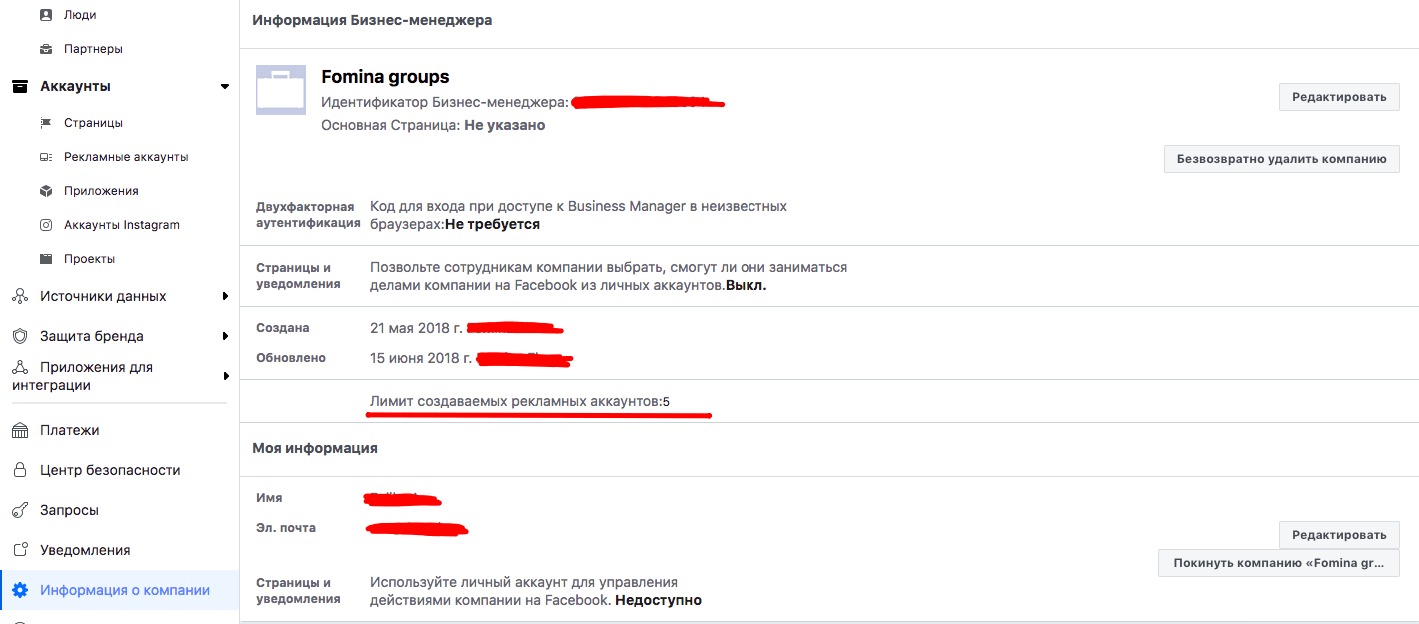 You will be able to use one domain from different BM accounts and add one card to all accounts.
Do you want to increase the number of accounts?
2 ways:
Write to the specialist in the chat that you want to increase the number of accounts. Come up with a good reason yourself. The simplest one is "you have a lot of clients and you need a separate account for each one".
Gradually use each account. You can even advertise the same product. You will be able to create more accounts soon. I know that there are 50 active accounts on Business Manager, and even 800.
Links to customer support pages
Appeal Forms.
https://www.facebook.com/help/contact/531795380173090
https://www.facebook.com/help/contact/2026068680760273
Chat with a live manager (write in English): https://www.facebook.com/business/form/chat or at the bottom of this page https://www.facebook.com/business/resources.
I advise you to communicate personally with the manager – they respond faster, it is easier to solve problems.
Author: Felix Antipov.