Screen capture apps for PC, Android and iOS
We will send the material to you by email:
Время чтения:

9

мин.
A wide variety of screen capture applications allow you to record from any device – from smartphones and personal computers. With the help of special programs, you can not only "capture" any actions, but also edit the resulting video, as well as put it on the Internet. Recording software is especially popular among bloggers, gamers, IT specialists, and those who just want to share what is happening on the screen.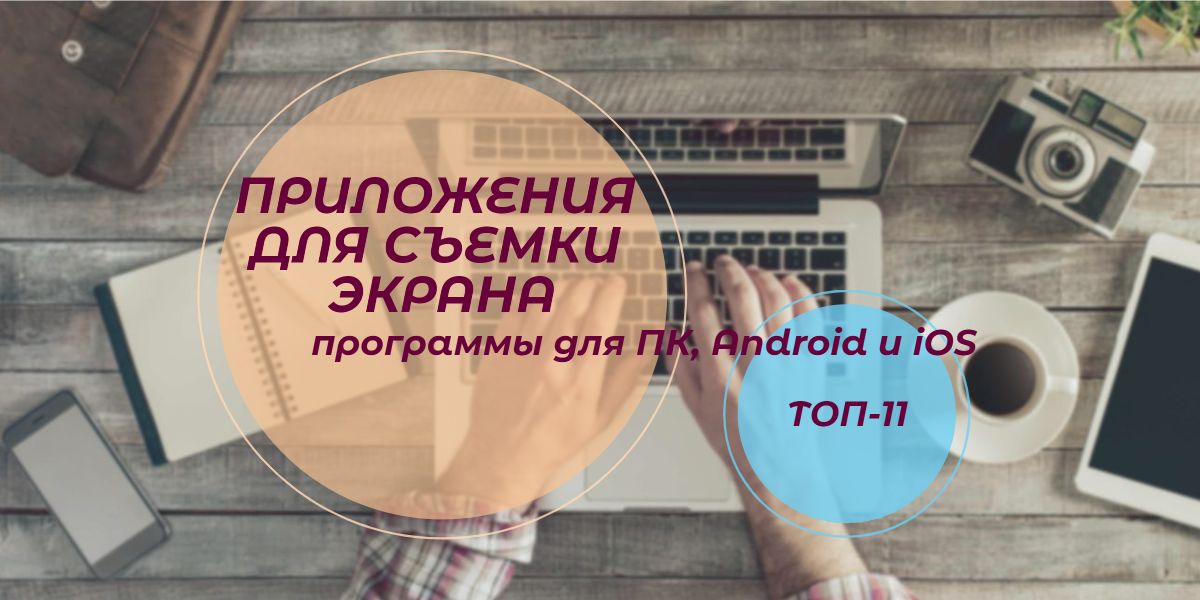 Programs for personal computers
The list of programs for recording a screen from a PC under Windows has more than a dozen offers. Some of them are offered for free, others have a trial version, the functionality of which is enough for shooting.
bandicam
Link to the service https://www.bandicam.com/ru/
A well-known program that has gained popularity among users due to its accessible interface and rich functionality. The Bandicam app has the following features:
screen capture with sound;
the ability to select any area of the screen for recording;
processing the received record;
broadcast directly from the webcam.
Additionally, the application allows you to record the area around the cursor, as well as read data from DirectX during the game mode.
The full Bandicam program is paid, while the free version has limitations:
the presence of a watermark;
The recording is only available for 10 minutes.
One of the features of the program is that you can see the size of the video directly during recording.
Pros
Cons

user-friendly interface available in Russian;
the ability to save the recording of the game in high quality;
recorder mode is available from several sources;
the ability to set up delayed recording;
cursor highlight;
You can record in MP4 and AVI format;
the presence of a logo to protect the filmed material.

The trial version is limited to a recording time of 10 minutes;
high license cost.
Screen camera
Link to the service https://screencam.ru/
A computer screen capture application created by Russian developer AMS Software. This is a practical and convenient software that allows you to capture various video materials, including games, with subsequent saving. Equipped with high-quality tools for editing the resulting video. The result can be saved to a computer or laptop in any format, as well as put on the Internet.
With the application you can:
create a video tutorial or presentation;
process the video;
upload the resulting video to DVD;
put the footage on youtube.
The program is paid, the developers offer a trial evaluation period for 10 days.
Pros
Cons

high-quality recording, which can be made without time limit;
accessible interface in Russian;
the ability to add beautiful titles;
use of voice acting and music;
you can record and save in any format;
the ability to cut off the excess.

The trial version has a time limit.
Movavi Screen Recorder
Link to the service https://www.movavi.ru/screen-capture/
The Movavi Screen Recorder app for capturing a computer screen is as simple as possible. Simply select the desired area to create a video with sound, and click on the red circle. In the process, you can add cursor highlighting with a reaction to touches and displaying keystrokes.
It is better to create videos in Movavi Screen Recorder in MP4 format. A significant plus is that the choice of frame rate is available. According to users, Movavi Screen Recorder is a convenient software for beginners and experienced users.
Pros
Cons

the ability to create a screencast;
the presence of a delayed recording scheduler;
in the video, you can customize the display of the cursor by adding highlighting and displaying key combinations;
during recording, you can add a picture / screenshot to the video;
capturing an image from a webcam separately from the screen;
recording sound from a microphone or computer without an image.

during the trial period, system video recording with sound is not available;
The watermark in the free version makes it difficult to watch videos.
OBS Studio
Link to the service https://obsproject.com/ru
OBS Studio is suitable for recording video from laptops running Windows and MacOS. According to users, the software is ideal for beginner streamers, it can be used to record presentations and master classes.
The functionality of OBS Studio organizes broadcasting on:
YouTube;
Twitch;
Facebook;
Mixer, etc.
Available video recording formats are .mkv, .mp4, .ts, .flv, .mov.
Pros
Cons

Russian-language simple interface for recording computer screen;
mixer for working with sound effects;
the ability to record from multiple sources;
integration with streaming creation services;
the presence of transitions and filters to improve the quality.

high requirements for system indicators;
there is no way to edit videos.
Apps for iOS devices
Developers of mobile devices based on iOS have provided a built-in option for recording a screen with sound, starting from version 11. To get more advanced functionality and create high-quality videos, you can use special applications for iPhone or iPad.
DU Recoder
The application received a lot of positive ratings. It makes it easy to record screen video to your phone and share images to Facebook, Twitch and YouTube video platforms. It is possible to create private broadcasts.
The video recording editor works according to the classical scheme, it allows you to edit the captured videos, including the overlay of voice and filters.
Pros
Cons

the ability to set personal watermarks;
theme variation;
pause timer;
a sufficient toolkit that allows you to edit recordings without connecting to a PC.

Most of the functionality is only available in the paid premium version.
Screen Recorder+
Link to the service https://apps.apple.com/ru/app/%D0%B7%D0%B0%D0%BF%D0%B8%D1%81%D1%8C-%D1%8D%D0%BA %D1%80%D0%B0%D0%BD%D0%B0-%D0%B2%D0%B8%D0%B4%D0%B5%D0%BE-%D1%81-%D1%8D%D0% BA%D1%80%D0%B0%D0%BD%D0%B0/id1380506650
A popular software is Screen Recorder+ for iPhone, which will be appreciated by gamers. Combines the best features of the functionality to create high-quality videos with sound.
Available useful options of Screen Recorder+:
Broadcasting on YouTube and creating your own comments.
Select resolution and recording format.
Face Cam feature to add your own reactions to certain videos.
One of the main "chips" of the Screen Recorder + program is the ability to insert current memes and stickers directly into the video.
Pros
Cons

intuitive editor;
over 100 music tracks to overlay on videos;
the ability to download music from iTunes storage.

The application is only suitable for gadgets with software version 11 and higher.
RecPro
Link to the service https://apps.apple.com/ru/app/%D0%B7%D0%B0%D0%BF%D0%B8%D1%81%D1%8C-%D1%8D%D0%BA %D1%80%D0%B0%D0%BD%D0%B0-%D0%B2%D0%B8%D0%B4%D0%B5%D0%BE-%D1%81%D0%BE-%D0% B7%D0%B2%D1%83%D0%BA%D0%BE%D0%BC/id1486354391
From the application it is easy to record video from the phone screen in HD quality, and then edit using the advanced functionality of RecPro software:
The ability to remove the background online, add stickers, filters.
Adding a reaction with audio comments is available.
You can share the created video directly from the application.
Allowed to rotate video.
Pros
Cons

various video scales;
wide range of video and sound editing tools;
playback speed control.

RecPro is only suitable for iOS, starting from version 11.
Apps for Android devices
You can capture a screen for Android OS using programs for creating video with sound. The system developers have not yet introduced such an option into the mandatory functionality of a mobile device. Solve the problem easily through special applications.
Super Screen Recorder
Service link https://play.google.com/store/apps/details?id=com.tianxingjian.screenshot&hl=ru&gl=US
Super Screen Recorder is a very simple yet very functional software that allows you to record your screen with just two clicks. The program is distinguished by the presence of a convenient translucent button, with which you can stop recording the video completely or pause it. It is visible on top of all windows, which allows you to manage the software without going into it.
Super Screen Recorder has a built-in small video studio, the functionality of which allows you to add stickers, shorten videos, change the speed mode, etc. The program is one of the top options for Tik-Tok and Instagram bloggers.
Pros
Cons

a large variation of parameters in the settings, including the choice of frame rate, orientation, etc.;
the ability to add your own watermark and text to the video.

You can disable ads only in the Pro version.
XRecorder
Service link https://play.google.com/store/apps/details?id=videoeditor.videorecorder.screenrecorder&hl=ru&gl=US
A popular app among Android device owners. It is a kind of clone of the Super Screen Recorder program for the following functionality:
button with settings on top of all windows;
wide customization options;
select video creation mode.
If Super Screen Recorder does not function on Android or works with errors, you can replace it with the XRecorder application.
Pros
Cons

interface understandable even for a beginner;
the presence of a drawing panel, which can be used during recording;
functional video editor;
the ability to trim the video.

Availability of advertising banners.
AZ Screen Recorder
Service link https://play.google.com/store/apps/details?id=com.hecorat.screenrecorder.free&hl=ru&gl=US
A well-known software among applications for recording video for Android OS. The popularity of the program can be easily explained by convenient controls and advanced settings. AZ Screen Recorder creates high quality videos.
Program features:
screen resolution selection from 240p to 1080p;
video speed control;
transfer rate up to 12 Mbps;
frame rate varies from 24 to 60 FPS.
You can extend the functionality of AZ Screen Recorder for Android OS using the special utility AZ Plugin 2. Installation allows you to:
complete the text
compress and merge videos;
overlay your own audio tracks, edit the musical accompaniment of the video.
The application is shareware, additional features appear after purchasing the premium version of the program.
Pros
Cons

wide functionality;


choosing a way to stop recording,

convenient for the user;

the ability to remove ads;


clear and convenient recording managementью.

Full functionality is available only after purchasing the premium version.
Mobizen Screen Recorder
Service link https://play.google.com/store/apps/details?id=com.rsupport.mvagent&hl=ru&gl=US
Completely free software for the Android OS, monetized through advertising. The functionality of the application has a built-in editor of shot videos that allows you to connect records, add audio and photos, and correct selected moments.
Mobizen Screen Recorder allows you to include webcam screenshots in videos. However, they may be disproportionate.
Pros
Cons

free software with a clear interface;
the presence of a "clean" mode, in which during the shooting of the screen you can hide all unnecessary objects.

abundance of advertising;
Videos shorter than 5 seconds are not shown in the editor.
Conclusion
The choice of screen recording software depends on the source device. For correct operation and security, you need to download it only from official sources. All applications are as simple as possible and accessible even for novice users, but at the same time they have wide functionality.
Internet marketing expert. Head of marketing agency MAVR.
Business degree "Master of Business Administration" (MBA).