Freelancer's workspace – how does it look like?
We will send the material to you by email:
Время чтения:

4

мин.
I'm really glad that my main job is copywriter-freelancer. It's good to be independent and not tied to the place of work. But on the other hand I'm working at home and do not communicate with people during working day. It helps to focus on the process, though sometimes I want to chat with somebody. I guess you understand me.
I'm not alone in this position. Today many people prefer freelance. Problem of appropriate workspace is very important for them. So where could freelancer efficiently work?
It can be house, flat or even forest hut with internet access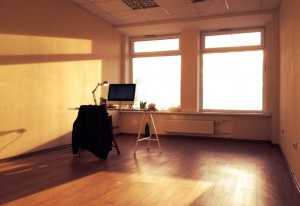 I like working at home. As I found out it's quiet in my house during the working day. So nothing should distract me from focusing on what should be done.
Pros:
It's free of charge;
It's comfortable at home;
No distraction from colleagues that you observe all the time;
There is no necessary communication with colleagues, that may frequently distract;
Working day begins when I need it;
I do not spend time to reach destination.
Cons:
The fridge is always by your side saying "oh come on, have a snack", and the bed persuades "there is no need to hurry, sleep a while longer".
Sometimes you can not speak to somebody when you want to.
Working process may be interrupted by moms/dads, girlfriends/boyfriends, husbands/wives, children, always hungry cats and neighbors.
A lot of time is spent at home, there is a risk to become vegetable. But this also motivates me to go in for sports that I didn't notice previously.
Working at night. I'm not doing this for example but many freelancers may work until morning. Though it's hard to determine if it's useful for them or not. In Japan and China people die from constant excessive work.
Anti-Cafe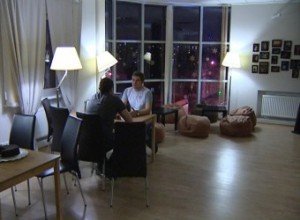 Such establishments may be just fine for freelancers.
Pros:
Every day you go outside. No risk of becoming a vegetable;
In anti-cafe you may get acquainted with interesting people. During those few times I visited such places I crossed with really interesting personalities all the time.
There is ability to have fun there after a working day is over;
All anti-cafes are situated in the city center. So you may always find a great place to have lunch. Though any anti-cafe has mini-kitchen and you may have a meal there;
There is a library containing not only imaginative literature;
You may visit such place for a day as an alternative for staying at home.
Cons:
Working day will cost you 50 UAH and more.
Not all anti-cafe open up at 9 o'clock. For such morning person as I'm it's inconvenient to start work at 12 in the afternoon.
If there is no separate place for freelancers in the cafe it may be a trouble. Many people come to anti-cafe to have rest. They will likely distract you.
You have to spend time to reach the destination as you do when there is a constant workplace. "Hugs" in municipal transport and other "pleasant" things are at your service.
There are many things that may distract: xbox, board games.
Coworking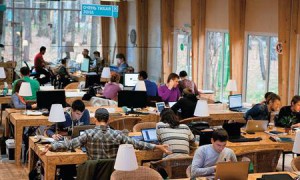 Coworking is an office where you may rent a working table. I had a chance to work in one of such places recently.
Pros:
Great job climate. There is not big difference from company I worked in. You'll have access to board, flipchart, projector, meeting room. Those things are very useful sometimes.
You are surrounded by professional programmers, designers, marketing experts. You may ask for a piece of advice. This is in fact very useful.
Regular events dedicated to business, advertising and IT are held there.
You may set your timetable yourself.
You may work as a part of team, of course if you have one.
Cons:
It costs around 100$ a month and more.
I think, you can not do this once to have a rest from working at home.
When I used to work in coworking there were very few people. They were very concentrated on their work. So I didn't have a chance to communicate much. Although it could be because we knew each other only a few days.
You should reach the destination as if you had usual job. I don't like being pressed in the morning underground crowd.
Personal office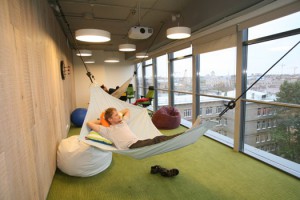 This is ideal choice from my point of view. But it's not appropriate for those who are new to the sphere. I think that only in your personal office you may create working environment appropriate for me personally.
Pros:
In my office I have an interior I like. There is a possibility to design everything due to my taste;
Nobody bothers you;
There is an ability to choose office situated closer to your home;
I may work at night or sleep at work. It's important not to forget about Chinese and Japanese colleagues that die from being workaholics;
You may work as a part of team. With the same team you may have meetings in the office, meet clients and make corporate parties;
You may find an office with excellent view.
Cons:
Personal office is very expensive,
There is a responsibility issue. No one will be checking for me if the lights are off or if the door is closed.
Where do you prefer to work? What do you like/dislike in your workspace?
Have a joyful work.
Author: Dmitriy Fugol, copywriter-freelancer.