Facebook Targeted Ads: Simple Answers to Tough Questions
We will send the material to you by email:
Время чтения:

12

мин.
If we talk about advertising on social networks in general, then Facebook is an ideal platform for learning and training. The benefits are obvious:
Intuitive advertising cabinet;
Ability to use a modest budget (from $1 per day);
Possibility of incredibly detailed targeting;
Lots of tips, informative guide.
But if everything was so simple, there would be no targetologists as a separate position, they would not create entire departments for setting up advertising, and there would not be such a huge demand for targeting issues.
So is it worth it to launch targeted advertising on your own, or is it better to turn to experts right away?
My answer is definitely worth it. Unexpected, isn't it? 🙂
And my answer is yes, because by launching the target yourself, you will be able to evaluate the mechanics of Facebook advertising in practice, see exactly how everything works and draw your own conclusions.
That is why this article will not contain a step-by-step guide to launching a target (there are plenty of such manuals on the Internet). Here I have collected answers to the most important questions for you.
Go?
Campaign test launch – what is it and why?
Unfortunately, there is a myth that with proper targeting, you can get a 100% result the first time in the form of the n-th number of conversions, leads and other key indicators.
Actually, you can. But, as a rule, it will just be a lucky coincidence. And for your ad to be clearly predictable, the first step is to test it.
What exactly needs to be tested?
Ideally, the more metrics you research, the more effective you will be able to launch your campaign in the future:
Texts and images for advertisements;
Ad formats;
audiences;
Placements (options of platforms for displaying advertising);
Ad display schedule;
Schedule for showing ads.
TIP #1: If your budget allows, run a test in a split-test format (launching two ad campaigns in parallel with the same variable. At the same time, the budget can be distributed unevenly).
What are the types of ads on Facebook?
Facebook itself categorizes ads based on the goals you want to achieve. Previously there were:
Traffic.
Conversions.
Engagement (for publication).
Engagement (Page Likes).
Engagement (use of the offer).
Engagement (responses to invitations).
Application settings.
Local recognition.
Video views.
Lead generation.
Now the number of targets has been reduced to 6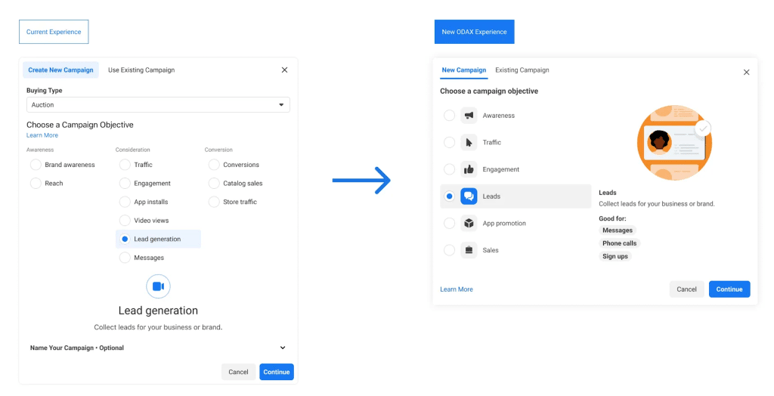 In various sources, the authors do not unequivocally divide advertising on Facebook (depending on placements, depending on the format of the advertisement).
Separately for myself, I divide advertising by format:
Teaser.
Raising a post from a page.
Video advertising.
Dynamic ads.
How to choose an audience to launch a target?
It would seem that everything is as simple as possible – the business owner definitely knows who his customers are. And if you have access to the analytics of the site that the target will actually go to, then finding out the characteristics of the audience is as easy as shelling pears.
But in fact, in the process of setting the target, many questions arise:
What interests to indicate?
How is the audience behaving?
Where does he go, etc.
How to proceed? Study the audience of competitors, study the subscribers of your business pages, test.
If there is no time to study, take a wide audience according to the most stringent criteria (gender, age, geo), and after the test, study the results and cut off the audience segments.
Many thanks to the developers of facebook in general, and the advertising cabinet in particular, for making our task easier to the impossible.
In this matter, you do not need to be a genius and a pro to understand which teasers to turn off. The indicators are clear: reach, clicks, amount spent. In addition, Facebook independently determines each teaser score from 1 to 10. The higher the score, the more effective the ad is considered to be.

How to determine the budget for advertising?
It is enough to spend a minimum on a test run. If it's a post uplift, then the rate can start at $1 per day. If this is a different format, then Facebook will tell you the minimum bid. As a rule, $5 a day is enough to get good coverage. For the convenience of users, there is a column with forecasts in the advertising account. There is also an indicator of the total size of the audience. If the arrow stays within the green sector, that's good. Now in the screenshot, the audience is all of Ukraine, men + women 18 – 65 + without detailed targeting. The rate is $25 per day. That is why the forecasts are so "delicious". For clarity, in the second screenshot, the bet is $5.
After the test run, you will be able to calculate the cost of one lead received and determine what budget is profitable for your project.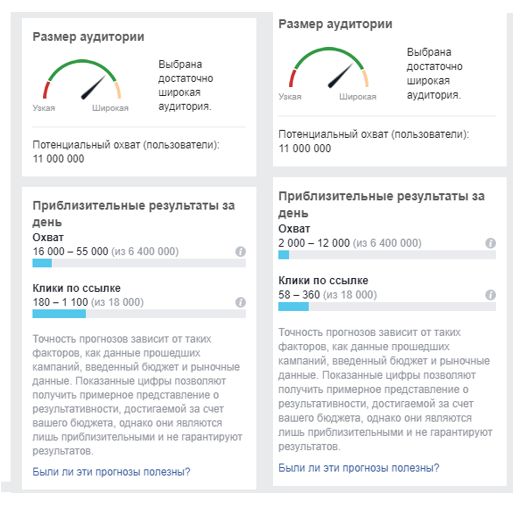 When should you not use Instagram as an ad placement?
Please note that you can run ads on Instagram even if you do not have a commercial account there. But having an advertising account on facebook is a must.
Everything is very simple: if you are not sure if your audience is on Insta and how it will react to ads, test it. A week will be enough to see the big picture.
An important point: Facebook makes it easy for advertisers to optimize ad delivery according to the current trend. This means that if users on Instagram do not interact with ads for a certain time, Facebook distributes impressions so that teasers appear less often on Instagram and more often on Facebook itself. Or vice versa.
On the diagrams it looks like this:

What is the best format to start experimenting with advertising?
If you want to explore the advertising account on your own and feel all the delights of the target, start the test by raising the post. This is the easiest and most convenient option. Moreover, the daily bet per target can be as low as $1. In addition, choosing a post to target is very simple. Open the post statistics for the page and select the post that has already received the maximum organic reach and engagement.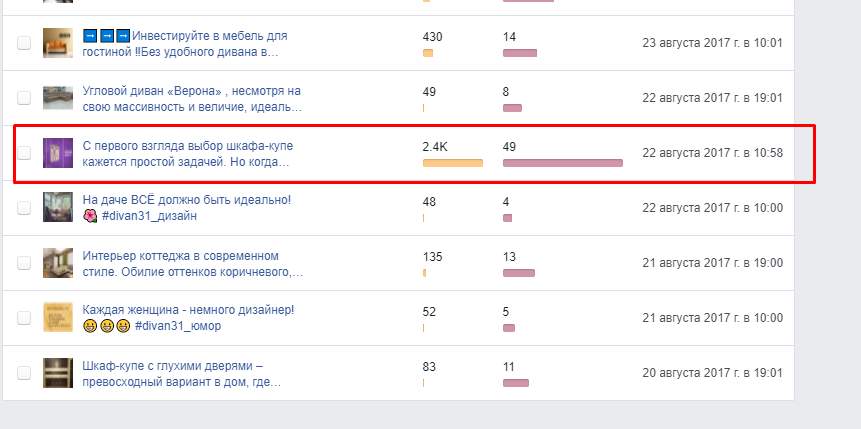 How to evaluate the effectiveness of advertising outside the advertising account?
If you drive traffic to the site, then be sure to use utm-tags in the links and track them in Google Analytics, this will allow you to more accurately determine the number of people who reached the site from advertising. Moreover, do not forget to check the correctness of the set goals in GA in order to track the number of conversions.

If you raise a post without a link to the site, encourage users to take other conversion actions: write comments, call (use a separate phone number to know exactly which ad calls are coming from). Moreover, now Facebook allows you to track even offline conversions (that is, to record who came from an advertisement to your store at a physical address).
P.S. In short, the pixel collects data on those who click on ads. In parallel with this, a group of offline events is created, where data is uploaded on those who performed some action at the offline point (that is, here, in any case, in the store, the manager collects data: phone, first name, last name, it would be nice email ). Then manually upload the data on people. And Facebook matches the lists of those collected by the pixel with our customers. Read more here.
How to track the effectiveness of advertising if the goal is brand awareness?
If you just want to reach the maximum audience without focusing on conversions or lead collection, then it is impossible to reliably track exactly how many people remember your brand name the first time.
The easiest option is to keep track of the number of branded queries in search engines.
But remember, it takes time. After one or even five impressions, a user who does not currently need your product or service is unlikely to form knowledge about your brand.
Therefore, if you really need indicators, drive traffic to the site or motivate users to subscribe to your page through an ad, put likes, repost – in general, perform any conversion actions. And it's better to set up advertising for reach when there is an extra budget J
How can I prevent ads from being seen by my direct competitors?
Do not want to reveal all your trump cards to competitors? Remove them from the list. For example, you want to target people who are interested in manicures and pedicures. At the same time, you are not interested in nail service masters. We exclude the positions of manicure master, nail art and other similar names. Voila!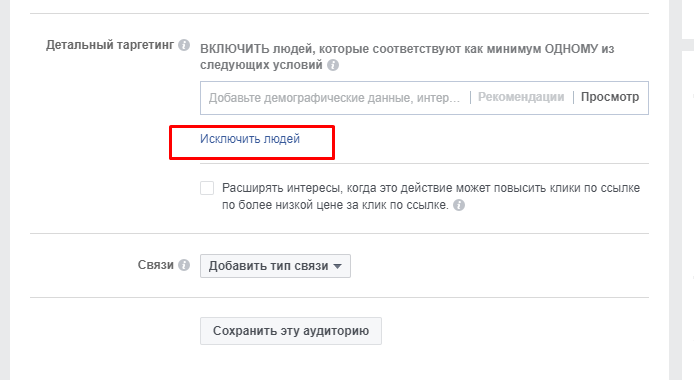 Have you created an audience? Don't forget to save it! Then you can quickly set up another ad for the same audience.
How can I work with an audience that went to my site, but did not perform any conversion actions?
And this is already interesting. After all, if users from the advertisement went to the site, then something interested them. And there are many reasons why they did not take any action:
not needed at the moment
did not like something on the site
not interested in the offer,
did not understand what was what,
distracted business, etc.
However, it would be nice to remind this audience about yourself. That's what the facebook pixel is for!
When creating an advertising account, you need to create a pixel only once. In the future, it can be used for several sites at once.
Pixel – is a code that needs to be inserted on all pages of the site. In addition to the fact that the pixel collects an audience, it also captures key events (which you set up earlier, based on the goals of the advertising campaign). And it presents all the data in the form of graphs, charts and other analytical tools.
How can you expand your audience?
Do you want the audience to be as wide as possible, but at the same time, targeted? Add a list of email subscribers or addresses of existing customers to the database, add page subscribers, add those users that the pixel has collected from your site. And finally, for the general audience, you can create a look-a-like list and add that as well.
What is look-a-like? This is an audience that is created using the Facebook algorithm based on all the characteristics of those users that are already in the database. In other words, this is a similar audience to your original one, which is most likely to be interested in your advertising.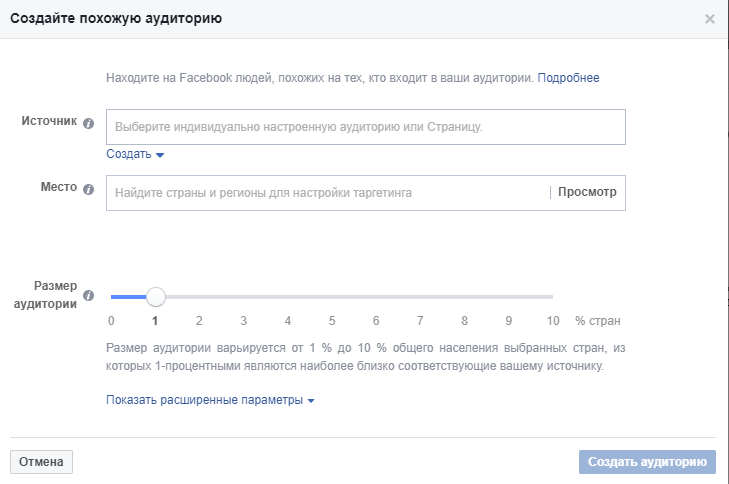 What are facebook promotions and how to use them?
At the dawn of promoting your page, Facebook may offer a coupon for a certain amount for targeted advertising. This is a great opportunity to test the target for free.
*Screenshot of the promotional coupon in action (already charged $17.05)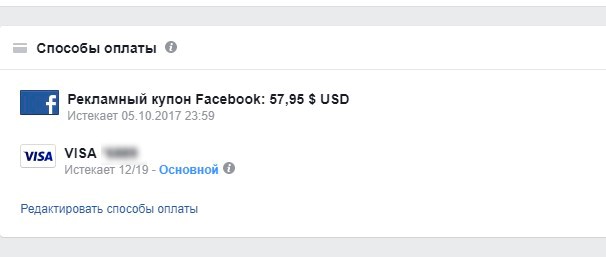 There are some nuances: Facebook offers a certain format of advertising and a certain budget. So, for example, for one page, he can give a coupon for raising a post for $30, and for another, traffic to the site for $75. After activation, the coupon is valid for a month. The settings may also vary. As a rule, the functionality for coupon advertising is limited. For example, there is no way to prescribe interests and behavior in detail.
But you can set geo, age and gender.
Facebook can also choose a post for promotion on its own. And you can't change his choice.
To activate coupon ads, you just need to follow the instructions on Facebook. You don't need to enter any promo code. But you still have to connect a valid credit card to the advertising account.
After the coupon advertising starts rolling out, debits from the account will periodically occur (according to the settings for billing thresholds and limits). Don't worry, all write-offs will first come from the coupon until the amount of advertising costs exceeds its size.
To avoid unnecessary costs, immediately set limits for an advertising campaign or set up a billing threshold.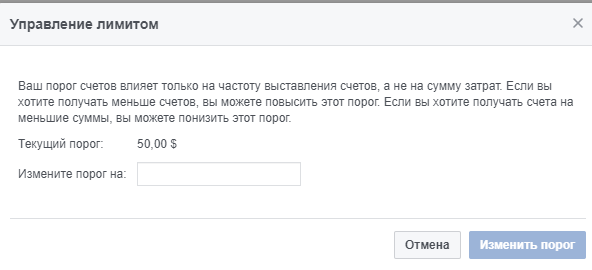 How often to follow ads?
The more often, the better. You need to look not only at the charts and the price for the result. Check advertisements for comments. Not all users understand what they want from them and can leave a variety of comments, ranging from commercial requests to negative reviews and hatred.
To always be aware of what is happening, install the Ads Manager app on your phone and control ads anywhere in the world.
Do's and Don'ts: Facebook Ads Mistakes
Don't expect quick one-shot sales. Of course, it all depends on the offer, niche, ad settings, teasers. But remember, Facebook ads don't sell. You are selling!
Pay attention to the offer (your product / service)! Even the most ideal advertising will not work if you have significant "sides": the order form on the site works crookedly, inattentive managers, the product description does not correspond to reality, etc. Therefore, do not run ads until you have checked the entire chain of possible user actions from the moment of clicking on the ad to the conversion.
Do not use low quality images for advertising. Don't have beautiful photos of yourself? Use a photo stock. In this case, I do not mean a professional shot, composition. Speech in image size, clarity, color.
Do not rush to draw categorical conclusions for a week of targeting. Many are disappointed after 7 days and confidently claim that the target is not for them.
Do not launch a target without first setting up analytics. Evaluate the results not only by the numbers from the advertising account.
Internet marketing expert. Head of marketing agency MAVR.
Business degree "Master of Business Administration" (MBA).