Sendpulse – email automation service
We will send the material to you by email:
Время чтения:

9

мин.
SendPulse is a convenient and functional service for working with email newsletters, Push and SMS messages, mass mailings via Viber, and transactional emails.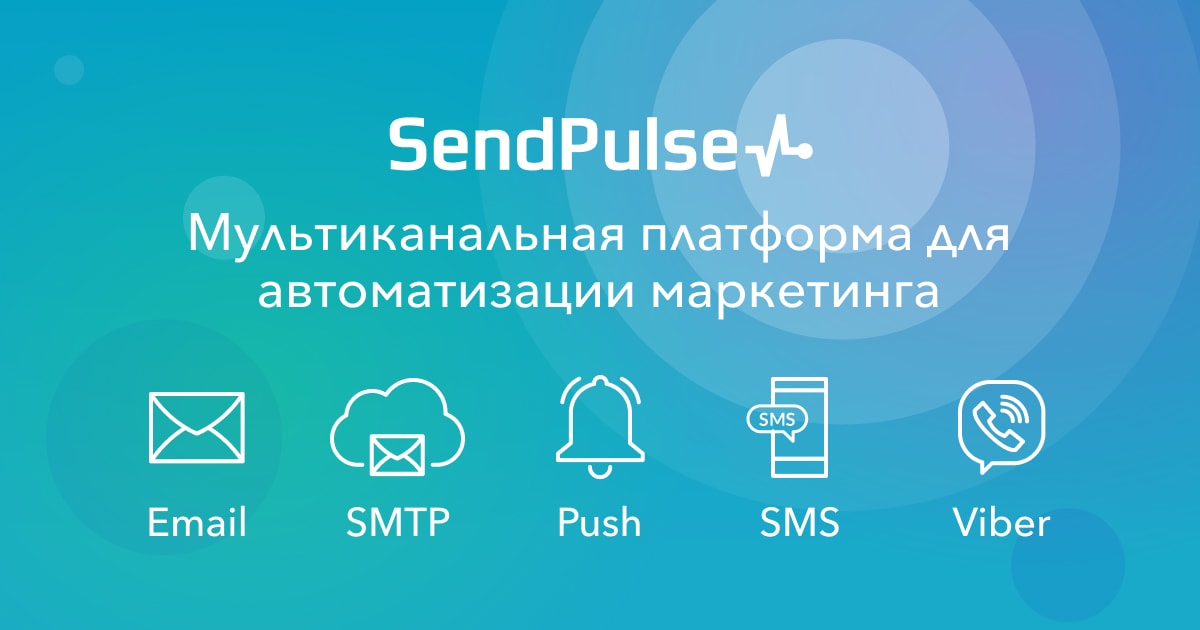 An important feature is that the service can be used by both experienced email marketers and content managers, as well as novice users and startups engaged in self-promotion of their business. In this article, we will deal with the main features of this platform. Let's find out what it is good for and how much it will cost.
Overview of Simple Functions
The main task of Sendpulse is to create email newsletters. Looking ahead, let's say that the service copes well with it. The functionality of the program makes it possible to segment the database of subscribers, that is, to divide them according to certain criteria:
gender;
a set of demanded offers in accordance with the interests of the addressee;
geographical data;
dates, anniversaries, holidays;
attention-getting messages.
For all segments of the database at different times, you can create letters with current offers. For example: nails, smartphones, clothes, congratulations or discounts in your city. This is quite convenient and useful, the audience does not like to read faceless letters.
Web push
It's hard to find an online store that doesn't use this feature. Web Push is a useful tool for advertising and informing website visitors. Sendpulse developers claim that their Push messages work on all mobile devices and in any Internet browsers, and this is still a rarity.
Features of push notifications from Sendpulse:
ease of configuration and segmentation;
recipient personalization;
automatic messages in the RSS feed;
availability of API for programmers.
SMS mailings
Sending quick messages to any country in the world is a useful feature for advertising and business. You can set the sender's name, and thus the recipient will know who the SMS is from. Another option is to create an automatic mailing at a specific time, or add a name for personal notifications.
Messages in Viber
Viber provides more options than the usual SMS. This includes visual design and more signs. Built-in mailing scheduler and personalization. And also the system sends repeated messages if the user has not opened the previous one.
Split testing
A/B testing gives you the opportunity to analyze how effective your mailings are and draw conclusions based on real results.
The point is that two letters are created and sent to different users of the same database. The "wins" option is the one with the most openings or transitions. This method allows you to identify which emails work more effectively with your target audience.
Sendpulse practice
The procedure for creating an account is extremely simple – you can log in via Facebook, Gmail or register via mail. The interface is intuitive: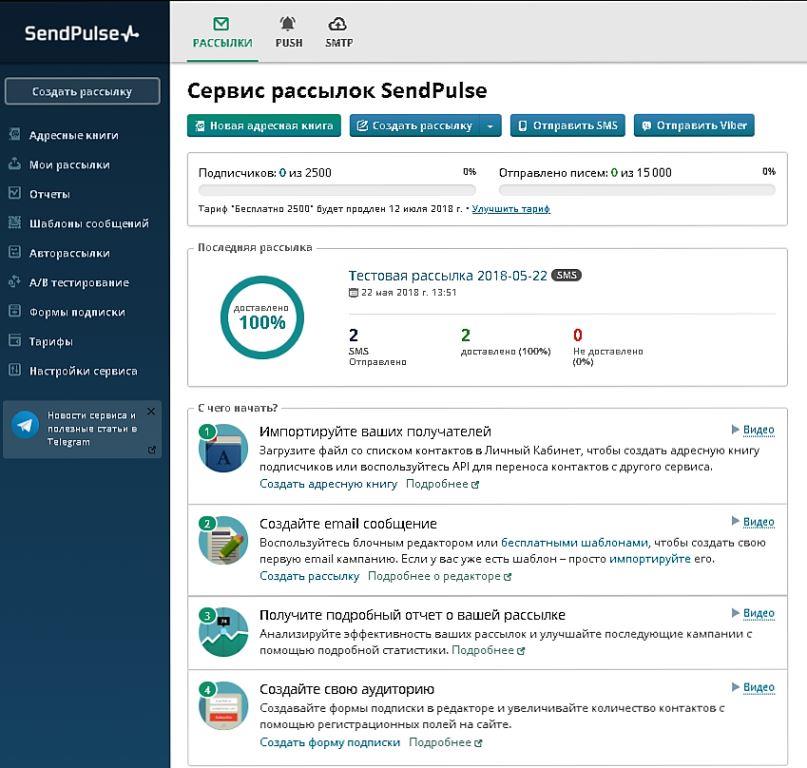 For work, we create a new address book. Contacts can be copied manually or downloaded from other popular services and CRM. Sendpulse supports: GetResponse, MailChimp, ConstantContact, UniSender, Bitrix, AmoCRM, Bitrix24, Zapier and WooComerce. The only thing you need is to enter the API key of the service account from which you are going to import. After that, you can start creating the newsletter.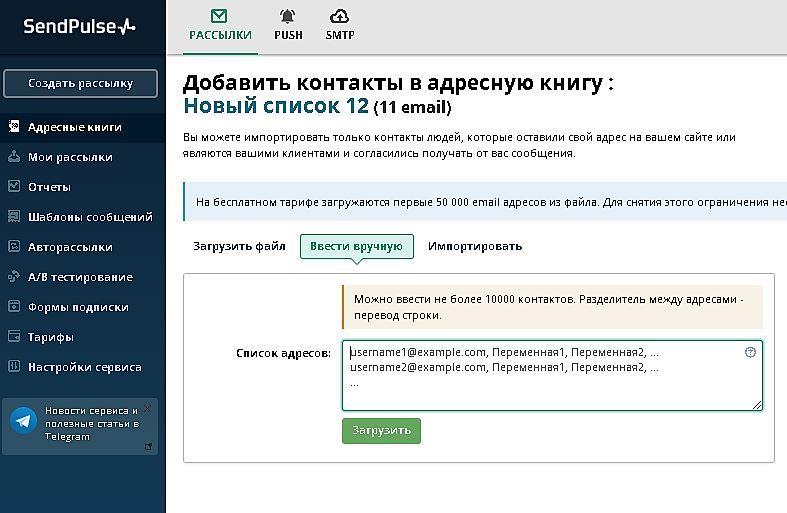 The sender's address varies. The default will be the one specified during registration. The sender's name can also be changed at this stage. The system allows you to send personalized emails, which is important for modern email marketing.
After that we move on to templates. Sendpulse has several solutions here:
Use ready-made models;
Import template;
design letters;
Simplified HTML editor.
To create mailing lists, you can choose any option. If you already have ready-made letters – upload them, if not – the constructor allows you to compose images and text blocks as you need.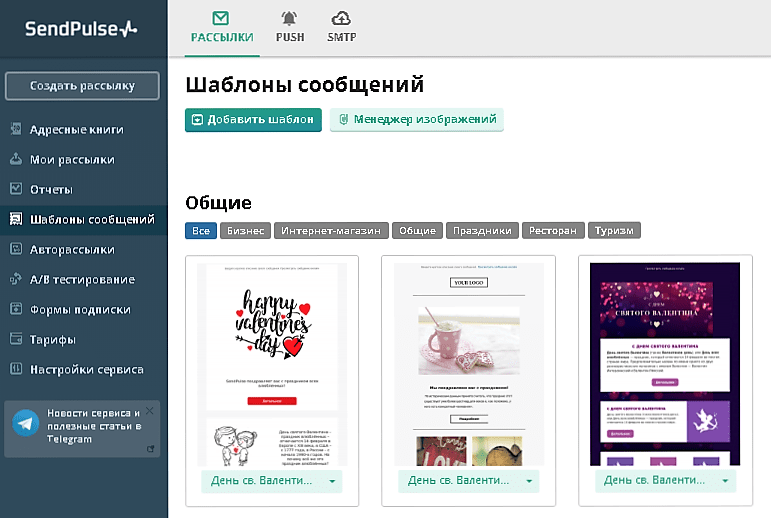 We select a template, enter text and that's almost all. In the final, before sending, a window for checking the parameters will be displayed, then the letters go for moderation and in a couple of minutes the job is done.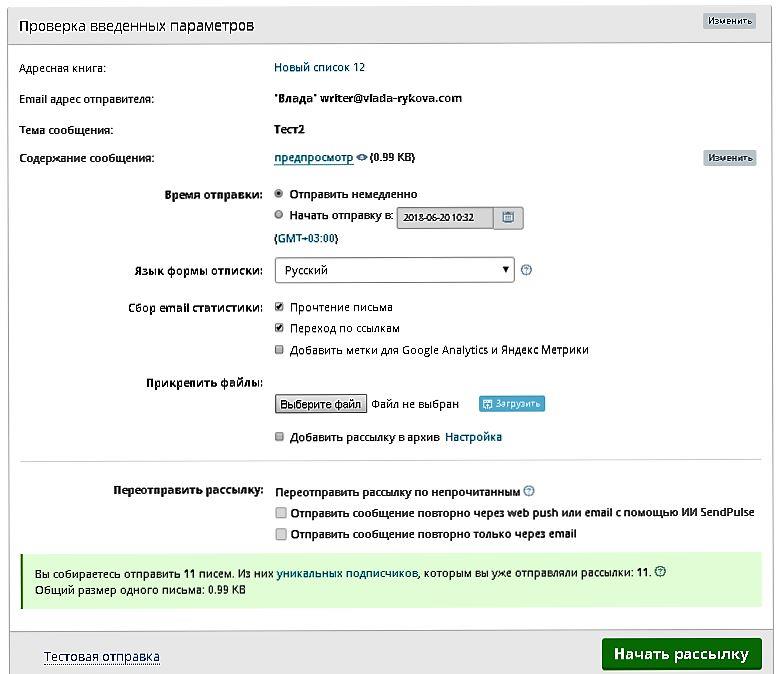 As you can see, even a novice user can handle creating a simple newsletter. Everything is quite simple, convenient and intuitive. But the main feature of Sendpulse is that this service allows you to automate marketing. Next, we'll see what it looks like.
Professional Features
In addition to the basic functions that are available in the free package, Sendpulse has professional ones that provide much more options for customizing emails and statistics.
Automation 360
Automation 360 is the "smart" functionality of Sendpulse, which allows you to automate mailings and make the work of a marketer more efficient. One of the most important functions is setting up trigger emails. Automation 360 sends an email according to the sequence of user actions.
For example, someone added an item to the cart, but did not buy it. After some time, the system will hint that there is a 5% discount on the goods in the basket. Also, Automation 360 itself will congratulate you on your birthday, say "thank you for your purchase" or notify you about the benefits of new arrivals.
This is useful for business tasks, transactions allow you to establish interaction with the client: confirm registration, book a ticket, send a personal notification. Thanks to this system, you can create entire trigger chains that are triggered by certain events, such as adding a product to the cart, a message about a New Year's promotion, or an order.
Automation 360 Benefits:
the system is able to track conversions and compile reports on them;
works through different channels, this includes SMS, email, push;
filters make it possible to make convenient selections;
general statistics are kept;
service shows the place of the customer in the chain.
An additional plus is that Sendpulse provides the ability to connect to API transactions if there is a need to send letters from mobile applications, CRM, or through the site. Automation 360 is a handy marketing tool and will be very useful for businesses large and small.
SMTP – DKIM and SPF server
Sendpulse's SMTP is a professional-grade feature that indicates the serious approach of the creators of the email platform. The server uses "white" IP addresses for mailings, which increases their credibility.
Implemented cryptographic signatures DKIM and SPF. Thanks to this, letters are much less likely to end up in spam or a blacklist. Additionally, it is worth mentioning the high speed of sending correspondence. There are limits, but even on a free plan, you can send emails quite comfortably. The advantage of this platform is the ability to send transactional emails via SMTP.
The most important point for marketing is the system of reporting the effectiveness of transactions. You can see how many emails were sent, how many were delivered, and what is the number of clicks on links from emails.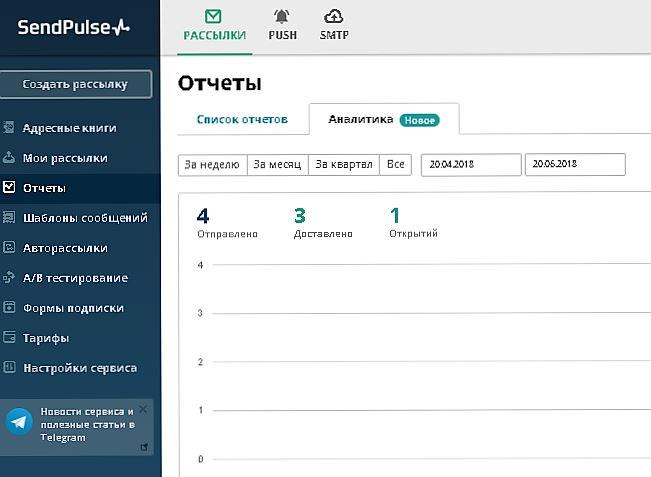 Statistical data
As you know, statistics is the basis of the economy, the wider its functionality, the more opportunities a marketer has. Sendpulse opens up huge opportunities for promotion on the Internet. He has:
Information on the number of openings of letters and the number of transitions, the more of them, the more successful the distribution.
Click analysis shows which links in your emails people click on more often. Based on this, you can pump up relevant and remove unpopular data.
Determining the geography of customers makes it possible to set up mailings for any time zones.
An analysis of user devices shows under which operating systems it makes sense to test the layout of messages and even websites.
The error checklist is a way to determine why emails aren't getting through and fix the problem if it's on your end.
Integration with UTM tags is useful for advertising campaigns.
Connecting to Yandex Metrika and Google Analytics allows you to implement the most powerful analytical functions of these systems, as well as use mailing data in general reports.
Sendpulse works like a real analytical processor. The information it gives out is enough for effective email marketing.
What's the price?
Let's see what will please Sendpulse in terms of the cost of services.
The service offers four tariff plans:
Free, designed for a database of less than 2,500 subscribers, with a sending frequency of up to 15,000 per month. Suitable for small projects, it makes it possible not only to get acquainted with the service, but also to solve the problems of a company with a not very large number of subscribers.
Monthly subscription – 210 UAH. (mail only), this package can be supplemented with an SMTP server service, Viber mailing for 30 kopecks. and SMS to the most popular operators in Ukraine – 27 kopecks. Push mailings are free in any packages.
Pay per sent is the rate for infrequent mailings. If you rarely use email marketing, this is what you need. The calculation is carried out from 0.045 UAH. for a postal message.
VIP tariff (more than a million letters) – an individual package, the cost is negotiated with the manager.
I must say that the entry-level Sendpulse tariff is more profitable than most competitors. Let me remind you that this service serves 2,500 subscribers for free and up to 15,000 letters per month. We analyzed five major email platforms and found that there are far more limits on the number of subscribers and emails. This is doubly nice for startups, for which the free plan will be more than enough. And for already well-established medium and large projects, the cost of paid tariffs will not become a problem, the prices are quite budgetary and affordable.
Results
A few years ago, email marketers were writing about Sendpulse as a good growing platform. This meant that with a moderate cost of services, it still falls short of the flagships. The disadvantages included little integration with CRM and CMS, as well as the lack of automatic work with RSS. Now there are no such problems. We can say that the platform competes on equal terms with the best world analogues.
The most important advantages are good functionality, easy setup, there is an application for Android and IOS. I was especially pleased with the technology of trigger emails implemented in Automation 360. Therefore, I recommend Sendpulse to everyone involved in email newsletters.
Internet marketing expert. Head of marketing agency MAVR.
Business degree "Master of Business Administration" (MBA).