SEO vs PPC – the perfect combination!?
We will send the material to you by email:
Время чтения:

9

мин.
In search engines, there are two types of promotion – search engine optimization (SEO) and contextual advertising (PPC), which have been competing with each other since the very beginning of Internet marketing. Both methods work with search queries, i.e. with a "warm" target audience, if expressed in the language of marketing. "Warm" customers already know what they want and enter a specific request, expressing a desire to buy a product. An Internet resource only needs to catch the eye of such a client, "warm up" it a little, and the job is done. For this reason, SEO and PPC are among the most valuable and expensive channels in online advertising.

Some experts are of the opinion that these tools are isolated and poorly compatible, while others advocate only the joint use of both methods, which does not make the situation clearer.
In our opinion, SEO and contextual advertising should exist side by side, and the question of choice can arise only with a limited budget.
If you need to choose one, it's best to first understand these channels and the difference between them and understand what is right for your particular business.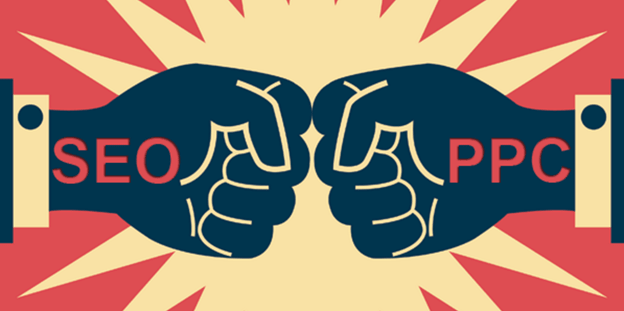 What is SEO and how does it work?
SEO or search engine optimization is a set of measures to raise a site in search results. When users are interested in a certain information, product or service, they open a search engine and enter a query. To get what they want, they go to the proposed sites, and here the main advantage is given to those resources that are listed first. Few people go beyond the second page in the search, so the goal of SEO optimization is to increase positions in the search engine results for effective, selling queries.
Due to the large number of competitors in almost all areas of business, it is very difficult to break through to the top of search results. In commercial requests, it can take more than one year to achieve a position in the TOP 3. There are more than a thousand factors that affect the location of the site in the queue of thematic Internet resources, so SEO is a painstaking and long work. And in some cases it is impossible to rise to the TOP at all.
However, the difficulty lies not only in getting to the first positions of the search, but also in then keeping these same positions.
The main actions of SEO specialists:
Correction of the site structure.
Refinement of commercial factors.
Correction of technical errors.
Link optimization.
Development of the site as a whole.
This is not the whole list of priorities in SEO, but it is quite impressive. Any promotion methods directly or indirectly affect the company's position on the Internet, even if they seem to have nothing to do with business.
Advantages and disadvantages of SEO
+
You do the main work of raising the site in the search results only once, in the future only supporting the resource.
In case of termination of promotion activities, the position of the site will decrease very slowly or will not decrease at all.
The site is promoted for all related queries, in addition to the main ones.
Search engine optimization allows for greater reach. By promoting a site in one search engine, it also gains positions in other search engines. The same goes for promotion in the region.
Users see that your site is not advertising, and they are more loyal to it than to paid positions.
–
The need for the work of competent specialists (most of the actions in search engine optimization require the experience and knowledge of professionals).
A lot of sanctions and filters imposed on the site, and a constant change in algorithms, which requires a quick response from SEO specialists.
The first results of the work will appear no earlier than in 2-6 months. In some cases, the results have to wait more than a year.
Long-term work on promotion for sites with high-frequency queries.
What is contextual advertising?
Contextual advertising is the display of advertisements along with search results. Powerful systems like Google.Ads and Yandex.Direct are used as the main contextual advertising tools. In these channels, you can create and customize targeted advertising campaigns based on the interests of your target audience. This takes into account factors such as geographical, temporal and a number of others.
Contextual advertising can be seen as small text ads above, below and to the right of search results.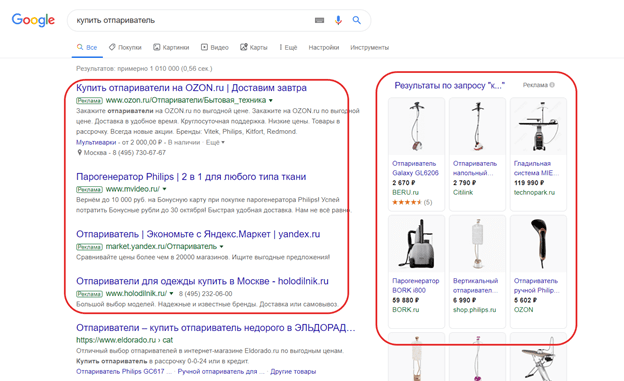 Also, contextual advertising can be placed in advertising networks of sites. The search engine selects potentially interesting ads and places them on the pages of the site where the user enters. The owners of such sites put a special search engine code on the pages of their resource and earn money by placing ads.
Advantages and disadvantages of contextual advertising
+
Instant effect – advertising appears on the pages on the first day and quickly brings results.
Flexible settings for broadcasting ads (advertising time and geography). Possibility to make changes in the course of work.
The ability to focus on your target audience.
Payment in the form of self-assignment of a rate to receive traffic volume.
–
Price. Often it is quite high, information on rates can be found here.
The number of visits to the site is limited within the budget. As soon as the money runs out, requests from customers will immediately stop.
Your target audience is limited to certain sites – one search engine and partner sites.
According to some reports, most users have learned to ignore ads. Due to the overabundance of commercial messages, they unknowingly filter out any content that resembles her.
How is promotion in search engines different from contextual advertising?
Price
Unfortunately, it is impossible to calculate in advance the cost of both types of promotion. Prior to the start of the project, SEO specialists plan the costs of the main work. They include:
technical analysis of the site;
development of the semantic core;
creating and posting content;
elaboration of the structure to increase the level of usability;
work with external links.
However, everything does not always end only with the planned procedures, because the earned positions in the top must be maintained. Search engine ranking trends change day by day, so over time, an unsupported site will overtake competitors. The cost of a monthly SEO service depends on many factors, it can differ significantly from the cost of promotion for your competitors.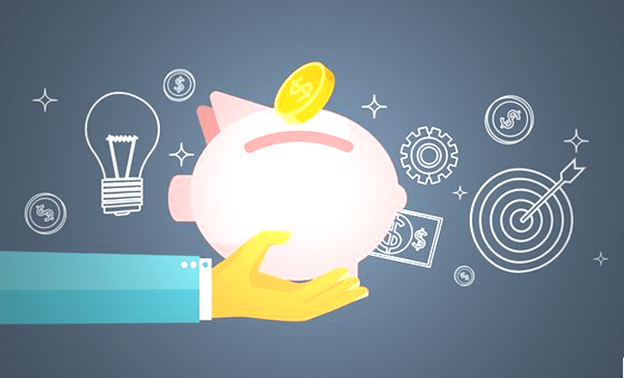 Contextual advertising is calculated from the cost of the bid, which depends on the specified restrictions. It ranges from a few kopecks to several hundred rubles, and may vary depending on the location of the show, region and time. Unfortunately, it is impossible to calculate exactly how many rates you will have to pay to attract the required number of visitors, and how many of them will become your customers.
Contextual advertising – search engine optimization. When is it better to choose contextual advertising?
Contextual advertising will be an effective tool in cases where you need an instant result and a predictable level of sales. It will also help when you need to reach an audience according to narrow characteristics, up to choosing a house whose residents are your potential customers.
The implementation of an advertising campaign is as simple as possible – select keywords, set the necessary parameters, then publish and miraculously your site appears above the search results.
Search engine optimization and contextual advertising. When is it better to choose SEO?
Not a single site can get into the TOP without at least elementary optimization, with the exception of well-known and usually old resources that are always in the top positions and are consistently filled with quality content. Even if you continuously use contextual advertising for promotion, the site will never rise to the first positions without putting things in order in its links and meta-data.
If your budget is limited and you set yourself long-term goals, then SEO is definitely for you. Search promotion prioritizes user acquisition over the long term and reducing the cost of acquiring new customers. Also, do not forget that with well-conducted SEO optimization, the ROI will grow even after the completion of the promotion campaign.
Automatic SEO promotion
Nowadays, there are many automated search engine optimization services that are a good alternative to hiring SEO specialists. Such services do all the work of promotion on their own, the cost of such optimization is much cheaper than the services of specialists in the agency. Automatic promotion will significantly reduce labor and financial costs, this is the best solution for beginners who do not know where to start promoting the site.
In the figure below, you can see the algorithm for working with links from one of the Wizard.Sape automatic promotion services.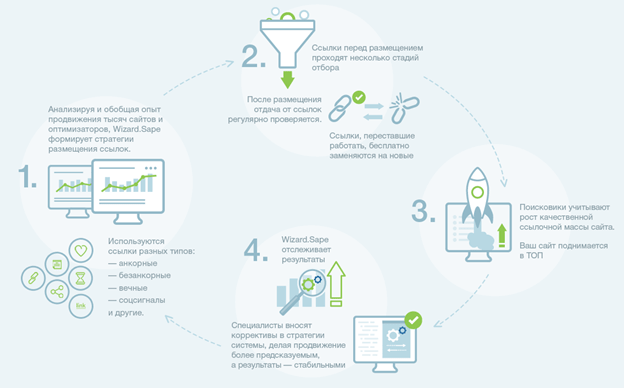 In addition to links, the service includes a complete toolkit for self-promotion of sites in the TOP of search engines: from the selection of a semantic core to a professional site audit.
At the moment, there are many similar services, but Wizard.Sape appeared one of the very first and has already established itself as an effective tool for search engine promotion.
However, do not think that you can just add a site to the automatic promotion system and forget about it. The service greatly facilitates the work and takes care of all the routine tasks, but from time to time your site should be analyzed by a specialist.
Conclusions
It is almost impossible to single out a leader from SEO optimization and contextual advertising, since both methods are good under certain circumstances. We believe that it is worth using both methods, based on the above strategies.
Contextual advertising is undoubtedly an effective tool to attract customers to the site. It has great prospects, and its mechanisms are transparent and understandable. This type of advertising is ideal for beginner online stores.
During SEO optimization, a set of measures will be used, tuned to a real improvement of the site and the growth of positions in search engines. SEO is focused primarily on long-term results. Search engine optimization is mainly carried out for sites that have been on the Internet for several months and have established their business processes.
Undoubtedly, the most effective way to promote is to use two methods at once. While work is underway to optimize the site, contextual advertising will provide traffic, and as positions grow, you can gradually reduce the number of ads.
Author: Anastasia Lisitsina, marketer at Sape.