TOP 9 Best Youtube Video Editing Software
We will send the material to you by email:
Время чтения:

6

мин.
From our Clients, we often hear the question: "What are the best video editors for YouTube that you use?". In this regard, the idea arose to write an article about the best video editing programs.

If you decide to blog on Youtube, learn to be a video editor or just make a short video for business purposes, then this collection is just for you.
By what criteria did we evaluate?
In our rating, we decided not to distribute places to video editing programs, but to limit ourselves to a selection. Indeed, some programs for editing video on a PC stand out for their simplicity, others, on the contrary, for their cool functionality, and still others are simply free.
The main points we paid attention to:
cost / free version / trial;
editor functions;
interface and difficulty in learning;
video formats that are supported.
Adobe Premiere Pro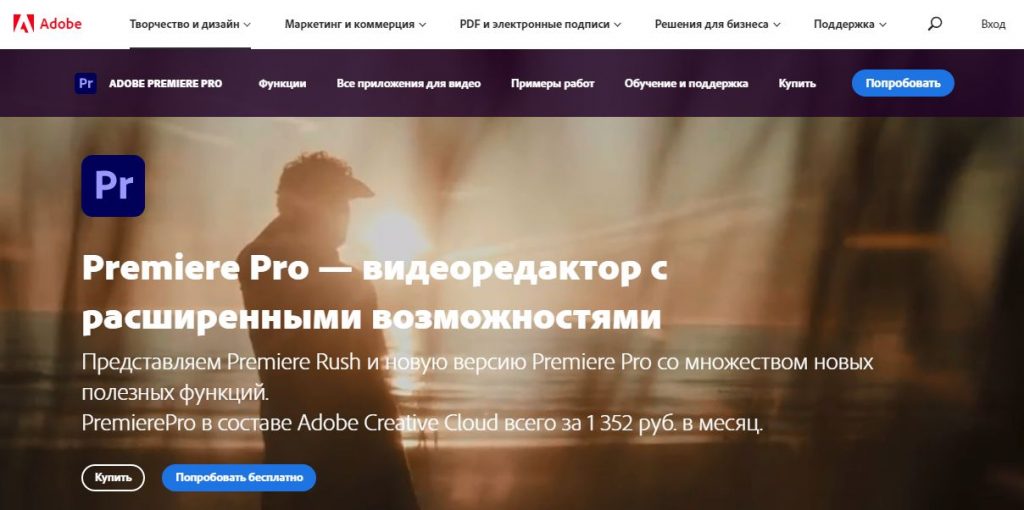 Let's start with one of the most complex video editors. Premier pro is a program for specialists. Without prior preparation, it will be difficult to work in it. Those users who have experience in Adobe Photoshop will understand the YouTube video promotion program much faster.
Premiere Pro now works with almost all video formats, regularly adding to the list of supported formats.
The functional equipment of the video editor allows you to make and edit an elementary video for youtube and a full-fledged animated cartoon.
As of today, Adobe's official website reports that the new version of the video editor only works with Windows 10 and macOS 10.13 and later.
The free version of Premiere Pro can be tested for 7 days. After the free period, the price will be 1352 rubles per month or 518 UAH. per month.
In addition, Adobe has packages for business, students and teachers. Each of these packages has its own cost.
Sony Vegas Pro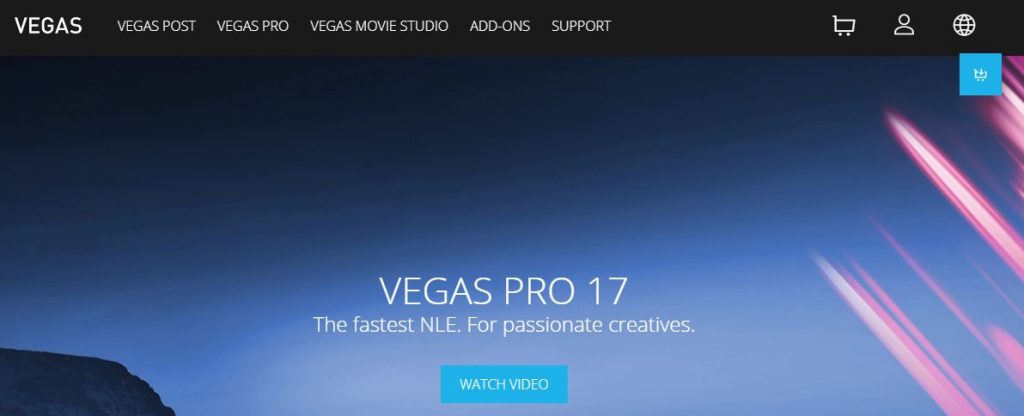 Another professional video editor with which you can not only make video editing for YouTube, but also create a full-fledged video.
It is worth noting that, like its main competitor, Vegas supports almost all possible formats, and videos can even be converted to Blu-Ray format.
Of the disadvantages of Vegas Pro, I will highlight its cost. Now a monthly subscription to Vegas post 365 costs $21, and the purchase costs $999. Not the most competitive price.
True, for this amount you will be offered a great set of editing tools, a large number of plug-ins and an unlimited number of tracks.
On Youtube hosting, you can find quite a lot of tutorials on working in both Vegas Pro and Premiere pro.
Lightworks
Many users on the forums mark this particular video editing program for YouTube as the main inexpensive analogue, against the most popular video editing programs. However, it is worth noting that you need to be prepared for the fact that you will not be able to intuitively understand this program, due to some features. The tools in Lightworks are a little confusing. On the other hand, free trial (trial version). The Pro variant can be purchased for only $25. Why not an argument in order to get used to the program interface?
Among the shortcomings: rather high system requirements for a PC, in connection with this, on a simple computer, the program can "fail" or even "fall off".
It is not difficult to learn how to work with this video editor, all the necessary information is detailed on the official website.
The list of formats that Lightworks supports is also sufficient for convenient work.
Pinnacle Studio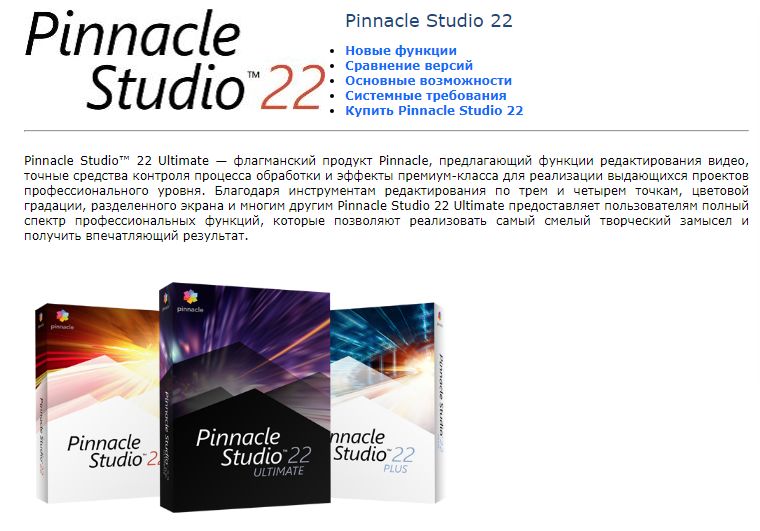 Inexpensive video editing software. An important aspect of this video editor for YouTube is its Russian version and relative accessibility.
Pinnacle Studio can be purchased from 1100 to 2050 UAH (3000-7000 rubles). The price depends on the number of templates and video effects. In addition to the paid version, there is also a free version with limited features.
The video editor supports all popular video formats and is quite easy to learn how to use it.
VideoPad Video Editor

A simple video editor that works easily even on weak PCs. For beginners, VideoPad is called one of the most acceptable. Its advantages: simple interface, 2-week trial period. If you want to purchase the program after the trial period, the price will be between $25 and $35. VideoPad comes standard with 50 effects that you can work with.
VideoMontazh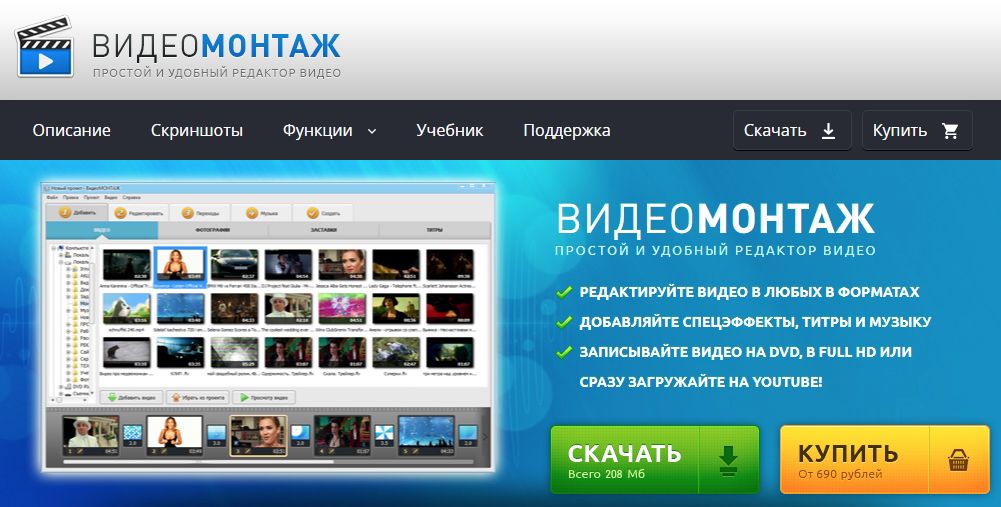 This is one of the coolest video editing software. Users note its simplicity, accessible interface and ease of finding the necessary tools.
Of the pluses, it is worth highlighting the presence of a virtual assistant, from whom you can ask for help with work.
The disadvantages of Video Montage include the fact that you cannot watch the video before the final conversion.
The free version is available for 10 days, but you will not want to post the edited video on your youtube channel. In the free version, the video editor's logo will be placed in the video. It will disappear when you buy a license, which costs from 690 to 1470 rubles, depending on the package.
More expensive packages provide video acceleration and slowdown, as well as its stabilization.
Movavi Video Editor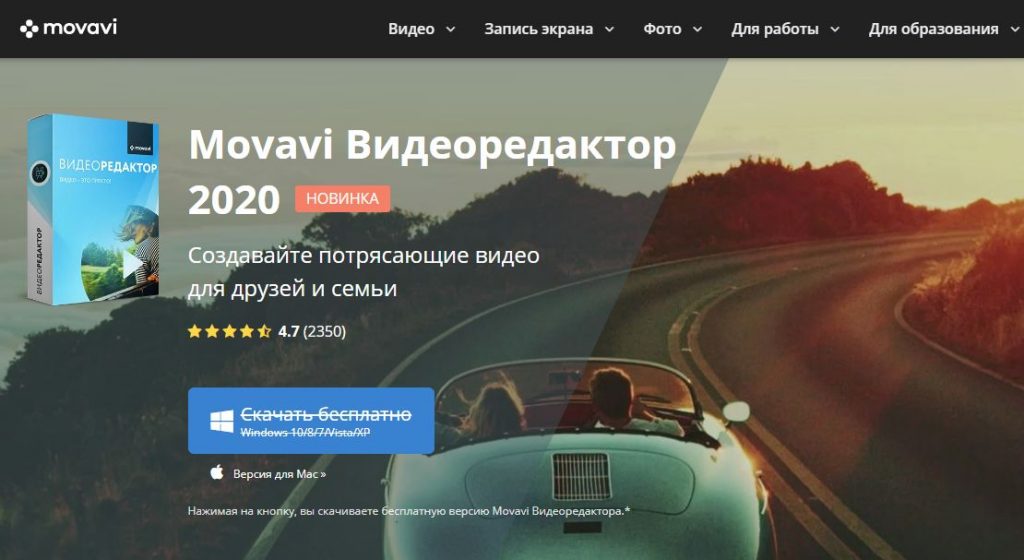 A handy program for editing videos on Youtube. Movavi Video Editor works with 180 different formats and is great for beginner video editors.
This video editor is suitable for processing simple videos and has only one track, but you can record audio with it, which is useful when dubbing videos.
Intuitively simple interface and the availability of a free version are the advantages of this video editor for youtube.
The paid version can be purchased for 530 UAH. The most expensive version will cost 1880 UAH.
Vsdc Video Editor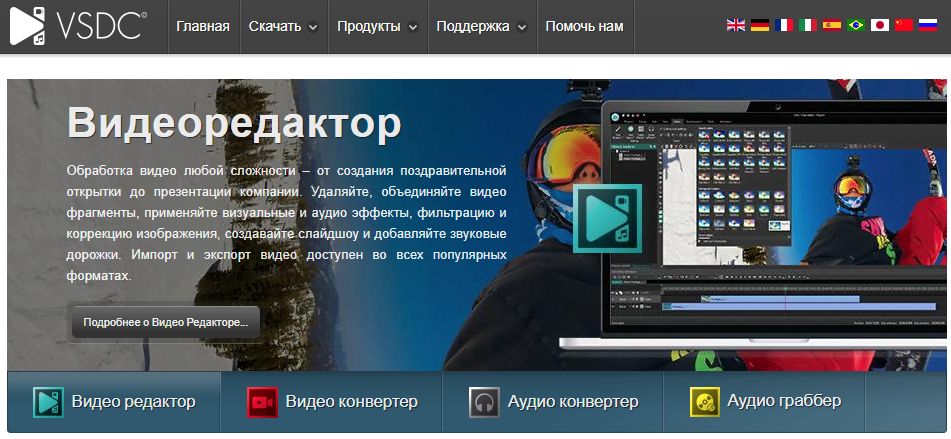 The video editor we've been using lately. Suitable for any PC, very easy to learn and converts to all required formats.
VSDC supports non-linear editing, which allows you to create a composition from multiple tracks. Unlike some other free video editors, it supports picture in picture and split screen.
Bolide Movie Creator
Free video editor Bolide Movie Creator is available in Russian. You can create videos with effects, titles and overlays in a user-friendly program even for beginners. Technical support if that also communicates in Russian. To use the program, you do not need a cool PC, an ordinary home PC will be enough.
Conclusion
If you seriously decided to learn how to work in a video editor in order to monetize your skills, then you should take a closer look at paid and professional programs. They will provide you with a full range of options.
If you sometimes need to cut a video, fix the sound or color, then a free video editor with a standard set of utilities will be enough for you.
Internet marketing expert. Head of marketing agency MAVR.
Business degree "Master of Business Administration" (MBA).