Top infographic software
We will send the material to you by email:
Время чтения:

9

мин.
Agree, a monotonous text without pictures, graphs, diagrams and other additions causes boredom and completely discourages reading it further. And how much easier it is to perceive even the most serious and complex information if it is diluted with additional materials. They are called infographics. Creating it is easy: just download the editor to your computer or tablet. You can also work online using one of the constructors. Let's take a closer look at the TOP services for creating infographics, their pros and cons.
What is an infographic
So, infographics is a way of presenting content that implies a minimum of textual information and a large number of different pictures, diagrams, maps, etc. Its main task is to simplify and speed up the transmission of any instructions, facts, statistics, etc. Therefore, it is most often used in areas such as education, various presentations and Internet marketing.
At first glance, it seems that this simple tool is no different from ordinary illustrations. However, there are actually differences. Firstly, the illustration is more designed for emotions, so often it does not carry any specifics. Infographics are always facts and hard numbers. Secondly, unlike infographics, pictures require explanation and accompanying text.
This way of presenting content can be of several types:
Instructions. They represent a visualization of a process. So, for example, it can be help in the question of how to make New Year's crafts or Olivier salad.
Timeline or timeline. Shows the order in which the events happened. Usually this is a straight or curved line that indicates a certain period of time, and several thematic illustrations.
Cards. Here everything is clear without explanation. These are classic maps of the area familiar to everyone from school geography lessons. This is also one of the types of infographics.
Characteristics. Description of the properties and differences of an object. Most often, this is his close-up image and signatures next to it.
Comparison. These are the same characteristics, but combined with each other.
Another common type of infographic is statistics. The use of graphs and diagrams is an invaluable help in trying to show the connection between any objects or phenomena, and highlighting the most important points.
There are dozens of services for creating infographics. Among themselves, they differ in a set of functions, accessibility and other parameters.
Programs for creating infographics online
Canva
Link to service – canva.com
The easiest and most popular service for creating infographics. Users can choose from hundreds of free templates and many useful features. Ready-made infographics can be created and then downloaded for free and in any format. The service has a very simple and intuitive interface with a set of all the tools necessary for editing.
Canva has a free version and a set of additional paid features. Its main advantages are:
the presence of a large number of free templates;
more than 100 types of designs;
free version with the ability to process photos, as well as create graphs and charts;
free "cloud" with 5 GB of memory;
the ability to use your own font;
availability of a paid plan with an extended set of tools for creating infographics.
Among the shortcomings of the application are the lack of animated features, real-time data integration and the ability to embed videos.
Piktochart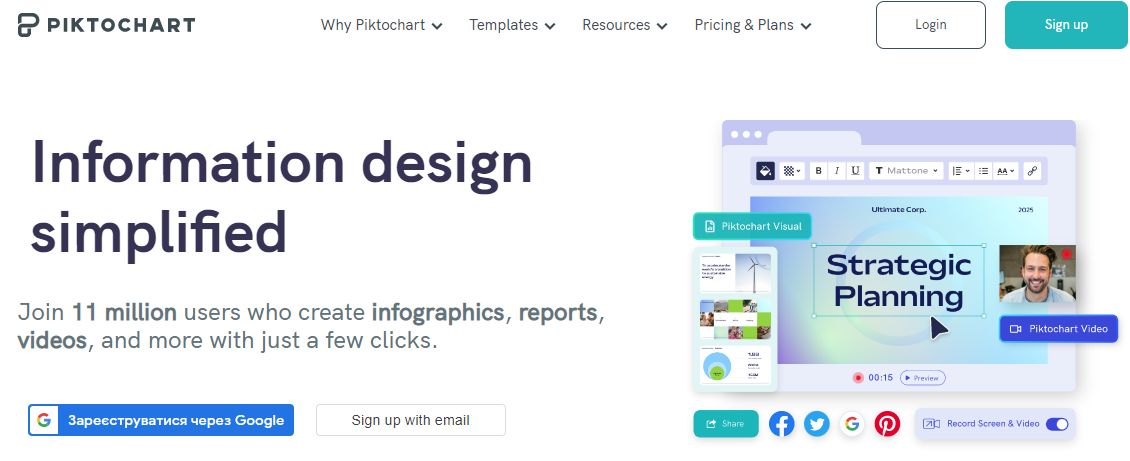 Link to service – https://piktochart.com/
This infographic creation service is just as easy to use as the previous one. But it does not have a Russian language, the entire interface is in English. Therefore, you need to either know the language, or understand intuitively.
The main difference between Piktochart and other programs for creating infographics is the presence of a certain structure in templates and extended content. With their help, you can make not only graphs and diagrams for free, but also presentations, various reports, etc. The system has several thematic sections, many useful functions, such as adding text, icons, maps or videos.
Piktochart allows you to create infographics for free because it has a free version. It is also advantageous to purchase a paid version with extended access. All elements are conveniently divided into categories, which greatly simplifies the search. In addition, the editor is equipped with ready-made color schemes.
BeFunky

Link to service – https://www.befunky.com/
Another service for creating infographics with a free version and a paid cost of about $7 per month. Initially, it was created as a photo editor and designer, in which you can make collages for free.
The free version has only 1 template. The paid version offers 3 more. Not much, but given the number of tools with which you can structure information, this is enough. Each user gets access to various photo stocks, a set of fonts and icons. Thanks to this, banners, posters, comparison tables, etc., can be made in any style and design.
Visme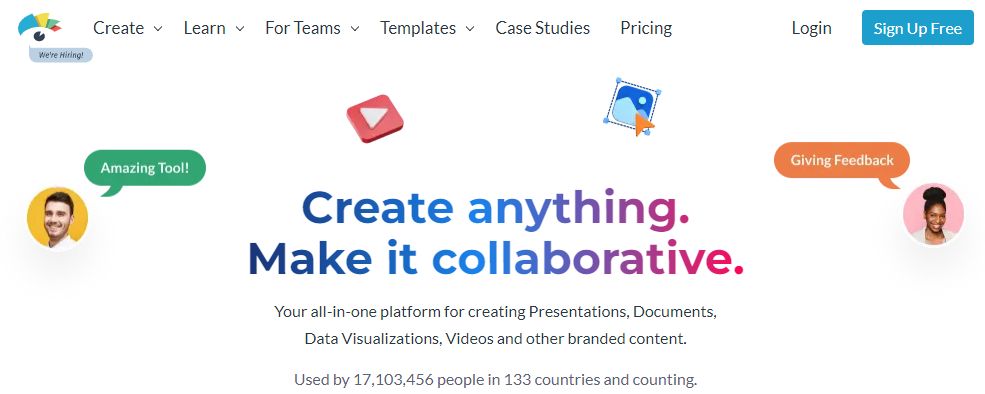 Link to service – https://www.visme.co/
The paid version of this infographic creation service offers two rates:
$ 20 – allows you to simultaneously manage up to 15 projects, provides storage up to 250 MB, it is possible to create a color palette. Users can choose any of the premium features.
$ 30 – the number of projects is unlimited, the storage capacity is 10 GB, the user has a library of slides at his disposal. The editor allows you to record audio and organize data using folders.
Unlike the paid version, the free version provides only 7 templates. But it's convenient to create them for free from scratch, using a set of fonts, images, icons, and other useful additions. If necessary, you can upload audio and video recordings, as well as do voice acting online in the constructor itself.
An interesting feature of Visme is the ability to customize privacy settings. The editor allows you to open files for general viewing, for a specific group of people, or by invitation only. Ready infographics can be uploaded to blogs or websites, as well as shared via social networks.
Easelly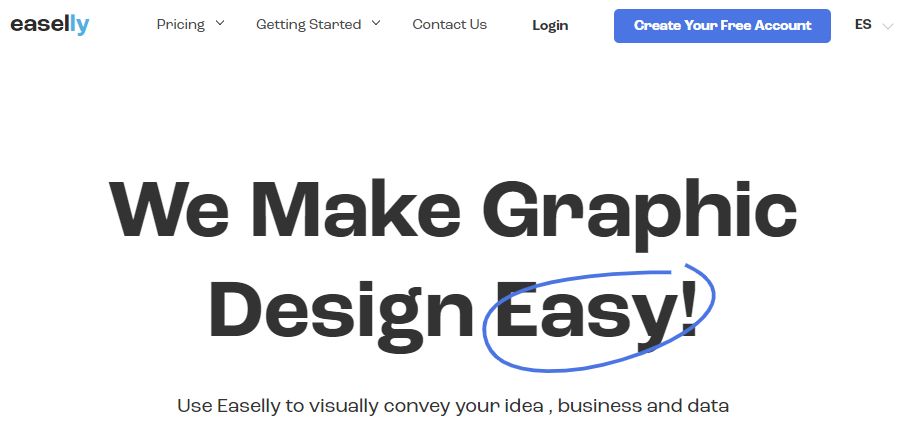 Link to service – https://www.easel.ly/
You can work in this service for creating infographics for free. There is also a paid version, represented by two tariffs: from 3 and from 4 $. They include hundreds of thousands of premium icons, 300,000+ photos, 20 charts, 100+ fonts, and 300+ templates. A nice bonus is the possibility of personal consultations with managers. There is no trial version on this service.
What tools are in the editor:
Editing a pre-made template.
Create your own template from scratch.
Choice of the color of the object, its size, labels, location.
Uploading your images.
Adding backgrounds, arrows, etc.
If necessary, infographics can be downloaded in JPEG format or shared on the blog and website.
Venngage

Link to service – https://ua.venngage.com/
A good service for creating such types of visual content as reports, posters, posters, etc. But there is one big drawback – the lack of an interface in Russian.
Users who have just registered in the system have access to tips that disappear after saving the first project. All templates are grouped into categories. These are infographics, reports, logos, graphs, charts. Each section is further subdivided into several subsections. So, infographics includes an information subsection, statistical, comparative, geographical.
When working with this service, it is convenient to download videos for free from various platforms, such as YouTube, add captions and polls, change the font, color, background, and location of objects. Finished projects can either be saved and later edited again, or published on social networks.
The free version contains fewer tools and features than the paid version. There is no trial period. There are several plans available in the paid version. So, for example, for $19 a month, the system gives you premium templates, 50 images to upload, the ability to add multiple pages, and use premium icons. And for $49, the user gets almost unlimited possibilities. Plus, he can consult with the manager and participate in live consultations.
Snappa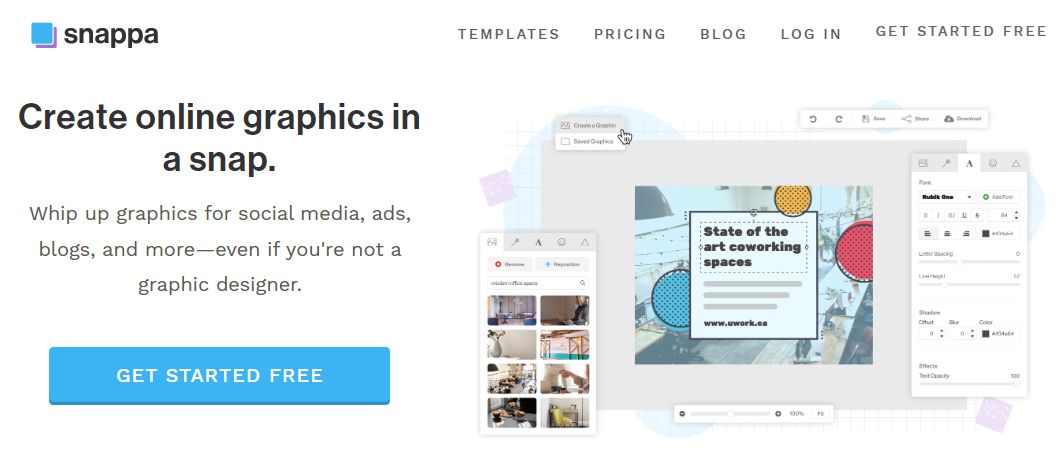 Link to service – https://snappa.com/
Like other editors, it has a free and paid version. Suitable for use by both individual users and companies. It has useful features such as promotional alerts and scheduled social media posting.
The system offers about 50 free templates, a set of charts and forms, and the ability to customize the settings according to your preferences and requirements. The interface is simple and clear. If necessary, you can use educational articles and videos.
Users can use the site's resources or upload their own. Finished projects, if desired, are exported to social networks (it's free). But to save them you have to buy a subscription. The cost is on average $10-20.
Genially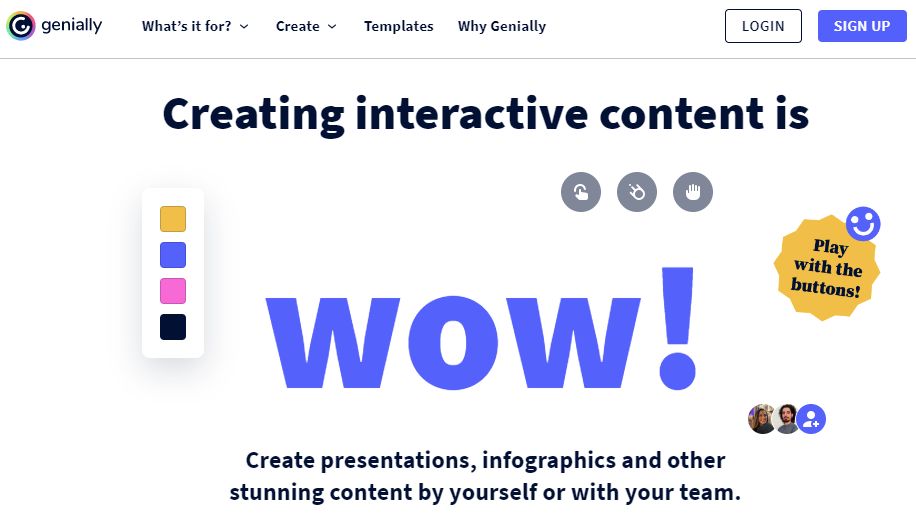 Link to service – https://genial.ly/
A good service for creating presentations and infographics online. Even in the free version, users can create full-fledged graphs, charts, tables, comparisons, etc. They have a set of all the necessary tools at their disposal. In the paid version, additional templates and some features become available.
The system offers many ready-made templates and objects. Among them:
images;
text blocks;
graphs and charts;
icons;
animations;
smart objects;
downloading videos from external resources.
In addition to presentations and regular infographics, the service can be used to create reports showing growth dynamics, projects with gamification (the use of game elements), interactive posters and user guides, and various tests.
Infogram

Link to service – https://infogram.com/
This resource is more suitable for creating statistical type infographics. Its main features are:
Over 35 chart templates and over 500 maps available to create charts, bar charts, tables, and more.
Content can be supplemented with icons, photos, animations either from the library on the site or from your device.
More than 20 themes, fonts and colors are provided for design.
Finished projects can be saved in the selected format or uploaded to social networks.
Users have access to a free version with the ability to create up to 10 projects of 3 pages each. Paid versions increase the number of projects and pages in them. So, for $25 you can make up to 100 projects with a capacity of up to 10 pages, and for $179 – up to 3000 with an unlimited number of pages.
In total, there are a lot of services for creating infographics. And each of them offers a wide variety of tools for content design. It is definitely impossible to say which one is better, since each has its pros and cons. You need to focus on your needs and capabilities.
Internet marketing expert. Head of marketing agency MAVR.
Business degree "Master of Business Administration" (MBA).