Top 6 best proxy services
We will send the material to you by email:
Время чтения:

6

мин.
A proxy server is an intermediate component of a computer network that acts as a kind of intermediary between the user and the target resource. It creates conditions under which the site perceives the virtual intermediary as a live user, so that the user can access a resource that he initially does not have access to. Platforms that allow proxying can be used for different purposes, but in order to be sure to get what you want, you need to understand the current offers.
Below is the TOP list of proxy services as of the beginning of 2023. It analyzes the key features of each site, its tariff plans, and the main advantages.
Why do we need proxy services?
Usually, proxy platforms are used in such cases:
A person needs anonymity. He does not want to show his real IP on various sites. He also does not want his activity on certain platforms (views, comments, saves) to be tracked.
GEO block bypass required. The government may restrict access to the sites of a particular country. Bypassing such a ban just allows the proxy service.
SEO optimization in progress. With the help of anonymizers, you can work with parser programs, bypassing search engine restrictions and protecting your account from blocking.
Participation in online auctions. Many sites give discounts to users from certain countries. By choosing the desired GEO, you can get favorable conditions for the purchase.
Promotion in social networks. The proxy service will allow you to promote several accounts at once in different streams, which will contribute to the rapid promotion of the brand and increase the client base.
In addition, users like to proxy when leveling up a character in multiplayer games, as well as when promoting profiles on thematic forums.
Ranking of proxy services in 2023: key features
Below is the current rating of intermediary sites. They not only offer profitable tariff plans, but also allow you to customize the routing for individual requests of a person.
Nexusnet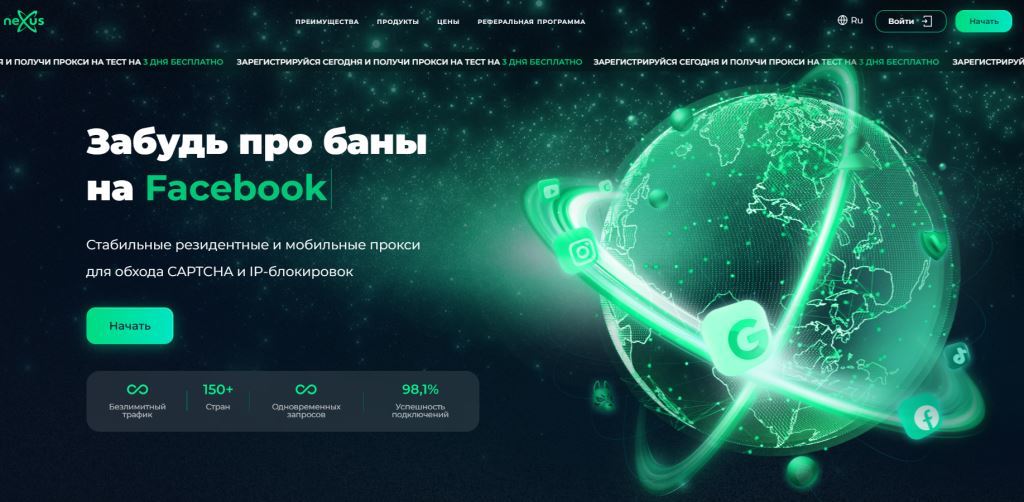 Here is a proxy service that I found recently and highly recommend to check it out.
Nexusnet.io is a proxy service for affiliate marketing . They have a special pool of IPs for ad platforms like Facebook, Google and Instagram and guaranteed quality performance on these websites.
Nexus offers residential and mobile proxies for 1$ / IP, with unlimited traffic – you only pay for your ports. This is pretty amazing for media buyers and account farmers.
Key features:
Constantly growing IP pool. They are always adding new IPs to the pool to make sure proxy have great performance
Proxies successfully tested on Google, Facebook and Tik-Tok, so ads accounts never get banned
Flexible Pricing: edit your port at any given moment, including GEO change
Unlimited traffic: Nexus won't charge you for traffic, all you have to pay is the port price
Use promocode VLADYSLAVANEX to get $20 to your balance.
Proxysale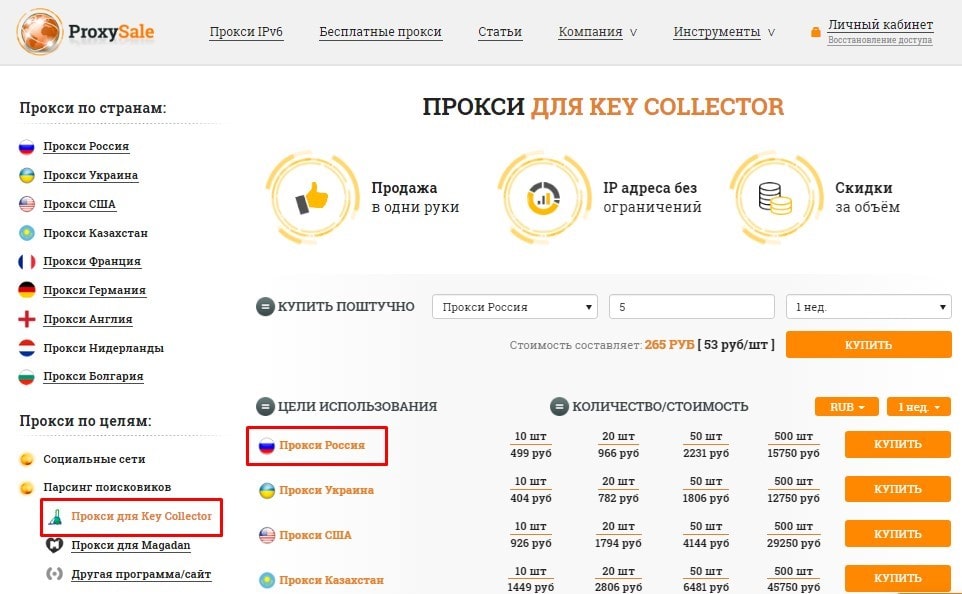 Link to service – https://proxy-sale.com/
The undisputed leader of our TOP list. The platform has a whole range of advantages:
round the clock support service;
popular Internet protocols IPv4 and IPv6;
quick issuance of a proxy;
quick replacement of an anonymous IP if it turns out to be inoperative;
availability of a free mode for checking servers;
discounts up to 40% when buying full packages;
high work stability.
The platform allows you to proxy through dozens of geolocations. The cost of servers starts from 0.7 USD, depending on the GEO and the purpose of the application. The minimum rental period is 1 week.
Proxy-Seller

Link to service – https://proxy-seller.ru/
This is a kind of vice-champion of our TOP list, which has extensive functionality and acceptable rental conditions. Among the features of the service are:
support for 20 geolocations;
round the clock support service;
the presence of a trial period;
convenient rental terms (from 7 days);
several payment methods: Privat24, WebMoney, Qiwi, Yandex.Money, Bitcoin, mobile operators MTS and Beeline;
low price: from 0.66 USD depending on the GEO.
Of the minuses, we can single out the fact that the support does not respond to requests very quickly. If the user wants to withdraw money from the balance, they will only be sent to WebMoney, QIWI. Due to such nuances, Proxy-Seller got into our rating only as a "silver medalist".
Mproxy top

Link to service – https://mproxy.top/
A very convenient resource for users from the CIS countries. It is characterized by high stability and inexpensive tariff plans. The site offers 3 packages of services:
Common channel: the user receives unlimited traffic at a speed of up to 10 Mbps. The tariff plan is adapted for users from Ukraine and Russia. Up to 3 people can be on the channel at the same time, while the IP address will change every 2 minutes. The cost of a weekly package is 8 USD. The monthly tariff will cost 25 USD.
Individual channel – a faster packet of 20 Mbps. According to this plan, users from Ukraine and Russia can proxy. IP changes automatically or on request. Weekly rent is $16. A monthly subscription will cost $47.
Unlimited channel – TOP offer from the platform in question. The user receives speeds up to 100 Mbps, while the IP changes frequently and quickly, which guarantees the highest degree of anonymity. A 7-day package will cost 29 USD. For a monthly subscription, you will have to pay $90.
A trial period is provided for testing the features. If you have any questions, you can contact support.
Proxys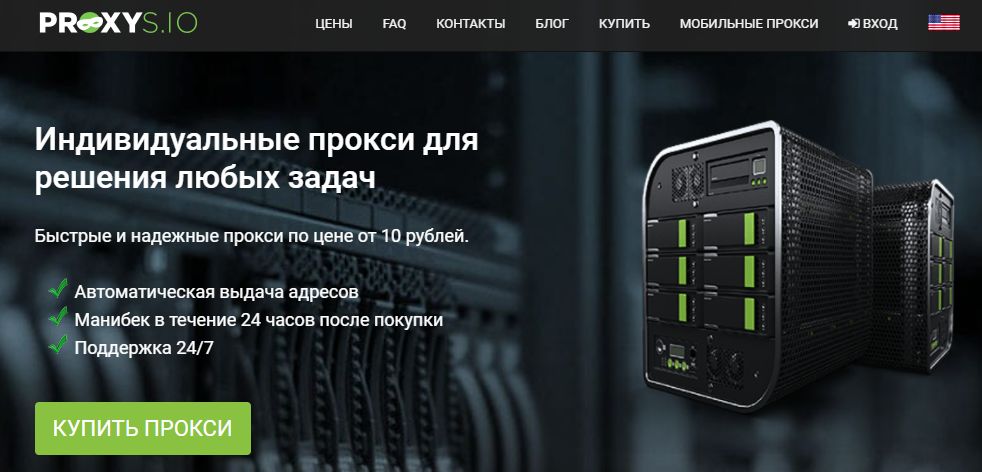 Link to service – https://proxys.io/ru
Our rating simply could not do without this resource. The site supports 14 geolocations, allows you to rent a server for 1-3 months. You can pay for tariff plans through popular payment systems and even through self-service terminals. The rental price starts from 160 rubles. The Proxys.io website is intuitive to navigate and the support team responds to queries within minutes.
The only drawback of the service is the lack of a trial period. The user can only buy a proxy and, if necessary, change it (for example, to another GEO).
Socproxy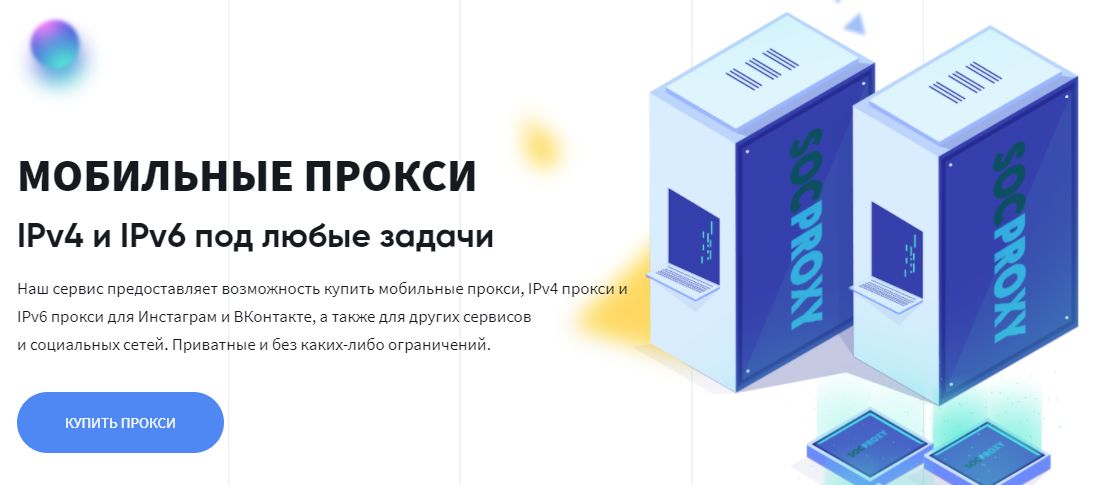 Link to service – https://socproxy.ru/
The final member of our TOP list, offering inexpensive proxy rental (from 85 rubles per month). On the service, you can choose the appropriate geolocation and telecom operator. Mobile proxies are perfectly adapted to social networks and bulletin boards. The connection speed is at a high level.
The only negative is that you cannot change the address in case of blocking. If the IP becomes inoperative, you will have to buy a new one.
All presented platforms are good in their own way. You just have to choose a resource with optimal conditions for yourself and pay for a suitable tariff plan.
Internet marketing expert. Head of marketing agency MAVR.
Business degree "Master of Business Administration" (MBA).