TOP services for deep links and multilinks 2023
We will send the material to you by email:
Время чтения:

7

мин.
Modern deep link services make it possible not to lose the conversion when a user clicks on an ad to a YouTube video channel, Telegram channel, or Instagram profile.
What happens when there is no deep link:
by clicking on an advertising redirect, the user will be taken to the mobile version of the site;
then he will have to download the application or go through authorization;
the final item after a few additional steps is the page the advertiser needs.
In most cases, auto-redirecting to the browser version cuts off about 50% of traffic, and therefore almost destroys the conversion.
The created deep link link leads directly to the mobile application, bypassing the browser. Analytics data and the experience of integrating special links show that the conversion can be increased from 39-40 to 75-80% in this way.
What are deep links for?
This is not only a sure way to immediately direct the user from an advertising notification to the screen of the desired application. Deeplinks are used by advertisers, bloggers and marketers to collect and track data on:
the most frequently used channels that bring the maximum advertising revenue;
the number of app installations and views, the number of clicks on the necessary services;
types of customers who most often follow the links offered.
Deep links are indexed by Google, which means they get into the search results. Now the user can get into the selected application with just one click. Deeplinks are embedded in banners on websites, e-mails during distribution, and in SMS messages. Using them makes any newsletter, full-fledged campaign, or even a message about an upcoming sale an order of magnitude more effective.
Rating of deep link services
Webs li
Webs.li — a new Ukrainian service for creating biolinks, on which you can create not only a multilink, but also a whole landing page.
The developers of the Websley platform analyzed all the already well-known and very popular platforms and created a service with very wide functionality, added everything you might need to create a full-fledged biolink with all your information, as well as create a landing page for it.
On the platform, you can also:
receive donations from fans;
create a simple online store;
collect leads through forms;
recommend polling the audience through quizzes.
On the Websley platform, you can still earn money, for this a referral program is available to you.
Mobsio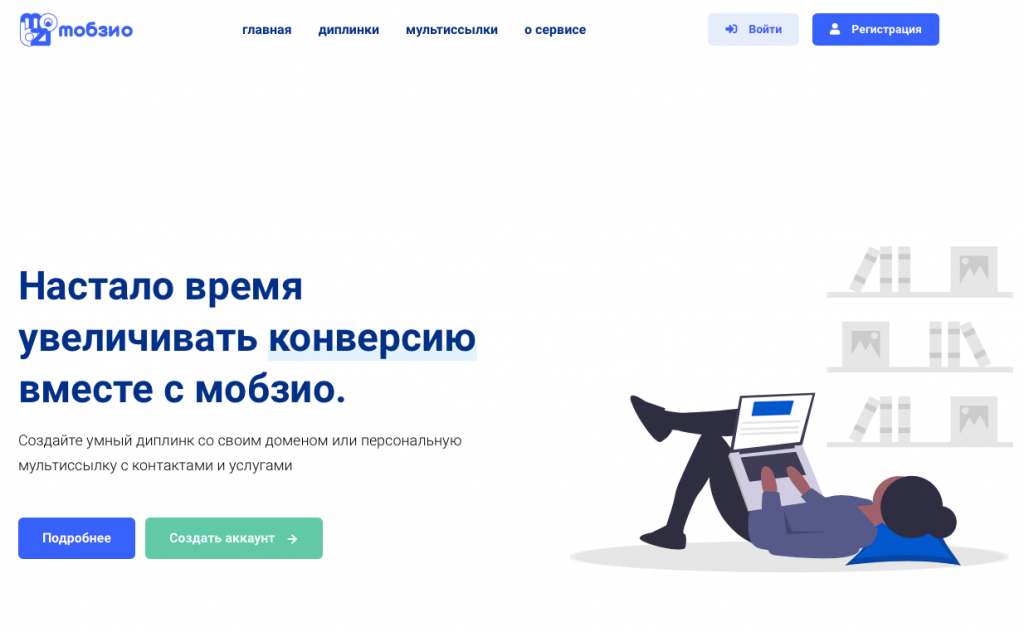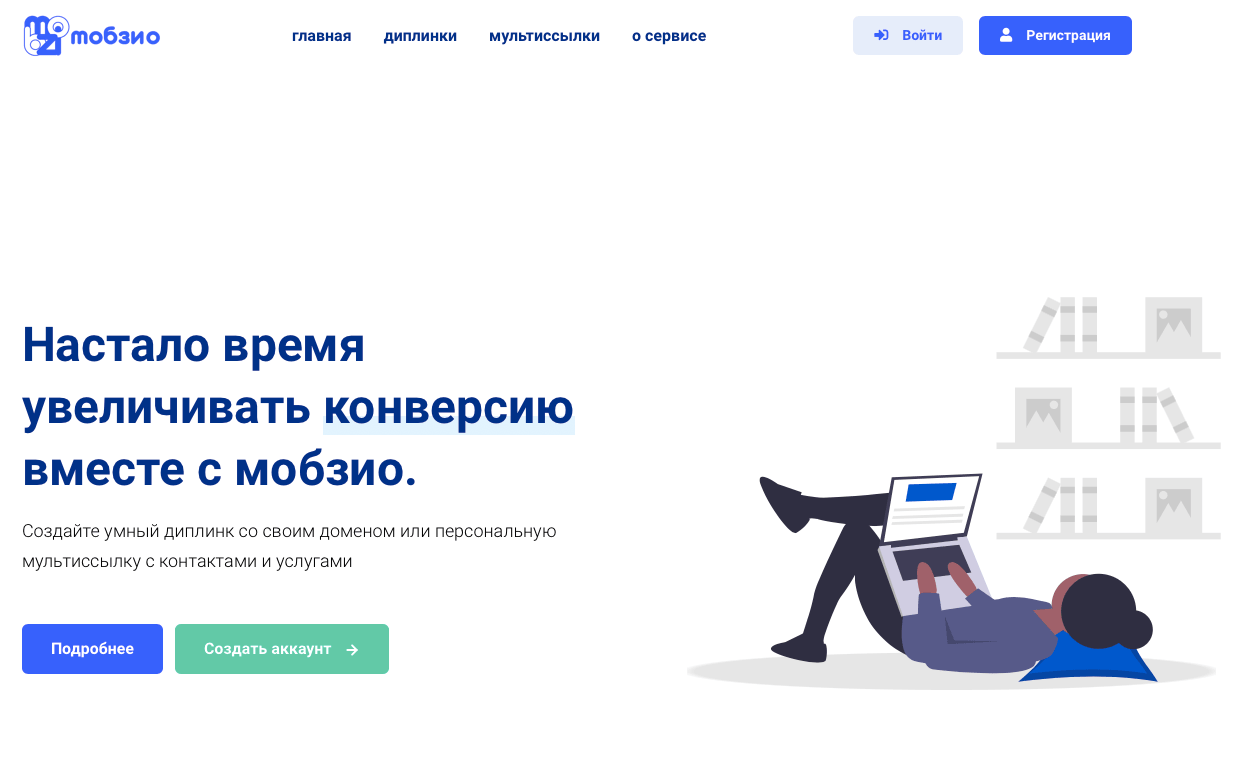 https://mobz.io – a new service that allows you to create deeplinks for Instagram and many other applications. Including, for the most popular – VKontakte, YouTube or TikTok. The main advantage of the service is the absence of traffic restrictions. After a simple registration, you can use a single tariff of 240 rubles per month, and if you enter a promotional code for new MAVR customers, you will receive an additional 35% discount. It is possible to connect Yandex.Metrica services and metrics from Google Analytics, track statistics after launching an advertising campaign in your personal account.
Surflink
https://surflink.ru – an easy-to-use service that allows you to quickly create a deep link for Instagram or any other channel you need. It is possible to set your own URL for the generated link. It is enough to insert the address you need into the line on the main page of Surflink, click "Create", and in a few seconds you will receive the result. One of the advantages of the service is that the received deep links allow you to get into Telegram blocked in the territory of the Russian Federation for free. Tariffication depends on the number of transitions, you can choose one of 3 tariffs, Depending on the planned traffic. And the promo code VLADA25 is a good opportunity to get a 25% discount!
Taplink
https://taplink.ru/ – is a service that is designed to optimize the process of communication between consumers and businesses and expands the capabilities of the Instagram network. One link in the header. When paying, use the promo code mavr, and get -10% discount!
BMBE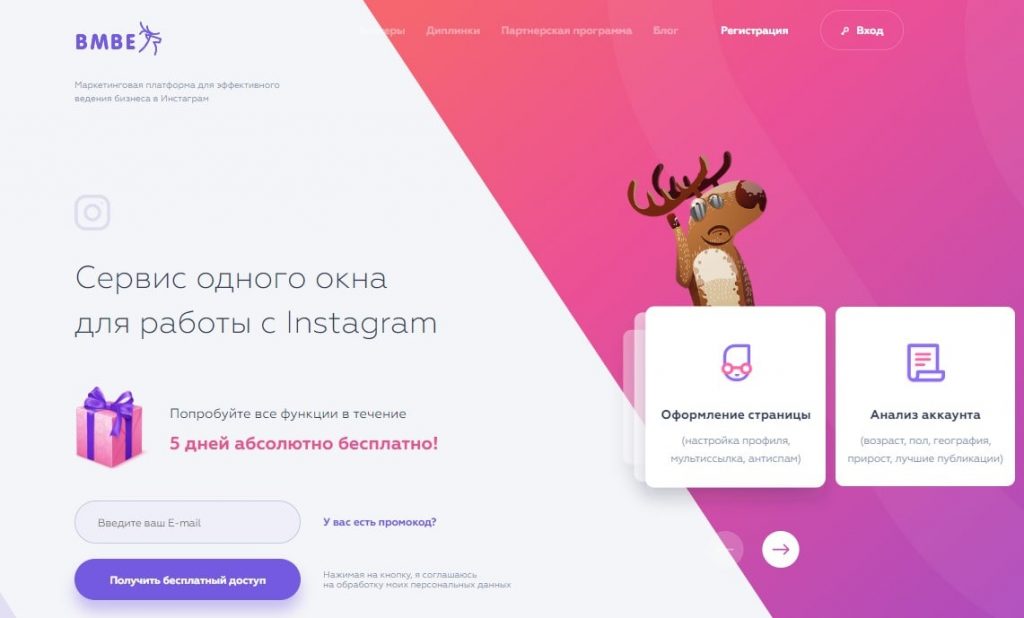 https://bmbe.ru is positioned as a marketing platform for effective business on Instagram. How to create a deeplink here? After registration in a few clicks, a deep link is generated, which can be placed in your accounts of popular social networks. The first 500 transitions are free. There is a choice of one of the tariff plans – unlimited or pay-per-click. Provides the ability to auto-post, collect analytics, provide access to employees. One of the disadvantages is the small amount of statistics that is collected from your account.
Aqulas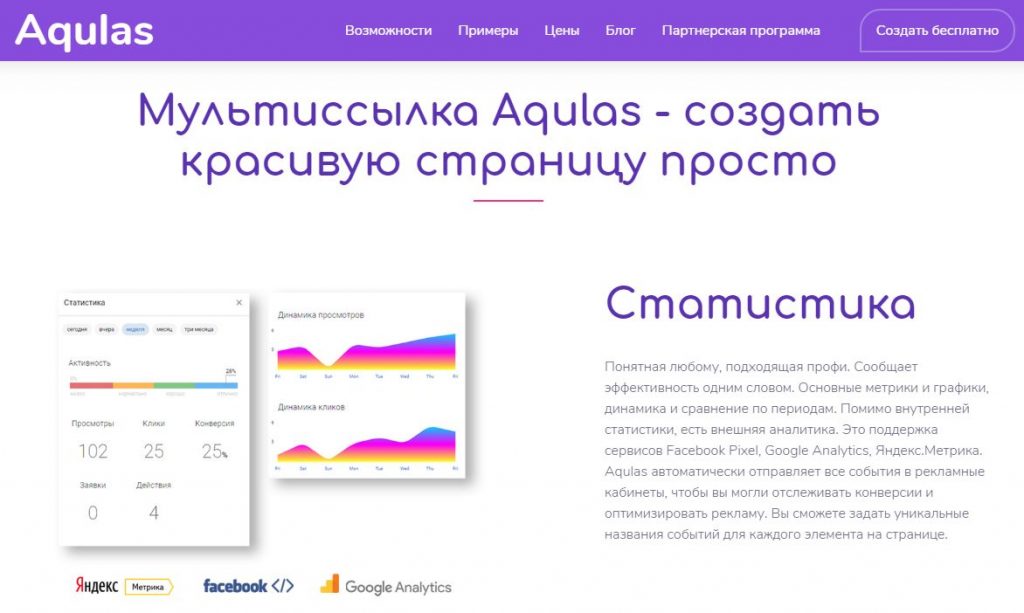 aqulas.com – One of the services for creating a multilink is not limited to the ability to quickly generate a business card site and provides access to statistics. Data on views and clicks appear in your personal account for the selected period of time in the format of a convenient graph. Reach analysis will help determine how effective microlanding is.
Hipolink
There is only 1 active link on Instagram, in which you need to place as much useful information as possible in order to interest visitors. It is in the section of the website that a link to the Hipolink page is placed, and inside the service you already add the blocks you need (links, instant messengers, social networks). Visitors to your Instagram page follow the link and immediately see all the information.
Nethouse.id
Nethouse is a multilink service from a major website builder Nethouse. It allows not only to collect all links to various resources together, but also to create a full-fledged mini-site. You can link an unlimited number of links, various instant messengers and social networks. At the same time, a wide choice is provided: this is not only VKontakte and YouTube, but also Tumlr, Pinterest, Yandex Zen and many others. You can add photos and videos, attach a podcast or music track, specify an address, and mark geolocation on Yandex.Maps. There are also 10 templates to choose from. There are no restrictions, all the functionality of the service is provided free of charge. There is integration with other Nethouse products, thanks to which you can sell online courses and tickets, as well as register participants for events. 2 languages available: Russian and English.
Deeplinkr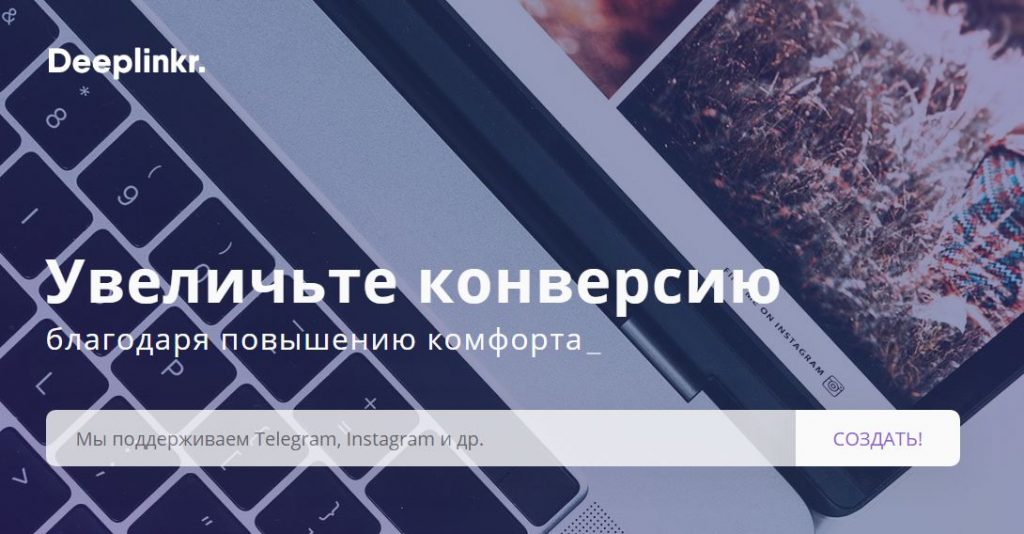 https://dlr.tools – the new address of the well-known deep link generator Deeplinkr. Allows you to create a custom domain and set up an advertising campaign for the desired channel or application for iOS or Android. As a starting offer, 5,000 free transitions and redirects are available to users using the generated link. Subsequently, you can choose one of 4 paid tariff plans. All popular social networks and messengers are supported – Youtube, Facebook, VK, Instagram, Telegram, Twitter, TikTok, etc. The disadvantage is that only 1 link can be made on one page.
Appsflyer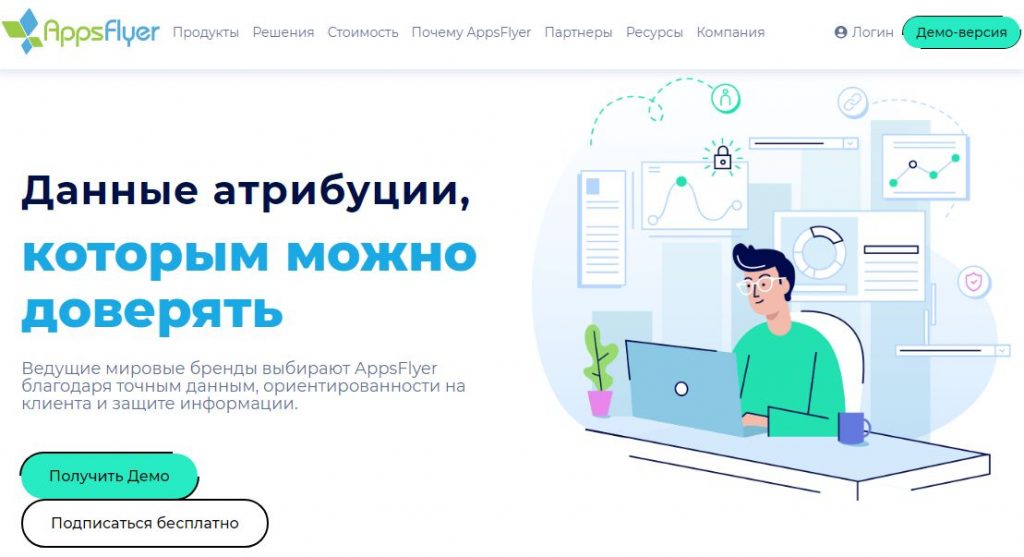 https://www.appsflyer.com/ru/ – a service that allows you to create branded deep links that work on all platforms and channels. Deep links also collect analytics about attracted users and their activity patterns. This makes it possible to create personalized content to showcase when you later open mobile applications. Among the shortcomings of AppsFlyer, it can be noted that it is not a very convenient interface for partners integrated into the advertising network.
Branch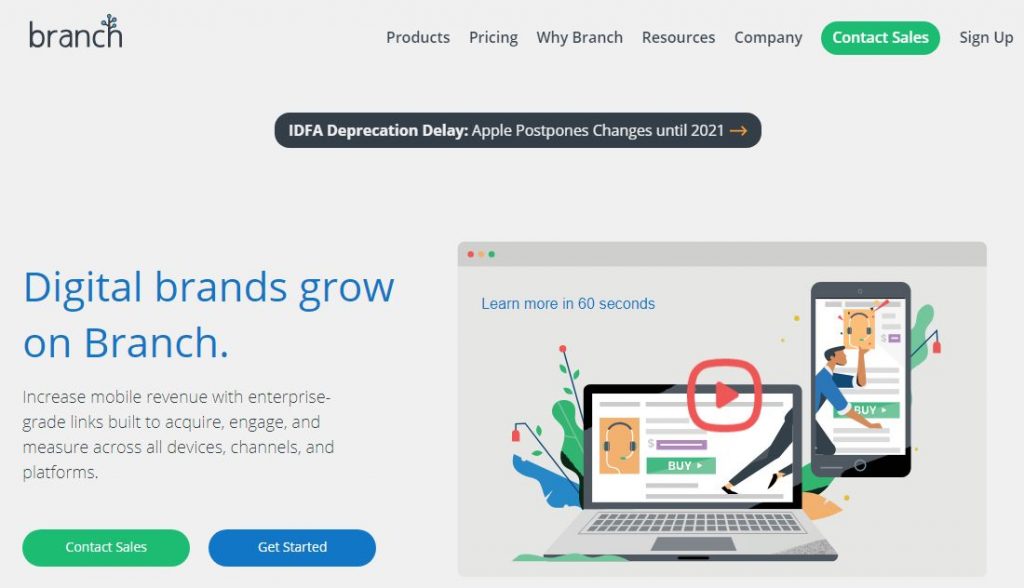 https://branch.io/ – a resource with good functionality, detailed cases and the presence of its own useful blog. The main drawback of the site for creating deep links Branch is the lack of a Russian interface.
Jusl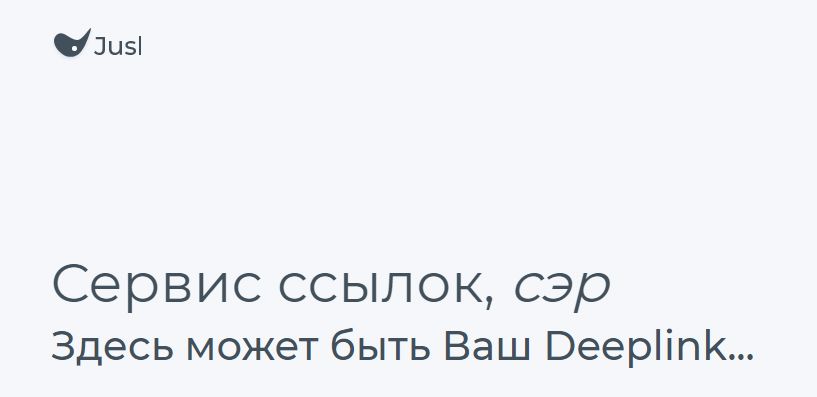 http://jusl.ru – an easy-to-use deep link generation service that does it for free. But low functionality, plus the lack of a personal account, are the main disadvantages of Jusl.
Conclusions
Working with deep links makes it possible to increase the number of subscribers in social networks, collect analytics data, track visit statistics and analyze user behavior within applications. By choosing the most suitable service in terms of functionality and tariff plan, you can increase conversion by 10-20% with a fairly modest financial investment.
Internet marketing expert. Head of marketing agency MAVR.
Business degree "Master of Business Administration" (MBA).