How to do the analysis of the link mass of the site correctly?
We will send the material to you by email:
Время чтения:

6

мин.
Let's imagine that you have your own SEO agency. And you have a new client who wants you to promote his site. Before taking this resource to work, I would advise you to conduct a thorough analysis of the link mass of the site. Why link profile analysis?

The fact is that in practice it is often much easier to fix shortcomings in internal optimization than to get rid of low-quality links.
The client himself does not always know what exactly was done (and whether something was done at all) on external optimization before. Moreover, many negligent optimizers sometimes do not even inform their client about what work they are doing with his site.
And this is a very common problem that has been observed for a very long time, back in 2005, the first filter from search engines appeared for manipulating the external link mass, but you can read more about this in the article "The History of Link Building".
Therefore, before making any promises and offers to the client, I advise you to carefully check the link mass of the site that has entered the work. How to do it?
How to conduct a qualitative analysis of the link mass?
First of all, let's deal with the quality criteria. How to conduct a good link profile analysis? For this, it is worth deciding which profile should be considered high-quality. I have identified 8 main criteria by which you can quickly determine the quality of the link mass of almost any site. True, for this you need certain tools. So, what to look for when checking the link mass of the site?
1. Overall score
Check out Ahrefs, the best link estimator today. And we look at the number of referring domains and pages.

It looks like this:
Such a cursory analysis of the reference mass will not tell anything. But you will be able to estimate the approximate amount of work on link building that was done for the site. Therefore, we turn to a more serious assessment.
By the way, if you can't use Ahrefs to track backlinks, you can use http://openlinkprofiler.org/.
2. Variety
The natural link profile of the site should be as diverse as possible. In other words, blogs, forums, news sites, social networks, question and answer services, etc. should link to the site.
How to determine: it is enough to upload site links using Ahrefs and at least visually evaluate donors by URLs. The fact is that if a site has a couple of tens of thousands of links, it is physically difficult to evaluate each of them. Evaluate selectively. We upload all links to the table. With the help of the internal search of Excel, you can search for varieties of sites by part of the url. Let's say you can search for "blog", "forum", "news", "vk.com", "twitter" and so on.
How will it help? This analysis will help you adjust your link strategy in terms of selecting sites for getting links. Everything is simple. If you see that the site does not have links from blogs, then you need to get such links. To do this, you can use guest posting or commenting on blog entries.
3. Relevance
An important factor in promotion is the correspondence between the topics of the donor site and the acceptor site. That is, if a site of a tourist theme is being promoted, then sites of a tourist theme should link to it. Of course, there may be general thematic platforms. But sites about IT will look rather suspicious in the eyes of search engines.
How to determine: again, we manually browse the sites. Some sites have quite thematic domain names. For tourism topics, this can be, for example, a piece of the "tour" domain.
4. Natural anchor list
Naturalness means a combination of anchor and non-anchor links. From the point of view of search engines, the site should have a minimum of anchor links, non-anchor links, links like "here", "on this site", "following the link", branded links with the name of the company and image links, which are marked as <a> in Ahrefs noText<⁄a>.
This is what a natural anchor list might look like.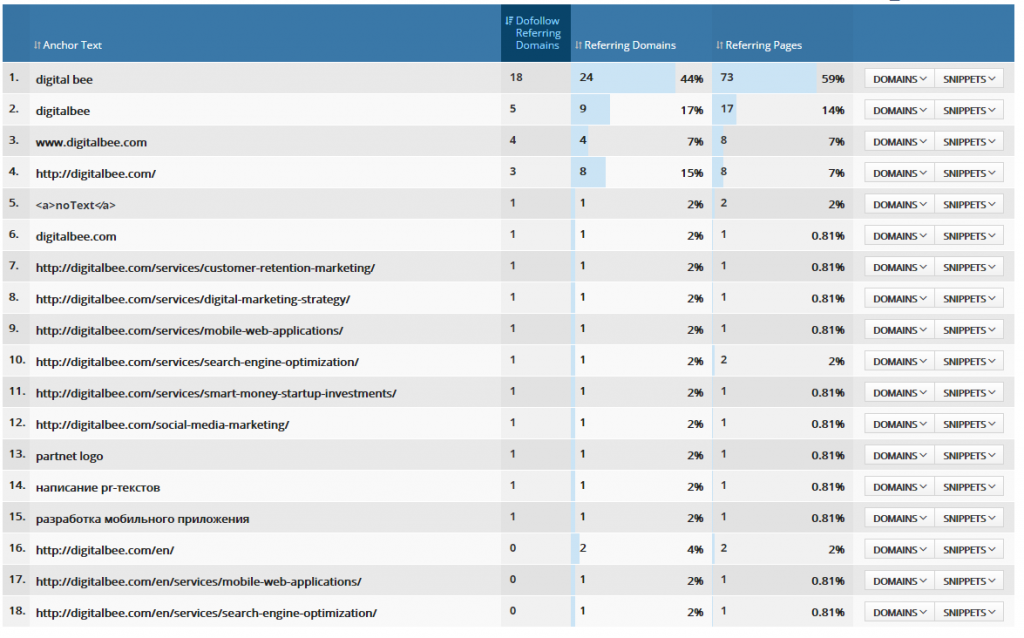 How to determine: go to Ahrefs and look at the distribution by anchors.
How will it help? You will be able to define your anchor strategy. Understand which combination of anchors is worth choosing. Plus, it will become clear which anchors are not covered and which of them can be used.
5. Type of links
This refers to dofollow and nofollow links. It's not very natural when a site has only dofollow links. In fact, these should be dofollow links (let's say 66%), nofollow links (about 30%) and, for example, 3% of redirect links.
How to determine: go to Ahrefs and look at the link types report. It looks something like this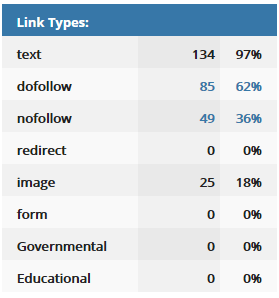 How will it help? If you have too many dofollow links, dilute them with nofollow links to make the anchor list look more natural. Otherwise, add dofollow links to increase promotion efficiency.
6. Pagination
Ideally, the site has links to the main 30-50%, and everything else to categories, product pages, blog posts.
How to tell: Look at the Ahrefs Report on Linking Pages and evaluate the ratio of pages linking to your site's homepage and other pages on your site.
How will it help? You will be able to adjust your link strategy according to the distribution of pages worth linking to.
7. Dynamics
Natural link growth should be gradual. His growth chart should look something like this: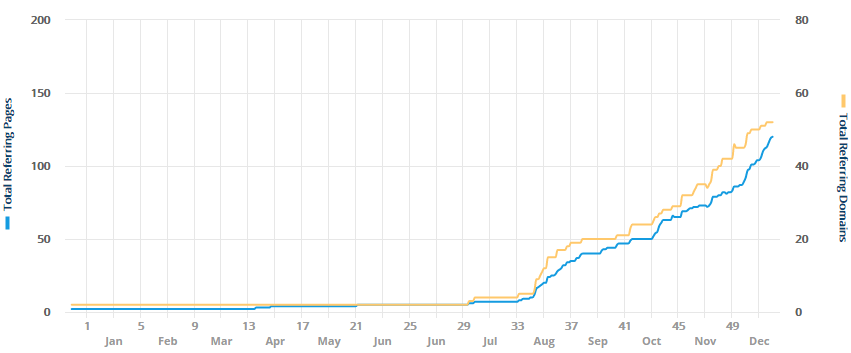 It is desirable that the number of referring domains grow with the number of referring pages.
How to determine: view the graph in AHrefs.
How will it help? You will be able to understand what happened before with the link mass of the site. Any jumps are not good.
8. Quality of donors
Checking the link mass of the site for the quality of donors is probably the most time-consuming. It is worth paying attention to:
resource trust. This indicator can be seen, for example, using Moz.com. Ahrefs also shows domain rank.
domain age. Install RDS bar in your browser. It will show you the first entries from the web archive about the site in question. This indicator will tell you the age of the site.
the ratio of outgoing and incoming links. A quality resource should have many incoming links and a minimum of outgoing ones. You need to view this indicator. Use SEOQuake.
number of pages in the index. The bigger, the better.
amount of traffic and its dynamics. Obviously, search engines consider those resources more valuable, which have a large attendance and is constantly growing. To evaluate this indicator, you can use Similarweb.
Such an assessment is quite time consuming. To speed up the process, I use Checktrust.ru. This tool quickly evaluates the site in terms of trust and spam. The report looks like this

It is very convenient to evaluate the quality of donor sites. You can evaluate both on one site and in bulk. The tool is paid, but there are trial 500 checks, which are enough for a very long time.
In principle, this is all the information that I would like to share. I hope that it will help you check the link mass of the site. Ask questions in the comments. How do you evaluate the link mass of the site?
Author: Dmitry Fugol, SEO specialist.