Secrets, Tricks and Chips YouTube. The largest review in RuNet
We will send the material to you by email:
Время чтения:

9

мин.
Today I want to share with you the secrets, tricks and tricks of YouTube that you might not know about.
I picked up 14 secrets, the knowledge of which will help you to realize yourself with the help of YouTube functionality. Read on for 17 tricks you can use with third party services. Overall  31 chips! Correct me in the comments if I missed something!
YouTube Secrets
1. Start and end video with certain moments
If you want to share your point of view, then there is a specific function for that. Those. You can send messages to your friends and play the video from the place that was involved in the excitement.
Click the Share button below the video and visit the location where the video happened. Similarly, this function works for embedding videos in third-party resources.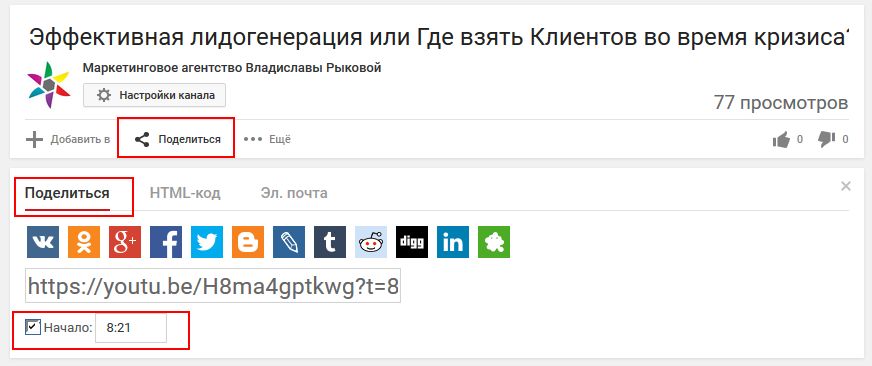 But if you want to specify the start and end time of a part of the video, for this you need to slightly correct the address yourself.
For example, we take a code for embedding on third-party resources. Initially, it looks something like this:
<iframe width="560″ height="315″ src="https://www.youtube.com/embed/eT8rzDy3RI4″ frameborder="0″ allowfullscreen></iframe>
Now we will set playback from 10 seconds and end to 20. To do this, add ?start=10&end=20 to the main address. As a result, we get the following code.
<iframe width="560″ height="315″ src="https://www.youtube.com/embed/eT8rzDy3RI4?start=10&end=20″ frameborder="0″ allowfullscreen></iframe>
2. Turn off hints
If you want to hide all tips, then click on the gear icon in your profile (YouTube settings). On the left sidebar, select Playback and uncheck Show hints in video.
3. Choose your angle (was in test mode, not available now)
What if I told you that you can view videos from concerts and sports from different angles? Imagine being able to watch your favorite artists from the side of the stage, in profile, from above and in real time?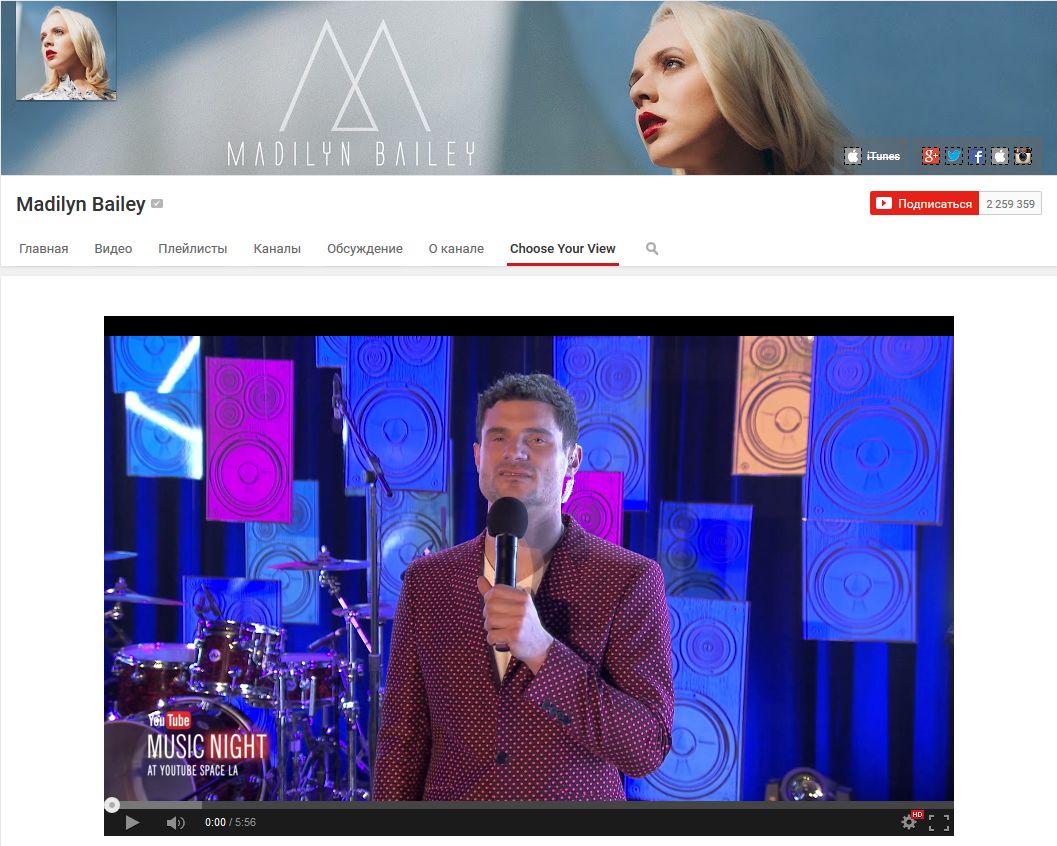 4. Add interactive hints
Want more interaction with your video? Add hints.
To do this, go to the video you are interested in and click the "Hints" icon under it. 5 types of tips will be available for you: promotion of a related site, fundraising, related products, promotion of a video or playlist, promotion of another channel. Here's what happened to me: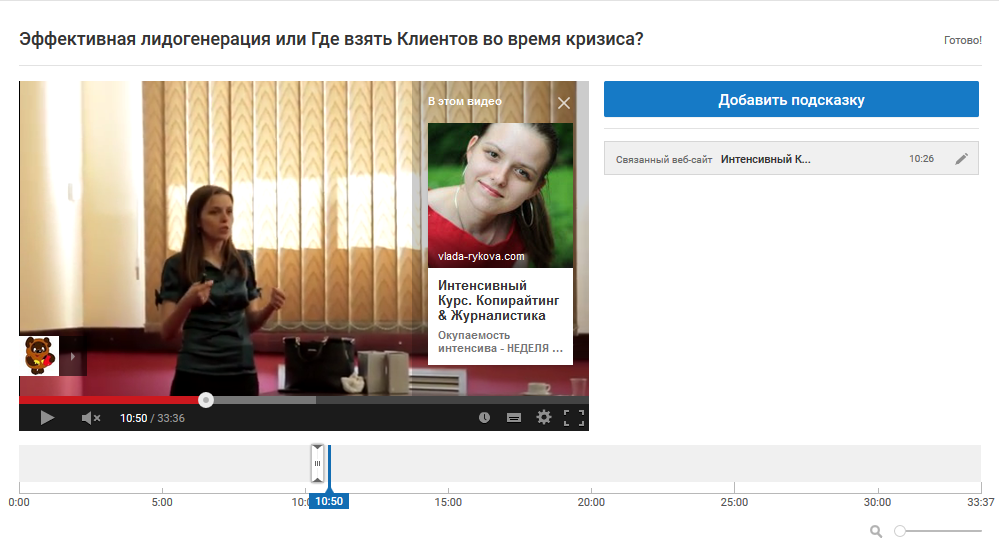 5. Quickly add subtitles in multiple languages.
Usually YouTube automatically generates the text of the subtitles. You can see it by clicking on the panel under the video More and selecting Video text. In my case, I see Russian (Auto generated titles). If you get a grasp, then it turns out abracadabra. In order to quickly change them, you need to do the following:
Click on the Subtitles icon under the video and go to the Video Manager.
Next, you can select the text in the panel on the right and quickly correct it online.
Or you can download all automatically generated text (formats available: .vtt, .srt, .sbv) and send it for proofreading to a text editor, and then to a translator if you want to publish subtitles in several languages.
After the specialists return the edited text/texts to you, you simply import it. To do this, click "Add new subtitles", select the language, click the "Upload file" button and select the required document in the window that opens.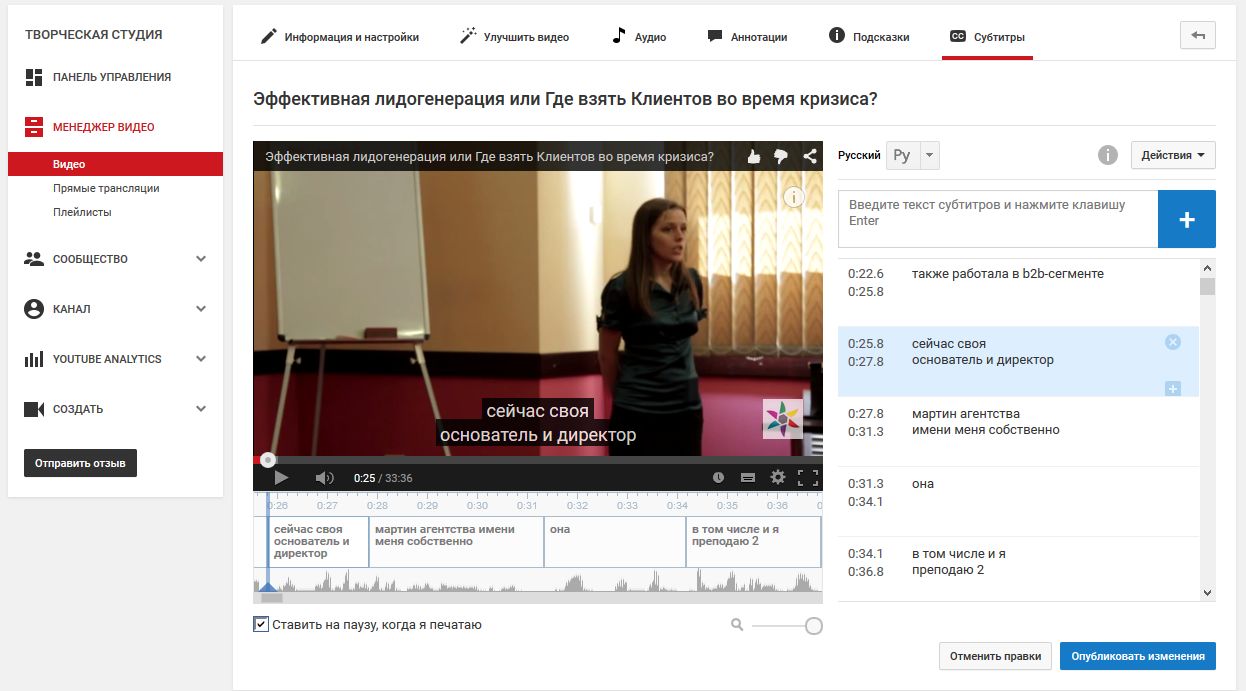 6. TV mode for big screens
Fans of watching YouTube videos on a huge screen TV probably know about the accessibility of YouTube TV. But did you know that you can set up your smartphone as a remote control?
To do this, you need to take a few simple steps:
On your TV, open the YouTube app.
Select "Link another device" in the settings.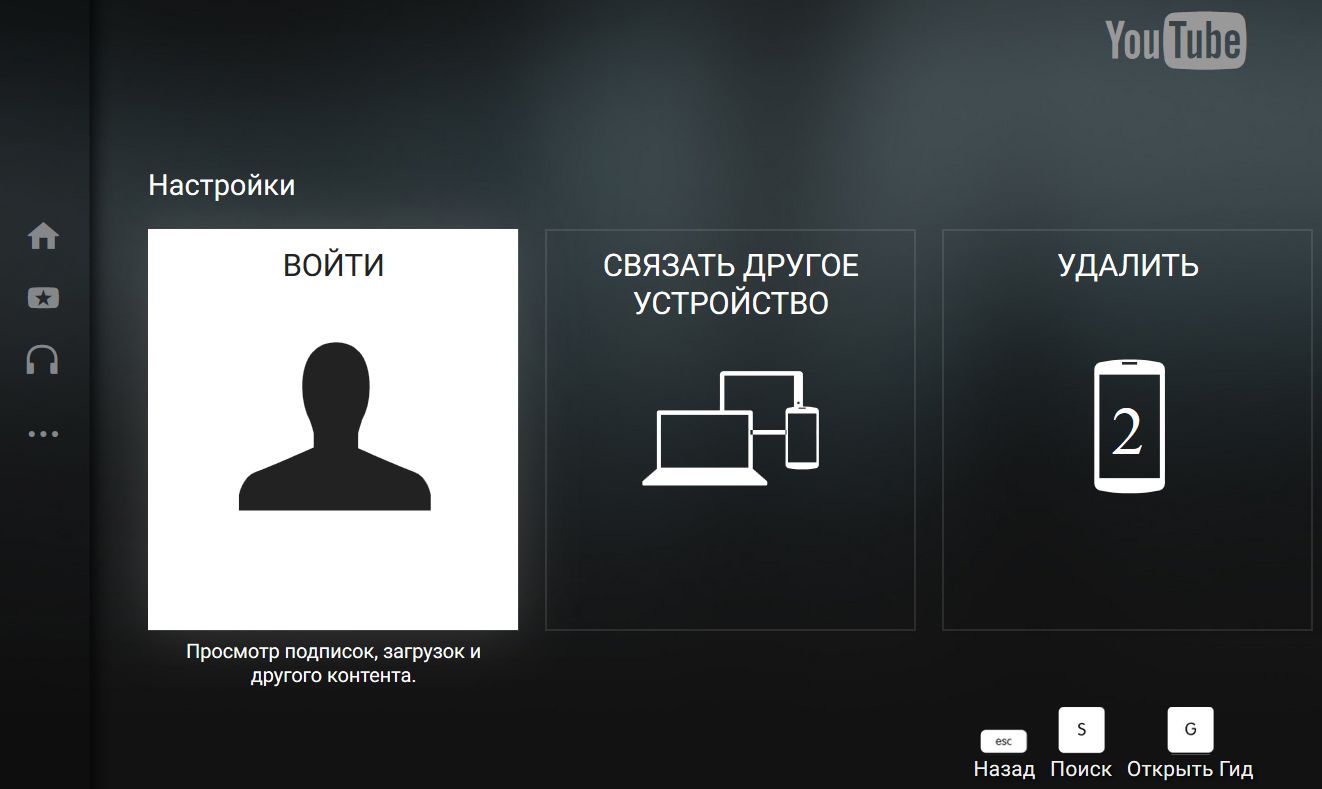 A 9-digit code should appear on the screen.

Now this code needs to be added to the TV and smartphone.
4.1. For TV, you need to open a new tab with the address https://www.youtube.com/pair and enter the code in the appropriate line.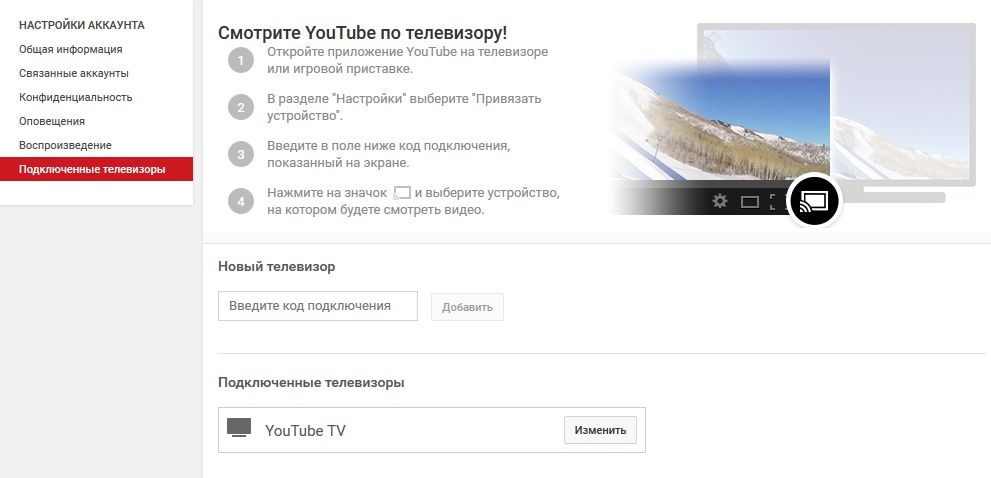 4.2. For a smartphone, do the same manipulation, only from a mobile browser.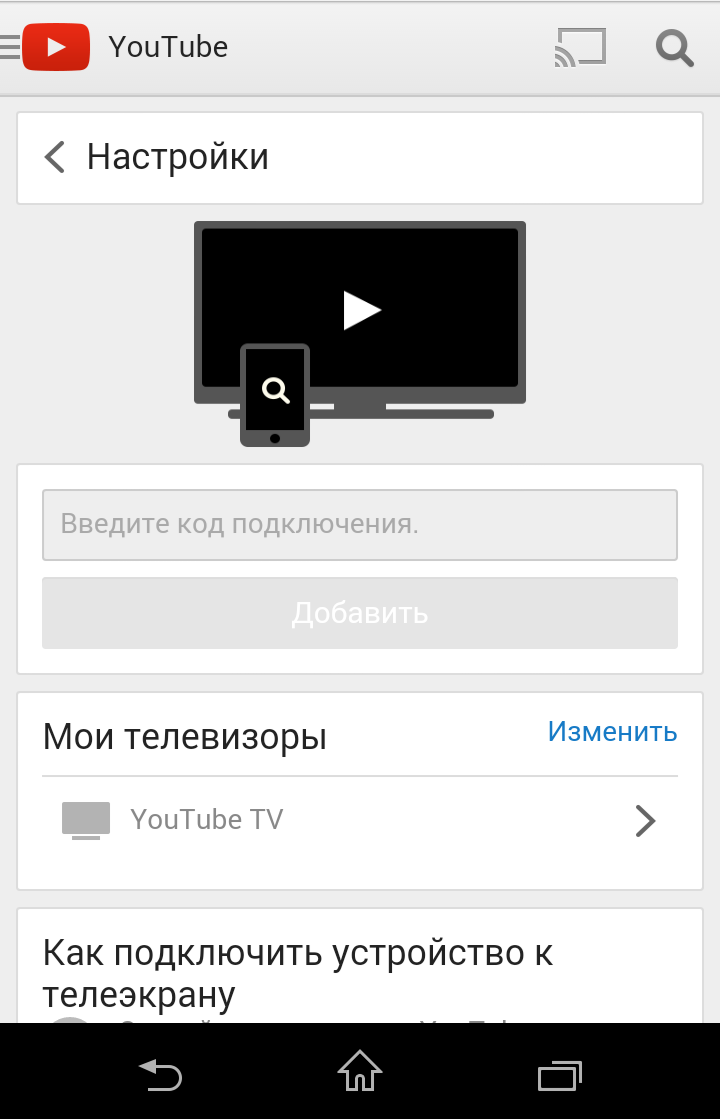 5. You can now control video playback on your TV from your smartphone.
7. Advanced search and filters (not working at the moment)
For the most fastidious video lovers, YouTube has made a wide variety of filters. Under the search bar, you will find the "Filters" button, where you can select the upload date, type, duration, features of the video, as well as sort by relevance, rating, number of views, etc.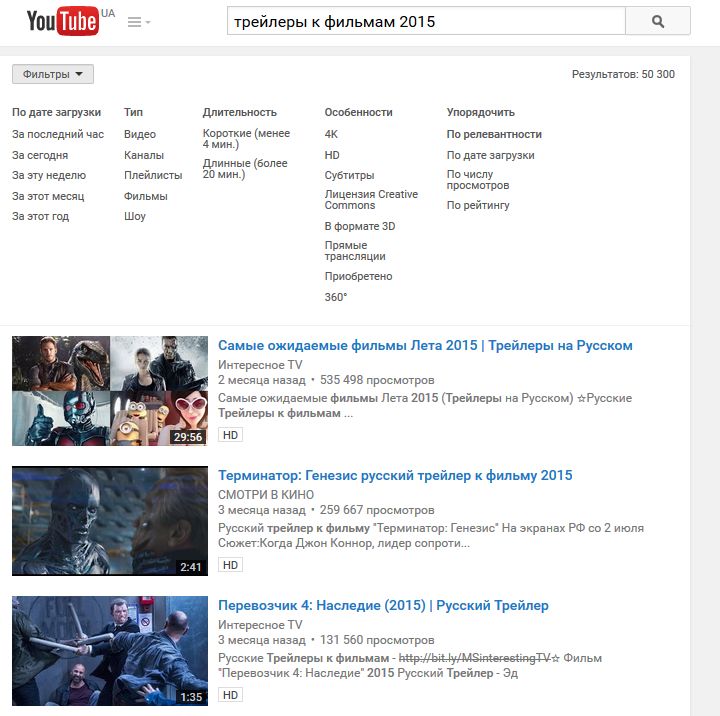 8. "Subscribe to the channel." Insert into video.
To add a subscribe button to your YouTube channel, you should follow these steps:
Sign in to your YouTube account.
Go to Video Manager
Click the Edit button on any of your uploaded videos.
Go to the Annotations section.
You can select 1 of 5 annotation types: Callout, Note, Title, Frame or Label. Select any, for example, a note and write: "Subscribe to the channel."
Choose the font size and color, and then set the start and end times for your subscription link.
Check the Link box, select Subscribe, and enter your YouTube username. You can also choose whether to open the subscription link in a new window or not.
It remains to click on the Apply changes button.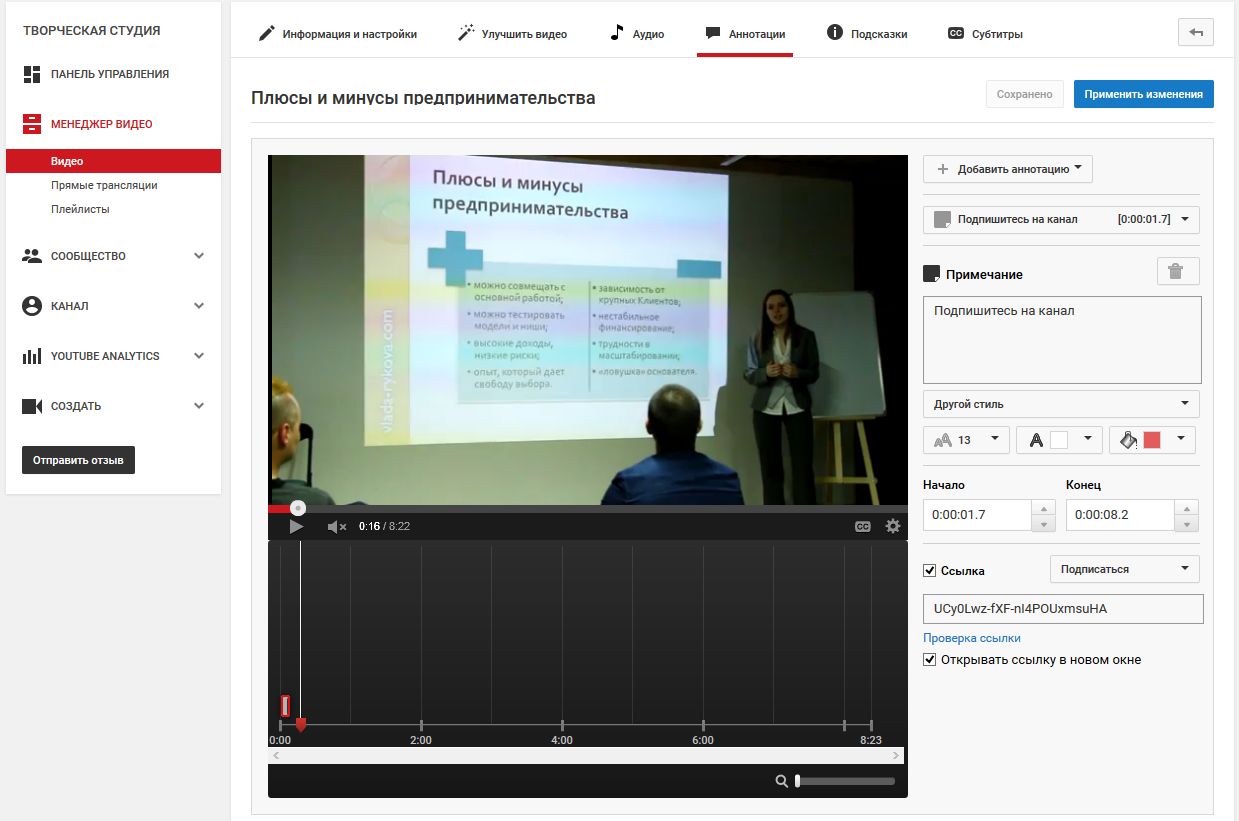 9. "Subscribe to the channel." We put it on our website.
In order to insert a subscribe button on your site, you just need to enter the necessary settings here, get a code that is easily inserted into the site.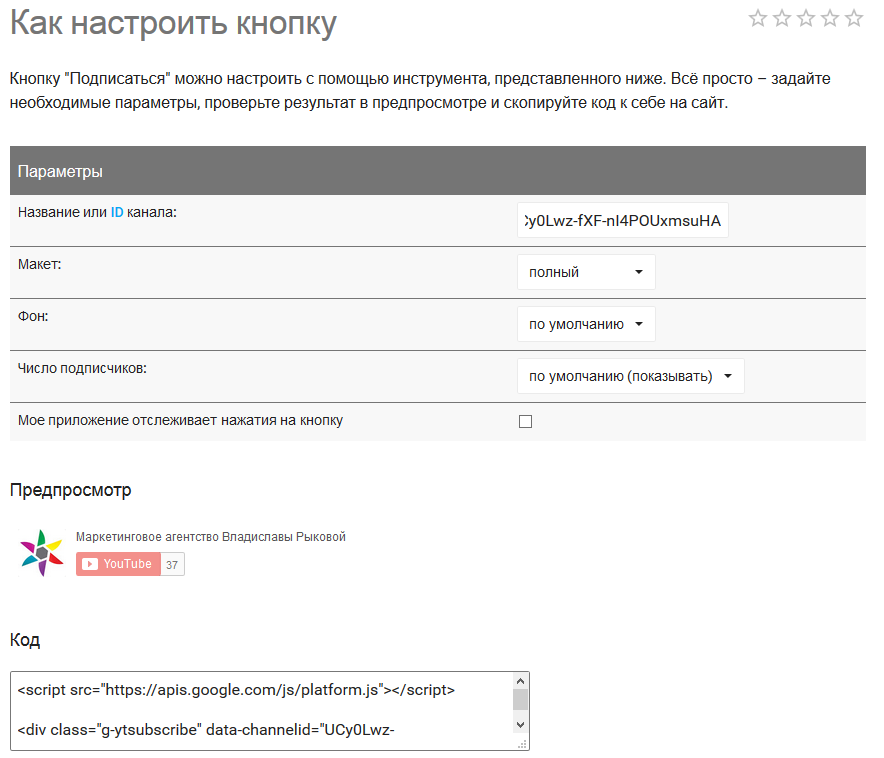 10. Blur all faces
Of the other features, I like "Blur All Faces" if you want to keep the faces involved in your video private.
To do this, select Enhance Video in the Video Manager and click Special Effects.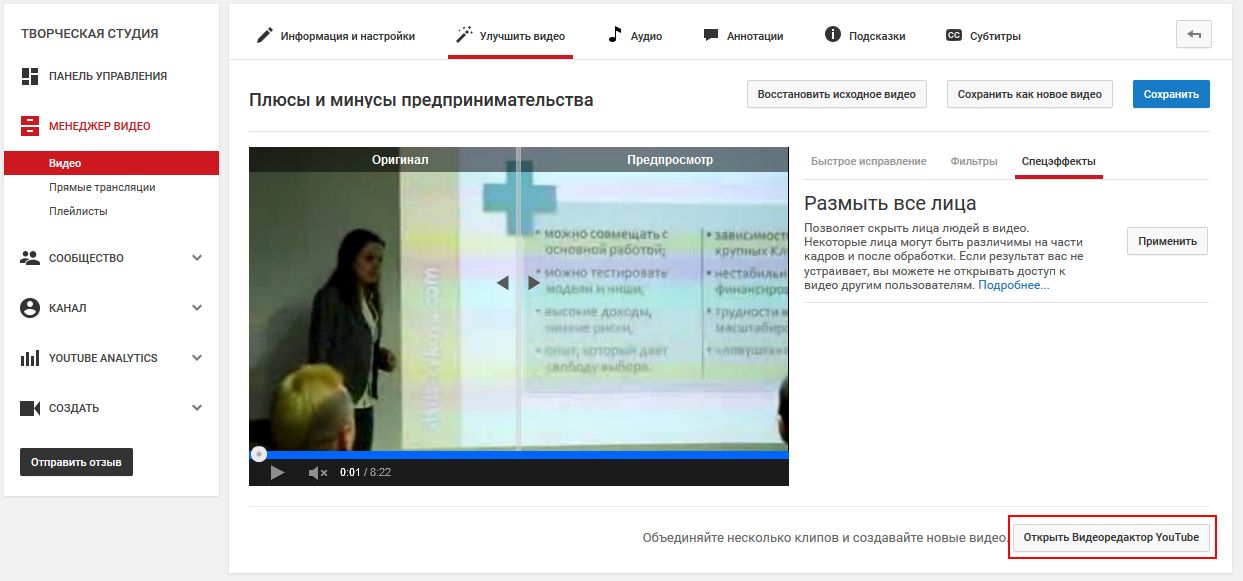 11. MEGA video (not working at the moment)
If you want to combine several videos to create your new MEGA video, click "Open YouTube Video Editor" and create!
Here you can make a mix of several videos you uploaded, as well as compose other people's videos distributed under a Creative Commons license, add photos, audio, animation, etc.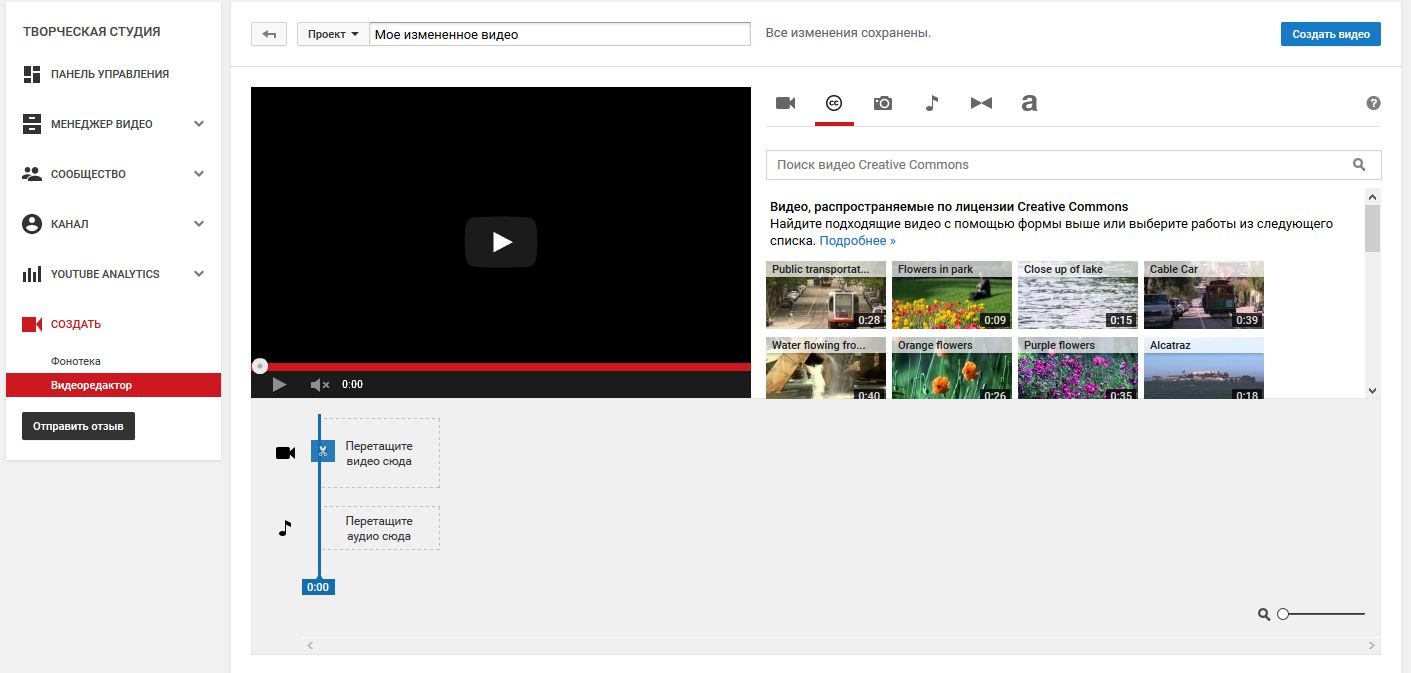 12. Hotkeys
K or Space – pause or lose
J – rewind 10 seconds
L – fast forward 10 seconds
M – enable / disable the sound sound
F – switch to full screen mode
number 0 or Home – to the beginning of the video
numbers 1-9 – jump over 10% – 90%
"+" – increase the subtitle font
"-" – decrease the subtitle font
End – go to the end of the video
13. Video playback in low quality.
This feature will come in handy if you have a slow internet connection. Go to your account settings → Playback and select "My connection is slow. You don't need to turn on HD video."
14. Text translation tools
You can use 3 tools:
a) subtitles from volunteers. Involve your subscribers in writing subtitles.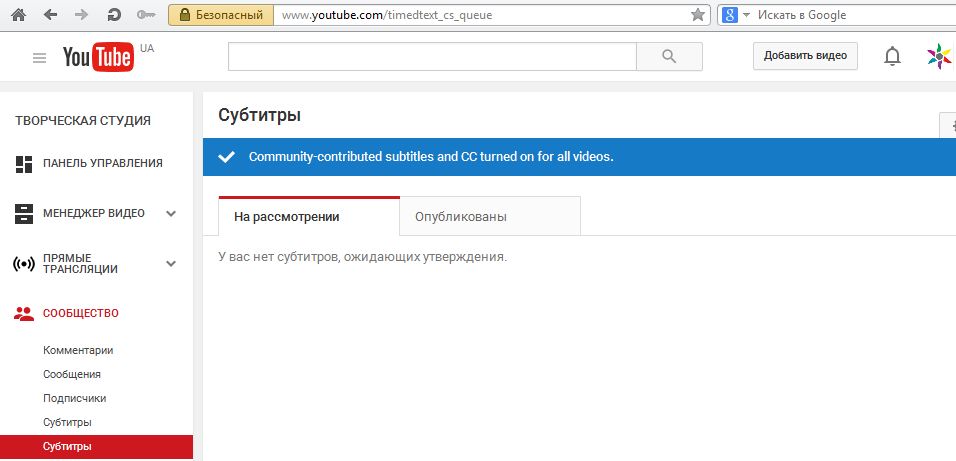 b) translation of titles and descriptions. When you translate the description and title, then users from other countries will be able to find your video and also read it 😉 Machine translation from YouTube is used. Read more here.
c) beta version of the translation market. If you want to order a professional translation of your video: subtitles, titles, descriptions, you can use a paid service. Read more about how to use it here.
Services for working with YouTube. 13 tricks
1. Auto play video in higher quality
Sometimes when you start watching a YouTube video, by default the video is displayed at a lower resolution. To prevent this, you can force the system to play HD video continuously.
Install the Magic Actions for Youtube extension (only available for Google Chrome and Firefox). Enable the Auto HD option and select the resolution in which the video will be played by default.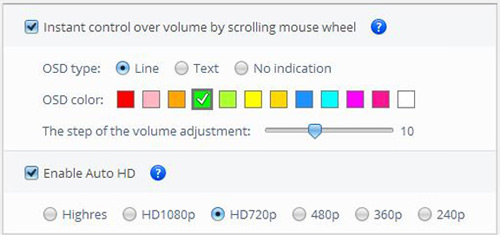 2. Disable video autoplay
YouTube will immediately play the video you have opened, which can sometimes be annoying, especially if you open several videos at once in a row. To disable autoplay for YouTube videos, use the YouTube Control Center for Firefox.
Install this extension and search for Autoplays video when the player loads. To disable autorun, the checkbox must be unchecked.

3. Create GIF file from video
We bet you didn't know that you can turn part of a video into a GIF. To do this, add the word gif before youtube to the URL of your video. Here's what I got: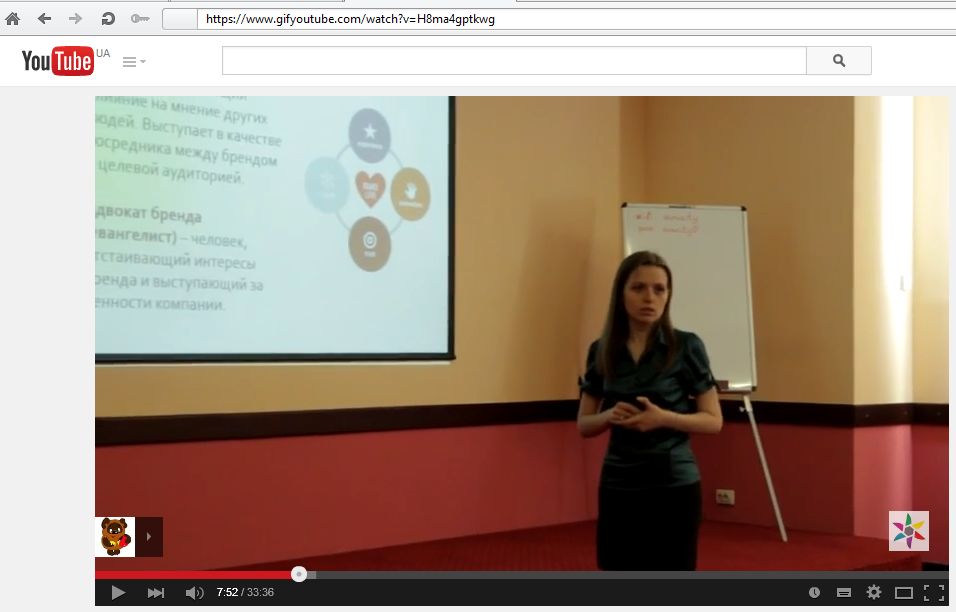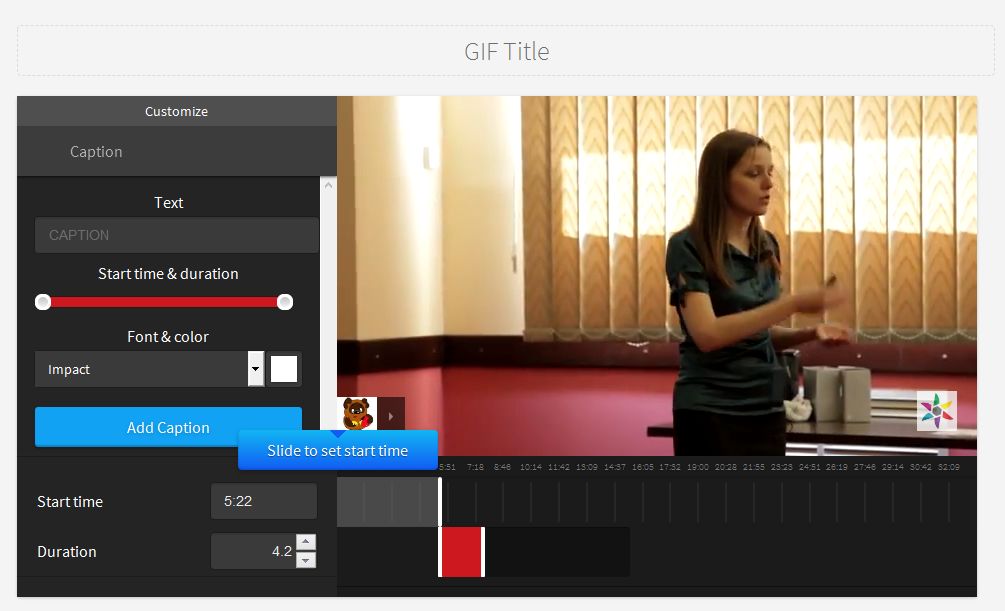 4. Karaoke
Love to sing to music? Then install the Musixmatch app for Google Chrome, which will overlay the lyrics on the video.
5. Very fast video download
Just add ss! I mean, you need to add "ss" to the URL between www. and youtube and press "Enter".
6. Loop the video.
Do you like to watch a new video in a circle until you learn the lyrics? Then insert "repeat" in the URL between www. and youtube and press "Enter".
7. What is this soundtrack?
The MooMa.sh site can determine which song or tune is used in the selected video. The YouTube channel promotion service allows you to analyze videos, but is far from ideal. The found music can also be searched here on YouTube and compared with the original.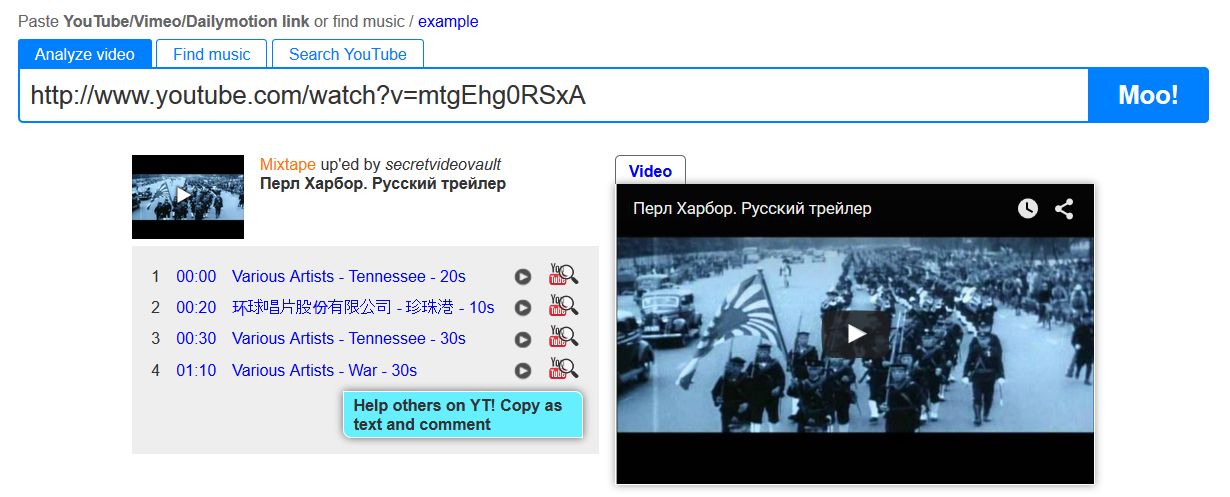 8. YouTube for your kids.
Each parent, I think, got into a situation where there was nothing to do with the child on a trip or at a party. The way out is to let them watch the cartoon. With the YouTube Kids app for iOS and Android, you don't have to look out for age limits for your child. YouTube Kids has already done it for you.
9. Fitness lessons (closed)
For the health conscious and regular exercisers, there is an excellent catalog of YouTube videos that organizes activities by duration and type of exercise. youfitness.me is positioned as a collection of the best free workout videos.
10. Converter to MP3
If you want to extract audio from a video you like, you can do it in a free converter.
11. Audio and video playlist 2 in 1 (closed)
On the site solon.rocks you can create your own playlist not only from YouTube videos, but also add videos from Vimeo and audio from SoundCloud. After pre-registration.
12. Video over windows
The Floating YouTube extension (only available in Google Chrome) is designed for fans of multitasking, thanks to which your video will be on top of all other working windows.
13. Turn off ads
Install the Youtube Adblock extension and forget about all the video ads that appear before your video.
Since the publication, the collection has been replenished with more services:
14. Advanced HTML code generator to embed YouTube videos on the site.
15. View all hidden YouTube video tags.
16. Video game streaming service YouTube Gaming.
While we were testing YouTube features here, there may already be new ones!
Internet marketing expert. Head of marketing agency MAVR.
Business degree "Master of Business Administration" (MBA).